Do you find yourself reaching for homemade cookies or a bag of chips in the evening? If you want to lose weight, make better eating choices, or overall feel better, one of the simplest and most practical ways to do so is to stop snacking in the evening.
While evening snacking doesn't necessarily cause weight or health issues by itself, it often sabotages weight loss efforts or even leads to difficulty falling asleep if you eat too much too close to bedtime.
So how to stop snacking in the evening?
I know it's hard. You're busy all day – working, doing errands, playing soccer mom (or taxi), then supervising homework, chores, getting kids to bed, etc. The evening is your time. (Maybe.)
You might still be running around doing laundry and cleaning the house. But you might sit down and catch up on your favorite TV show. And you reach for the mint chocolate chip ice cream, and since's it's a small Ben & Jerry's, you just grab a spoon and dig in. Before you know it, the container is empty. Or you've eaten more than you intended to.
Here's the thing: snacking in the evening by itself isn't so horrible by itself. But it goes downhill when we eat up a whole bag of chips without realizing it. And really, if you're going to eat something, you may as well enjoy it which is hard to do when you're focused on paying bills or watching a riveting episode of Scandal.
That used to be me. I won't lie and say that I never snack in the evening anymore, but for the most part, I do avoid it and I feel better because of it. I lose weight faster when I don't snack and I also fall asleep easier.
It's not easy to just stop cold turkey, so here's a few practical tips for how to stop snacking in the evening. These ideas are very simple and doable so you can be successful with this simple baby step toward getting healthy.

How to Stop Snacking in the Evening with 5 Simple Tips:
(affiliate links below)
1) Establish a set time when you will stop eating.
To make this more doable, gradually bring the time back until, eventually, you're not eating any food after dinner.
Example: Start with no food after 9pm. Do this for a week. It's not too overwhelming, right? The next week, set that time to 8:00pm. Then 7:00pm, etc. Make it fit your routine and work for you.
When you gradually ease into a new change like this, you'll be far more likely to make this a lasting habit than sudden changes that are too drastic and hard to stick with.
2) Change your routine.
If you're used to snacking while watching TV in the evenings, maybe take a bubble bath instead. Or do something on the computer. Read a book. Do something that's different.
3) When you do eat, devote your full attention to it.
I love a simple Paleo-friendly bowl of cooked apples, spices, coconut oil, and pecans after dinner. Instead of sitting down and devouring it while I'm reading Facebook posts or finishing a blog post, I try to sit down and intentionally savor it. I might talk to my husband about his day or talk to one of my children. But if I eat something while I'm watching Netflix, I rarely actually taste it.
4.) Substitute a healthier alternative.
Ideally we won't eat much, if at all, after dinner, but sometimes it's just tough to go cold turkey.
I suggest making a list of healthier, wholesome substitutes instead. Maybe you could eat a handful of nuts instead of those cookies. Or a piece of fruit or vegetable.
I know those don't sound that great, so here's my favorite healthy substitute: Spiced Almond Milk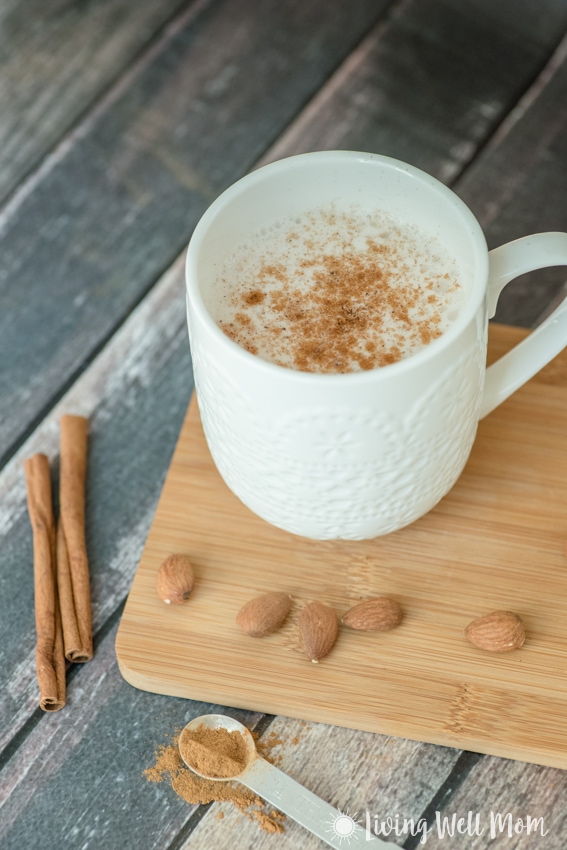 One of my favorite evening snack substitutes is my delicious recipe for Spiced Almond Milk. I've found that this simple warm beverage signals my brain that I'm done and I literally don't want to eat anything else! It takes just a minute or two to whip up and is the perfect beverage to unwind with after a busy day.
What You'll Need for Spiced Almond Milk:
Print
Spiced Almond Milk
A warm mug of this creamy Spiced Almond Milk is the perfect way to unwind each evening.
Author:
Prep Time:

1 min

Cook Time:

1 min

Total Time:

2 mins

Yield:

1

serving

1

x
Category:

Drinks
12 ounces

unsweetened almond milk

1/4 teaspoon

vanilla extract

1/2 teaspoon

cinnamon

1/8 teaspoon

ginger
pinch of nutmeg
pinch of cloves
optional: a few stevia drops or a little honey for additional sweetener
Instructions
Warm the almond milk over the stove or in the microwave.
Whisk in the vanilla extract and spices.
Optional, but recommended: Blend in a blender for about 30 seconds or so for a frothier beverage.
Top with a dusting of cinnamon and nutmeg.
Enjoy immediately.
Notes
Optional: you can add a little honey or maple syrup if you prefer a little sweetness
5.) If all else fails, go to bed early.
Your body probably needs the rest and once you're in bed, it's doubtful you'll be still thinking about whatever you're craving.
By using these simple tips, I've broken myself of the habit of evening snacking. But I'll join you and pledge to be even more diligent about this simple, yet effective baby step toward healthier living.
It's your turn:
Is evening snacking an issue for you? If it is, which of these tips will help you the most?
What other health concerns or habits would you like to address?