Disclosure: This article is sponsored by O-Cedar, but all ideas here are my own.
Now that school is out, we moms are faced with a dilemma: how do we keep the kids busy this summer?
While summer camp and fun activities are great, it's good for kids to have free time to use their imaginations too. Of course you do sometimes get whining kids who are "bored."
In my house, my kids know that if Mom hears "I'm bored!" they will quickly find themselves with something to do that almost always involves chores.
Because I firmly believe that all kids should do chores. Even toddlers can help with simple chores.
Why?
Doing chores helps teach kids responsibility.
They learn a work ethic – by working hard, you are rewarded. And by helping out, kids are taking ownership of their role as a member of the family.
Together, we keep our household running. It's not solely on Mom or Dad's shoulders. We all eat, sleep, play, and work.
That's the other thing I love about teaching kids to do chores – you'll share many special moments as you work together!
Today, I'll share a few practical ideas for getting kids to do chores and what my own kids do in hopes of encouraging you to get your kids more involved around the house.
I do a couple different things to organize the chores for kids in our house. There are daily chores, zone chores, laundry, and cleaning.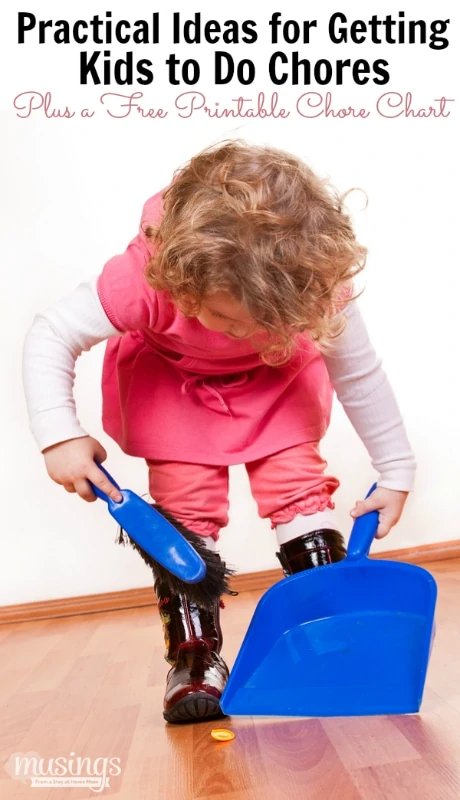 Daily Chores:
Each of my kids have their own chores they do every day.
Luke is four and his daily chores include: making his bed, picking up his room, picking up toys, feeding the dog, and clearing and wiping off the table after meals.
Joshua is six and his daily chores include: making his bed, picking up his room, giving the dog fresh water, and picking up and sweeping the kitchen floor after meals.
Emily is eight and her daily chores include: making her bed, picking up her room, feeding and watering our rabbits, helping Mom with the chickens, and clearing and wiping off the kitchen counters after meals.
Nathan is twelve and his daily chores include: making his bed, picking up his room, putting away the dishes from the dishwasher and drainer, washing dishes after meals, and clearing and wiping off the counter next to the sink.
There are also a few weekly chores, such as Nathan taking the trash to the road.
Zone Chores:
I use zone chores in conjunction with chore sticks and it works fantastic!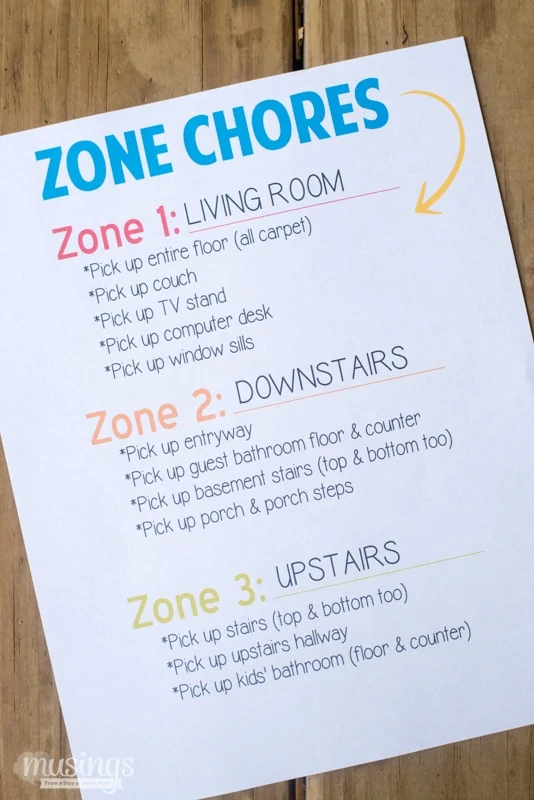 Beyond the daily individual chores, there are other areas in the house that need to be picked up every day. I started our "Zone Chores" chore chart for kids about a year ago and it's worked out really well.
The idea is to split up areas of the house into zone. Each child is assigned one zone that they are responsible for every day for a week. Every week, the zones are rotated and everyone has a new zone.
This system works really well because the kids all take turns and no one gets frustrated with doing the same thing day after day.
Another helpful advantage is that you can adjust the zones anytime you need to.
There are three "Zones" in our house.
Zone 1 is our living room. This includes picking up the floor, couch, by the family computer desk, windowsills, and the TV stand.
Zone 2 is the downstairs. This includes our entryway, the guest bathroom, the outside porch, and the basement stairs.
Zone 3 is the upstairs. This includes the stairs, hallway, and kids' bathroom.
Here's our Zone Chores chart that we hang on our family command center where everyone can see it:

We rotate the zones among Nathan, Emily, and Joshua (Luke isn't quite old enough to be responsible for a zone himself). They each get one zone for one week, then Mom switches them around.
You're going to love how simple and effective this chore chart for kids is!
Right click and save the image below to download your free printable "Zone" chore chart for kids.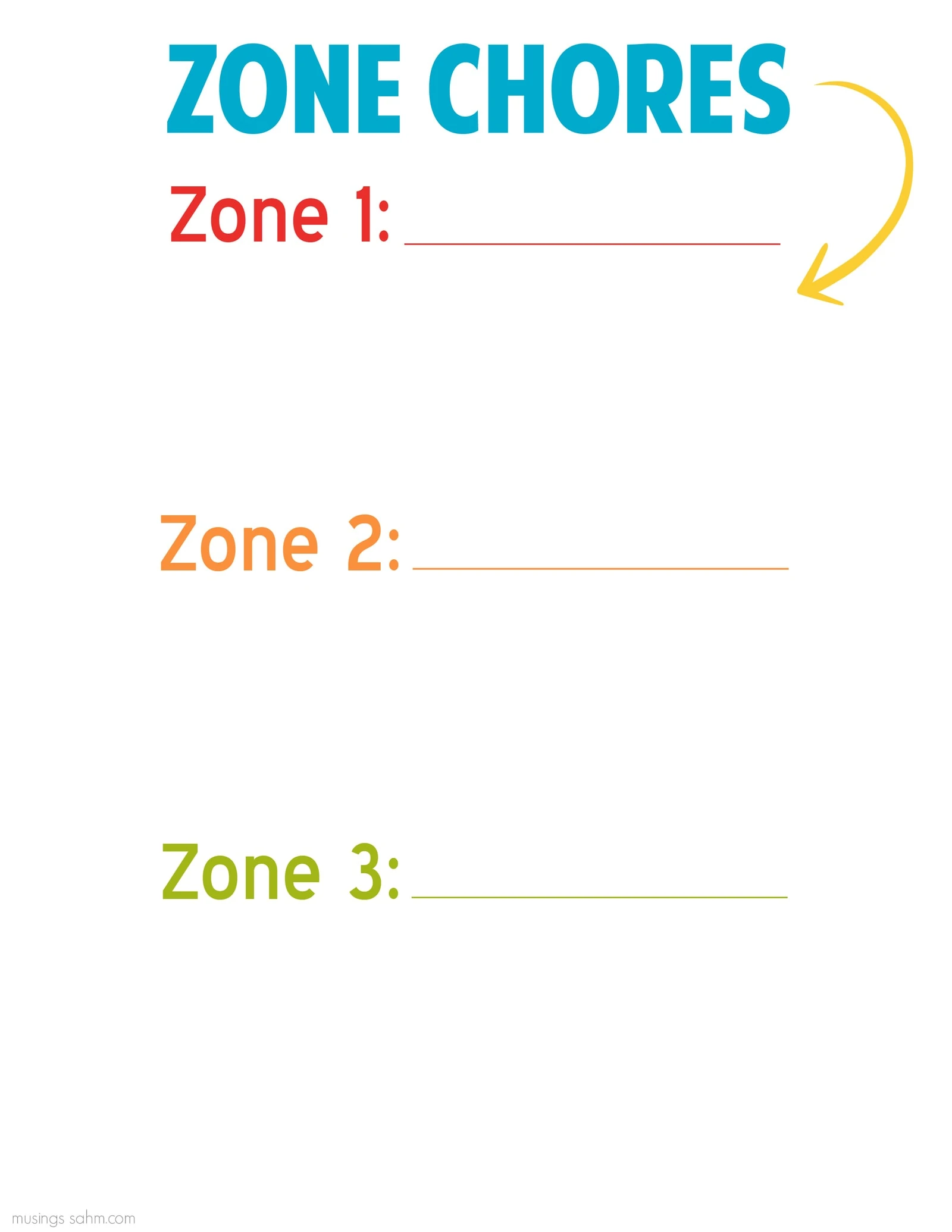 (And no, my handwriting is not that neat. I added our zone chore info text using PicMonkey. You can do the same by uploading the file. Have fun!)
Laundry: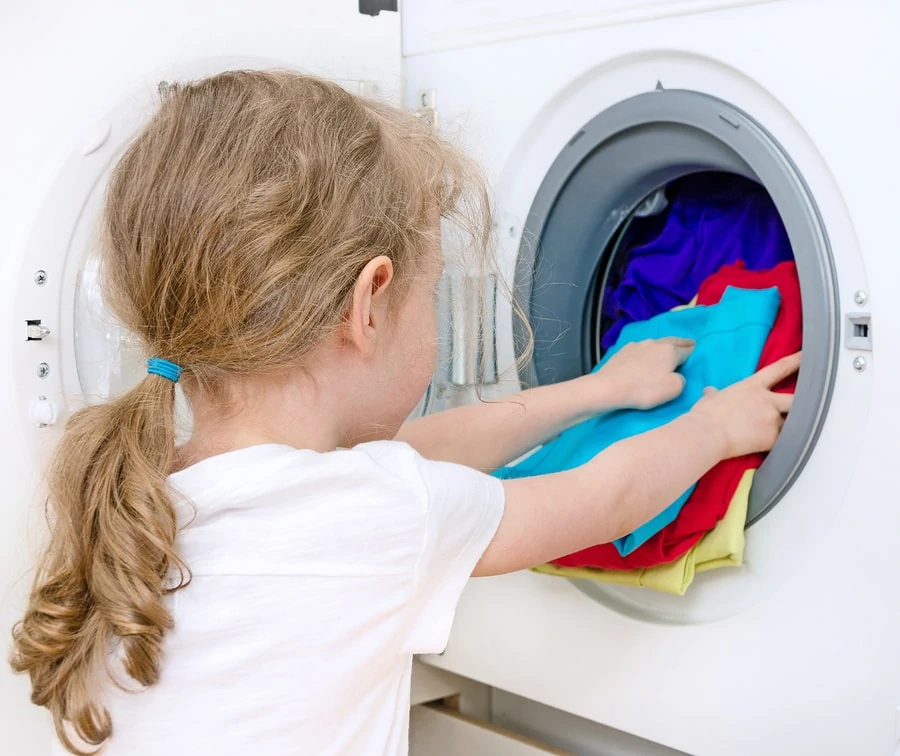 My kids all help with laundry and everyone, including Luke, puts away their own laundry. (Yes, Luke does put it away in the right place – more on this another day.)
Nathan and Emily do their own laundry completely independently. About a year ago, I was sick of the kids throwing clean or barely worn clothes into the dirty clothes basket because they were too lazy to put them away. So I taught them how to do their own laundry. (I enthusiastically called it a super cool "privilege" to run the washing machine and dryer and they were very excited at first. Now, the novelty has worn off but they still do it every week!)
While Josh and Luke aren't old enough to do it completely by themselves, they help me bring the laundry basket downstairs and load clothes into the washer and dryer.
Cleaning:
My younger boys help with dusting, cleaning windows, and wiping off bathroom counters, while Nathan and Emily vacuum the carpet around the house and clean the bathrooms. I usually do the rest of the cleaning, though I occasionally enlist a helper or two if I'm super busy.
I have one new chore for Nathan and Emily that they've started the last two weeks. Believe it or not, they actually argue over who gets to do it?!
What is this magical chore, you ask?
It's mopping the floor with our awesome new O-Cedar EasyWring Spin Mop & Bucket System.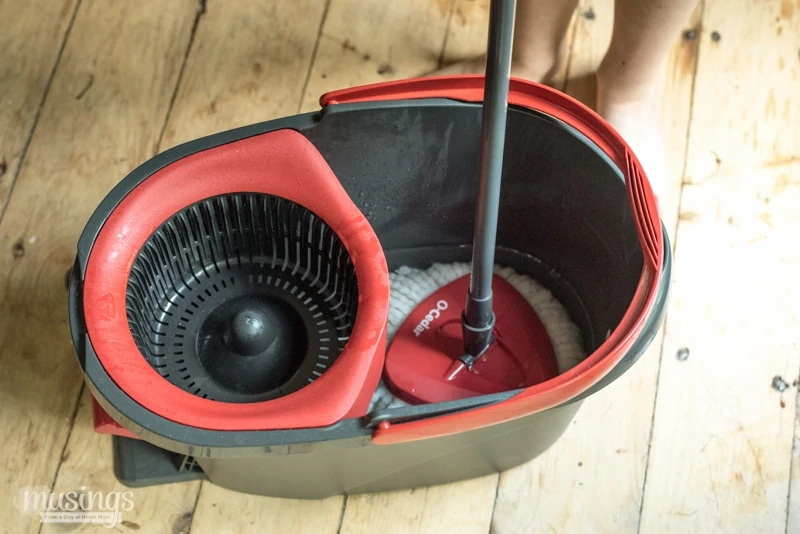 Seriously, if you want an effective fast way to clean your floors, get one of these mops.
I used to mop my floors with a steam mop that I thought was pretty nifty, but now that I have my O'Cedar EasyWring Spin Mop & Bucket System I realize just how time-consuming and difficult that old mop was! It took forever to heat up the steam, it usually wasn't wet enough to really scrub dirt off, and I had to scrub really hard.
It's so much faster and easier to clean my floors with my new O-Cedar EasyWring Spin Mop & Bucket System. And it's so easy, even (older) kids can do it.
Emily can fill up the bucket to the easy-to-see fill line and mop all by herself. And she loves it.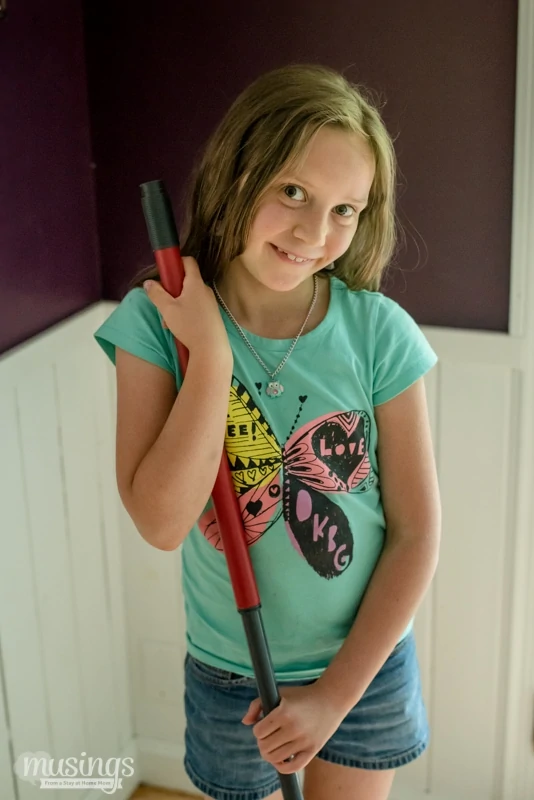 The other day, she surprised me by mopping all my wood and linoleum floors with the O-Cedar EasyWring Spin Mop & Bucket System all by herself. She did a great job!

Kids of any age can and should do chores. Get them involved and watch them be proud of the work they did. It's a great thing for your entire family!
You can find the O-Cedar EasyWring Spin Mop & Bucket System at Wal-mart, Home Depot, & (affiliate link) Amazon.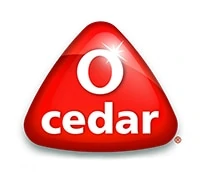 The O-Cedar EasyWring Spin Mop & Bucket System has a built in wringer activated by a high quality foot pedal allowing you to control the level of moisture. Cleaning your floors has never been this much fun. The built in splash guard prevents overspray onto surrounding floors and walls, and the triangular mop head reaches into corners with deep cleaning microfiber strands to attract dirt and grime. The head is washable, and refills are also available. The telescoping handle extends to 48 inches and can collapse for easy storage. EasyWring Spin Mop & Bucket System is proudly assembled in the USA. Visit ocedar.com to learn more, or like them on Facebook.