These chore sticks really work! If you are tired of battling with your kids to get them to pitch in, you've got to give this a try. These little miracle sticks actually make my children excited to do their chores. Who would have thought?
Does it sometimes feel like you're always frustrated with your kids NOT doing their chores? You're not the only one. It's something most parents deal with at one time or another.
I've tried many chore systems with my kids over the years, trying to keep track of their tasks and motivate them too. I've finally figured out a simple chore system for kids that actually works.
In fact, it works so well that my kids actually beg me for more chores to do! (I never thought I'd say that!)
We call it chore sticks (you'll see why in a moment). This chore system is super easy to put together and requires only a few inexpensive materials.
What are chore sticks?
Basically, kids can earn chore sticks for doing chores. You determine how many chore sticks they earn, then the kids can turn in their chore sticks for privileges, treats, or even allowance.
My kids turn in chore sticks for TV, Minecraft, or tablet time, and also things like treats (salsa, chips, popsicles), 1/2 hour later for bedtime, and allowance money.
The chore sticks themselves are like the play money. The kids have to actually hand over a hard-earned stick in order to earn their reward or privilege, so it's a good way to teach them how money works at home.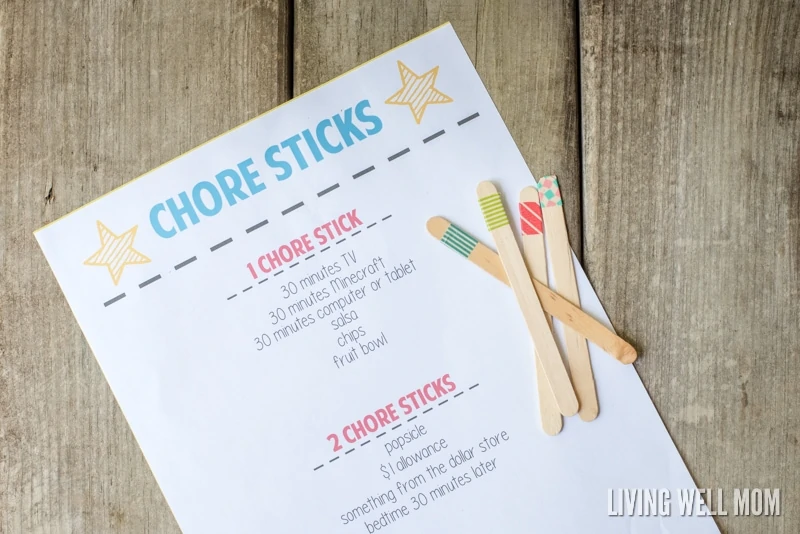 If your kids are trading in their chore sticks for allowance, make a DIY Rainbow Mason Jar Piggy Bank to store up their hard-earned cash.
Where to Put the Reward Chart
Our Chore Sticks reward chart has a place of honor on our family command center where it reminds everyone of these incentives.
Make sure to put it somewhere prominent so the kids are motivated continually!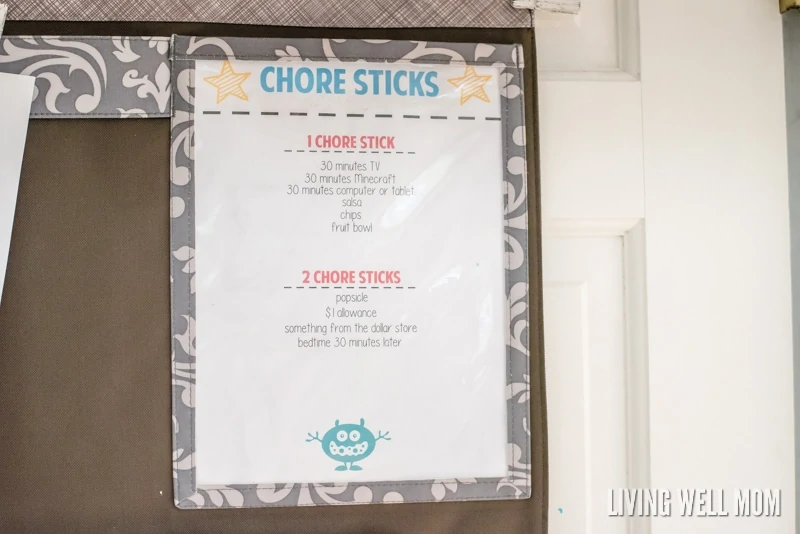 This chore system works so well because it's like a pretend money system within the family. You work, you earn things. You don't work, you don't get stuff. Simple.
My kids have chosen not to watch TV because they wanted to save chore sticks for a new toy! That NEVER worked with old basic chore charts.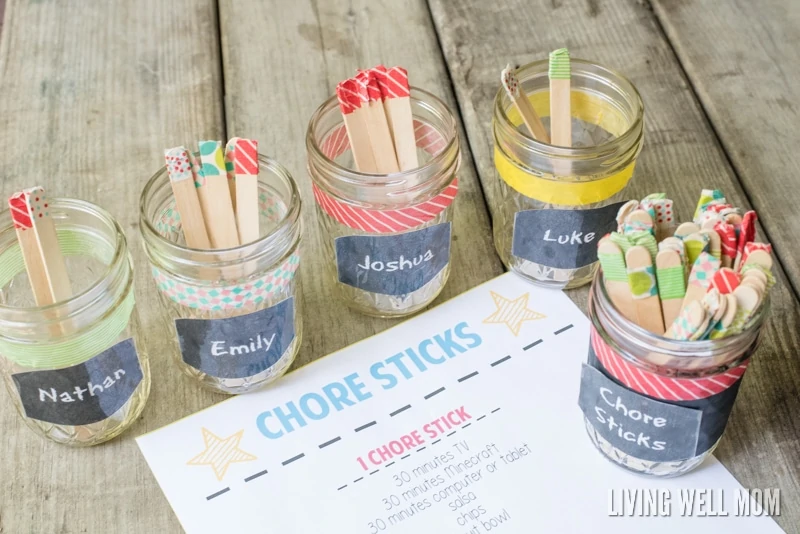 That's the other thing – I don't have a set amount of chore sticks. My children earn based on their performance (did they do a good job or did I have to tell them three times to sweep all the crumbs?) and attitude. If they have a poor attitude, they'll earn less or nothing at all.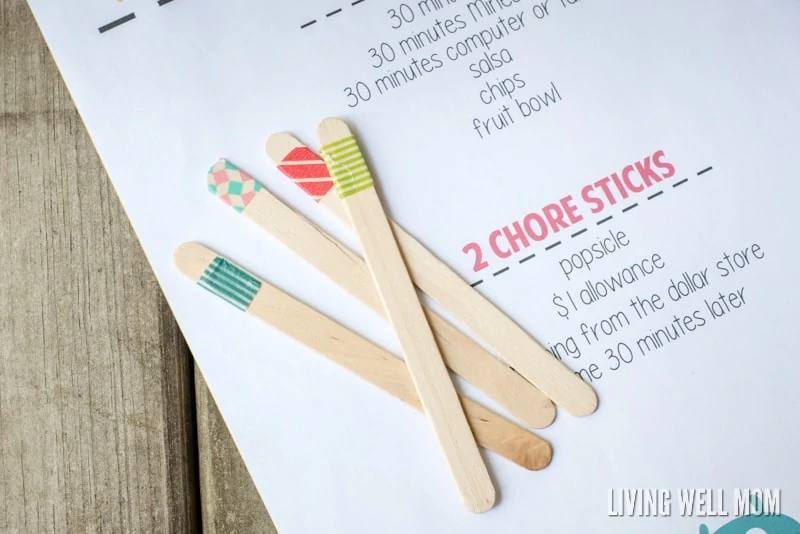 It's like the real world. If you work hard, you'll be rewarded more (most of the time.) If you have poor performance and/or a bad attitude, you're not going to get very far.
We've found this chore system for kids to be much easier than simply earning allowance. Occasionally, I'll buy a toy or something like a swim goggles that's on sale and put it away until that child has earned enough chore sticks to pay me back.
It's amazing how well this chore system for kids works!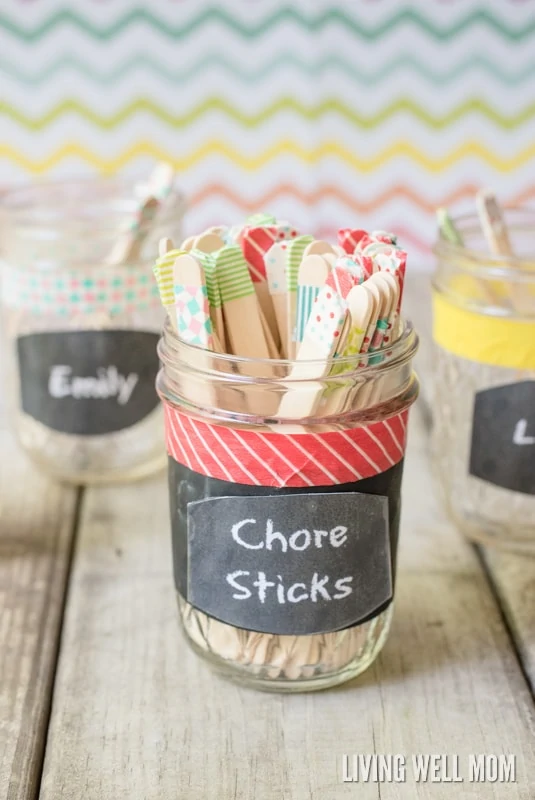 What do you put on chore sticks?
I've been asked this a few times but I don't put anything on the actual stick. Instead, we choose to treat the stick like a cash of sorts.
I use this along with our Zone Chore chart – my kids usually earn 2 chore sticks for completing their zone chores with a happy attitude.
Then I give them additional chores if they ask for more! I never have a hard time coming up with things that need to be done.
If you need a few chore ideas, here's a quick list to consider:
Wash clothes
Put away laundry (easy for kids especially with this simple clothing organizing system)
clean toilets
clean sinks in the bathrooms
wiping down kitchen cabinets
load dishwasher
vacuum the house
clean the kitchen counter (grab some of my favorite DIY cleaners here)
load the dishwasher
dry dishes
clean mirrors
mopping
I also include a category that's called "mom's choice". They ask me what I want them to do and I can simply assign a task that is an immediate need. This can be anything from collecting library books to return to unloading groceries.
I've also found that it's fun to have a list with different types of chores because my little helpers love to choose instead of me just assigning things.
Free Printable Chore Sticks Chart
I made a free printable "Chore Stick Chart" here that you can fill in with what works for your family.
(Right click & save. Then print and write in your family's rewards. )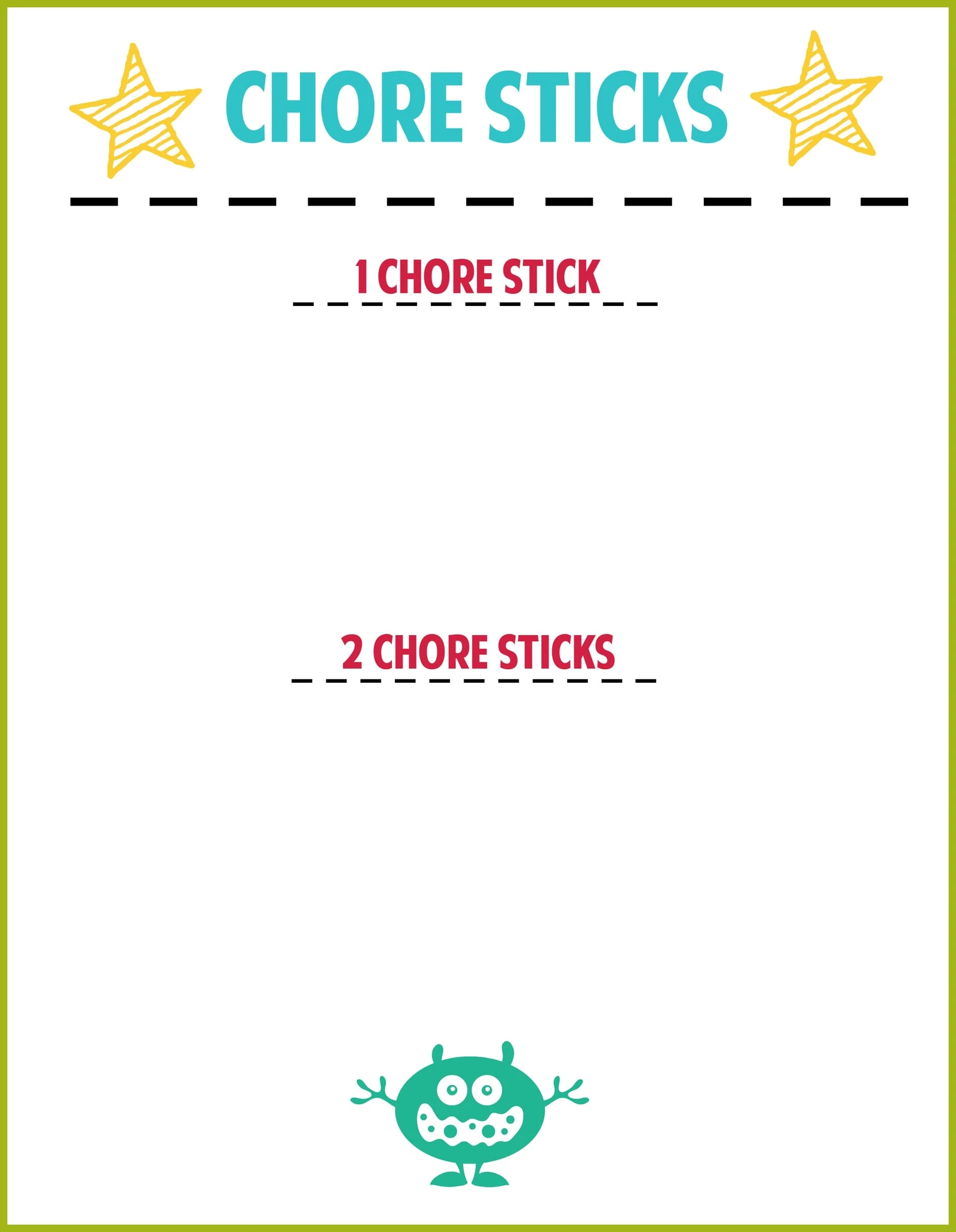 Another free printable option: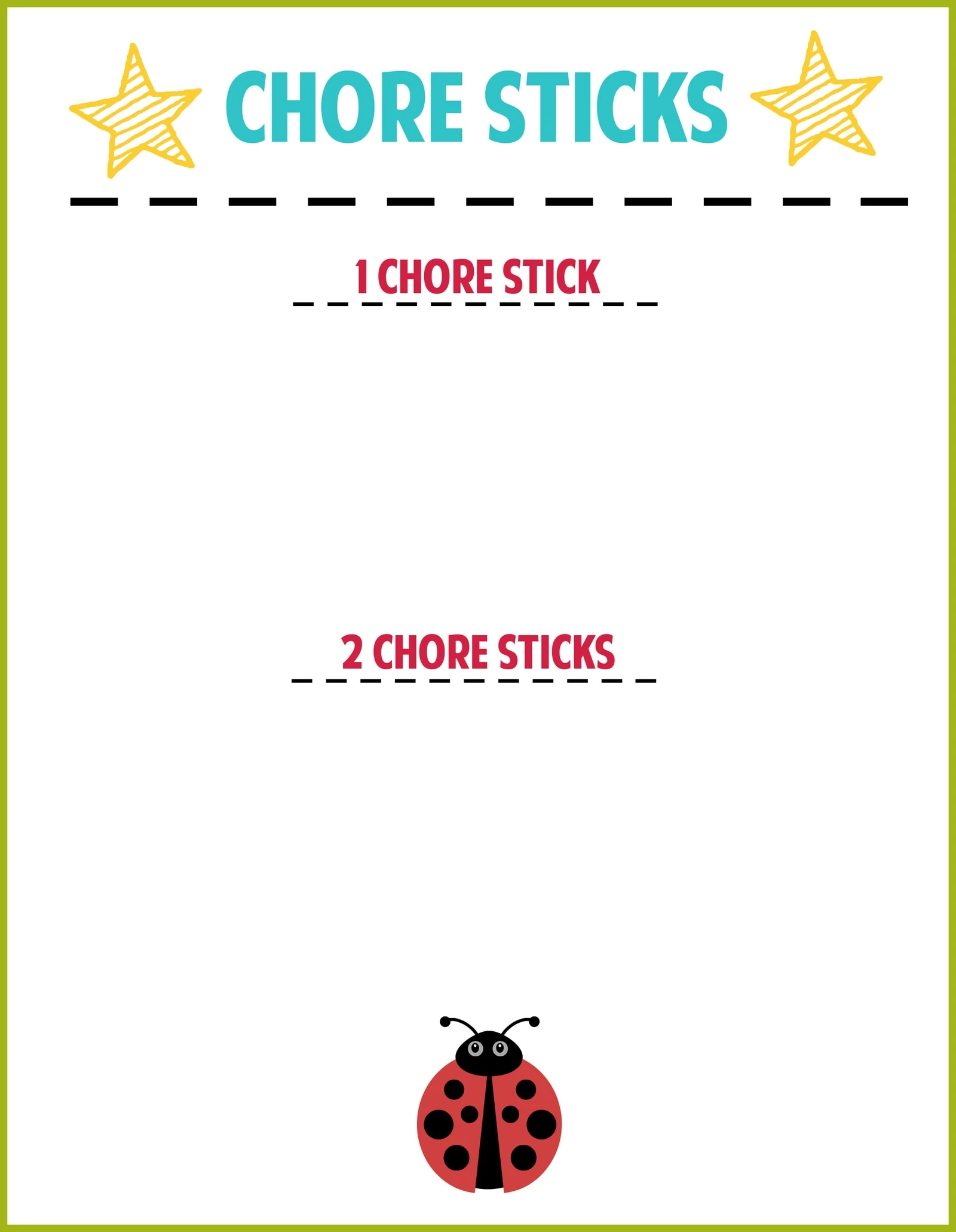 How to Make Chore Sticks:
Supplies:
Step 1:
The kids can help with this part. My children loved helping make their own chore sticks!
Wrap small amounts of washi tape or thin decorative duct tape at the top of the craft sticks. Do this for all the craft sticks.
Step 2:
Print & cut out your chore stick labels here:
(Right click, save, then upload to PicMonkey and add your children's names for the blank labels (I used free font "Eraser Dust")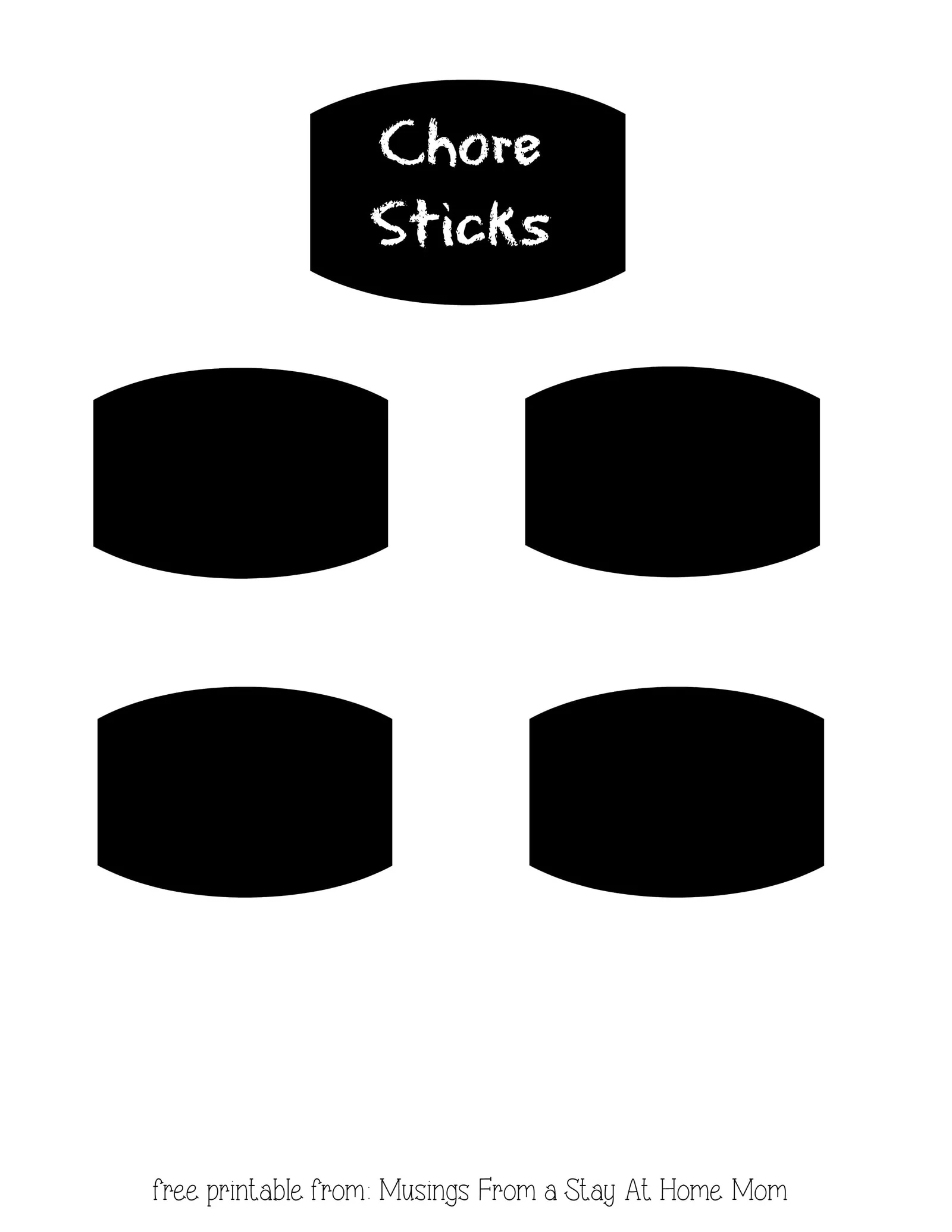 Laminate or cover the labels in clear tape for added durability.
Step 3:
Wrap a piece of washi tape around the top of the chore stick mason jar. Attach the labels with tape, removable adhesive, or even a glue gun.
One jar will be the main chore stick jar…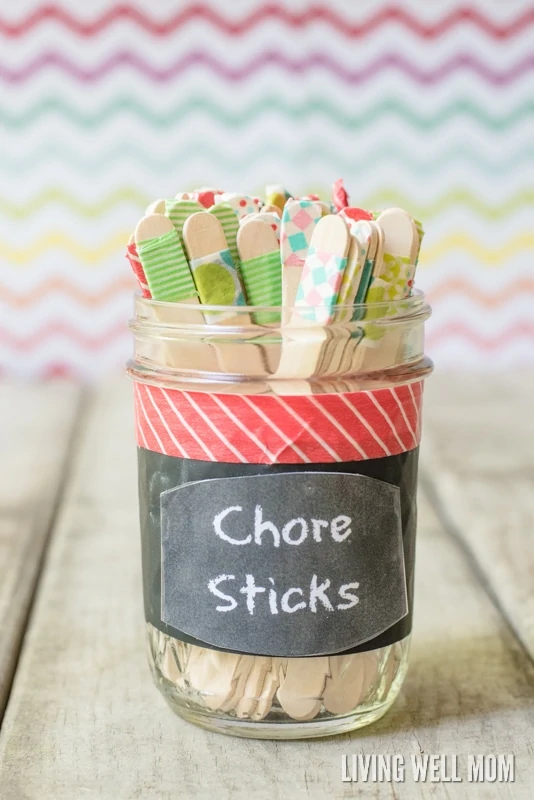 …and the others will be for each child. Let them decorate their own jars- they'll love it!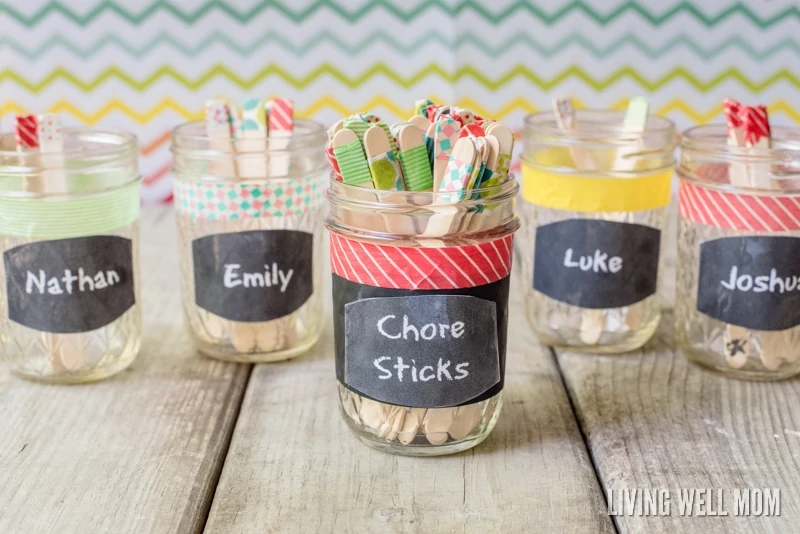 Step 4:
All the chore sticks go into the main chore stick jar until they are earned.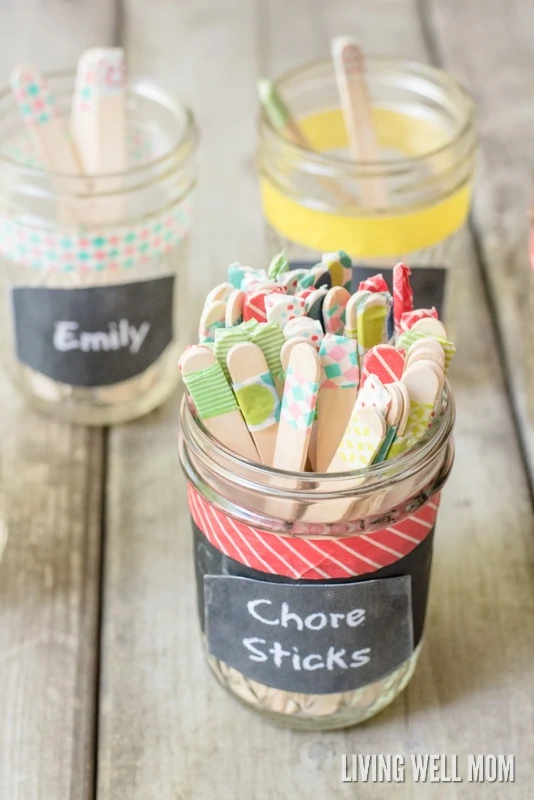 Fill out & print your Chore Stick Reward Chart (above) and hang it in an obvious spot where everyone will see it. This is an effective way to motivate your family to get started on the various cleaning tasks too!
You can even have games to see who has the most chore sticks by the end of the week with a special prize. Play around with different ideas and see what happens. I think you'll find this simple chore system to be a huge help!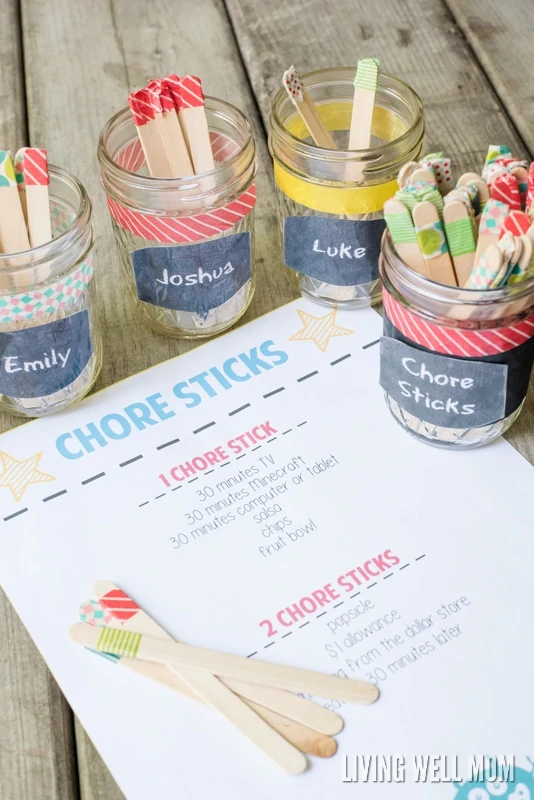 You're ready to go!
Say goodbye to all the fighting with this new chore system for kids.
Chore sticks will help teach them responsibility and the value of hard work, along with helping to keep your home cleaner and neater!
With practice (and a little patience,) this will soon become a family routine and you'll be enjoying a clean house (well, mostly clean at least!).
More Ways to Get Kids Involved in House Management