I've been spending a lot more time at home this year, much like the rest of the world. Consequently, I've noticed some hot spot areas in our home and tackled them over the past few months—and this DIY kids' shoe rack has been an absolute lifesaver!
If your kids are anything like mine, they'll run inside, kick off their shoes and leave them wherever they fall. That's a problem in itself, but when it's time to leave the house again, guess what? No one can find both of their shoes! I can't tell you how much time we've wasted looking for a missing pair.
Well, no longer. This DIY shoe rack is simple to set up, economical, and works REALLY well for containing the kids' shoes. Plus, it's simple enough for even young children to keep up with!
Make an Easy Shoe Organizer for Kids
There are a lot of ways you can keep shoes organized, but this is my favorite method. I've actually used this system for several years now and had great success – it's even moved with me from my old house to my new one!
Additionally, I'm giving you the free printable labels to finish this project off with style. These labels will make sure that each kid knows exactly where his or her shoes are meant to go!
I'm going to show you how to put this DIY kids' shoe rack together step by step. If this doesn't fit your needs, that's totally okay! I'll also link to several shoe organizers that you can simply order online at the bottom of this post too.
How to Make a Kids' Shoe Rack
Our previous shoe storage didn't work very well because there wasn't much order to it. With four kids, there's usually a pair of sandals or crocs plus athletic shoes for each child. That's at least EIGHT pairs and the hazardous on the porch wasn't cutting it anymore.
I've learned from experience that the kids do better when they each have their own space. This helps teach boundaries and minimizes bickering ("he moved his shoes onto mine!") That's why this easy shoe organizer for kids works so well – each child has their very own cubby.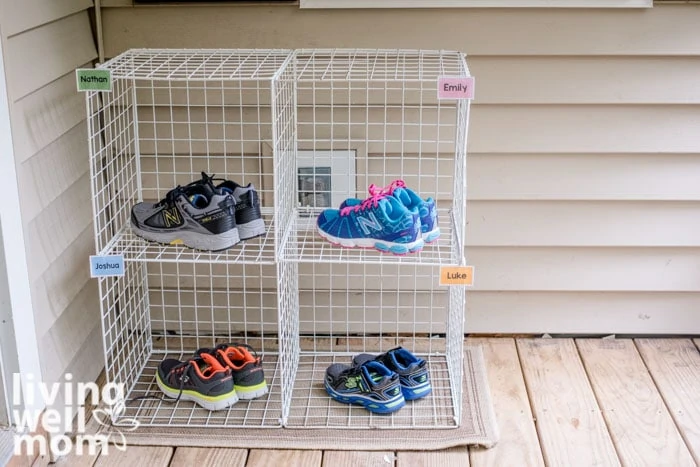 You can choose to use a plastic bin for each child's cubby, but I've found it easier to skip it.
Plus the wire grid makes it easy to clean and the setup is light enough to move aside for sweeping or relocation. We'll move our shoe organizer inside in a couple of months once the cold descends.
It's not fancy, but this easy shoe organizer for kids definitely does the trick!
What You'll Need:
connectors or cable ties
free printable labels for names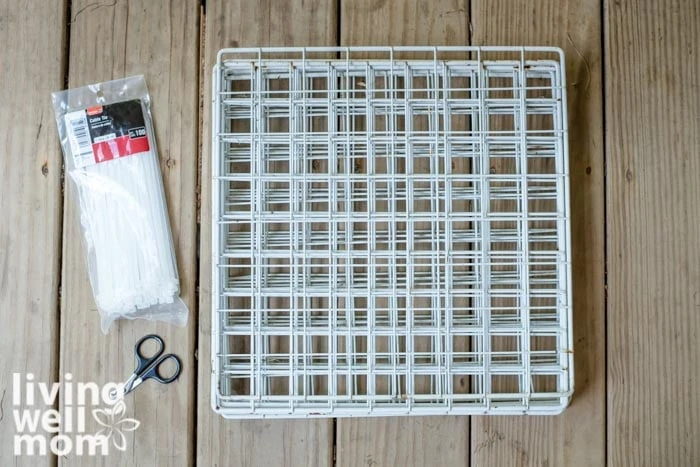 Simple storage cubes are perfect for this project. We bought multiple sets of storage cubes many years ago because they are handy for many different projects, so luckily I already had some on hand. You can find them at Walmart, Target, Amazon, or any organizing store.
I personally prefer using cable ties than the connectors when assembling storage cubes. I'm probably special but those connectors are hard to use! If you use cable ties (also called zip ties), here's a quick tip: use cat claw clippers to easily clip the cable ties; it's much easier than scissors!
Assemble one storage cube for each child, connecting them together. I have four kids, so I made four cubes. If you're using cable ties like me, pull them tight, then clip the end off.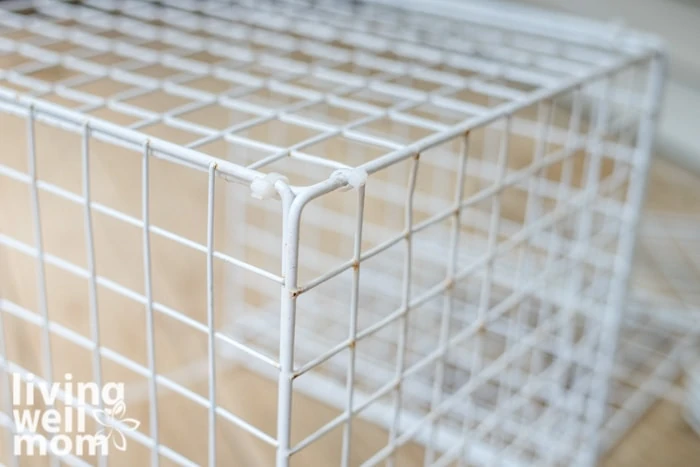 Once your cubes are put together, grab your free printable labels here:
Right-click and save, then upload to PicMonkey and add your children's names:
I highly recommend using labels because kids really respond to having their name on their belongings. It establishes an area as their space and that's important for children, especially when there are siblings around.
Attach the labels to your shoe organizer with tape or a hot glue gun.
The cubes are large enough that you can easily fit two pairs of shoes side by side.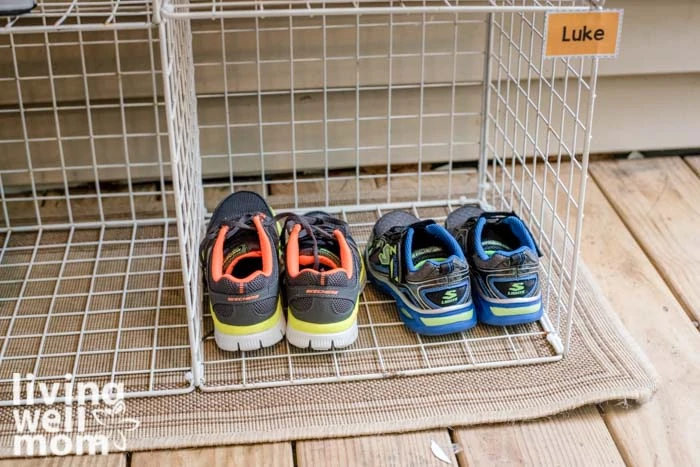 Of course, my kids just toss their shoes into their cubbies and leave it at that, but at least we're making progress!
So there you have it – a handy shoe organizer to help keep things tidy this back-to-school season!
Pin the image below to find the instructions later.
More Shoe Organizing Ideas
If the DIY kids' shoe rack isn't right for your needs, no problem. Here's a few other products I found online that would be perfect for keeping kids' shoes orderly.
1. Over the door hanging shoe organizer. This $10 solution keeps it simple with plenty of pockets for kids to keep shoes in. Fair warning – if you have small children, the top pockets will be harder to reach, so keep seasonal items there and swap when needed.
2. 3-tier stackable rack. A simple 3-tier shelf can make for an easy, stylish shoe drop zone.
3. Fabric shoe divider. If you have toddlers or small babies, this is a cute, easy way to keep those tiny shoes organized.
4. Hanging shoe organizer. This hanging shoe organizer is the perfect way to keep your hall closet stocked with neatly organized footwear.
5. Collapsable shoe bins. If you prefer every pair to be put away in its own compartment, you'll love this organizer!
6. Under-bed shoe storage. This is a better solution for seasonal shoes, not everyday items.
7. Freestanding shoe cubby. I like this freestanding cubby because it's practical and can hold at least 10 pairs of shoes, which is perfect for a family.
There you have it – there are so many ways to keep your kids' shoes neat and organized, no matter what space you are working with!
More Organizing Ideas: