This post is written in partnership with Rack Room Shoes, but all opinions & ideas are still my own.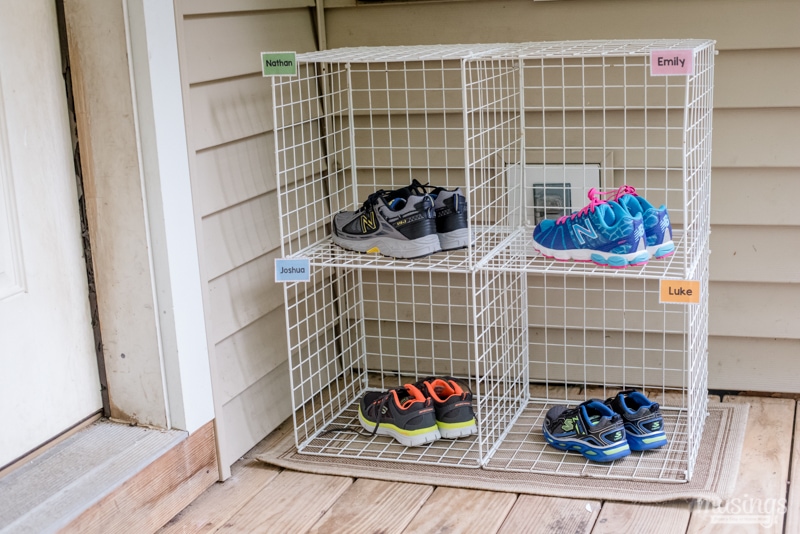 Ready or not, back-to-school season is upon us. I've been hard at work organizing our home so we're ready when school starts at the end of the month. I recently put together a new shoe organizer for my kids' footwear. It's simple to set up and it works really well for containing the kids' shoes.
This time of year, without fail, at least one of the kids has outgrown their shoes and I have to add that to my ever-growing back-to-school shopping list. This year, all four of my kids have grown and need new footwear for school.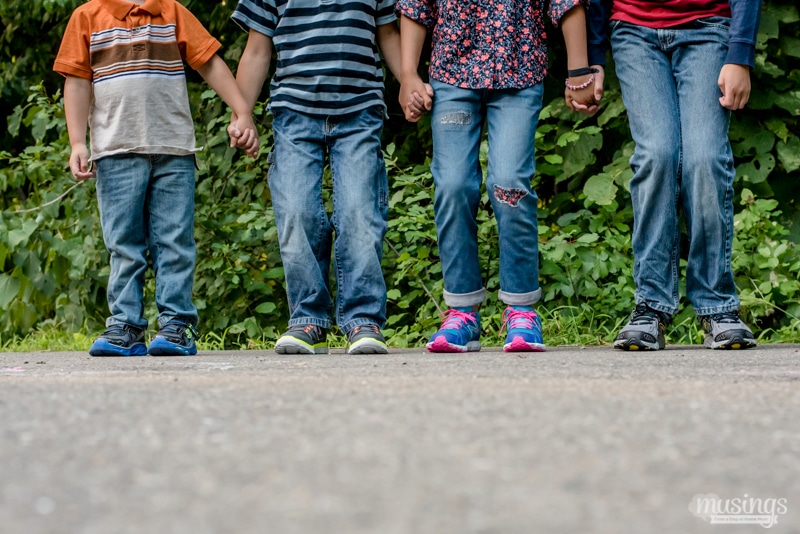 Normally, shoe shopping requires a trip to at least two different stores where we may or may not find the right styles and sizes we need. But this year, I didn't have to go to multiple stores. I found shoes for all four of my kids at Rack Room Shoes. That's ONE store for four kids, ages 4-12. (There's plenty of options for Mom and Dad too!)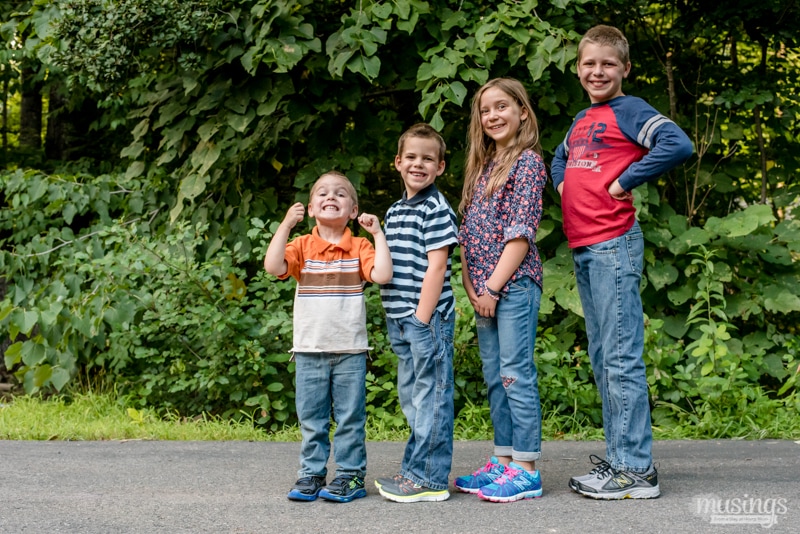 If you haven't heard of them before, Rack Room Shoes has a great selection of name brand shoes, including Nike, Skechers, Vans, Converse, and more for the whole family, plus many are on sale. (That's a score in this mom's book right there!)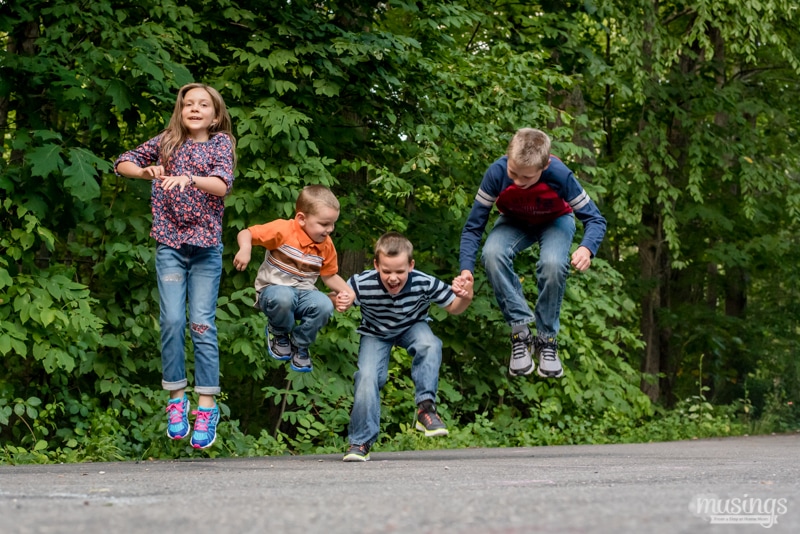 There's many Rack Room Shoes store locations across the United States, but if there's not one near you, you can simply shop online. (There's no Rack Room Shoes locations near me either – not uncommon though, since we kinda live in nowhere New Hampshire). I do wish there was a little more info on the site regarding the sizing, but it's not hard to find that on the shoe manufacturer's websites.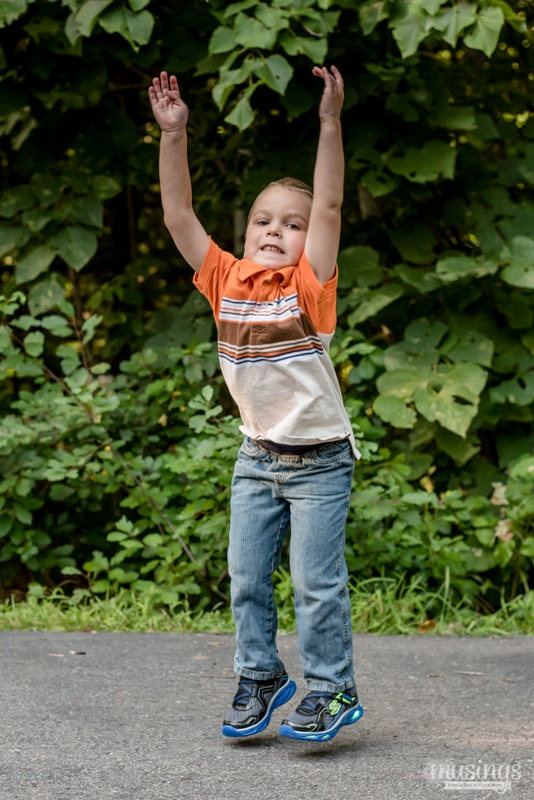 Luke is wearing Skechers IPOX.
With free shipping on orders over $50 and easy returns too, I'll definitely be shopping online at Rack Room Shoes again. My daughter's shoes were too small (gotta love the size variance between brands) but the return shipping label made it easy to exchange for a larger size.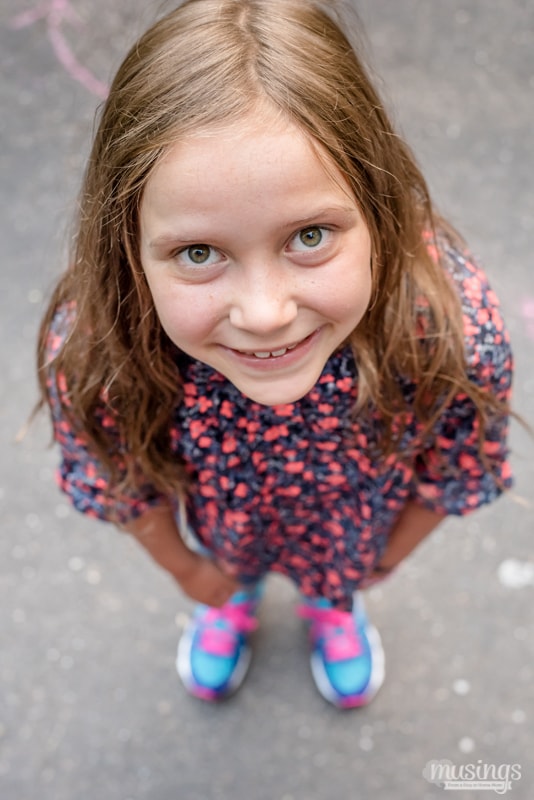 Emily is wearing New Balance KJ890TBP.
Another bonus? Rack Room Shoes hosts an annual "Shoes That Fit" campaign to help provide at-risk children in communities with new shoes for the school year. Customers can donate money when they check out both in-store and online and Rack Room Shoes will match 100% of donations, up to $300,000!
I love to see companies give back, especially when it's helping our children!
Nathan is wearing Nike Downshifter 6.
And my kids love their new shoes from Rack Room Shoes!
Confession: they're not happy with me right now because I've set their new shoes aside for school and they don't want to wait. But mean Mom wants them to have nice new shoes for the first day of school!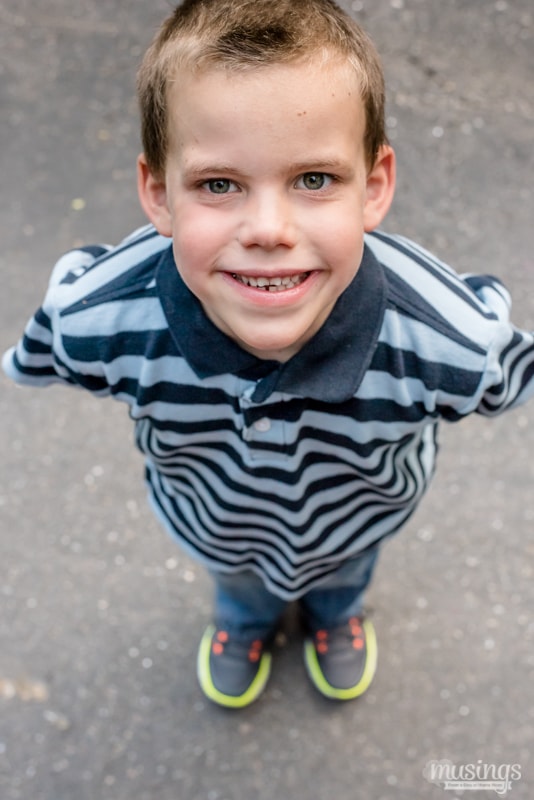 Joshua is wearing Skechers Flex Advantage.
How to Make an Easy Shoe Organizer for Kids:
(affiliate links:)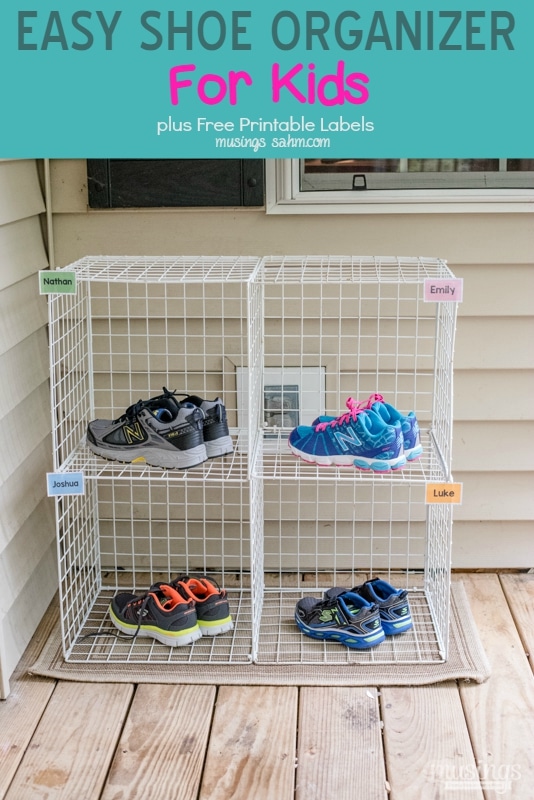 Our previous shoe storage didn't work very well because there wasn't much order to it. With four kids, there's usually a pair of sandals or crocs plus athletic shoes for each child. That's at least EIGHT pairs and the ol' pile on the porch wasn't cutting it anymore.
I've learned from experience that the kids do better when they each have their own space. This helps teach boundaries and minimizes bickering ("he moved his shoes onto mine!") That's why this easy shoe organizer for kids works so well – each child has their very own cubby.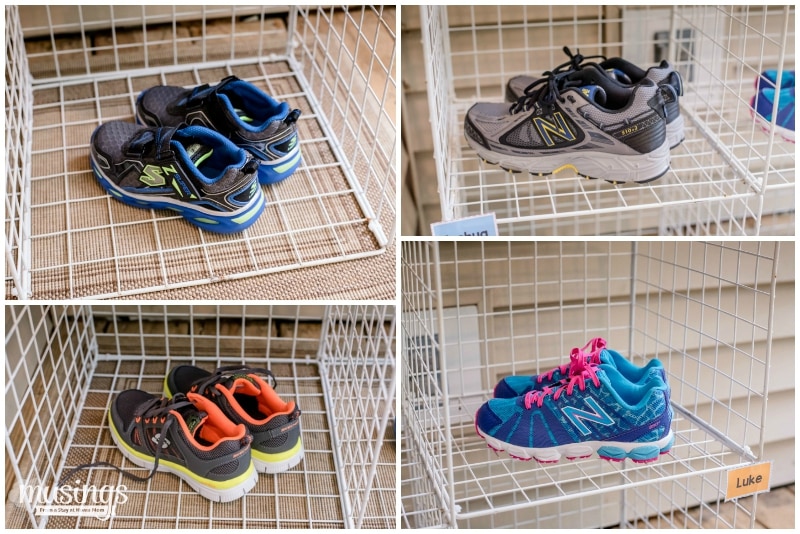 You can choose to use a plastic bin for each child's cubby, but I've found it easier to skip it.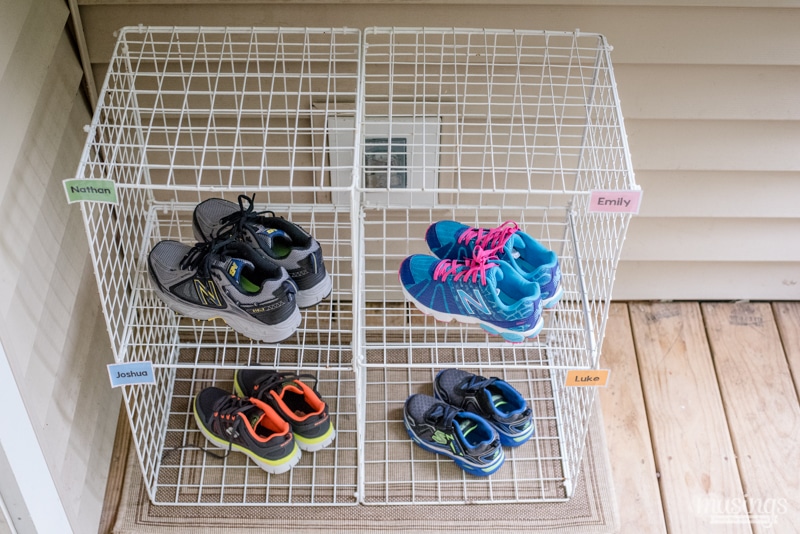 Plus the wire grid makes it easy to clean and the setup is light enough to move aside for sweeping or relocation. We'll move our shoe organizer inside in a couple months once the cold descends.
It's not fancy, but this easy shoe organizer for kids definitely does the trick!
What You'll Need:
connectors or cable ties
free printable labels for names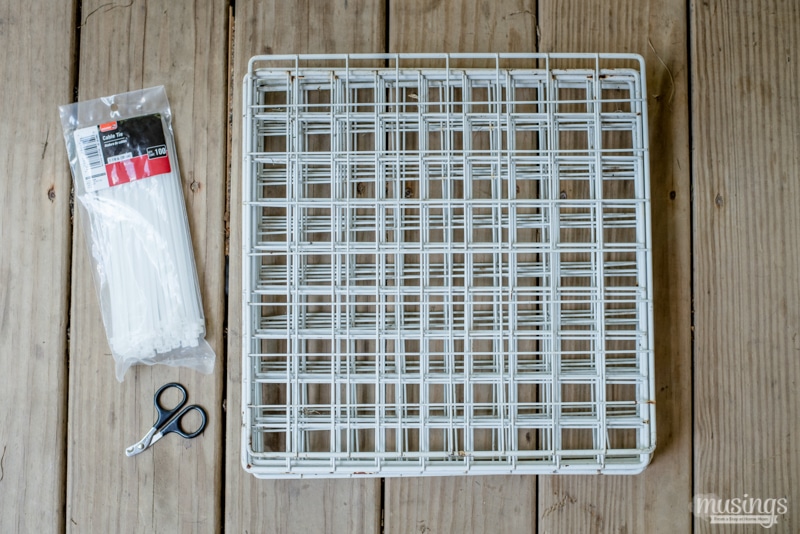 Simple storage cubes are perfect for this project. We bought multiple sets of storage cubes many years ago because they are handy for many different projects, so luckily I already had some on hand. You can find them at Walmart, Target, Amazon, or any organizing store.
I personally prefer using cable ties than the connectors when assembling storage cubes. I'm probably special but those connectors are hard to use! If you use cable ties (also called zip ties), here's a quick tip: use cat claw clippers to easily clip the cable ties; it's much easier than scissors!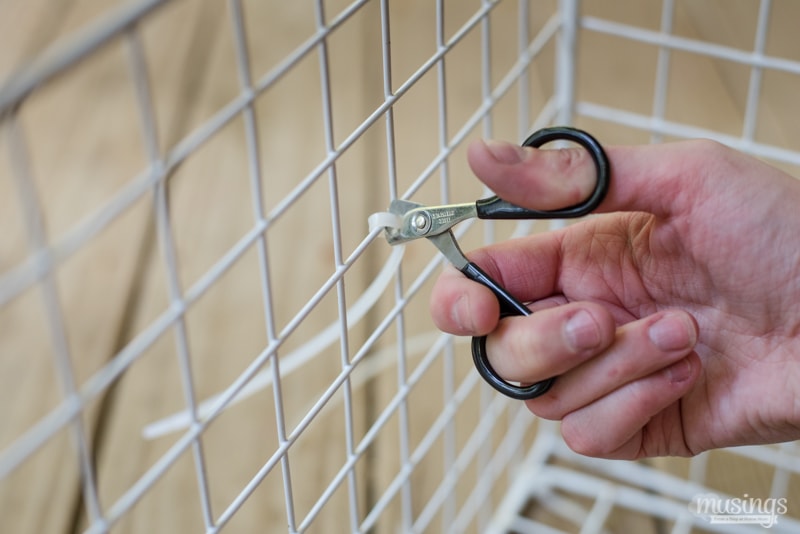 Assemble one storage cube for each child, connecting them together. I have four kids, so I made four cubes. If you're using cable ties like me, pull them tight, then clip the end off.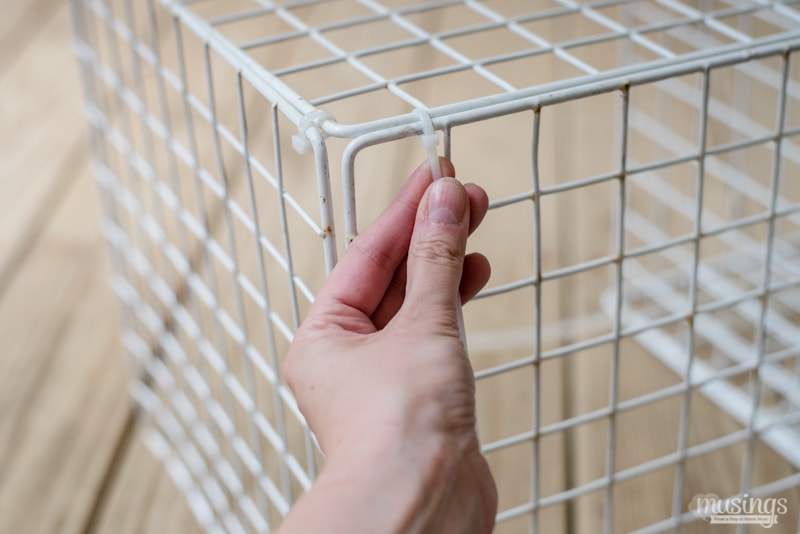 Once your cubes are put together, grab your free printable labels here:
Right click and save, then upload to PicMonkey and add your children's names: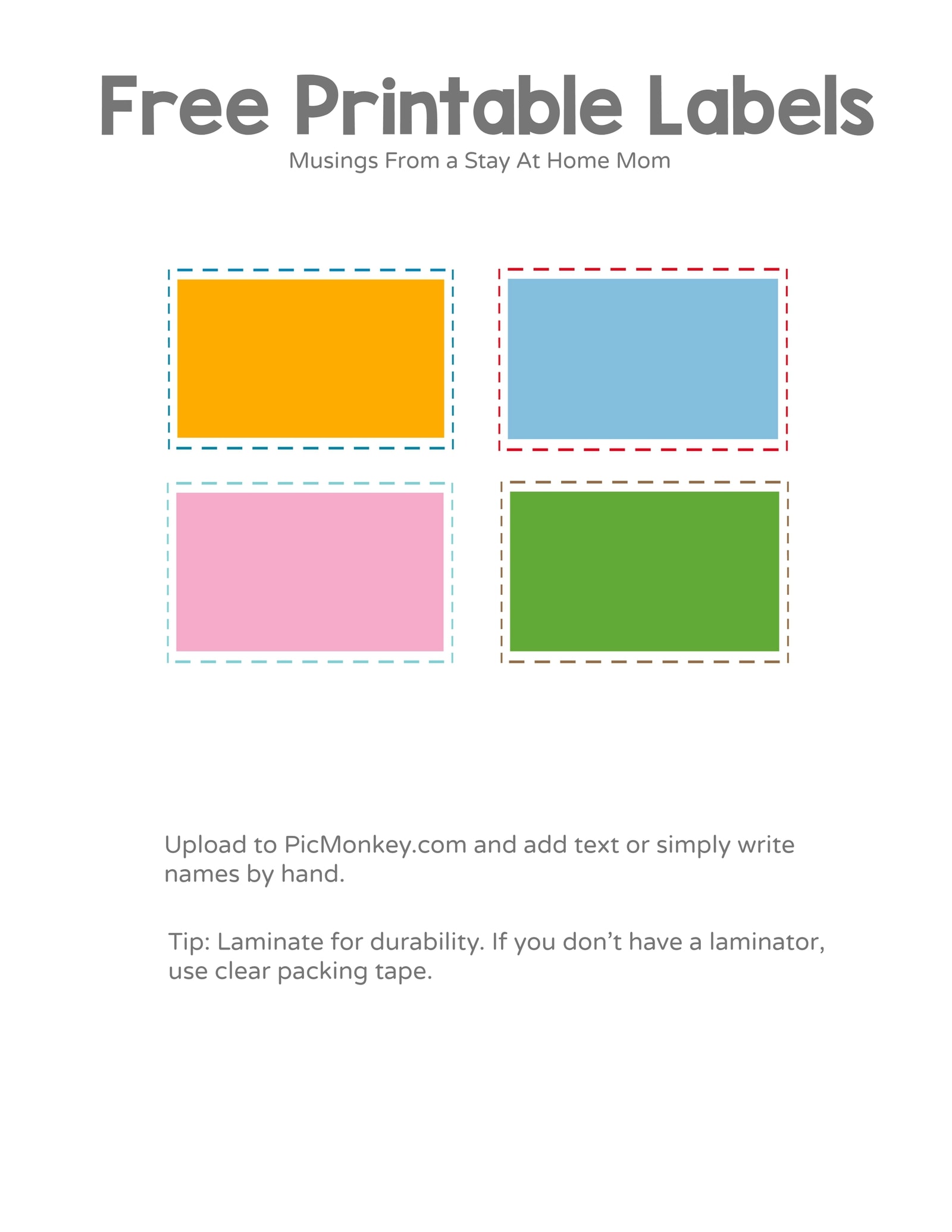 I highly recommend using labels because kids really respond to having their name on their belongings. It establishes an area as their space and that's important for children, especially when there's siblings around.
Attach the labels to your shoe organizer with tape or a hot glue gun.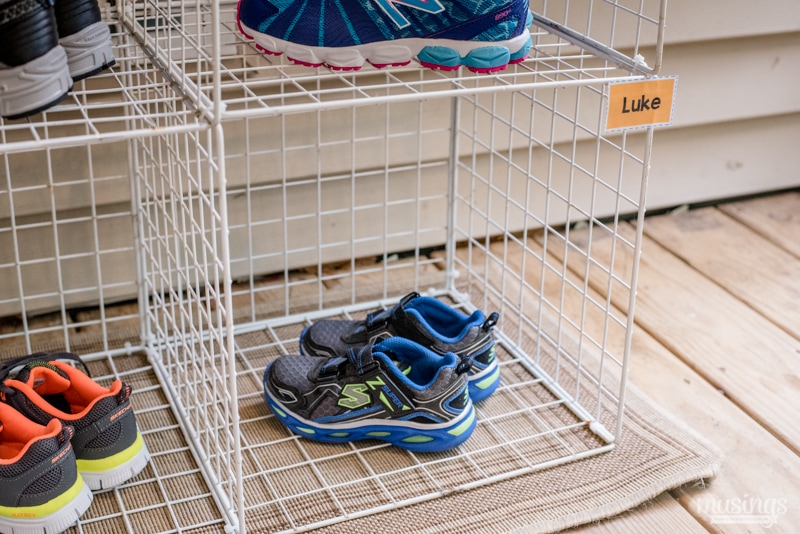 The cubes are large enough that you can easily fit two pairs of shoes side by side.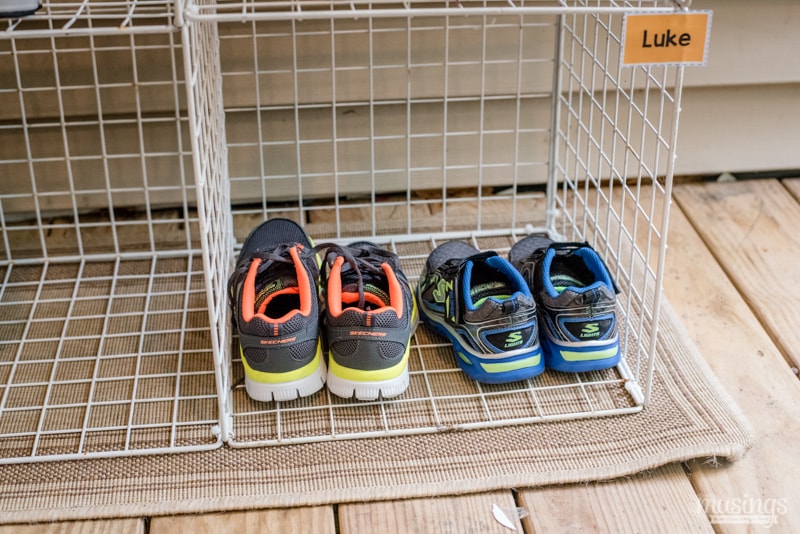 Of course, my kids just toss their shoes into their cubbies and leave it at that, but at least we're making progress!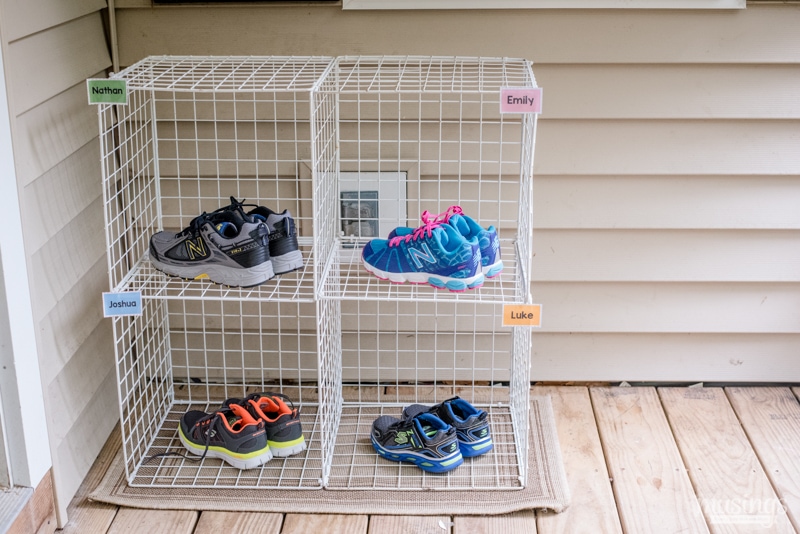 So there you have it – a handy shoe organizer to help keep things tidy this back-to-school season!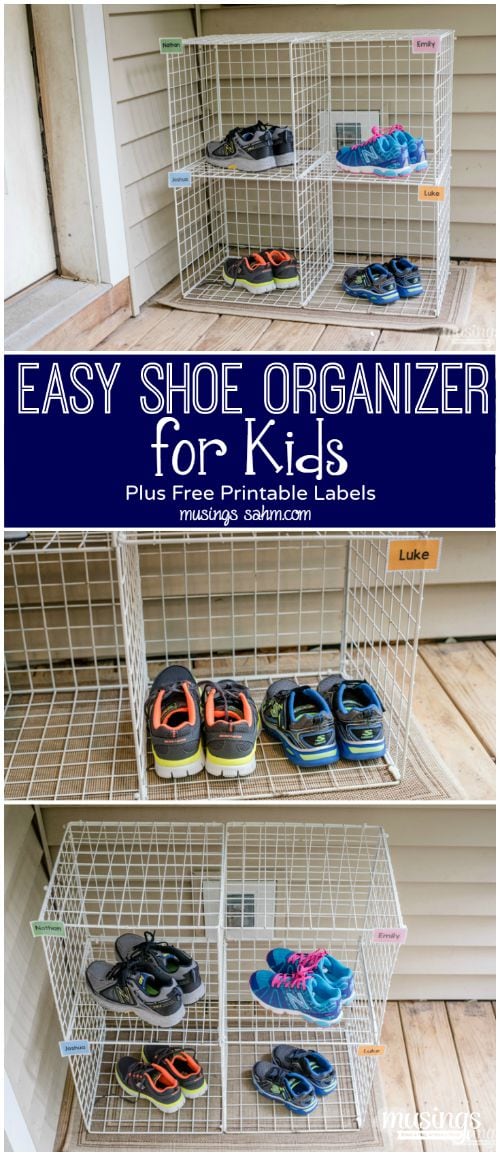 Be sure to check out Rack Room Shoes for shoes the whole family will love!