Labels can make organizing your home much simpler and easier. Once you label something you don't have to think about it anymore. You know exactly where your stuff belong, both when it comes to putting it away and (most importantly) finding that item later.
And luckily, there are many free printable labels for organizing online. That's right – FREE! Today I'll show you where to find 60+ free printable labels, including everything from printable water bottle labels to food labels for food storage, even box labels for moving!
How to Use Free Printable Labels
You don't have to have fancy label stickers, although it's fine if you do.
Here's what you'll need:
You can use free printable labels by simply printing them out on regular computer paper, cutting them out, and taping them wherever you need them.
Depending on where you're using them, you might want to cover the label in packing tape for added durability.
60+ Free Printable Labels for Organizing
1. Free Printable Labels for Storage Bins
I use these labels for everything from pantry storage to organizing our homeschool area. You can download them as PDF files and personalize them with whatever you want to say. BHG even offers tips for which Avery labels match the templates for easy printing.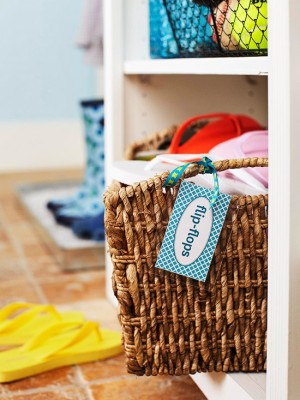 2. Free Printable Food Labels for Pantry Organization
from WorldLabel
I love the variety of sizes, designs, and colors from this collection of free printable labels. They're designed for organizing in the kitchen. You can choose from both auto-filled and blank labels.

3. Printable Labels for Jars – Organizing Spices and More
from WorldLabel
Here are more kitchen organizing labels. I especially love the spice labels. I plan to use these as I finish organizing my spice shelf. You can print both pre-written and blank labels so you can customize to what you want.
4. Printable Decorative Labels for everything!
from The Rubber Punkin
The Rubber Punkin blog is all about homemade. She made these cute label graphics for her own home organizing projects and generously offers them to her readers for free! You can find everything from closet organization to cleaning labels and she even includes blank labels so you can use them wherever you want.
5. Printable Labels for Folders
from Sissyprint
What's a printable label collection without something for organizing paper? I've recently tackled our office area and plan to make use of these shortly. I love the fun colors too! Now that's motivating!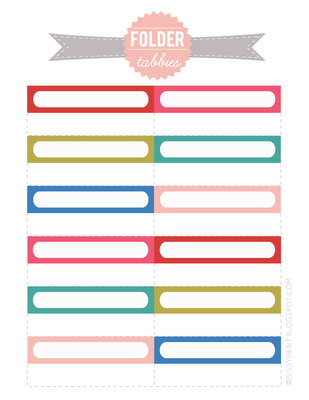 6. Huge collection of free printable labels
includes everything from printable holiday labels, gift tag printables, general home organization labels and more. From I Should Be Mopping the Floor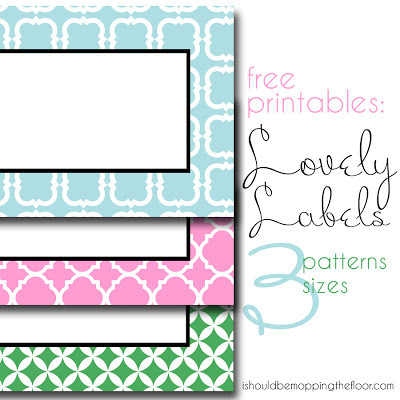 7. Printable Laundry Room Labels
These simple labels make it easy to organize the laundry room. I've used some of these for our laundry room area. There's even a "Lost Socks" label!
8. Free Printable Decorative Labels
I think these labels would be great for water bottles, storage bins, etc.
from The Creativity Exchange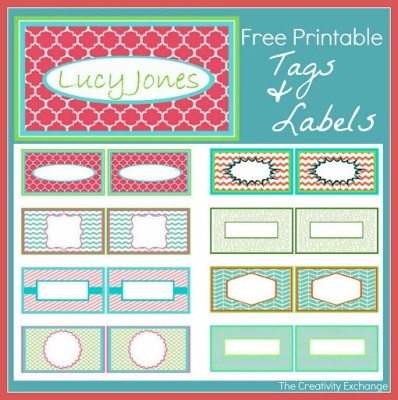 9. Free Printable Pantry Labels
again from Better Homes & Gardens.
I love these so much, I needed to share two from this group. You can also find labels for key rings, menu organization, canned goods, office and business supplies, shelf labels and more.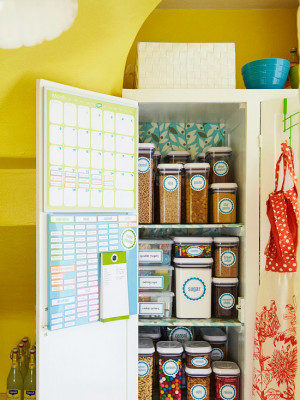 10. Free Clothing Organization Labels
from Living Well Mom
Yup these are from yours truly! We've used these free printable decorative labels for YEARS to help my kids keep their clothes organized. They work and are CUTE!
Seriously. Go check those out. Now.
Did I mention it's free?
But guess what…just because I'm all about all types of free printables, I literally can't just stop at 9. How does 50 plus MORE free printables sound?
You asked for more…I've got 'em. Here are even more free printable labels for organizing every area of your home.
Even more free printable labels for organizing your home
Printable water bottle labels
Check out these great water bottle labels. Great for keeping track of who's drinking from what bottle without having to constantly ask that question over and over again.
Who says that water bottles are just for working out and lunchboxes? You can easily create some awesome birthday party water bottle labels with these free printables. (check 'em out! There are some super fun ideas and themes!)
Do you have a bridal shower coming up? These bridal shower water bottle labels are a great way to show your guests that you're serious about giving them their own refreshing beverage!
These free water bottle templates are great for a wide variety of needs. You can customize them as well making them a really great and unique find.
Looking for a fun way to celebrate the 4th of July? You're going to love the ease and look of these fun free patriotic water bottle printables!
Printable labels for jars
Keeping track of all your canning jars and storage jars can be hard work, Luckily, this one spot will give you over 20 different free printable labels that you can use to keep your space more organized.
You'll love the look of these rustic printable canning labels. With a variety of options to print, you'll be able to decorate each one different if you want.
One can never have too many labels for jars. Some of these options will even fit wide mouth canning jars as well. And as we all know, everything needs to have its own label!
Add a bit of color to your mason jars with these festive labels. You can easily change colors and designs and add a nice look of organization to your kitchen shelves.
And if you want to personalize your food label jars, here is a great example of printable trail mix labels that you can make!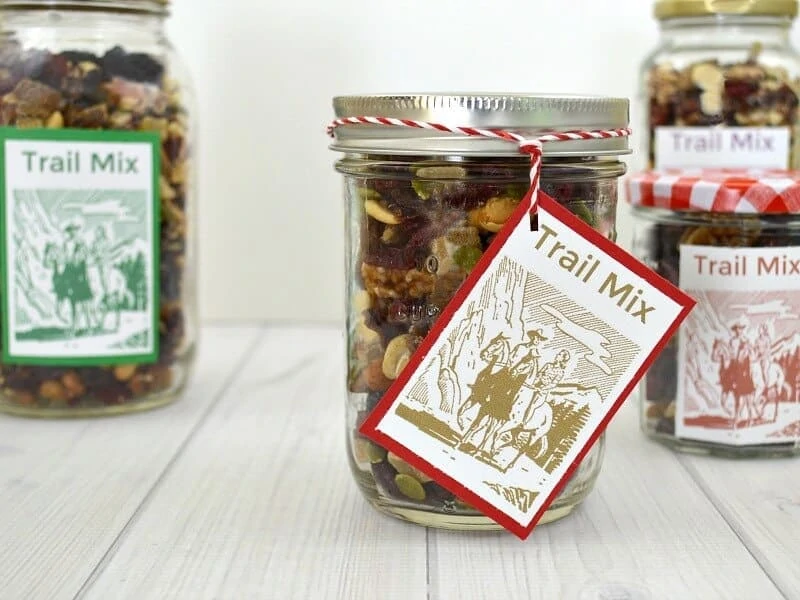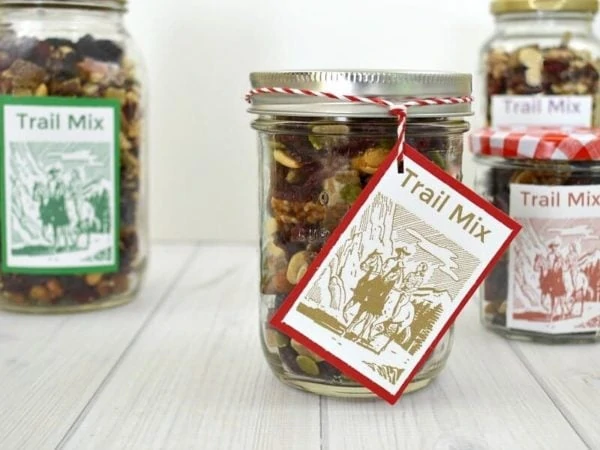 Printable chalkboard labels
These printable chalkboard labels are easy to edit and cut out. They also come in a wide variety of shapes and sizes so they can be added to so many different things to add some form of organization.
If you're looking more for the vintage look, these vintage printable chalkboard labels are where you need to be! They're almost like rustic chic meets farmhouse and are a great way to get everything labeled in your kitchen.
Searching for oval shaped chalkboard labels? You'll find those right here! Plus, you can easily edit them as well making them super user-friendly.
Perfect for any clear jar or container, these are a great label of choice. Easily keep it all organized by using a few of these!
If you have a party coming up, these chalkboard labels are super simple and effective!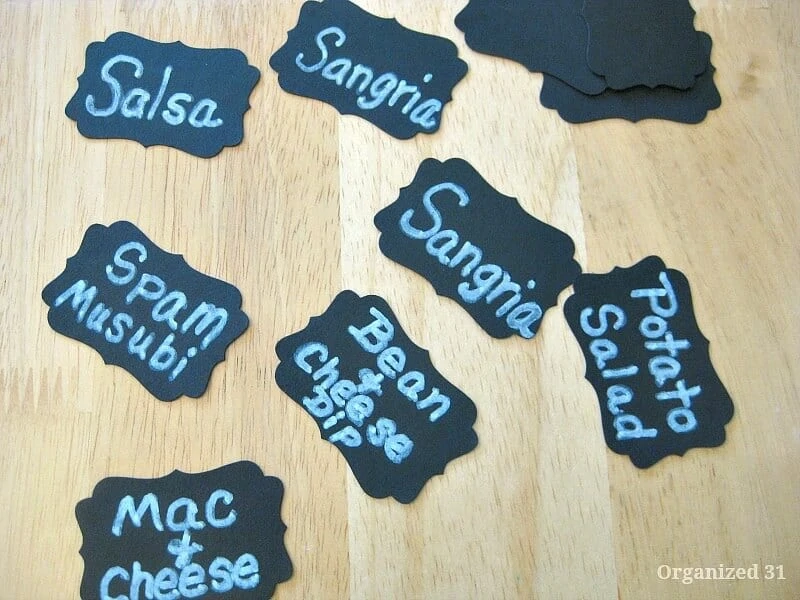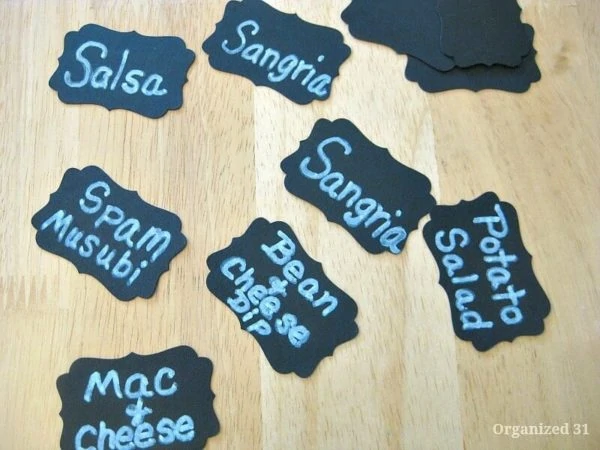 Printable decorative labels
Did you know that you can actually create your own decorative labels in Word if you really want to? Learn all about how to do just that here!
There's no shame in liking pretty things! And when some of those things are a little bit of a mess, just use pretty decorative labels to spruce them up!
Not paying a dime for decorative labels is the best. You'll want to grab these as soon as you possibly can!
You're certain to find oodles and gobs of printable decorative labels right here! More than likely, more than what you actually need!
I love this idea about keeping track of Halloween decor! These are fun and decorative while still showing you what's inside the tub.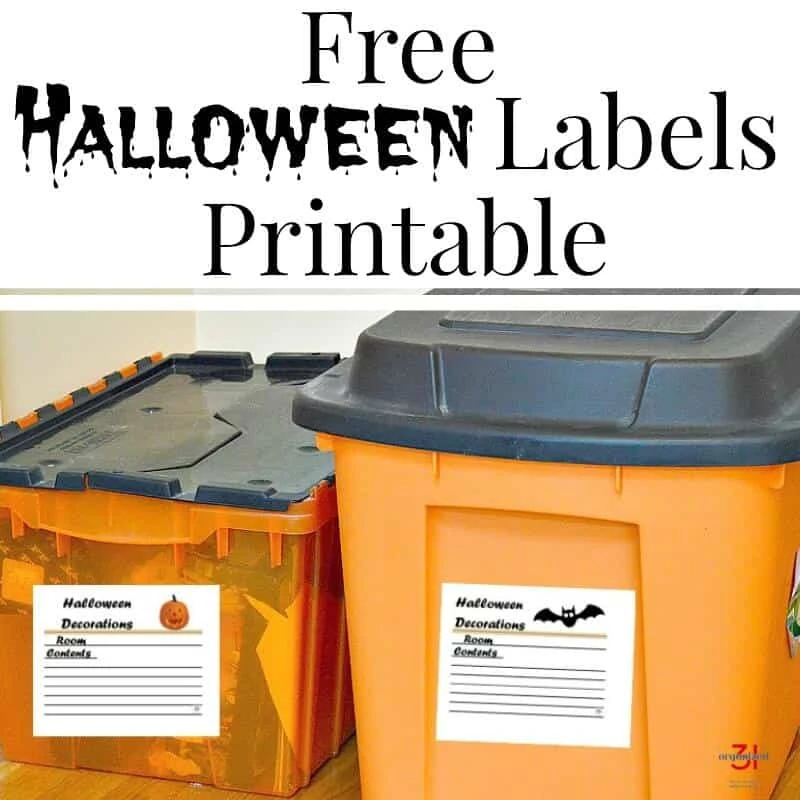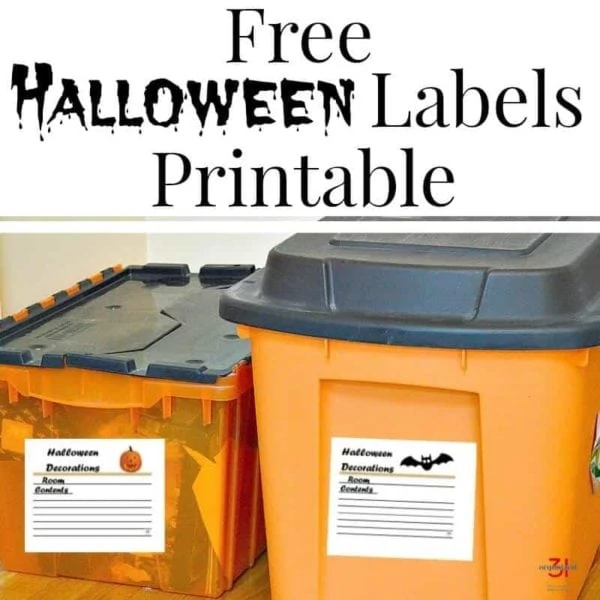 Are you the type of personality that puts things and canisters and jars and then forgets what they are? If so, these printable food labels were made for you.
To be honest, the elegance of these food labels is quite impressive. I love the script and font that is used!
You can literally use these labels for food (or anything else in your kitchen that you need to keep straight) as easily as 1,2,3!
No one wants to take up the chance of mixing up the sugar and the flour right? Or even worse the pet food and the rice?! (okay, that might be far-stretched but you see where I'm going here…) These printable labels for food storage are just what you need!
While these labels below were made using tape and written letters, this site does offer some great alternatives for labeling your kitchen food items.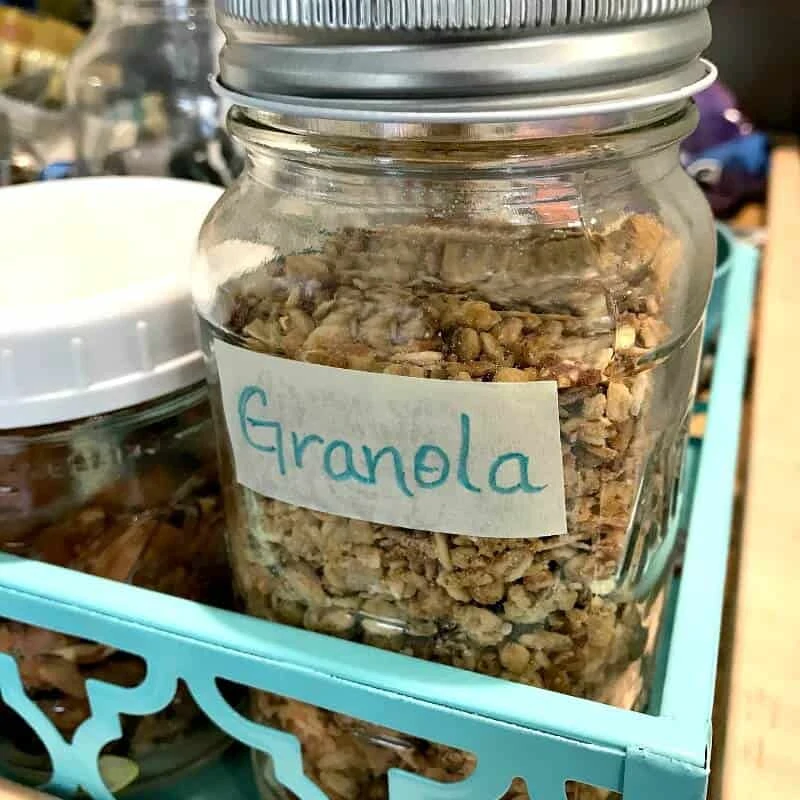 Printable box labels – for moving
These free moving labels are awesome. From bright colors to space added where you can even write in a few extras, they're certain to make moving a breeze.
Keep it simple and concise with your moving labels and print off these great options. Big enough to see when you're all the way across the room.
Moving labels don't get much better than this. Easy to read, bright colors and the words written in white so that they pop and can be viewed easily.
Not only are moving labels important to know what goes where, but these labels give lines so that you can even list out what it inside each box.
Printable box labels for storage bins
Just how many storage boxes or bins do you have in your home that you have no idea what is inside? These printable box labels can fix that issue in a jiffy.
Use these printable labels to spruce up the bins in your room. Color them, add a fun pop and really make them stand out.
It's no secret that storage bins can hold a TON of stuff. Instead of putting on the lids and forgetting what's inside, use these free labels to know exactly.
There's no surprise when it comes to these storage bin labels. They really do prove that everything really does have it's place.
Take a look at these great storage labels for your craft room! Simple and easy to implement!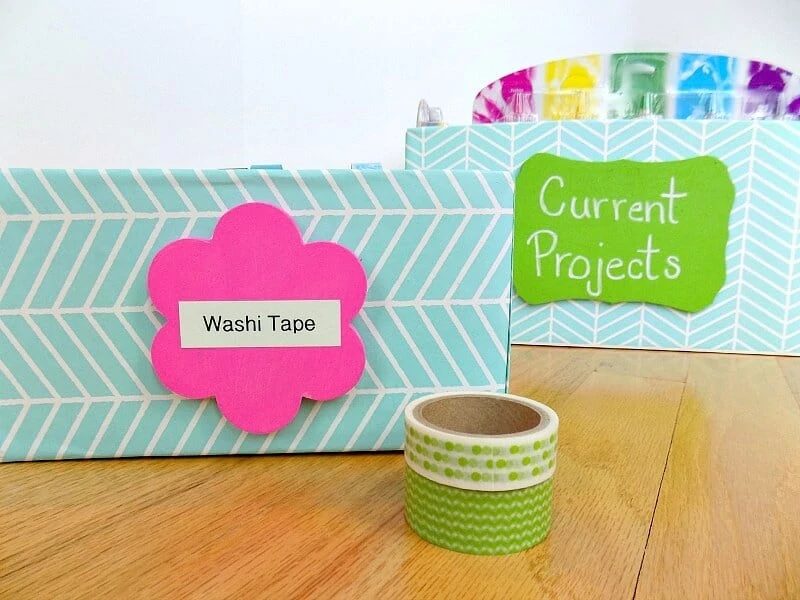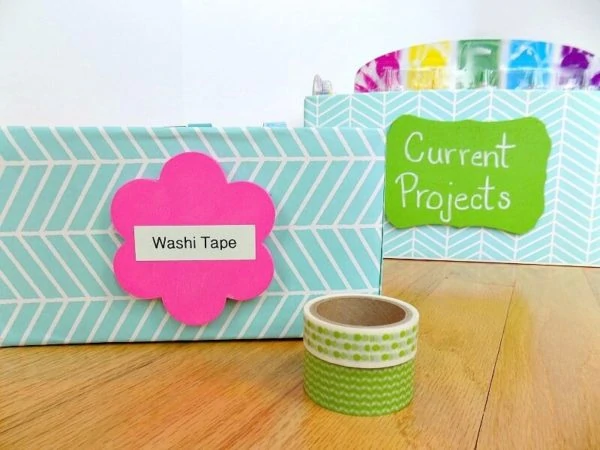 These hand-lettered pantry labels are just too cute! I'm pretty much obsessed with them and can't wait to use them in my own pantry.
For the pantry, it's all about the cursive. I think it adds a nice, neat rustic look to the never-ending bins of food.
If you're looking for a brighter background and pop of color, you can't go wrong with this. The blue and white make a really nice, calm pantry label that's totally easy on the eyes.
Who says that pantry labels can't be the star of the show? These are made to look bright and golden in color which really enhances the fun.
These pantry labels are so simple and easy to print. You'll love how they make your pantry look so nice and clean!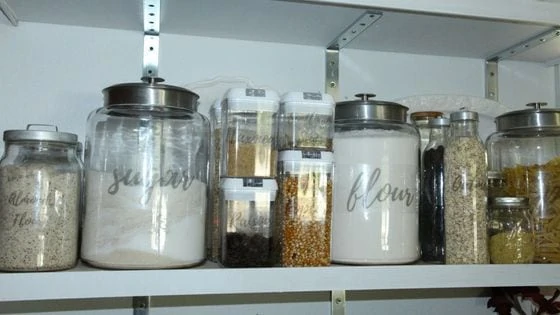 Printable cleaning labels
Don't ever take the chance of mixing up chemicals. These free printables are perfect for keeping all those cleaning supplies straight.
If you love eco-friendly cleaning products like I do, you'll also know the importance of labeling them correctly as well. These free printable labels for organizing cleaners are awesome!!
Keep up the cuteness in your home with these adorable cleaning labels. Fun and festive, these are an addition to your cleaning cabinet that you're going to want!
If you're asking me, you can never have too many printables for labeling items. I've used these a time or two and have had great results.
What I love about these free printables for cleaning is that they're big and leave space for writing more on it. You can use it for ingredients and various items like that.
In our house, having labels on all items helps keep things so much cleaner! Plus, the kids can help as well!
There you have it. Over 60+ fantastic free printable labels you can download and use right in your own home. Have fun checking out the sites and getting inspired for organizing your home.