If you have opted for remote learning or hybrid learning this year, the world of homeschooling can seem pretty overwhelming. However, one of the best things you can do for your sake, and your child's, is to keep things accessible and organized. Here's how we have tackled homeschool organization at my home—it's been a game-changer!
In fact, I made getting organized for school at home my first priority last week. My efforts were not in vain, thankfully!
Simple Homeschool Organization Ideas
Like many families, we homeschool in our kitchen. Even though our kitchen is big, the old area did not work.
The round table we used was a big problem. It took up too much space. Why we didn't get rid of it a long time ago and just use the big kitchen table (also right there) is beyond me.
But it's gone now.
Now that the table is gone, we have more space than I realized. Homeschooling in our kitchen is actually perfect for our house.
We also had plastic bin drawers in the corner. I used it for storing books. But it was ugly, unorganized, and it plain ol' didn't work.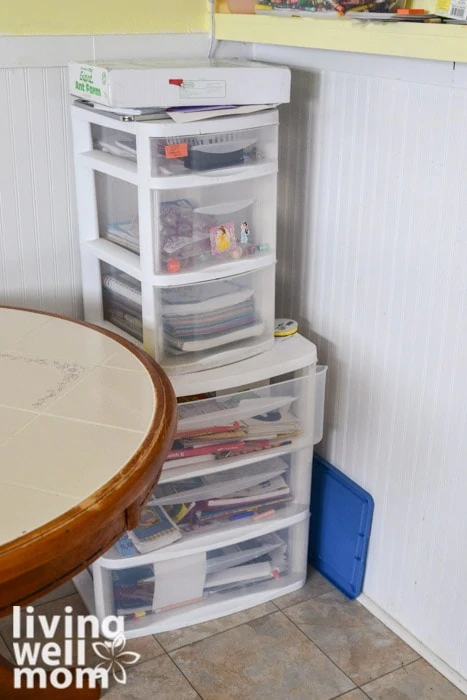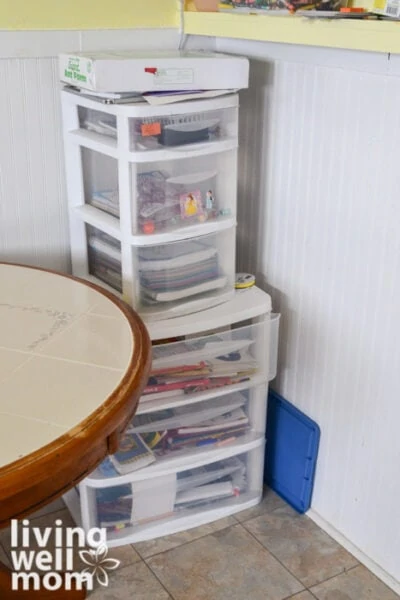 It was hard deciding where to get started. Like many things, I usually know what I like, but getting there is the hard part.
Homeschool Organizing Must-Have: Cubbies
We considered a wide bookcase, but in the end, we settled on storage cube units.
One storage unit is for homeschooling stuff and the other is for crafts, puzzles, playdough, etc. I've been wanting to organize those things as well and, with our new layout offering more space, I was able to take care of that too. But the other set will be next week's organizing topic.
Storage Cube Dividers
I'm glad we went with the storage cubes unit instead of a bookcase, because the divided sections make it simple to keep things separated.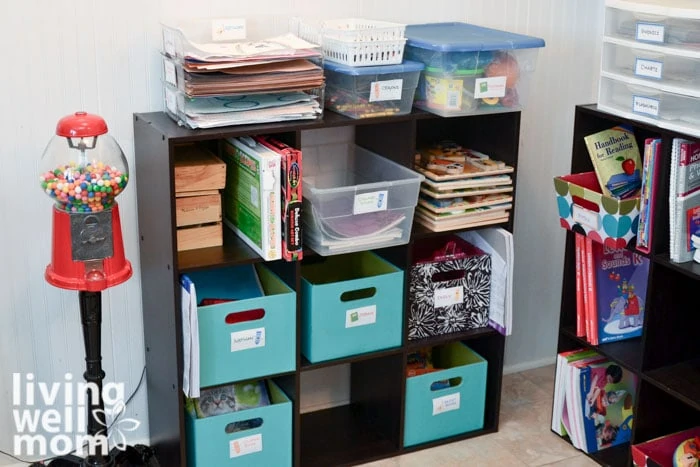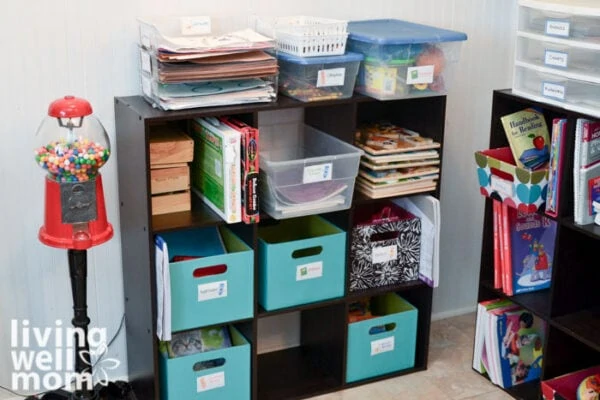 The top set of cubes holds Emily's pencil box, reading book, etc. We also store her binder there. You can find out how how to make a DIY easy personalized binder for your child like I did too. Next are my teacher's books (Saxon math, A Beka teachers' guides, etc.) The third cube is for Nathan's bin with his pencil box, notepad, etc. and his binder.
The middle shelf holds each child's schoolbooks and the bottom shelf is pretty simple with a couple A Beka preschool books I use on occasion with Joshua and a play clock. We haven't filled up every cube yet, but I'm sure we will soon.
Paper Organization Ideas
Managing paper is always a challenge in any household, but even more with homeschooling. I knew taming our paper issues was an important part of organizing our homeschool.
So, I searched all over for something that would work, both online and in stores. I finally found these stackable paper trays so that both Nathan and Emily each have a tray to put their school papers in and there is also one for blank notebook paper.
This sits on top of the storage unit, along with our pencil sharpener.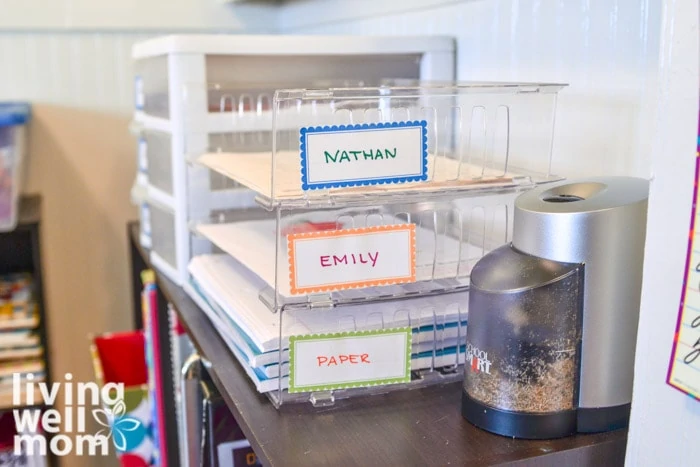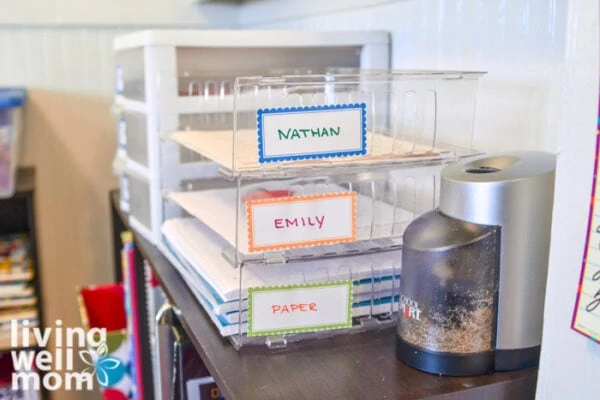 In a plastic drawer set, I keep Emily's kindergarten phonics cards, charts, and flashcards. This set up makes it simple to quickly find what I need.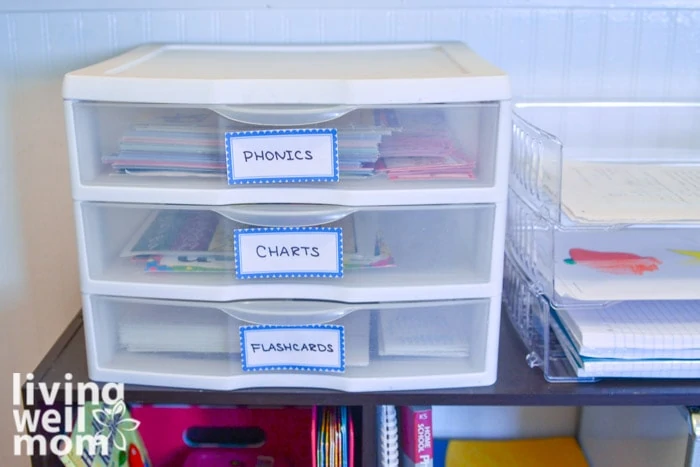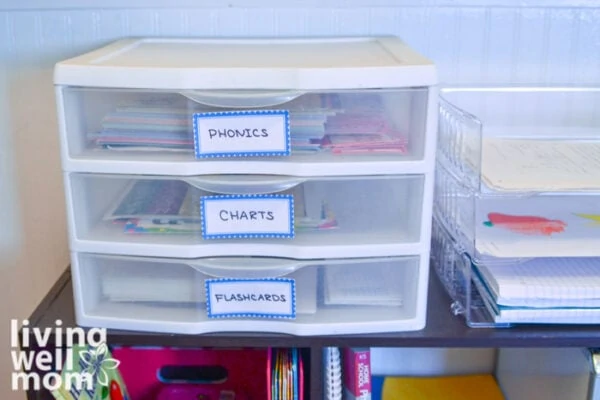 Shelf Organization
Above our homeschool cube unit is built-in shelves. I've always hated those shelves because at a narrow 4″ depth, they're not practical for holding things. And it ends up being a clutter magnet.
But I knew if I could tame those pesky shelves, I could make them very useful for homeschooling. Plus with small children, it's vital to have a spot for keeping certain things out of their reach. But the challenge was doing that without it looking cluttered.
I found the perfect solution – narrow fabric "foldable organizers." They were on clearance too – an added bonus. Don't you just love when that happens?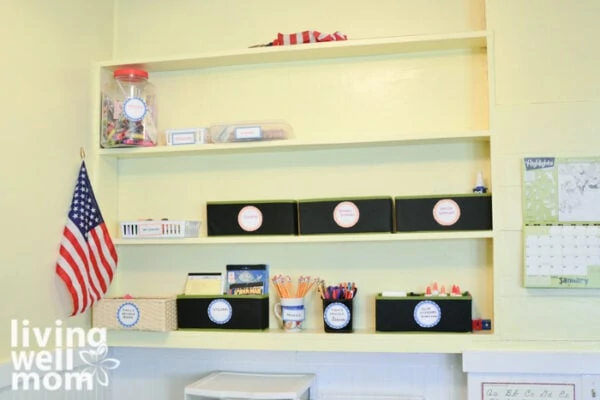 Keep Items Neat by Labeling
On the first shelf are Emily's beginner reader books, stickers, and pencils for the children.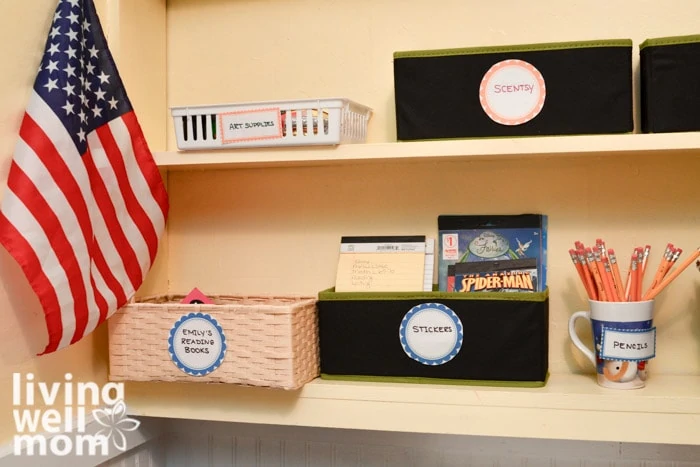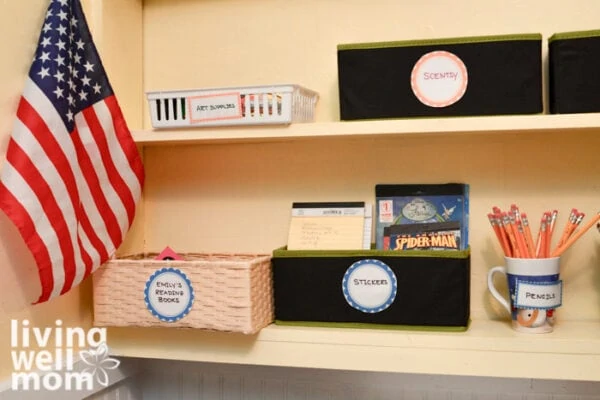 Then there's "Mom's Pencils and Markers" (AKA off-limits to the kids) and an organizer with the whiteboard eraser, glue, scissors, and index cards. All things we frequently use and need to access easily.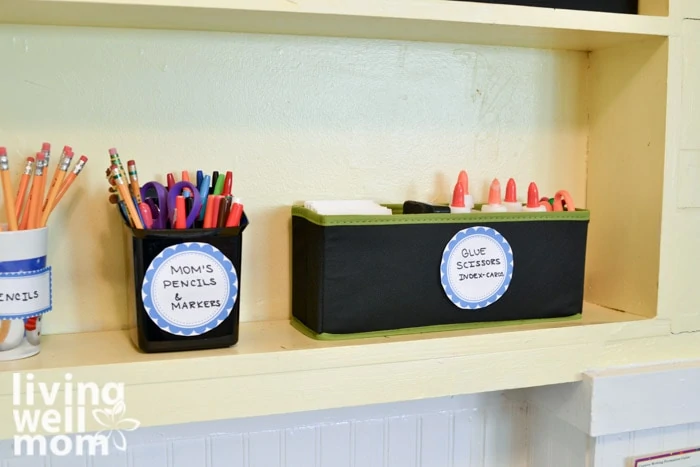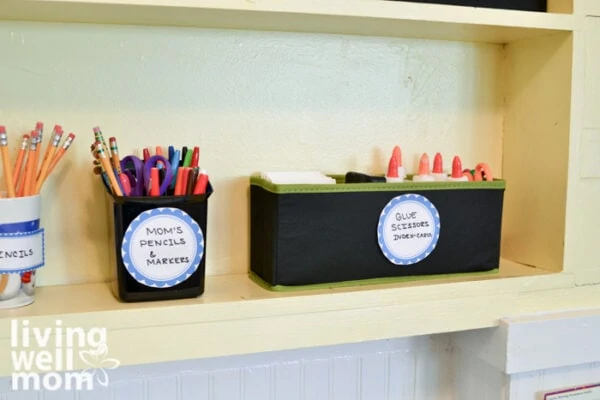 I love these organizers.
They hold a lot and there's a divider in the middle so things aren't falling all over the place. And best of all, the contents are tucked neatly out of sight.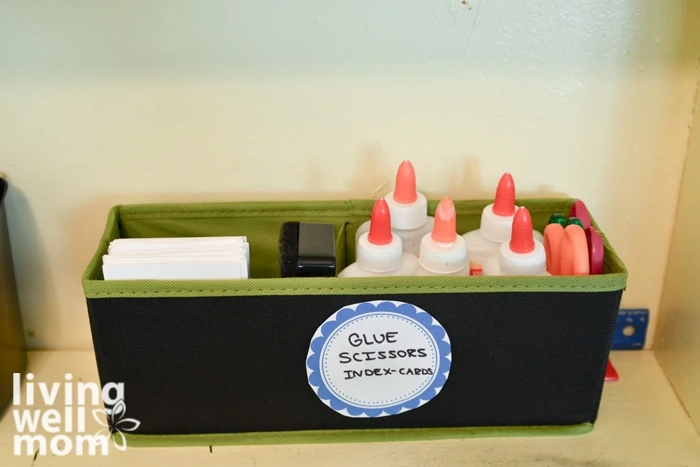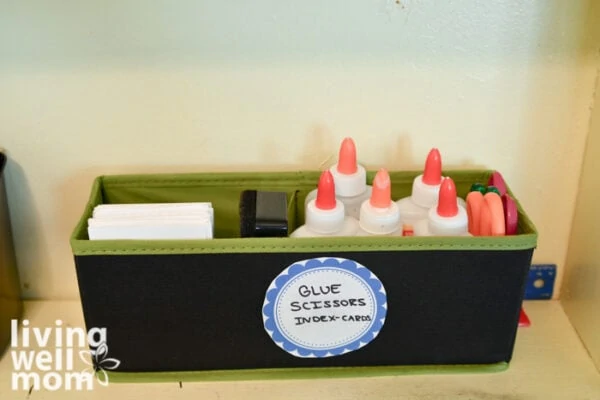 Next shelf, we have:
Art supplies (things I don't want the little kids reaching, like paint and glitter)
Scentsy bars (they fit perfectly in these organizers!)
Miscellaneous school supplies (wall sticky putty, a calculator, school counting bears)
Office supplies (stapler, staples, tape, glue)
Free Printable Labels
Oh and the labels? Here are 60+ Free Printable Labels for Organizing Your Home. Best homeschool organization hack ever!
I attached them to the bins and organizers with a piece of packing tape. It's not fancy, but it was quick and easy and that's what I needed. And so far, it's held up well.
Homeschool Organization Idea: Store Prizes Up High
The last shelf holds our Prize Jar, a bin with Squinkies, and Emily's rubber stamp set. Again, up high since I don't want the kids to have easy access.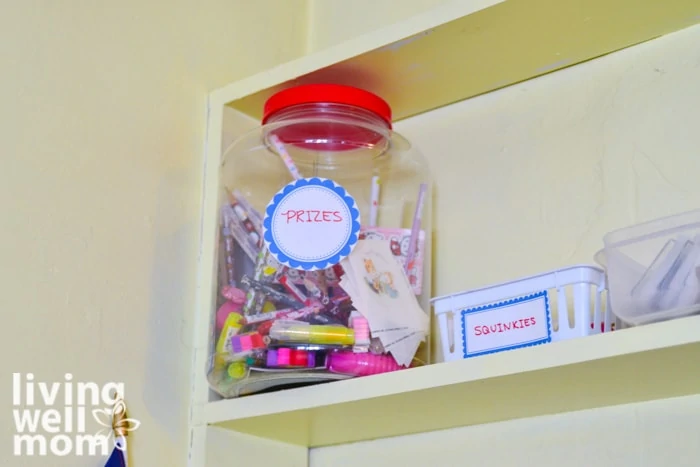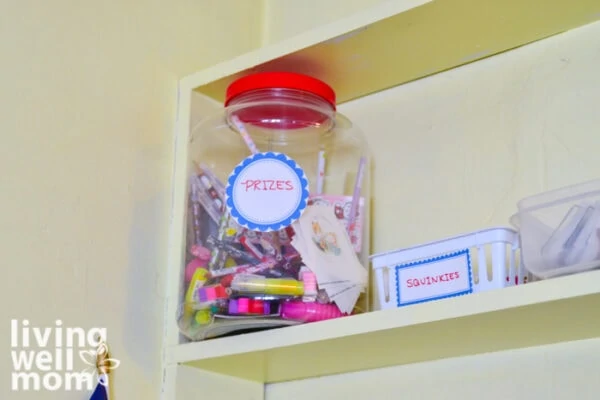 The kids can earn up to 2 "stars" a day for good behavior and completing school work. Stars can be traded in for a prize or a gumball. Of course, the Squinkies are for Emily. That girl loves those little toys and I picked some up on clearance recently, knowing they would make great prizes for her.
Homeschool Room in the Kitchen
So, where do we do remote learning for school? Right next to our newly organized homeschool area…at the kitchen table.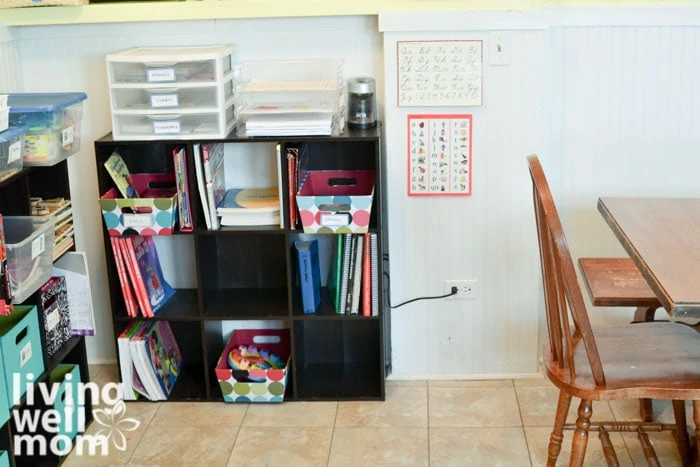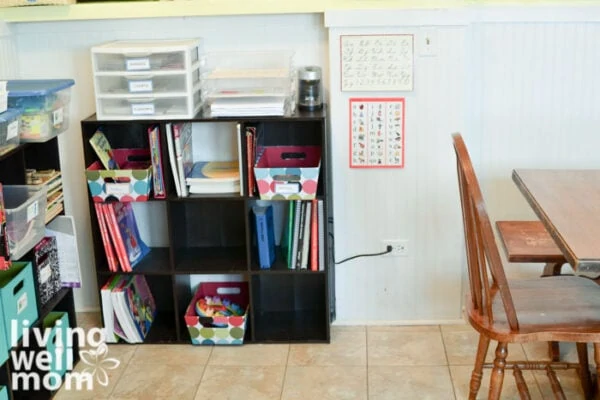 Homeschool Organization: Before and After
I am really happy with how things turned out. And our homeschool day goes better and smoother because our homeschool area is well organized and we can find things.
I hope this encourages you in getting organized, especially when it comes to organizing a homeschool area in a simple, practical fashion. While we did spend a little bit of money, it was within our budget and it didn't take us days to complete the project. In fact, it took us a single afternoon.
So, yes it can be done. If I can do it with four kids and not a lot of money or direction in what to do, so can you!
If you are doing hybrid learning, remote school, or homeschool this year, I'd love to hear about how you keep your homeschool area organized! I'm always looking for tips and tricks to add to my space!
Pin the image below to save the ideas for later.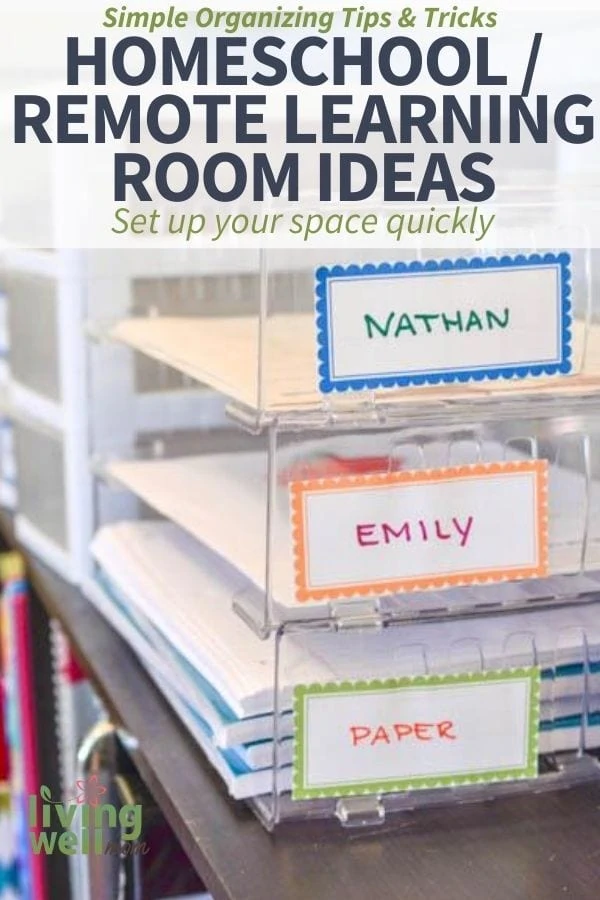 Want to see more organization ideas for school?
35 Back to School Organizing Hacks to Make Your Life Easier