I recently tackled organizing spices in a cabinet. This is simple but huge because a well-organized spice rack or spice cupboard will save you time when cooking and baking. I'm here to show you exactly how to organize spices in a cabinet the easy way!
There are many different options for making your spice cupboard, shelf, or spice rack your own. Even if you have a standard spice rack, the herbs you use will probably be different from your neighbor's.
I've always had a designated cupboard shelf for my spices, but my previous attempts at organizing it were a huge fail because I didn't have a good plan. This time around, I decided things would be different.
How to Organize Spices
My "before" for this one wasn't too bad, But there were too many spices stacked on top of each other. I'd crammed them in so tightly that I couldn't efficiently find which spice I needed.
Since I wanted to keep using this shelf, I knew I had to find a method that would allow me to organize my spices uniformly.
A Uniform Solution
The first thing I looked at was replacing the spice containers with one single type of jar, and I found the perfect solution at Bed Bath and Beyond. These spice jars are made of sturdy glass and come with a removable shaker disc. Plus, at just $1 each, they were right in my budget. I bought 20 of them and plan to pick up a few more soon.
These spice jars have a spotless and straightforward look, which I love.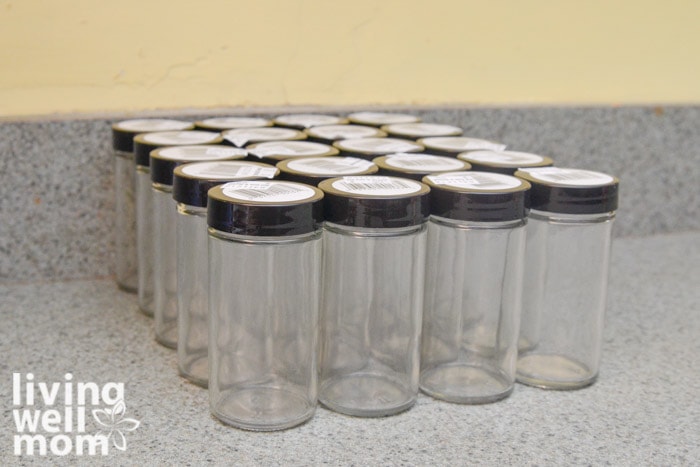 The Cleanout
Next, I cleared out my cupboard. It's essential to completely clear out the space you're planning to organize.
I had spices stored in another cupboard and even more in my pantry area. My pantry is quite a mess, so you won't be getting any photos of it anytime soon.
I sorted the spices, matching the same types together. I threw out anything expired and combined some jars of duplicates.
My next step was to sort out my favorites—the spices I use frequently and need to get to quickly. They'd stay on the shelf, and the rest would head back to the pantry.
Labeling my Stash
From here, it was pretty simple. I used my links for free printable labels and printed out the round spice labels. I chose the blank variety because I wanted to write in the spice names myself. If you want to save time, use the ones with the spice names already printed on them instead.
I didn't have any matching label stickers at the time (Staples has Martha Stewart round labels that fit these perfectly). I decided to print on regular computer paper, cut them out carefully, and use standard tape to attach the labels to the top of each spice jar.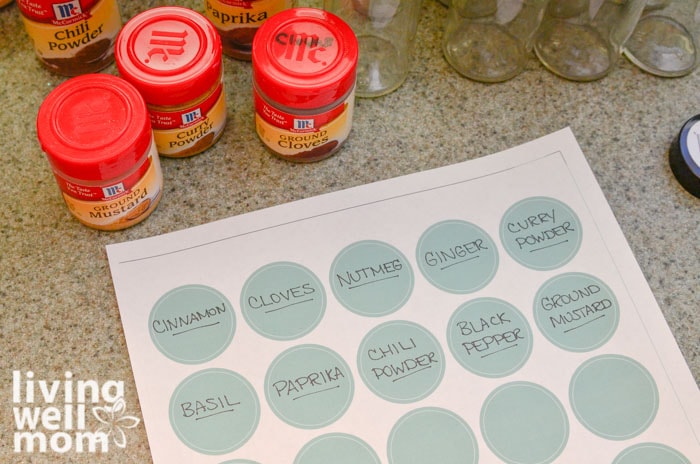 You can save much time by using the label stickers, but if you can't find them or don't want to spend the money, you can try my cheap method, too.
Next, I printed out small rectangular labels for the spice jars themselves.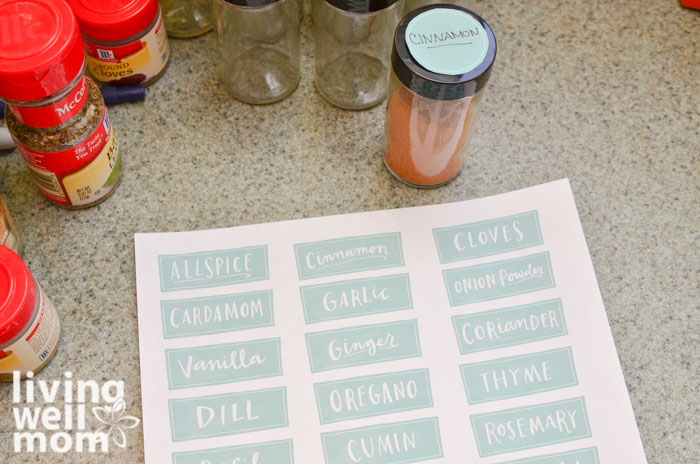 Completing the Task
After I attached all the labels, I filled the jars with the spices. Any extra spices (I like to buy larger quantities for a few I frequently use, like minced onion, basil, and cinnamon) went into my storage pantry in a labeled bin.
Next, I put all the spices in my spice cupboard into white plastic bins, which I found at Walmart for $1.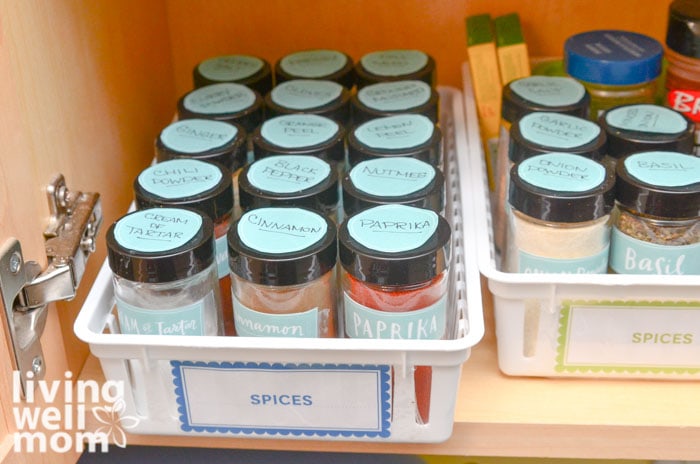 The top round labels are the magic key with this organizing project. Now I can instantly find which spice I want without picking up numerous jars and looking at the front label.
The finished result of tackling my spice cupboard? Success! It's convenient, easy to keep organized, and it works.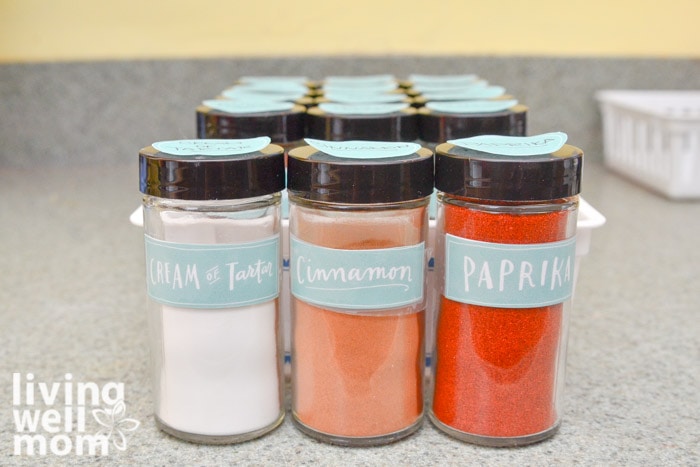 Other Ways to Organize Spices
My method works for me, but if it doesn't work for you, why not try these ideas instead?
Stackable Tins
A great way to make the most of limited space is to use the vertical plane. Stackable solutions make this possible. You'll follow the steps in my tutorial, but use tins instead of the bottles.
It's quite a useful solution if you need to stack the spices on your kitchen counter. You could choose a classic stainless-steel tin or something a little more fun to match your décor.
Arrange Them Using Drawer Inserts
Maybe you have a spice drawer rather than a spice rack, and that's just as simple. If you visit Ikea, you'll find rounded inserts that will hold the spice bottles snugly. The dividers keep the spices separate and ensure the bottles won't roll around in the drawer.
Use Mini-Mason Jars
Mini-mason jars provide a cute and quick solution if you can't print out labels. Simply remove the inner lid, and apply a layer of chalk paint in a color that matches your décor. Set it aside and allow it to dry. Then apply a second and, if necessary, a third coat.
Once you've let the paint dry, write the name of the spice on the lid with a Sharpie.
Use the Power of Magnetism
The space directly inside our cabinet doors most often goes to waste. We tend to push items further into a cupboard so they don't fall out when we open the door. Make use of this space by adhering a magnetic strip to the inside surface.
Take metal canisters and transfer your spices into them. Label the lids so you can see what is in each container. The bottom will click into place, thanks to the magnetic pull of the strip.
This is an easy option when you've got limited space.
Use the Space Under Your Cabinet
There are two ways to use the space under your cabinet. The easiest is to use a magnetic strip to hold the jars in place. A second option is to install several cup hooks. Tie a string around the mouth of the pots and hang them under the cabinet.
With these methods, you'll need to place the labels on the front of the bottles so that you can see what spice you're reaching for.
Make Fine Cooking a Science
You can easily find small test tube sets with holders. Make sure to look for the ones with stoppers. Then mount the holder on the wall, label your test tubes, and fill them.
Taking Organizing to the Next Level
Were these ideas a little too simple for you? If you love organizing and want a more complex method, why not throw color-coding into the mix? Use different label or lid colors to separate the flavors.
You could use green for herbs, red for fiery spices, and brown for earthy flavors. Go nuts or stick to something simple; it's up to you to decide! Organize your spices and let me know how it turns out. Use my ideas or come up with your own. I'd love to see what you come up with!
More Organizing Posts to Read:
Just pin it below to find the spice organization ideas later!