Learn how to organize paperwork for GOOD! Plus, the secret for reducing 95% of paperwork and how to keep your household papers organized.
Have you ever felt like papers are taking over your kitchen? Whether you work from home or you are just having trouble keeping your family's bills and homework papers sorted, these tips are for you!
Organizing paperwork at home is tough because no matter how efficient your filing system (and let's admit it, most of us hate filing papers and aren't that efficient), there's always more coming into your home. Despite that, we don't have to let paperwork take over. And there's no need for large filing cabinets that take up valuable space or bins overflowing with school papers or receipts.
I've developed an effective system for organizing paperwork in my home. It has decreased 95% of our paperwork and efficiently organizes and manages incoming papers on an ongoing basis. Plus I sold my filing cabinet because I no longer need to file anything!
How To Organize Paperwork For Good
You too can organize your paperwork once and for all! I have some crazy-easy tips that are going to help you make the most of your paperwork so you'll know what to keep, what to store, and how to store it.
(affiliate links below)
By the way, if you are looking for a way to keep mementos and paperwork for school-aged children, take a look at this DIY school memory box post.
Step #1: Sort & get rid of as much as possible.
Most of us hold onto far more paperwork than needed. I was inspired by Marie Kondo
's book The Life Changing Magic of Tidying Up
when I began this step. (If you haven't read it, it's an amazing book!)
Gather all your paperwork, including receipts, manuals, bank and credit card statements, etc., into one spot.
Sort into three piles:
1) Trash
2) Maybe keep
3) Keep
It may take you some time to sort through everything, but this step is crucial. It took about 2 weeks to sort through all our papers, working an hour or two each evening as I watched episodes of The Office.
Ruthlessly shred or burn as much of your paperwork as you possibly can. Remember that anything you keep must be filed or organized.
If you're not sure whether you need to keep something, here are a couple of resources: Paperwork Keeping and Old Documents.
Your "maybe" pile will probably be your biggest pile. Sort through this, then prune it down again.
Your last pile is for "must keep" documents. This should be reserved only for essential documents, like birth certificates, military discharge paperwork, etc.
My Secret for Organizing Paperwork
Here's my secret for success
Virtually file most of your paperwork. This can include most, if not all of your "maybe" pile and even some of your "keep" pile! If you're not confident you're ready to shred something yet, but know it's unlikely you'll ever need it again, upload a digital copy of it to your computer and toss the original.
Only you can decide what you're comfortable with virtually filing versus keeping a hard copy. Just remember that the more you keep, the more you'll have to organize. Me? I dislike holding onto things "just in case" so virtually filing was my compromise. This is how I got rid of nearly 90% of our paperwork.
The easiest way to virtually file?
Snap a photo with your smartphone, then upload it to Evernote, a free app/resource where you can sort and store files for as long as you need. I use the free CamScanner app for taking these photos on my phone, which automatically crops, resulting in clean neat "document" images.
Here's how some of our papers are filed in Evernote:
Step #2: Set Up a Simple Storage System
Hopefully, you have a much smaller pile of paperwork now than before you started organizing. Great job!
Decide where you will store your remaining paperwork. I highly recommend that you do NOT toss it back into the old filing cabinet. If possible, get rid of that thing! You won't miss it!
You'll need a place for important documents. This could be a fireproof safe, a small folder, or even a binder.
I use this pretty file folder: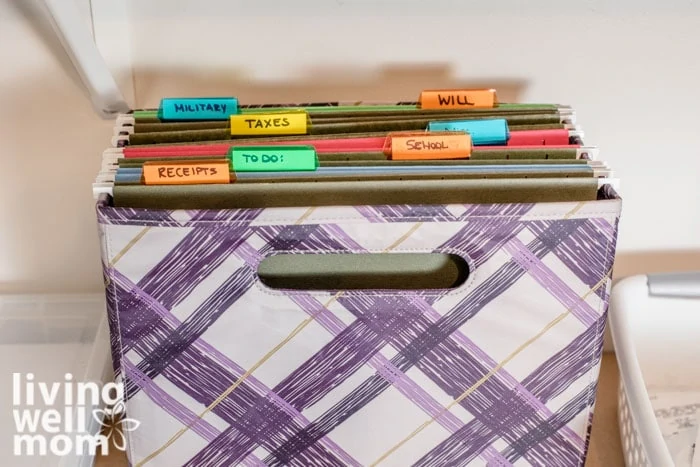 You will need a place for documents you rarely need to access. Consider a sturdy plastic bin or file folder that can be stored in the attic or some other inconspicuous place.
I use this simple plastic container for our mortgage paperwork which I keep in the attic.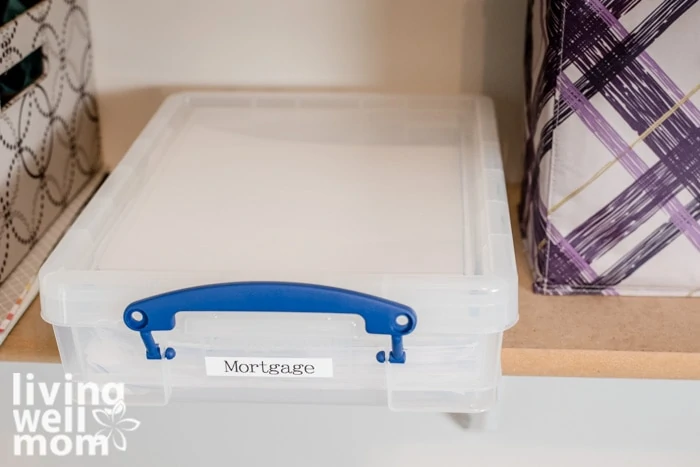 Step #3: Set Up an Ongoing System for Incoming Paperwork
It's going to keep comin' folks. No matter how organized you are or how vigilant you are about setting up paperless billing, etc, you will still see more paperwork arriving.
So you need to set up a realistic system for handling it.
Toss junk mail as soon as it arrives. Throw it into the trash or recycle bin immediately. Don't even give it a chance to get comfortable on your kitchen counter or table.
I have a designated "shred bin" too where sensitive paperwork is tossed.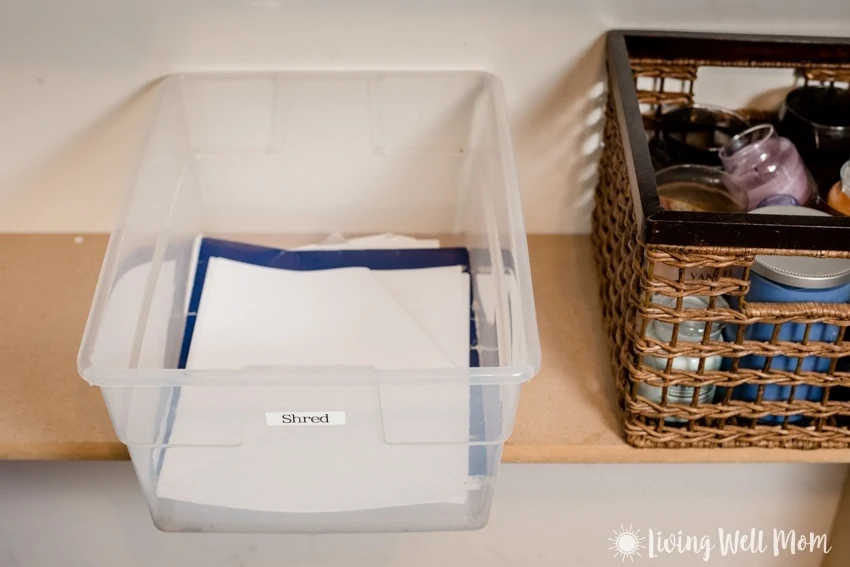 I have a small container to deal with incoming receipts. (More on how I organize receipts another day.)
Everything needs a place or it will find a place where it doesn't belong. Designate a place for each category of paperwork. Magazines can go in a basket in your living room or wherever you like to read them. When they enter your home, immediately put them away.
Don't be afraid to tweak it later if something's not working! Organizing is about doing what works for your family in a more efficient manner. Just because it might need to be changed doesn't mean you failed.
My original set up worked well, but I was still finding papers gathering on my desk. So I bought a pretty magazine rack
from Amazon and asked Nate to hang it by my computer. Now, it's easy to put "to do" papers in there where I'm reminded to handle them.
Additionally, I also have another location on my closet shelf where I put paperwork that I need to scan into Evernote. I usually go through this once a month so I can keep it from getting too crazy.
And that's pretty much it: 3 simple steps for organizing paperwork once and for all. It's not that scary, you can do it for free without any fancy organizing bins, and you can make it last!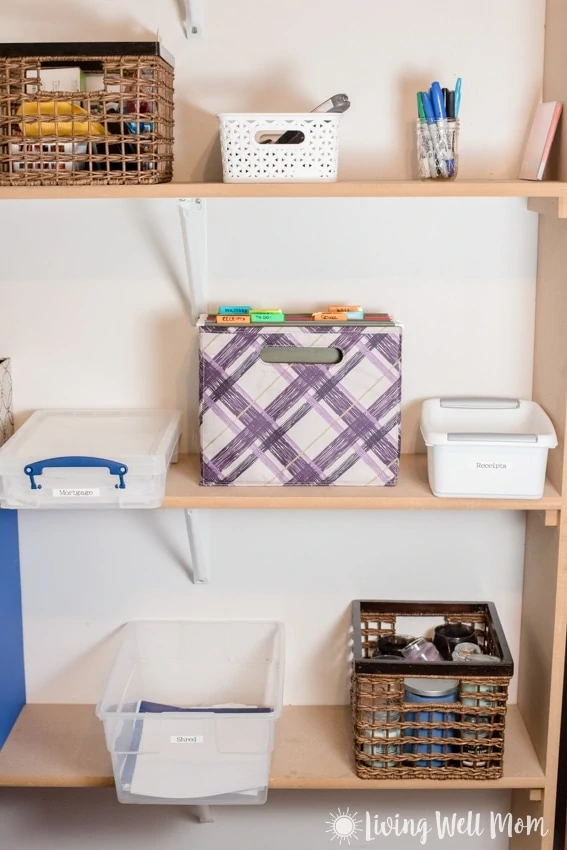 More Organizing Inspiration:
As you keep working hard and learn how to organize paperwork, here are some more of my tips for organizing paperwork, including how to organize kids' school papers and even more organizing tips for busy moms.
Looking for more inspiration on organizing paperwork?
Here are some tips from some awesome bloggers:
Early Bird Mom uses long short term paperwork storage methods.
Organized Home recommends a simple filing system, including an "Action File"
I love One Good Thing's "Reading Container"
What's your biggest challenge when it comes to organizing your paperwork?
Just pin it below to find the instructions later!