If you're opting to get a fresh Christmas tree for the holidays, it's well worth the time to learn how to keep a Christmas tree alive. The last thing you want is to reach Christmas Day with a dead tree.
Thankfully, keeping a tree fresh is surprisingly simple—it all boils down to three easy steps. I have learned by trial and error over decades of experience. And yes, I have often learned the hard way that a Christmas tree needs hands-on care in the weeks leading up to the holiday.
Don't be nervous—I promise you, it's super simple. Keep reading to learn how!
Fresh Christmas Trees: A Family Tradition
There are a lot of things I love about the holiday season. But, one of my favorite activities, hands down, is our annual outing to pick our family's Christmas tree. This tradition goes way back—my husband and I did this before we even had kids!
In fact, the tradition of choosing our own fresh Christmas tree goes back even further than that! My family did when I was growing up. It's so special to me that I get to do this with my own children now.
If you are looking for a wonderful way to make memories with your family, I highly encourage you to visit a tree farm and choose your tree in person each year. Here's my dad, my kids, and me visiting our favorite spot along with our dogs! I truly treasure these yearly photos!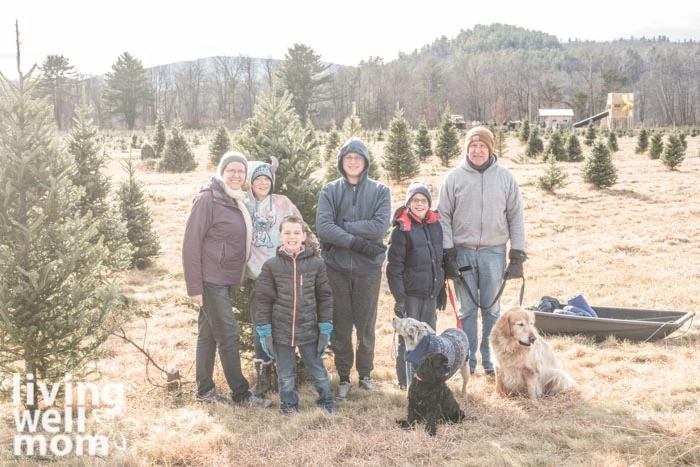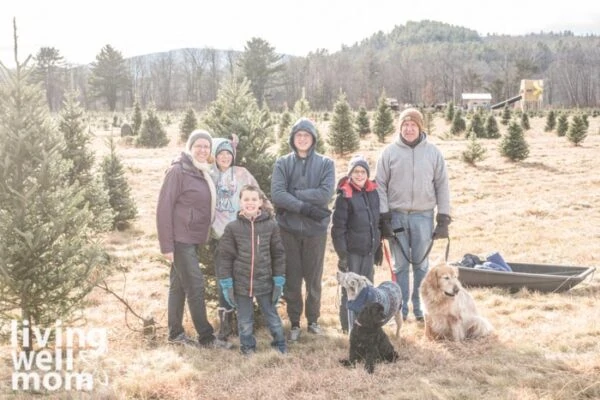 Shopping for a Real Christmas Tree
It would be cheaper in the long run to get a fake tree, but I can't resist the beautiful pine smell. And while the needles can get a little messy, it's so authentic that it's worth it. When you take care of your tree properly, the fallen needles are minimized. Of course, you'll still get some, but your tree should still look quite fresh through the rest of the holiday season!
Plus, shopping for a fresh tree is not too expensive around here: we can get a pretty big Christmas tree for $40-50.
We usually get our Christmas tree the weekend after Thanksgiving, so about a month before Christmas. That's a lot of time for it to get dry and brittle if the tree isn't cared for properly. I've learned a couple of tips over the years that have helped us keep our Christmas trees alive and fresh.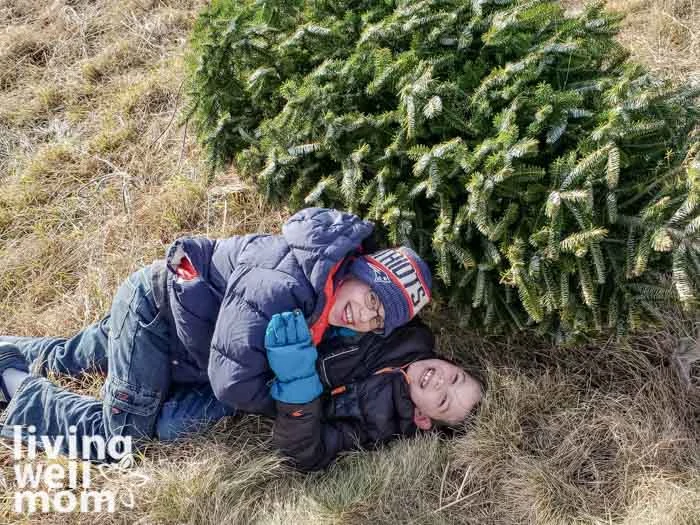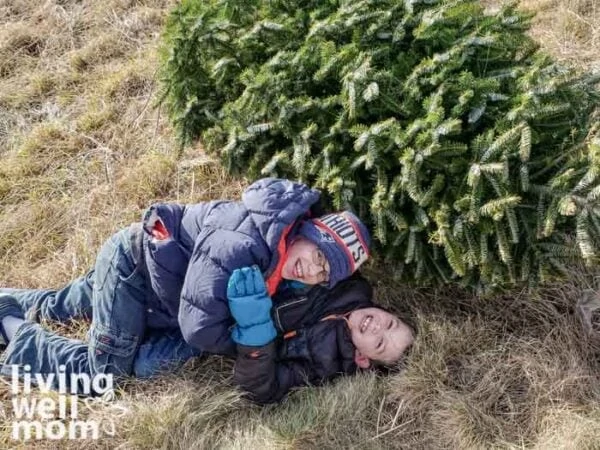 How to Pick the Best Tree
If you pick out the lonely Charlie Brown tree in the back of the lot, well… you get what you get. I really can't say anything about that though – I am the sucker who feels bad for that tree and wants to get it. Luckily I have a logical husband who steers me in the other direction.
All that to say, Christmas tree care starts with picking the best tree possible! Before you go tree shopping, make sure you measure the height and circumference of where you'll be keeping your tree. The last thing you want is to come home with a tree that can't stand up in your room!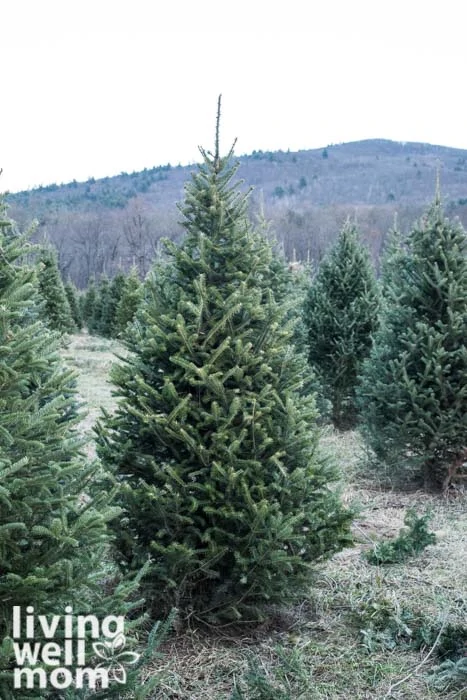 Plus, you want to make sure you pick a tree that is extra fresh. Here are some helpful tips and what to look for as you shop:
Look at the needles. A healthy tree should have needles that are bright green, not brown.
Shake the branch. If you give the branch a gentle shake, the needles should not begin to fall off.
Touch the trunk. You want to feel a slight stickiness.
How to Keep a Christmas Tree Alive – 3 Tips
Once you choose the perfect tree, here's how to keep a Christmas tree fresh…the easy way!
1. Make a fresh cut in the base of the trunk.
You don't have to drill holes in the base, just cut an inch or so off. This encourages the tree to suck up water. We learned this tip from the pros at our favorite Christmas tree farm.
2. Try to avoid putting the tree near a heat vent or in direct sun as this will dry the tree out faster.
Sometimes it can't be avoided if the only space you have in your living room is in a bright sunny window, but it's something to consider if your tree is consistently dry and brittle by Christmas morning. If you can't move the tree, you might want to wait an extra week before bringing your tree home.
3. Water the tree as soon as possible and never let it dry out.
Check the water levels daily. Once the water dries up, it can start a downward spiral resulting in dry needles that fall off.
Other Methods of Christmas Tree Care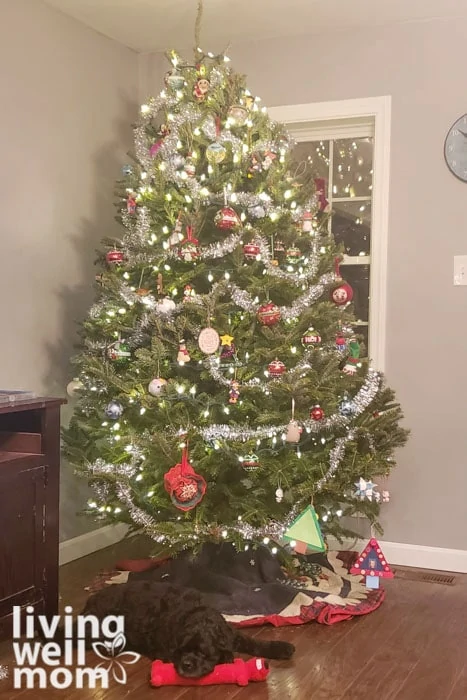 I've read stories about people adding crushed aspirin or even corn syrup or sugar to the water, but I don't think it's necessary. Choosing the right tree is paramount. Then, lots of plain water with a little TLC when you bring it home is key to keeping your Christmas tree alive.
It really is that simple!
Best Selling Christmas Tree Stands
If you're on the hunt for a new Christmas tree stand this list is perfect! I pulled the a few best selling 4+ star bases from Amazon.
If you have Amazon Prime, you're in luck! This Krinner Tree Genie Tree Stand is the #1 best-seller on Amazon. It makes it so much easier to set up your tree with a foot pedal instead of screws. It comes in various sizes to fit most tree sizes.
The JACK-POST Oasis Christmas Stand can handle trees up to 10-feet. The deeper well allows for more of the tree base to get the right amount of water.
Don't forget the Christmas tree skirts for that finishing touch. There are some really cute options!
More Holiday Posts:
Just pin the image below to save these tips for later!