Clean the kitchen, pick up the bedrooms, organize kids clothes, cook dinner, the reality is parenting and home management are challenging. It takes a young child just seconds to destroy a room that you spent hours cleaning.
My four children means a lot of kids' clothes and a lot of laundry. I conquered the laundry beast some time ago, but organizing my children's clothes is a whole 'nother deal.
The Easy Way to Organize Kids Clothes
Luke, my youngest, used to love changing into various outfits multiple times a day and he would leave both dirty and clean clothes strewn all over his bedroom floor. And then there were the other kids' generally unorganized dressers.
About a year ago, I figured out an easy method for organizing kids' clothes and it's worked beautifully ever since. The best part is that it's very simple, it doesn't require expensive organizing supplies, and works very well long term. I've said good-bye to piles of messy clothes and you can too!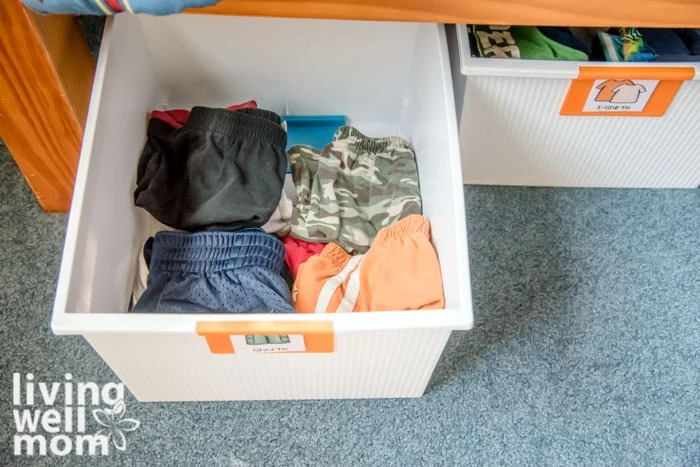 This system is perfect for teaching little ones how to pick up their own clothes and how to put them away. Even my four year old puts his clothes away properly without supervision now.
Luke has even learned how to fold his clothes, something he's quite proud of!
What You'll Need:

I follow a very simple rule for organizing my children's clothing; I designate a specific area for each type of clothing. I'm sure you've heard the classic organizing quote: "Everything in it's place." The same is true for kids' clothing.
You could divide up dresser drawers using small plastic bins, old wipes bins, or tissue boxes with the tops removed, or use plastic bins on a shelf or under the bed.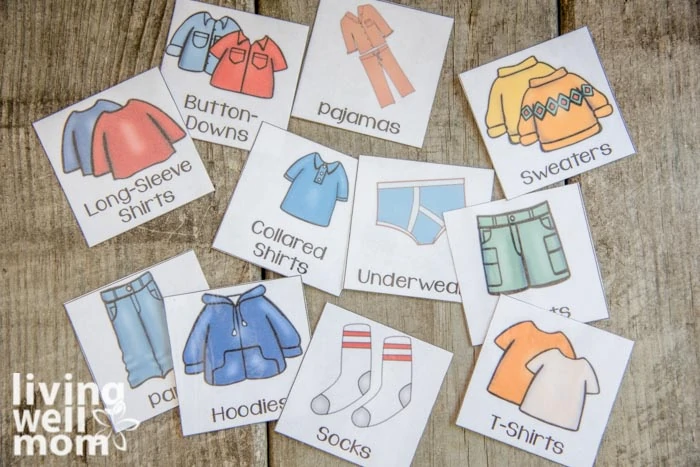 The key with kids (and often adults too) is to label where each item is stored. I use these cute clothing labels I had created for us, where the pictures make it easy for young children to know exactly where their things belong. You can download these free printable labels at the link below.
I recommend laminating the labels or you could just cover them with clear packing tape
.
Cut out the labels (if you're not OCD about them looking perfectly, you could have the kids help you with this step). Then attach them to the drawers or plastic bins with tape or sticky tacky
.
If you have more than one child sharing a room like our family, you can add a simple initial to each label. I added an "L" or "J" to each bin so my boys can tell which bin is whose.
How I Organize My Kids' Clothes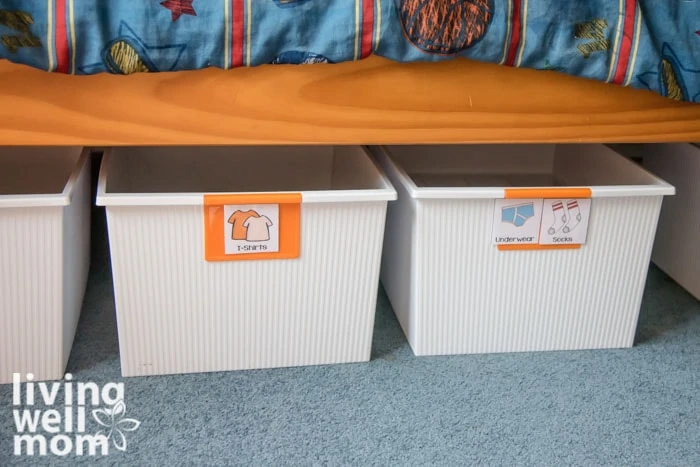 My younger boys, Joshua (age 6) and Luke (age 4) share a room and a bunk bed. Previously they each had their own dresser, but nothing ever stayed organized. They could only reach the bottom 2-3 drawers and the dressers were old and didn't open and close easily. Plus the dressers took up a lot of space.
We got rid of the dressers and switched to simple plastic bins that slide under their bunk bed. I keep it very simple – only the correct season's clothing goes under the bed. (Otherwise Luke will wear long sleeve shirts in 80 degree weather or shorts when it's 30 degrees.)
All other clothing is stored in plastic bins on the top closet shelf. These bins are also labeled so these clothes are also organized.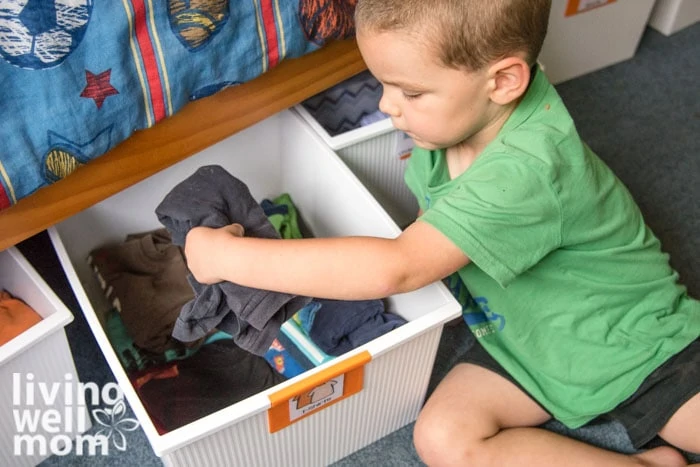 This limits my boys to wear only what they should be wearing and minimizes any potential mess even farther. Each of my boys also have their own bin for socks and underwear where I use smaller bins within a larger bin.
I love this idea for organizing kids' clothes. It's so simple to use and has eliminated all the mess of before. Try it out. It's so simple and inexpensive, you've got nothing to lose!
Once you have this system set up, you'll find your laundry routine so much easier to manage. You've got this!
Just pin it below to find the instructions later!