Save money while adding storage to your home by transforming a cardboard box into a DIY basket. Learn how to make a stylish and cost-effective DIY storage bin using simple materials such as fabric, rope, and an ordinary cardboard box.
It seems I can never have enough boxes, baskets, or storage containers to keep everything organized. Can you relate? Unfortunately, store-bought baskets and organizing things can be expensive, even when they're on sale.
That's why I've been slowly creating my own baskets and beautiful storage boxes from old shipping boxes, diaper boxes, and other boxes I have on hand.
I LOVE the results! And you will, too! Today we're going to have a little crafting fun as I share my tutorial on how to make your own storage baskets out of ordinary cardboard boxes.
Looking for more organization hacks and DIYs? Here's a whole round-up of organizing ideas just as handy as this basket storage!
Supplies needed to make a basket out of a box
Here's everything you'll need. I've included a few handy links to help you find items faster.
A sturdy box the size you want your basket to be
Fabric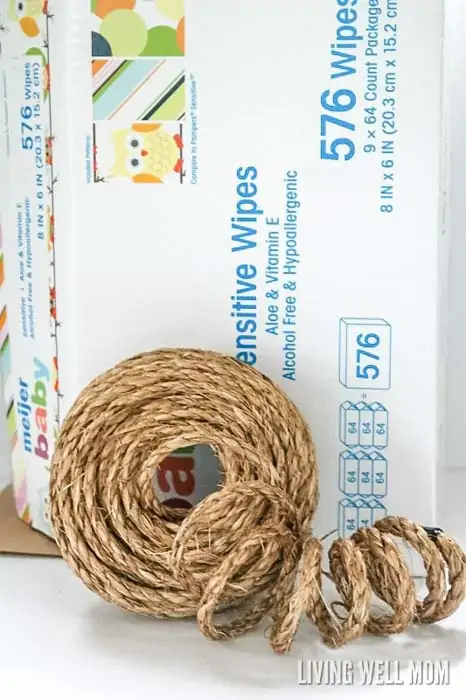 How to make a basket
Prepare to be pleasantly surprised at how easy this craft project is!
Step 1
Begin by cutting the top flaps off of your box if it has them.
Step 2
Use hot glue to attach one end of the rope or twine to your box.
Note: I used rope rather than twine for a heavier look. The thicker your rope or twine is, the less you will need to complete this project. I used about 50′ of rope to cover 2/3 of my box (approximately 7″ W x 13″ L x 9″ H).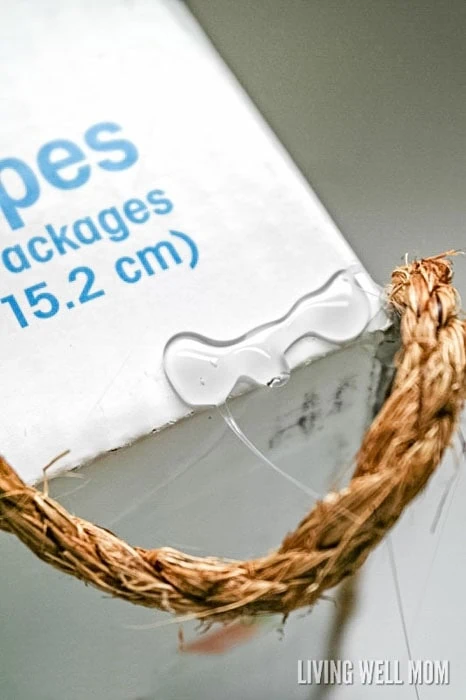 Step 3
Begin wrapping the rope around the box using hot glue to secure it every few inches.
The rope does not need to be fully glued down. Gluing every few inches will keep the rope in place and maintain a nice, tight wrap.
Step 4
Continue wrapping and securing the rope until you've covered 2/3 of the box.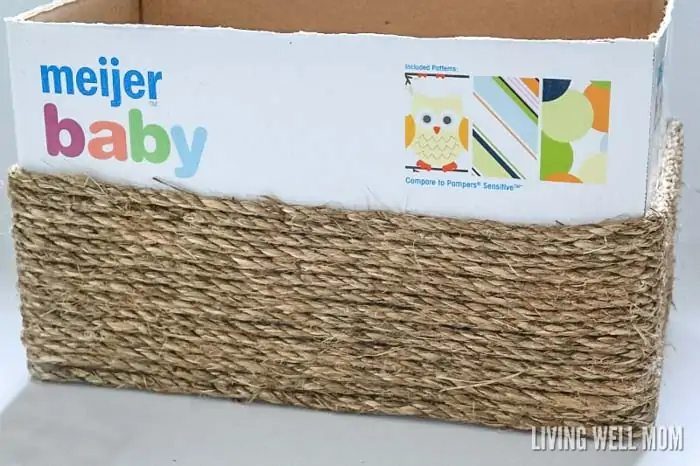 Step 5
Cut a strip of fabric long enough to go around your box. The strip should be twice as wide as the exposed area above the rope + 1″.
Note: In my case, my exposed area is about 3″, so my fabric strip was 6 1/2″ wide.
Step 6
Add a bead of hot glue along the top of the rope, working on one side at a time. Fold over one edge of the fabric 1/2″ and press it against the hot glue.
The right side of the fabric will be against the box so that when it is folded later, the pretty side will be exposed. Use a knife or boning tool to tuck the fabric tight against the rope.
Repeat with all sides of the box.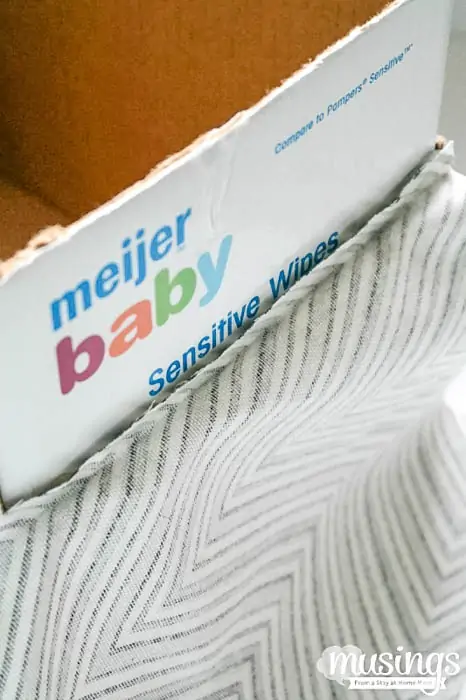 Step 7
When the fabric has been attached all the way around the box, fold it up and into the inside of the box. Use additional glue to secure the fabric to the inside of the box.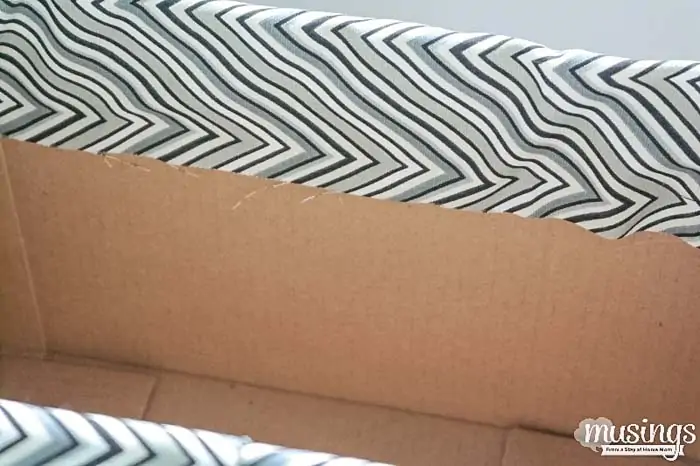 Step 8
I highly recommend fully lining the box to get a professionally finished look. However, that depends on how you plan to use your new basket. I will be using mine on shelves where the inside will not be seen.
This is a super easy, no-sew way to create the look of a lined storage bin without the extra work! It took me about 45 minutes to make this basket and less than $5 in supplies!
See how easy it is to make your own basket? You can totally do it too!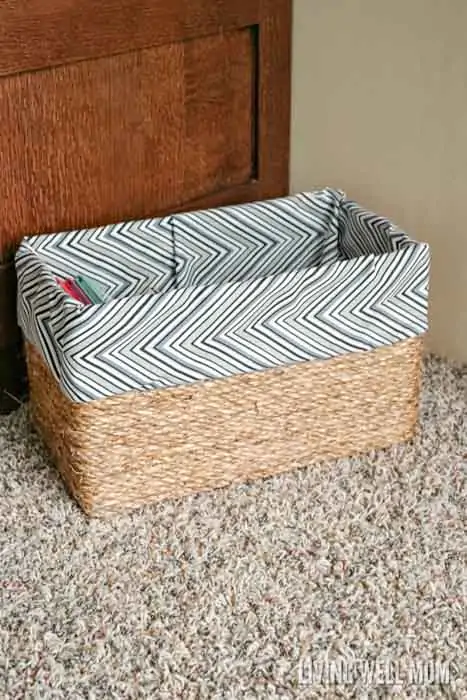 Tips for making your DIY basket
Here are some helpful tips I have received from some readers that can help make this project even better. (Thank you!)
Add more stability: Carla offered the idea of folding the box flaps down inside the box nicely (if large enough) to add even more stability to the completed basket.
Glue fabric first: Susan had another great idea and recommended starting with the fabric glued to the box along a line, then covering the edge of the fabric with the rope or twine. You won't need to turn over the raw edge as described, which makes it easier and results in fewer wrinkles.
DIY basket project FAQs
Here are the answers to a couple of questions that I see readers frequently ask about making your own DIY rope basket.
Would this DIY basket work well for storing kids' toys?
Unfortunately, no. Upcycling boxes in this way is more for appearance and storing items that won't need to have the durability that kids' storage often demands.
I like to use these boxes to store things like yarn, papers, candles, and other items that I don't need to put in or pull out all the time.
How do I make a storage basket?
You can make a beautiful storage box by upcycling a regular cardboard box and transforming it with some fabric and twine (or rope). This is a cost-effective way to add beautiful storage to your home.
I hope you love this DIY basket project! I had so much fun making mine and feel a twinge of excitement every time I use my homemade organizer bin (or see it)!
Does the fabric look familiar? I used a scrap that I had left from my DIY Toy Box Makeover!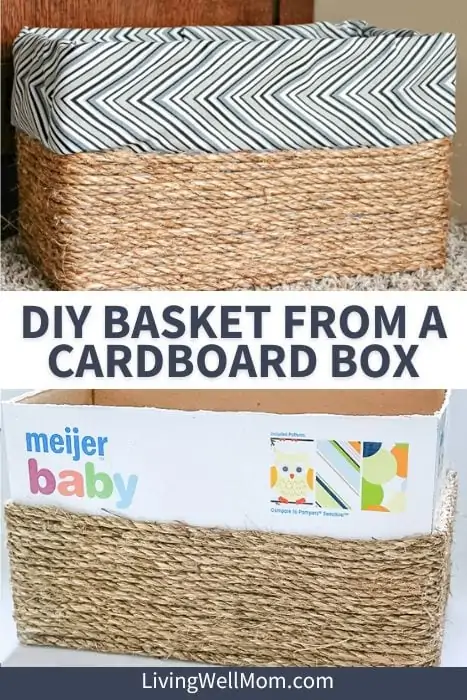 More DIY and crafting ideas you'll love
If you like this project, here are more simple DIY ideas you may love!