One of the best ways to organize your collection of recipes is with a DIY recipe binder! A homemade recipe organizer is inexpensive and easy to do with this free printable to get started. You can also take your recipe organization even further by buying my complete recipe book system, so you never lose a recipe again.
Everyone has their own way of organizing their recipes. My favorite way is using a recipe binder.
I know that may seem a little counter-intuitive during these digital times, but I love being able to organize and flip through my recipes. What can I say? Plus, my kids like it, and anything that helps them feel more confident in the kitchen is a win in my book!
A few years ago, I was having a recipe organization crisis and created a simple notebook organization system that I've used ever since.
Of course, I had to share all about it my little "win" with my friends here. I think you all must love recipe binders, too, because it's one of the most popular posts here at Living Well Mom!
I figured it was time that we all update our recipe books, so I had a brand new set of recipe organization graphics created for us!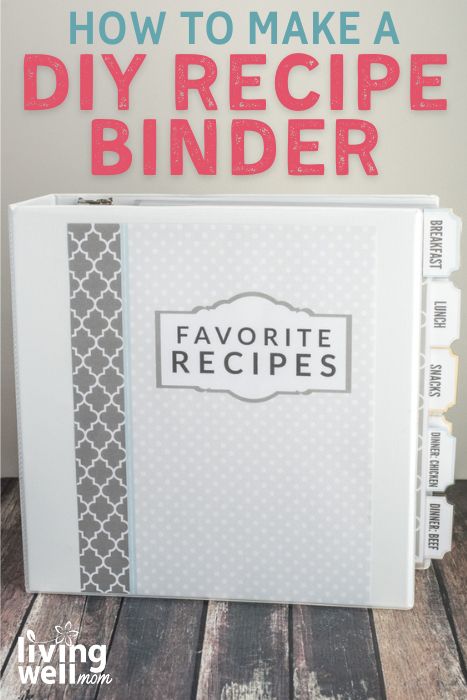 What is a recipe binder?
It's just what it sounds like: a notebook filled with all your favorite recipes!
Instead of keeping stacks of dog-eared cookbooks or a hundred printed recipes and recipe cards all over your kitchen, you can easily corral your favorite family recipes in one simple spot.
Plus, if you're anything like me, you use printed recipes just about every day, and you find more almost as often. A recipe book is perfect because you easily add or remove dishes whenever you want.
You can also change or move categories around too.
In short, this is the most convenient (and budget-friendly) way to sort the recipes many of us print online.
Y'all, I can't get enough of this one! It's such a clean and pretty design. It looks fabulous in my kitchen and will look amazing in yours too!
Have I convinced you that you need a recipe book yet? If so, you'll be thrilled to know that setting up a DIY recipe notebook of your own is super simple.
DIY Recipe Binder Supplies Needed
Additional Recommended Supplies
Don't let the hot glue gun scare you – this is NOT a major project. Trust me, I'm not crafty at all, and this was super easy. If I can do this, so can you!
How To Prepare Your Recipe Binder
Here's how you'll get your recipe book pages ready to use.
Step 1
First, you'll need to download your printable pages.
You can get them for free here as my gift to you when you join my Living Well Mom email list!

You'll receive 7 sheets:
Cover Page
3 Category Pages
1 Tabs Page
2 Simple Design-Only Pages (which can be used for the sides of the binder to make it look pretty)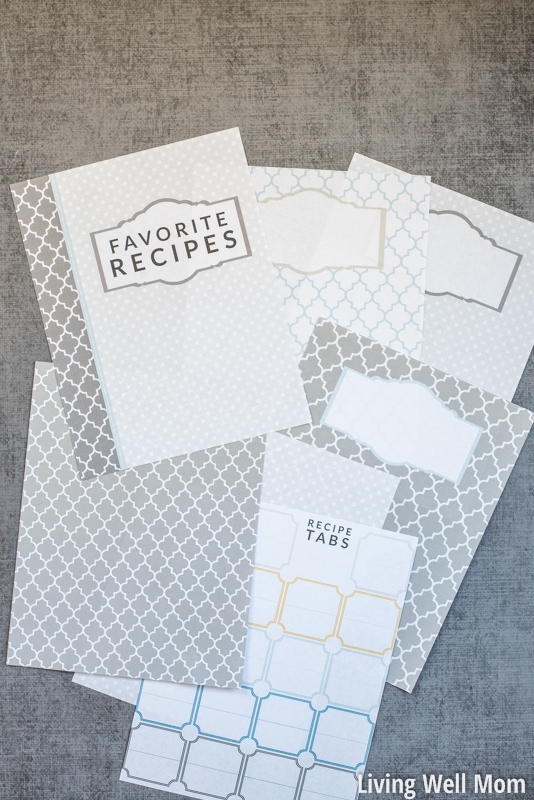 Step 2
Now it's time to get your pages ready to print. Prepare the category pages in one of two ways.
You can download, print, and write your category names by hand on each of the category pages and recipe tabs.
OR, you can save the JPG files of the recipe tabs and category pages listed here, upload the full file sizes into an editing tool like PicMonkey, and add text. This is a great option if you want something nicer than your handwriting. Just make sure you save in full resolution to ensure you keep the quality.
Categories can include:
Appetizers
Main Dishes (could be organized by protein type such as poultry, pork, or seafood)
Salads
Side Dishes
Desserts (cookies, cakes, etc.)
Sauces
Soups
​Pasta
Slow Cooker or Instant Pot
​Beverages
And more!
Depending on how many categories you want to include in your binder, you'll need to print out multiple copies of pages 3, 4, and 5 (the category pages). I highly recommend listing out the categories you want to use in your DIY recipe binder before you start finalizing and printing pages.
I chose to add the text online so my recipe book would be nice and pretty. To be honest, I don't have gorgeous handwriting like some of you! (In case you're wondering, I used League Gothic as the font.)
Instructions For Putting Your DIY Recipe Book Together
Once your recipe book pages are labeled and printed, you can start putting it all together. Here's how:
Step 1
Decorate the cover of your binder.
For the back edge of the notebook, choose your favorite graphics page and cut it to fit. Then carefully slide it into the clear pocket.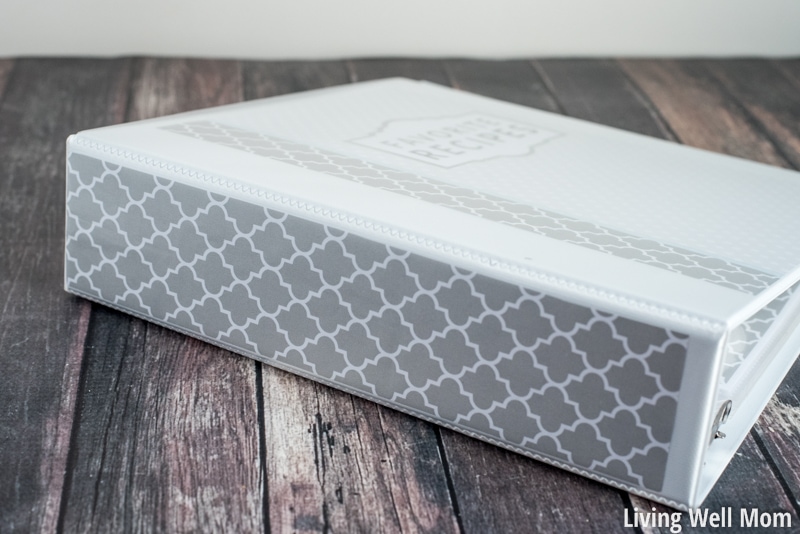 Next, insert the cover page into the clear pocket on the front of your binder.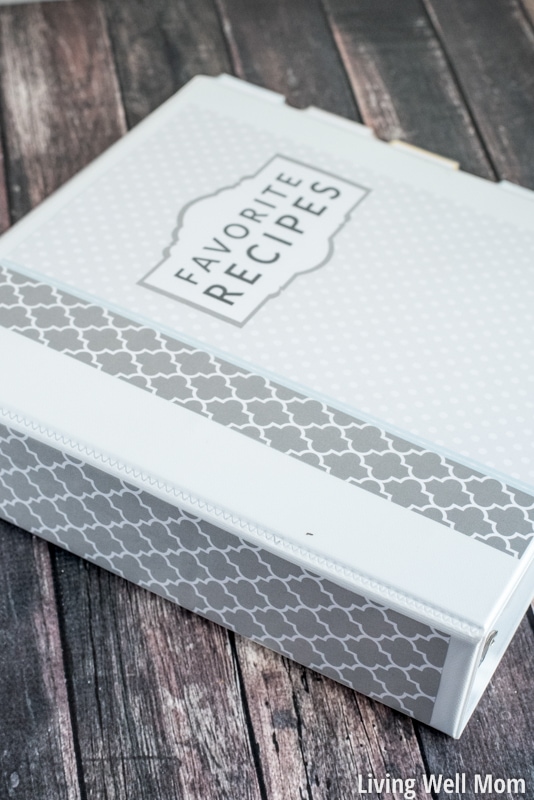 Step 2
I highly recommend laminating the cover and category pages because it provides more protection and stability. Plus, it will help your category pages stand out against your regular recipe pages.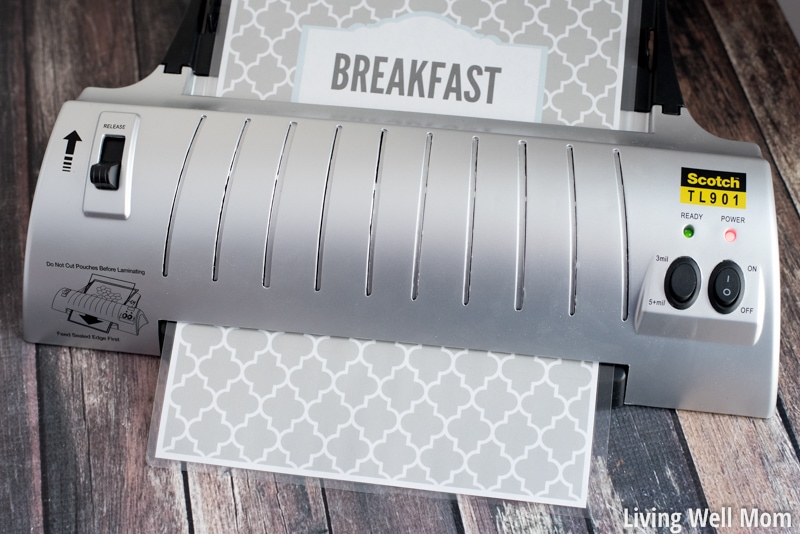 Once you laminate the pages, just trim the extra from around the edges and slide each category page into a sheet protector.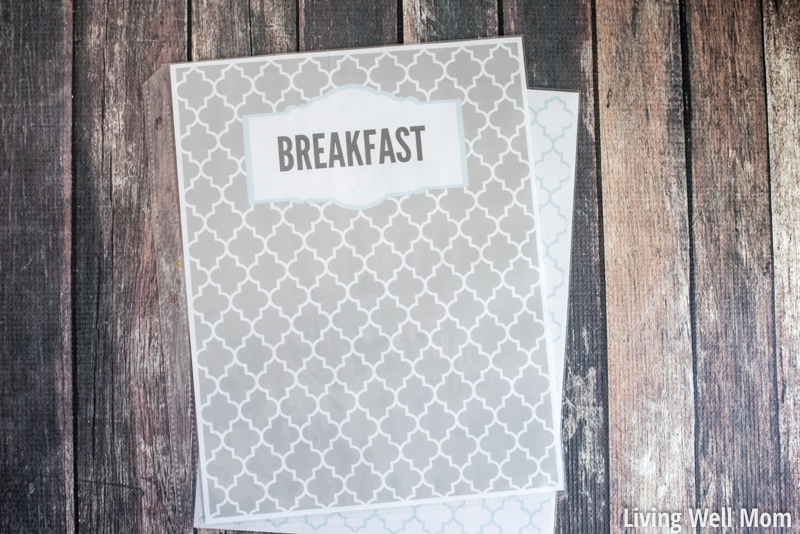 Step 3
Next, cut out each of the recipe tabs (or labels) that you'll be using and fold them in half. Then, insert them into a laminating pouch folded, then laminate.
Cut each tab from the laminating sheet, leaving just a little around the edges. This extra step will help ensure your beautiful recipe organizer will last for a long time!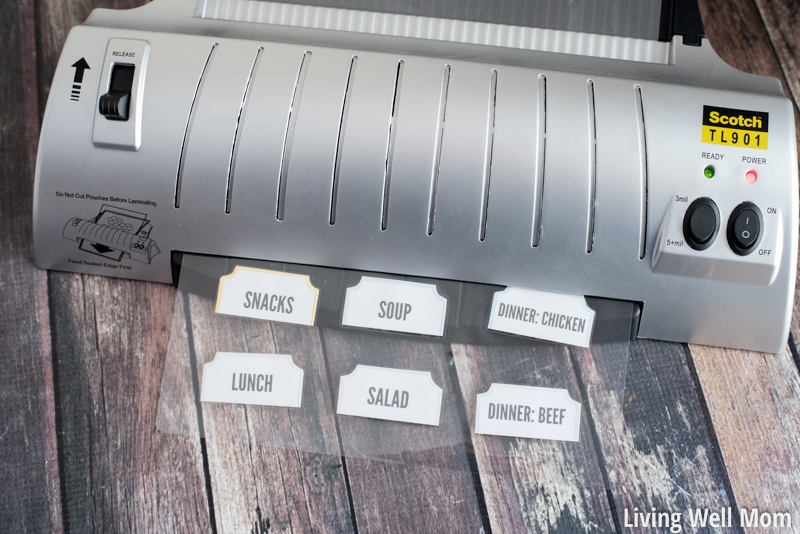 Step 4
Line up each tab according to how many category pages you have to make sure they're spaced the way you want them to be.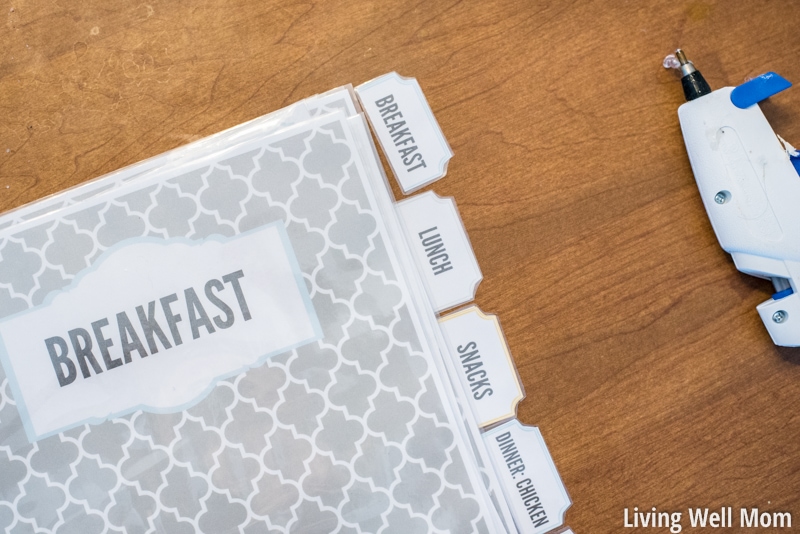 Carefully hot glue a small line at the very edge of each category page. (Your category pages must be inserted into a protector first.)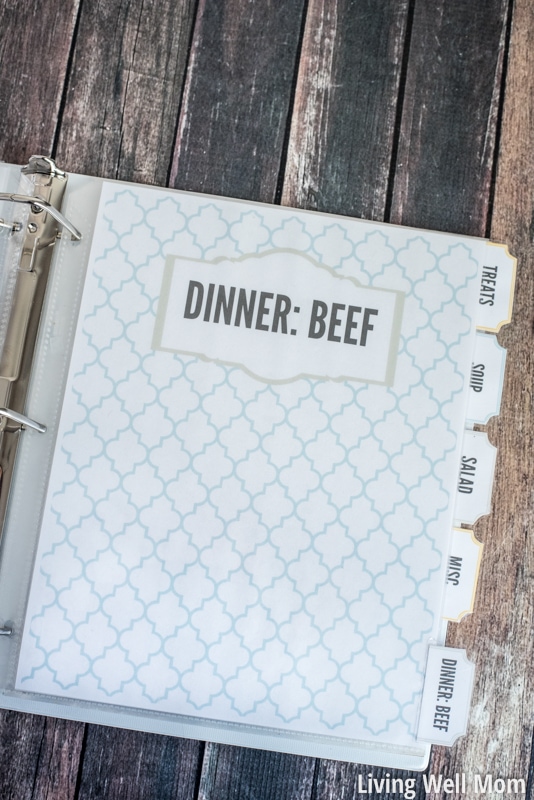 Step 5
It's time for the really fun part: putting the category pages into your binder!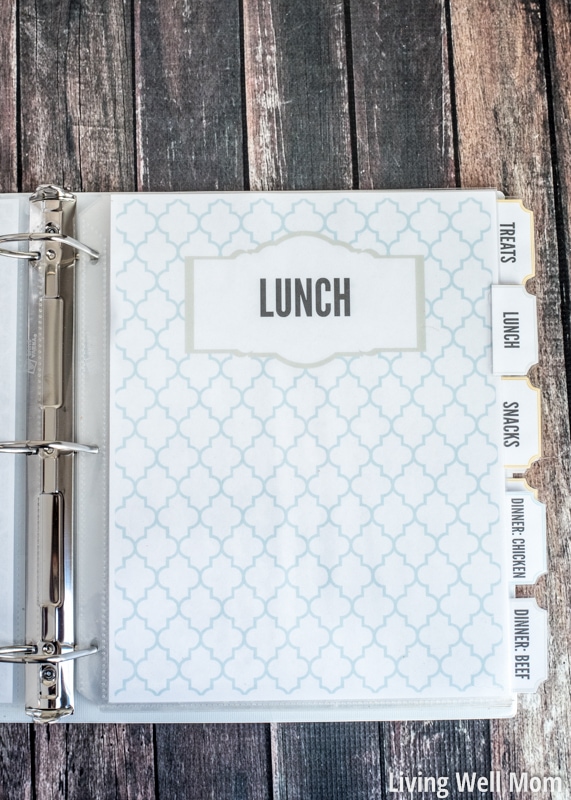 Step 6
Now just add your recipes! (If you need recipe inspiration, print out this lemon garlic shrimp recipe to add to your collection – you'll love it!)
You can slide them into clear protective sheets (my recommendation) or simply use a 3-hole punch to add the recipes directly to your binder.
It's completely up to you. I prefer using the page protectors because I tend to be pretty messy when I cook, but you may not need them.

Grab The Complete Recipe Binder System
Now that you've got the basics, you'll want the rest to keep your recipes completely organized in homemade beautiful recipe books!
This add-on pack was designed with feedback from thousands of women who downloaded this pretty recipe book cover.
Get your complete recipe binder system and create your own unique family cookbook today.
NOTE: This easy recipe organization system also makes great gifts for friends, family members, or even your children's teachers! It can be a great housewarming gift too.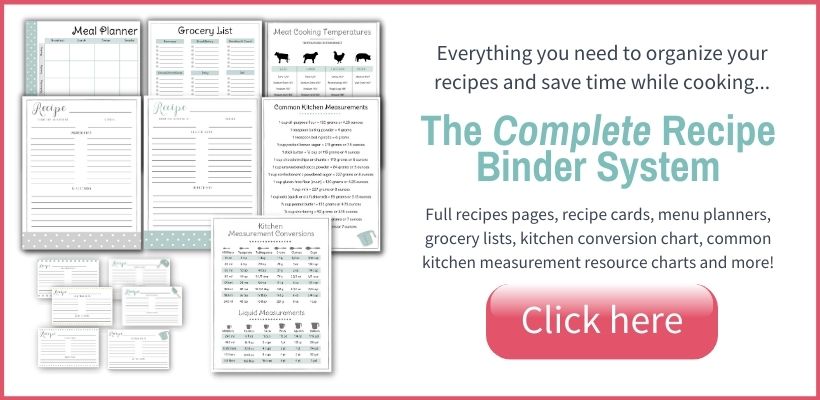 DIY Recipe Binder FAQs
Here are some common questions I see readers ask about making their own recipe notebook. If you have a question but don't see it answered below, please leave it in the comments!
Why is it important to organize recipes?
Have you ever had the experience where you want to make a certain dish, but you can't find the recipe? Imagine searching through lots of recipes everywhere you can think of, but you just can't find it. Or maybe you waste a ton of time searching for it only to find it in a place that doesn't make sense.
I've been there, and I know how frustrating that is. So when you keep your recipes organized, your family favorites are right at your fingertips anytime you want them.
What is the best way to organize a recipe?
There are many ways to organize your family favorites (including boxes, digital recipe binders, and cookbooks), but I love the flexibility, ease, and affordability of this organizer system.
With this system, I can quickly and easily add new recipes and take out those we don't make anymore.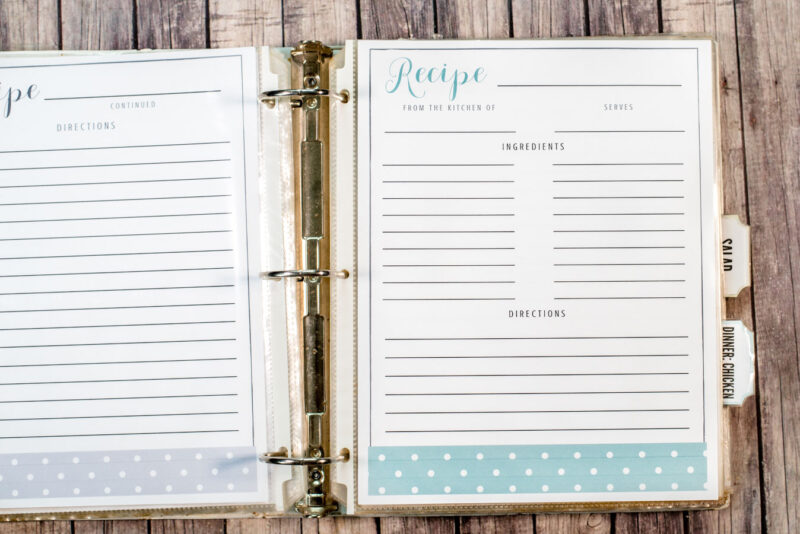 What order should a recipe binder be in?
You can organize them into any order that makes sense to you (talk about ease and flexibility!). Here are a few ideas:
The recipes you use most go toward the front of your notebook
How you might eat a meal (ex: appetizers, main dishes, side dishes, beverages, desserts, etc.)
The type of food it is (ex: main dishes, slow cooker recipes, pastries, freezer meals, etc.)
And that's how you make your very own DIY recipe organizer book. Don't forget to grab your free printable pages and then expand that by getting the full binder system!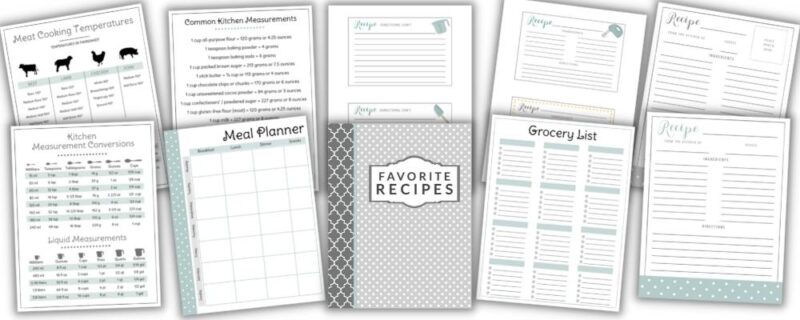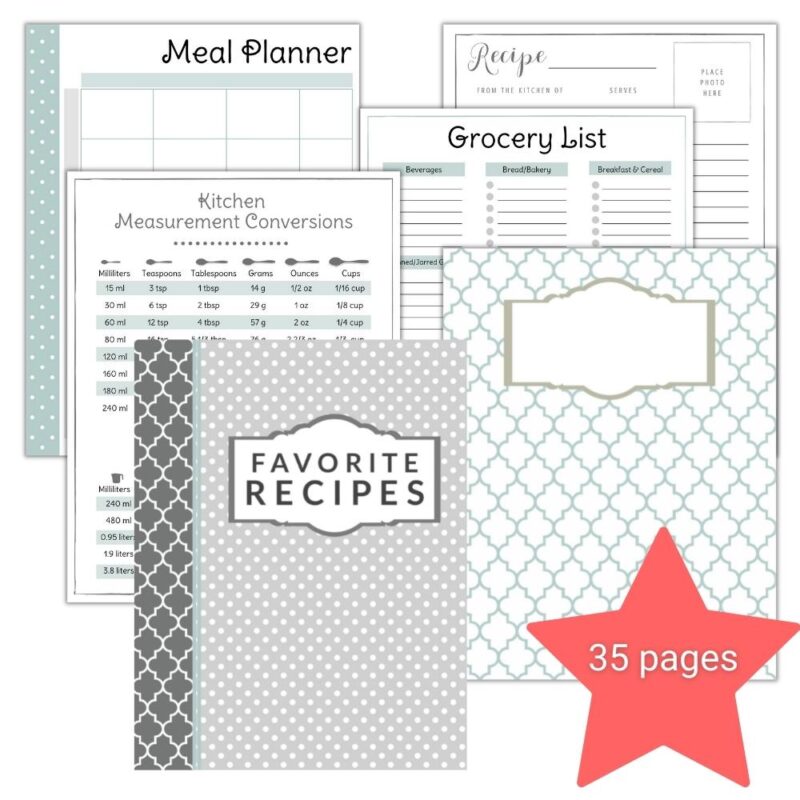 More Easy Ways to Stay Organized