Everyone has their own way of organizing their recipes. My favorite way is a recipe binder. I know that may seem counter-intuitive during these digital times, but I love being able to organize and flip through my recipes. Plus, my kids like it took and anything that helps them feel more confident in the kitchen is a win in my book.
In fact, I created a simple version a few years ago and I've used it ever since. Of course, I had to share all about it with my friends here, and I think you all must love recipe binders too. It's one of the most popular posts here at Living Well Mom!
I figured it was time we all get an upgrade on our recipe binder so I had a brand new set of recipe binder graphics created for you and me!
What is a Recipe Binder?
A recipe binder is just what it sounds like—a binder filled with recipes! Rather than keeping a hundred printed recipes all over your kitchen, or stacks of dog-eared cookbooks, you can easily corral your favorite foods in one simple spot.
If you're anything like me, you use printed recipes just about every day now and find more almost as often. A recipe binder is perfect because you easily add/remove recipes whenever you want. You can also change or move categories around too.
In short, this is the most convenient way to sort the recipes many of us print online.
And ya'll, I can't get enough of this one! It's such a clean pretty design and it looks so fabulous in my kitchen!
How to Put Together a DIY Recipe Book
Have I convinced you that you need a recipe binder yet? If so, you'll be thrilled to know that setting up a DIY recipe book of your own is super simple.
What You'll Need for Your DIY Recipe Binder:
Optional, but recommended supplies:
Don't let the hot glue gun scare you. This is NOT a major project. Trust me, I'm not crafty at all and this was super easy. If I can do this, so can you!
How to Set Up the Recipe Book Binder
First, you'll need to get your Printable Recipe Binder pages.
You can get them for free here when you join my Living Well Mom email list. It's my gift to you.

There are 7 sheets – the cover page, 3 category pages, 1 tabs page, and 2 simple design-only pages. These last two can be used for the side of the binder just to make it look pretty.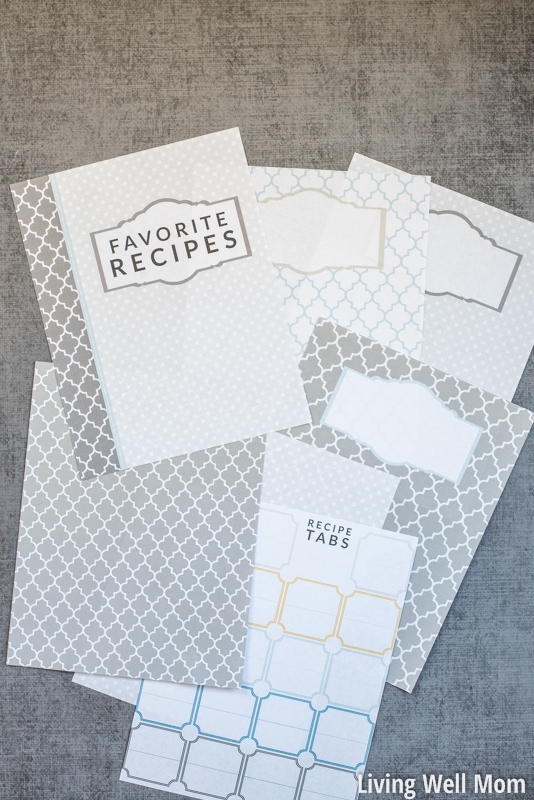 There are two ways to do this. You can download, print, and write in your category names by hand into each of the category pages and recipe tabs.
OR you can save the JPG files of the recipe tabs and category pages listed here, upload the full file sizes into an editing tool, like PicMonkey, and add text.
This is a great option if you want something nicer than your handwriting. Just make sure you save in full resolution to ensure you keep the quality.
You'll need to print out multiple copies of pages 3, 4, and 5 (the category pages) depending on how many categories you choose to include. I highly recommend that you list out the categories you wish to include in your DIY recipe binder before you start.
I chose to add the text online so my recipe binder would be nice and pretty (I don't have gorgeous handwriting like some of you.) In case you're wondering, I used League Gothic as the font.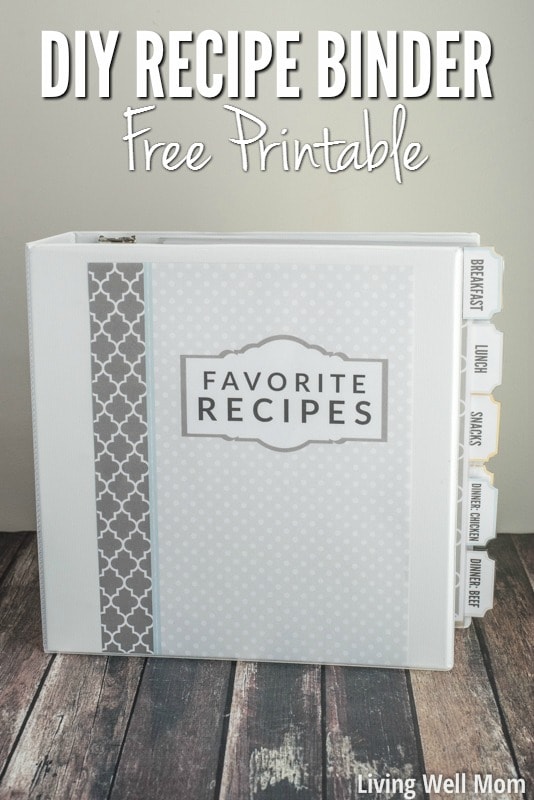 How to Make your DIY Recipe Binder:
Once your recipe binder pages are printed, you can start putting it all together. For the edge of the binder, choose your favorite graphics page and cut it to fit. Then carefully slide it in.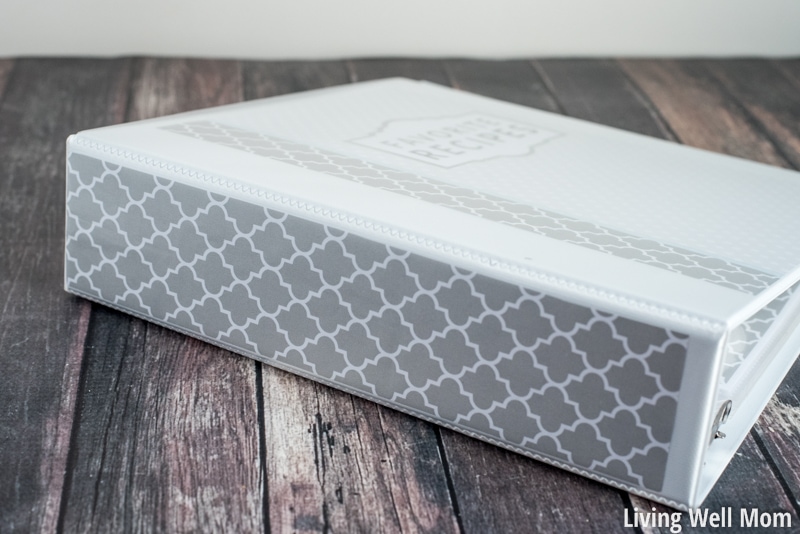 Next insert the cover page into the clear pocket of your binder.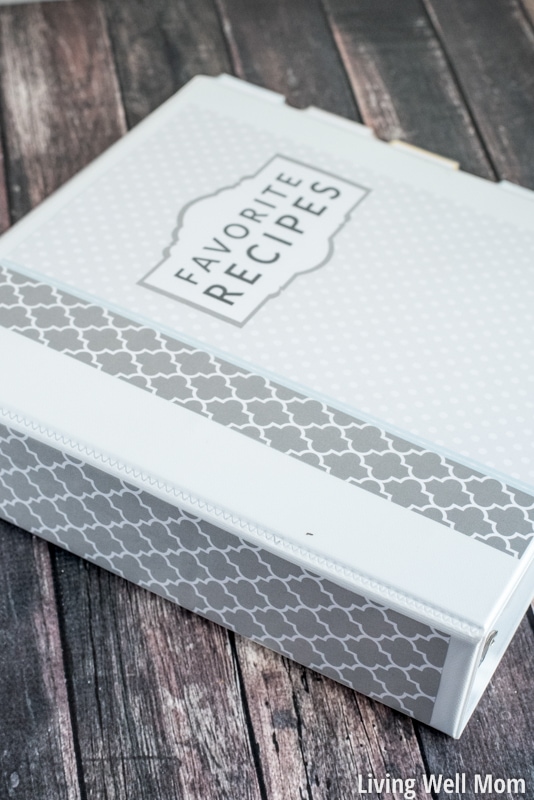 I highly recommend laminating the cover and category pages as this gives it more protection and stability. Plus it will help your category pages stand out better compared to your regular recipe pages.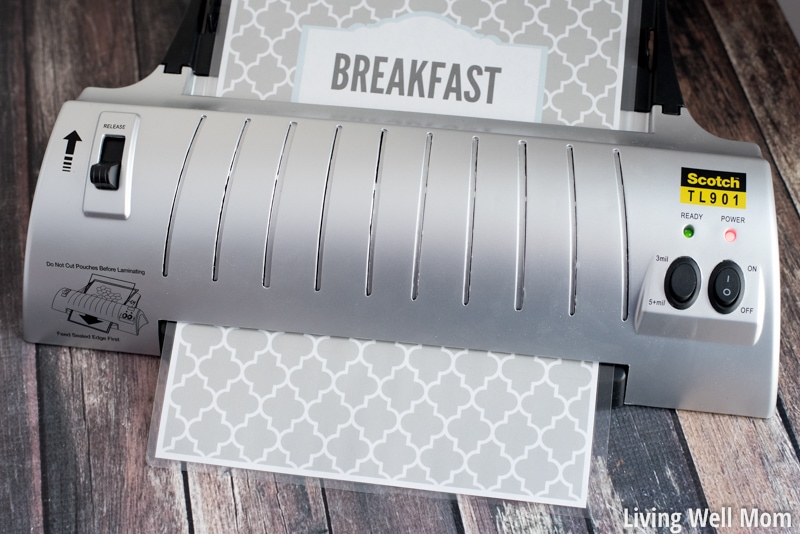 Once you laminate the pages, just trim the extra from around the edges and slide each category page into a sheet protector.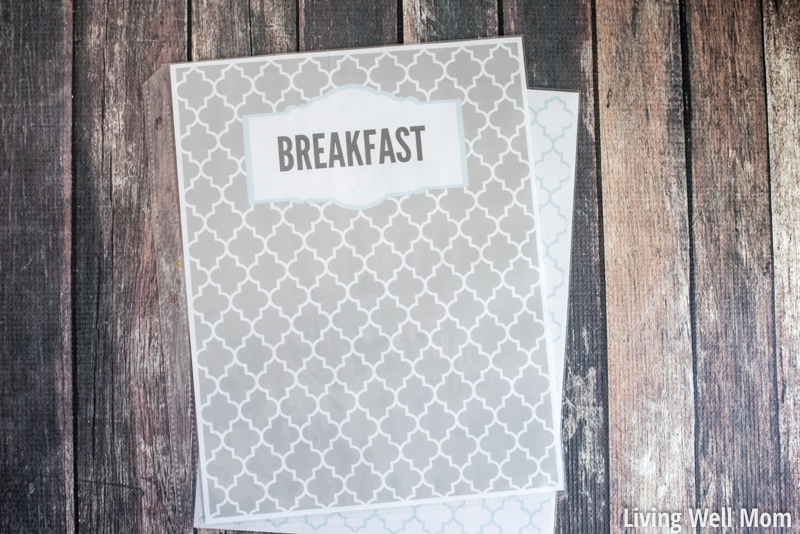 Then, cut out each of the recipe tabs that you'll be using and fold them in half. Insert them into a laminating pouch folded, then laminate.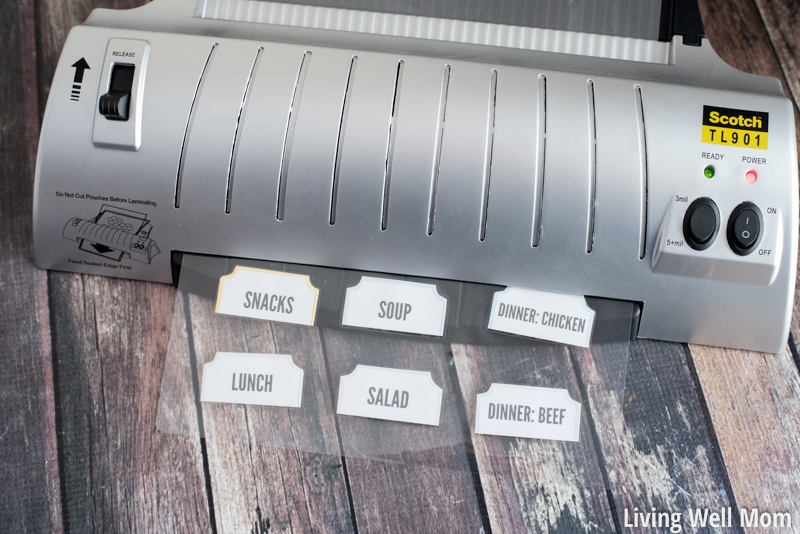 Cut each tab from the laminating sheet, leaving just a little around the edges. This extra step will help ensure your beautiful recipe binder will last for a long time!
Next, line up each tab according to how many category pages you have.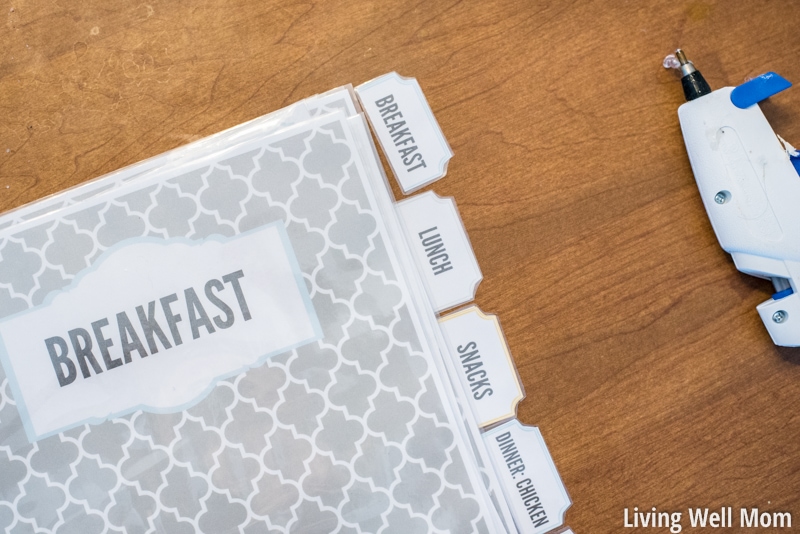 Carefully hot glue a small line at the very edge of each category page. (Your category pages must be inserted into a protector first.)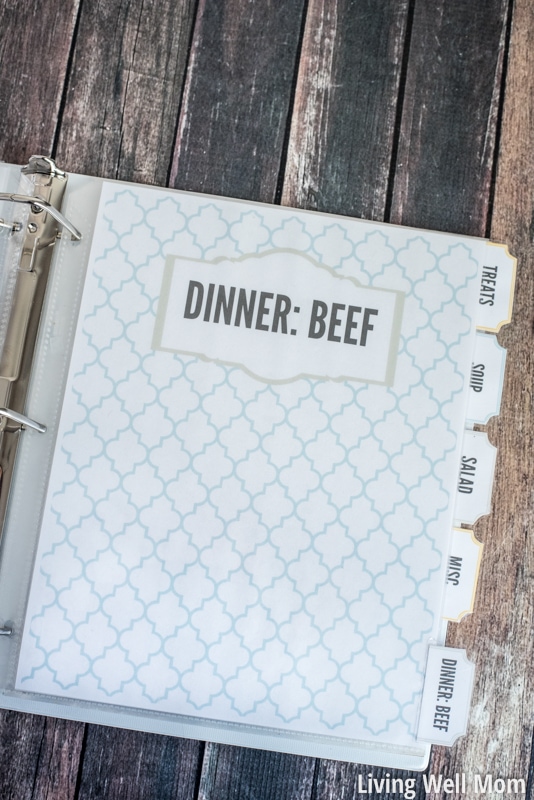 Now we'll get to the really fun part – putting the category pages into your binder…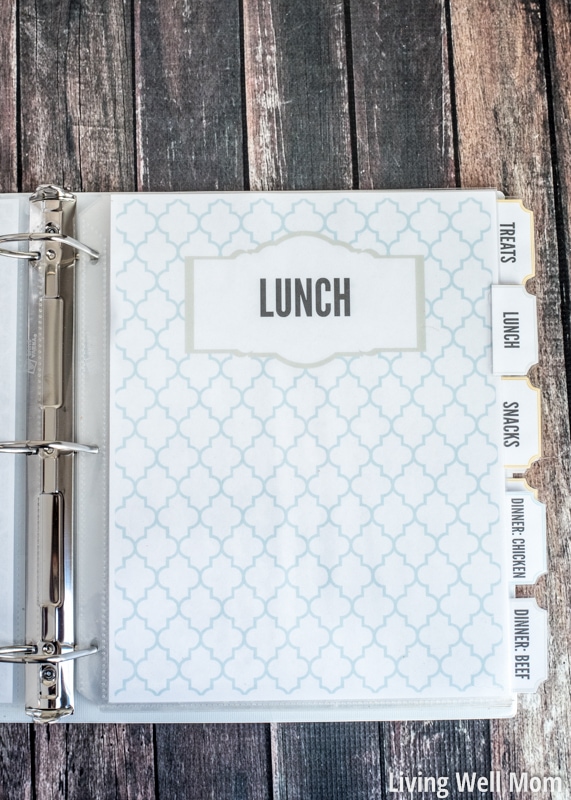 Now just add your recipes! You can slide them into the clear protective sheets (my recommendation) or simply use a 3-hole punch
to add the recipes directly to your binder.

It's completely up to you. I prefer using the protective sheets because I tend to be pretty messy when I cook, but you may not need them.
Now that you've got the basics, you'll want the rest. This add-on pack was designed with feedback from thousands of women who downloaded this pretty recipe binder cover.
Get your complete recipe binder system by clicking here.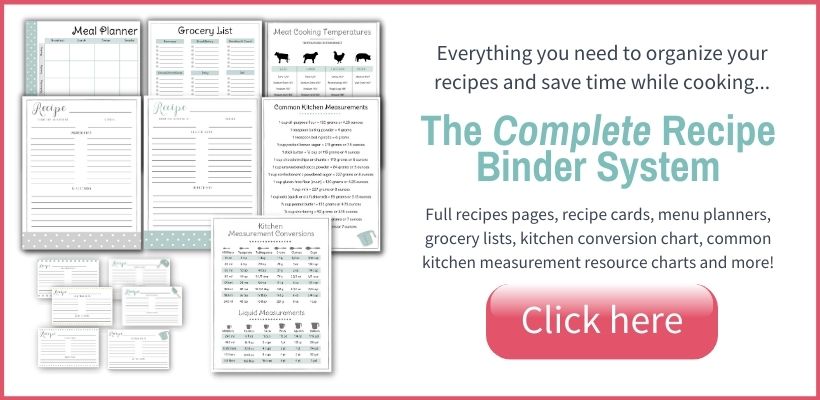 And that's how you make your very own DIY recipe binder!
Pin this: