These grilled lemon garlic shrimp skewers are seasoned in a perfect, citrusy marinade that leaves the shrimp juicy and flavorful. These shrimp skewers are grilled on the bbq and make for a delicious, quick, and easy meal after a busy summer day.
Plus, with an array of grilled seasonal vegetables, these bbq shrimp kabobs are a healthy Whole30 or paleo recipe. Everyone will love this flavorful meal!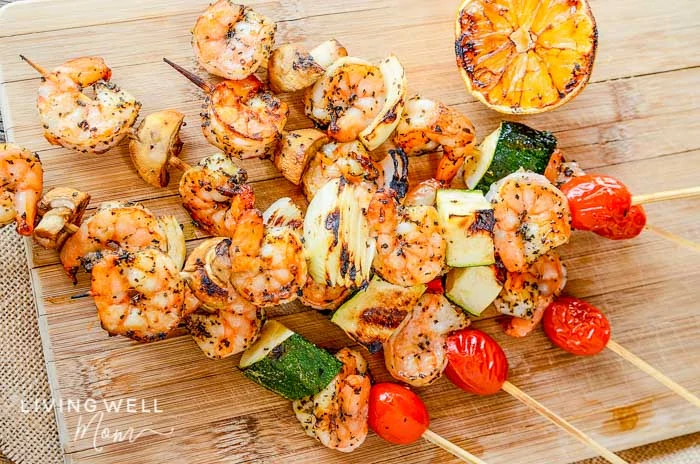 Grilled shrimp skewers
If you enjoy seafood and are looking for a new way to enjoy your grill this summer, you'll love this satisfying, easy meal.
Me? I love seafood, particularly shrimp. I found this grilled shrimp recipe in an old cookbook, and after tweaking the lemon garlic marinade to our taste, it's become one of our favorite summer barbecue recipes.
I'll be honest, though; I won't claim that my whole family loves this lemon garlic shrimp recipe.
My kids aren't the biggest fans of shrimp, but that's fine with me because shrimp is more expensive. I consider shrimp dinners to be more of a special mom-and-dad dinner.
The kids can have grilled hotdogs or Hawaiian teriyaki burgers.
Quick + healthy dinner
One of my favorite things about this grilled shrimp recipe is just how simple it is to make.
The lemon garlic marinade takes 5 minutes to mix together! It's easy to make in the morning before you head out for work or whatever activities you have planned for the day.
Just add the shrimp when you're home and ready to eat that evening, and let them sit for a bit before grilling. You can have a delicious healthy grilled shrimp dinner on the table in about 20 minutes!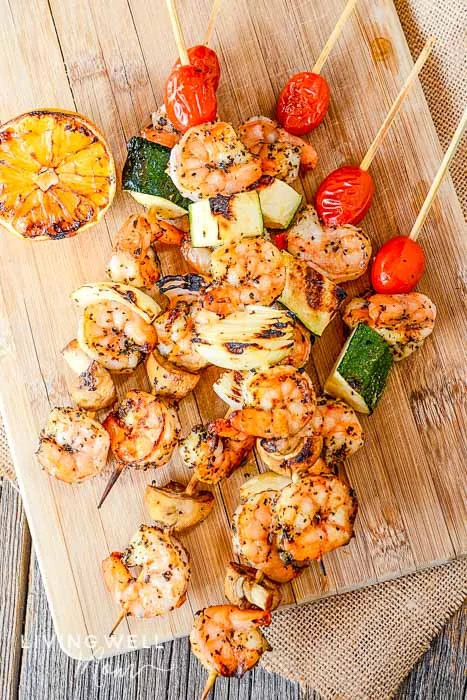 Shrimp with lemon marinade
The best part of this recipe for me is the lemon marinade, hands down.
If you haven't tried shrimp with lemon before, you are going to be stunned at how well these pair together! The acidic, bright lemon works so well with the sweet shrimp meat. It's truly one of my favorite combinations!
Ingredients
Making this flavorful dinner is so simple, and the ingredient list is fairly short, which is always a win! Here's what you'll need:
Lemon marinade ingredients: minced garlic, parsley, kosher salt, black pepper, olive oil, fresh lemon juice, and ground ginger
Shrimp: peeled and deveined
Vegetables: I used cherry tomatoes, zucchini, mushrooms, large onion, and lemon, but you can replace them with the veggies of your choice.
Want to add a little heat to your marinade? Toss in some red pepper flakes!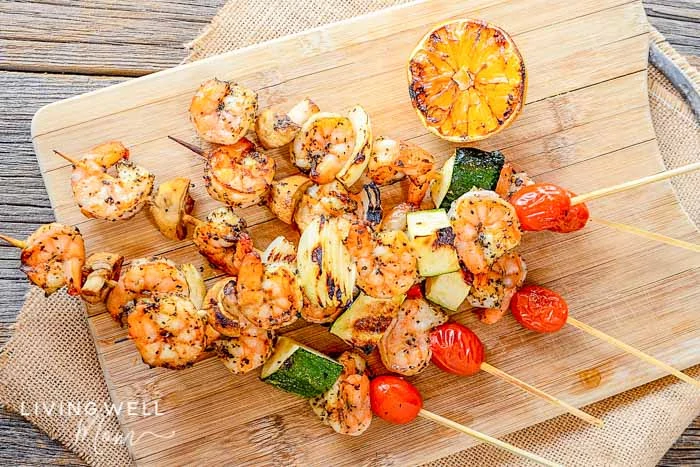 How to make the grilled shrimp skewers
This shrimp recipe makes enough for 4 people. What's fun about this one is you make it on the grill!
Typically when people think of grilling out, they imagine chicken or burgers, but after you try this flavorful shrimp, you'll be hooked! It's a nice way to change it up.
Ready to make these yummy BBQ shrimp? It's simple!
1. Marinate the shrimp
Stir the marinade ingredients together, then add the shrimp to the bowl. Make sure your shrimp are covered with the marinade so you'll get the best flavor. Cover the bowl.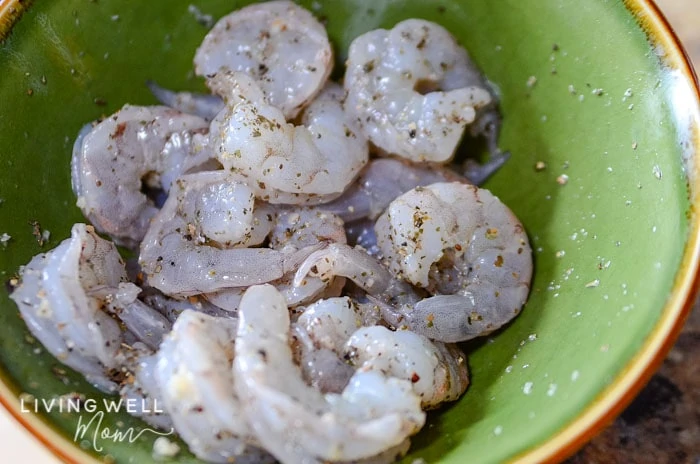 Cover the bowl and place in the refrigerator for about 15-30 minutes. Don't go much longer, or your shrimp will break down due to the acid in the lemon.
Tip: if you're using wooden skewers
, while the shrimp is marinating, you can soak the skewers in water so they don't burn on the grill.

2. Assemble the shrimp kabobs
Assemble your shrimp and vegetable kabobs any way you prefer with the vegetables. Allow for about 4 shrimp per skewer. You may choose to sprinkle a little salt and pepper on your zucchini for a little more flavor.
I love using this Zesty Sea Shakes salt – it's lower sodium than table salt and contains sea salt, organic seaweed, onion, alfalfa, black pepper, garlic, lemon, and cayenne. It's one of my favorite salt-like seasonings.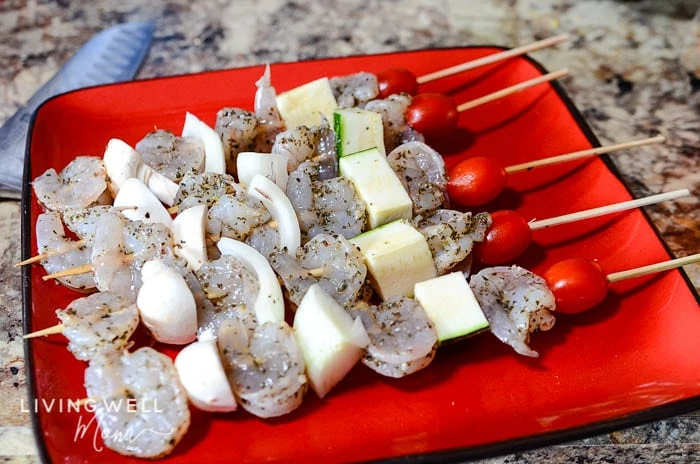 3. Grill the shrimp skewers
Heat the grill to around 350 degrees and put your skewers on the grill.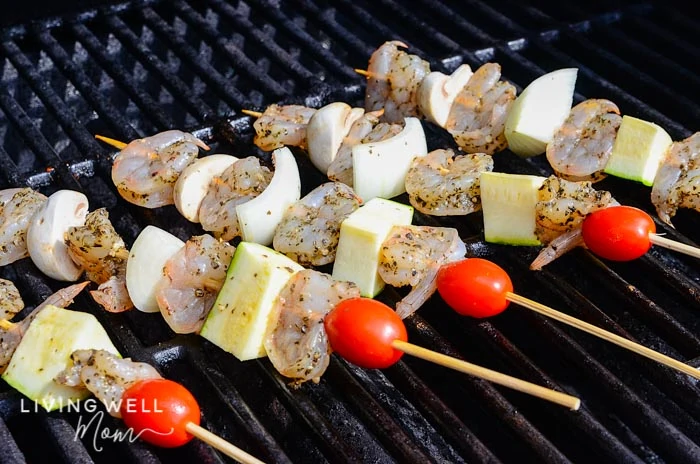 Brush on the leftover marinade for even more garlic lemon flavor.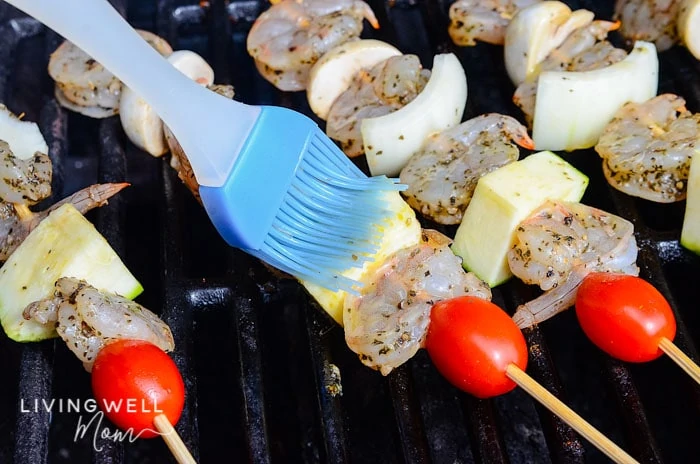 Grill your lemon garlic shrimp for about 5 minutes per side or until you see nice grill marks and the vegetables are cooked through.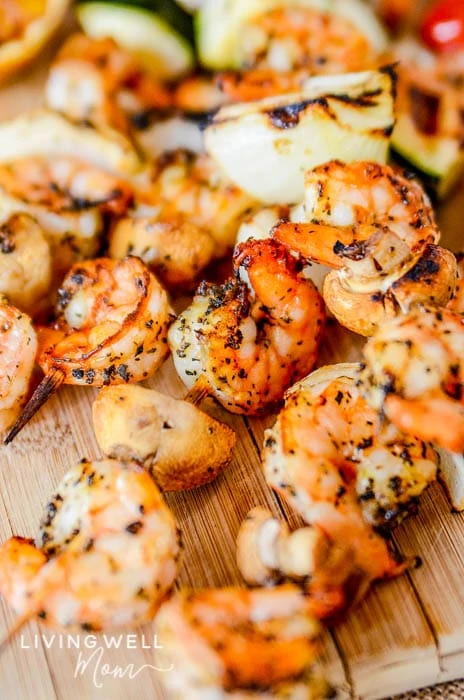 At the same time, place the lemon halves on the grill.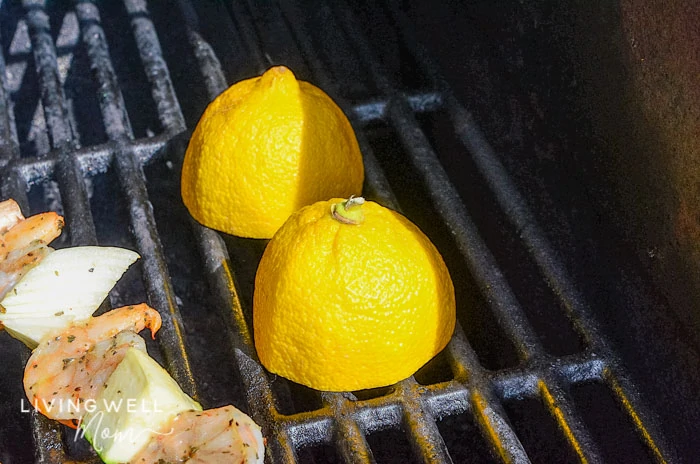 Remove your grilled shrimp skewers and lemons; squeeze lemon juice over each skewer as desired.
5. Serve and enjoy
If you want, serve this lemon garlic shrimp with rice
or quinoa
. These cooked shrimp also taste incredible over angel hair pasta!
Or enjoy your grilled shrimp skewers and vegetables for a healthy shrimp recipe. I often will grill some other veggies on the side, like broccoli and asparagus, and give both a squeeze of lemon too.
You can also toss together a quick salad like this spinach salad with goat cheese and strawberry. Yum!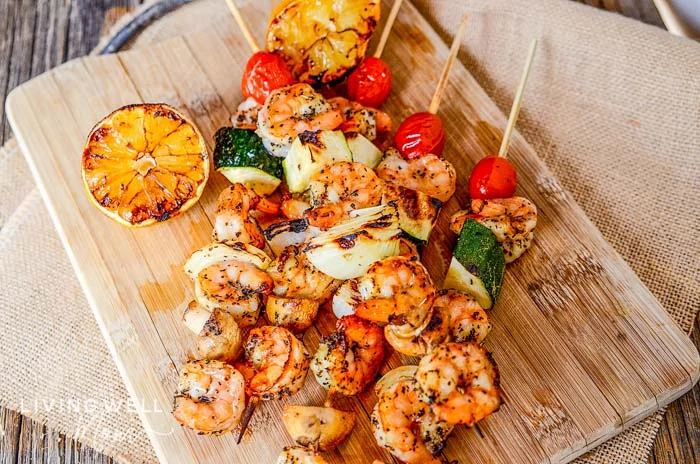 FAQs
Over years of making this recipe, these are some of the most common questions I've received. If you have another one, leave it in the comments, and I'll get back to you!
How long do you soak shrimp before grilling?
Shrimp is tiny but mighty. Typically shellfish like shrimp don't need that long to soak to get all that yummy flavor. I recommend soaking the shrimp in the lemon marinade for 10-20 minutes.
If you're wondering how long you can marinate shrimp, it's not long. If you let shrimp sit in any type of acid, including lemon juice, it begins to break down the tender meat after about 30 minutes.
So while you can't let your shrimp marinate all day, you can go ahead and mix up the marinade in the morning so it's ready to go. Then add the shrimp to it in the evening, and enjoy delicious grilled shrimp kabobs.
On the bright side, if you're in a big rush and forget to start the marinade in the morning (as simple as it is, sometimes it happens – I've forgotten too), you can marinate the shrimp for less than 20 minutes, and your lemon garlic grilled shrimp will still taste delicious.
Tip: While the shrimp is taking its lemon bath, go ahead and soak your wooden skewers in water to prevent them from burning!
Do you peel shrimp before grilling?
In this case, yes! Make sure the peel the shrimp and devein them before you marinate them.
Can you grill frozen shrimp?
Absolutely. While you can typically even grill frozen shrimp directly without thawing, I recommend thawing the shrimp for this recipe first. Otherwise, the marinade won't be as flavorful.
To do so, you can either place frozen shrimp in the fridge overnight or use a 15-minute method. Simply grab the shrimp from the freezer and put them in a bowl of room-temperature water. Just make sure to give it a stir every few minutes to break up the pieces, and they should be ready in 15 minutes or less. Easy peasy!
More BBQ recipes to try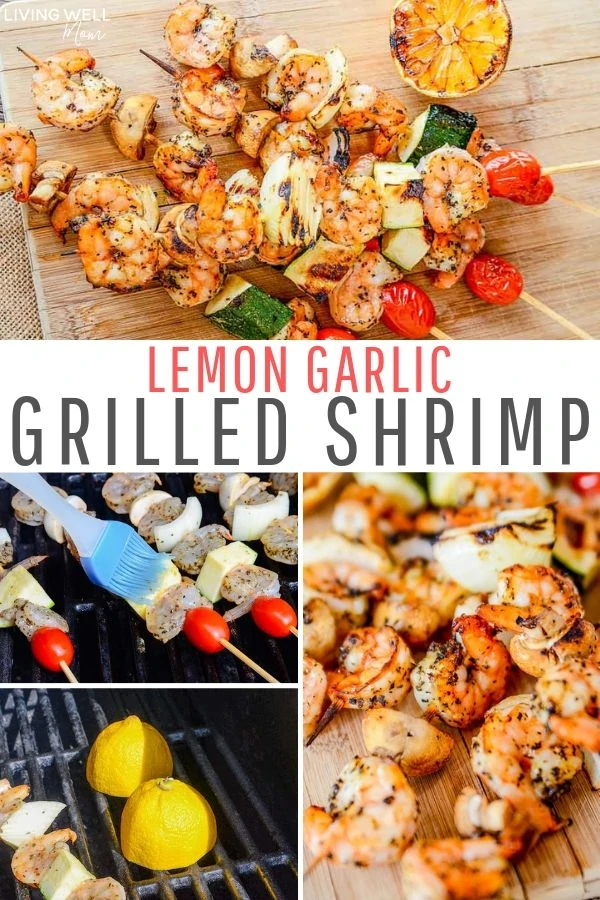 Print
Lemon Garlic Grilled Shrimp
Grilled shrimp skewers marinated in a perfectly seasoned lemon garlic marinade are perfect as a quick and easy meal after a busy summer day. Plus with an array of grilled seasonal vegetables, this is a healthy whole30 or paleo recipe.
Author:
Prep Time:

60 mins

Cook Time:

10 mins

Total Time:

1 hour 10 mins

Yield:

4

servings

1

x
Category:

dinner

Method:

grilling

Cuisine:

seafood
20

shrimp, large

1 tsp

garlic, minced

1 tsp

parsley, dried (or fresh, your preference)

2 Tbsp

olive oil

1 tsp

lemon juice

1/2 tsp

ground ginger

5

(or more) cherry tomatoes

1

zucchini, med, cut in 1" pieces

5

mushrooms

1/2

onion, large, cut in chunks

1

lemon, cut in half
Instructions
Place shrimp in a bowl and season with garlic, parsley, salt and pepper, olive oil, 1 tsp lemon juice and ground ginger. Cover and marinate in the refrigerator for no longer than 30 minutes.
While shrimp is marinating, soak wooden skewers in water so they don't burn on the grill. Begin assembling the skewers with vegetables in any arrangement you prefer. If you desire, sprinkle a little salt and pepper on the veggies, especially the zucchini. Allow for 4 shrimp per skewer.
Heat your grill to low-medium heat or about 350 degrees.
Place the skewers on the grill. Brush on leftover marinade for even more flavor (optional.) Cook for approximately 5 minutes per side, or until you see the development of nice grill marks and the vegetables are cooking through.
At the same time, place the lemon halves, cut side down, on the grill as well. Remove from grill when the skewers are cooked through.
Upon serving, squeeze the lemons over the skewers. Enjoy!
Notes
Optional: serve with rice or quinoa if you prefer some carbs.
Keywords: bbq, grill, shrimp skewers, kabobs, vegetable, lemon garlic marinade,
Pin the image below to save the recipe for later!