Grilling season usually starts off with classic burgers and hotdogs. Maybe even chicken breast or steak if you're lucky. But as delicious as it is, that linkeup can get boring pretty quickly.
That's where these Quick 'n Easy Hawaiian Teriyaki Turkey Burgers come in.
With teriyaki sauce, grilled pineapples, and deliciously seasoned meat, these Hawaiian Teriyaki Turkey Burgers are a nice tropical twist and super quick 'n easy to make too.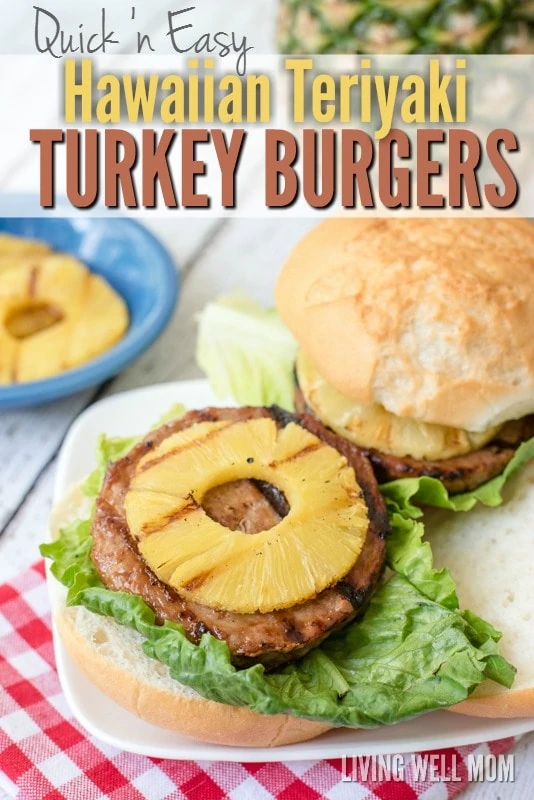 In fact, this recipe is so simple, it's barely a recipe at all!
It's definitely a "mom-approved" quick grilled dinner for sure. Because it's so delicious, even kids love these tasty pineapple burgers!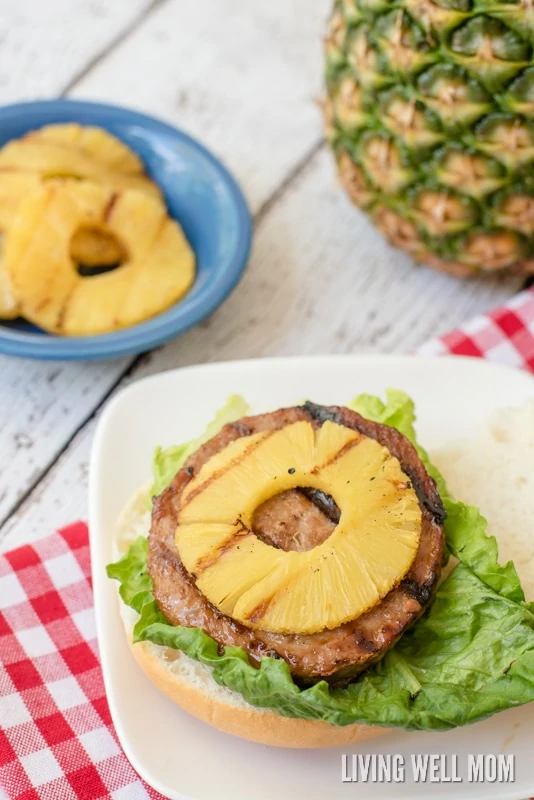 I highly recommend using Shady Brook Farms turkey patties (in some areas of the country it's Honeysuckle White turkey) for this recipe. These turkey burgers are lighter than typical beef burgers and are perfectly seasoned.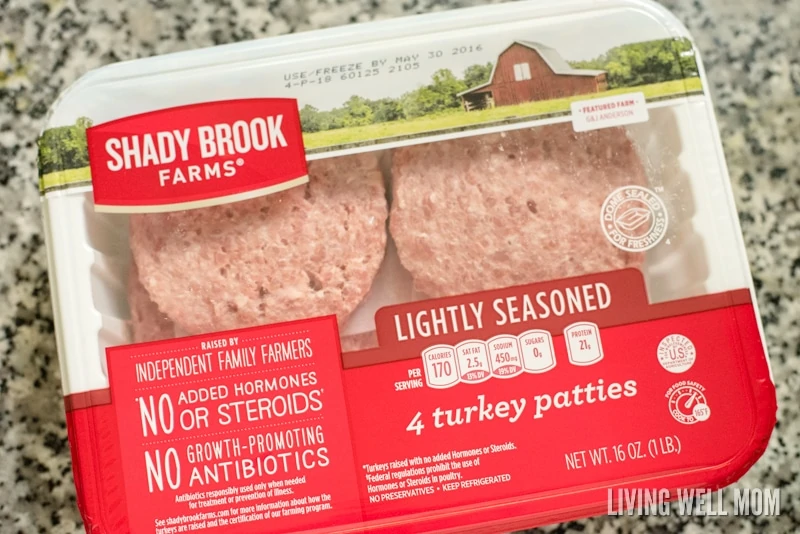 Plus Shady Brook Farms never use antibiotics for growth-purposes; it's used only for sick birds (kinda what it should be, right?) And there's no steroids or hormones ever added either. Add this to the fact that Shady Brook Farms turkey is affordable and it's a winning combination for families.
We eat Shady Brook Farms ground turkey at least two or three times a week along with fresh turkey breast cutlets too. We also frequently enjoy Shady Brook Farms delicious sausage links for breakfast. And all while spending less than if we bought beef!
Grab a package of Shady Brook Farms turkey burgers when you see them because they're amazing!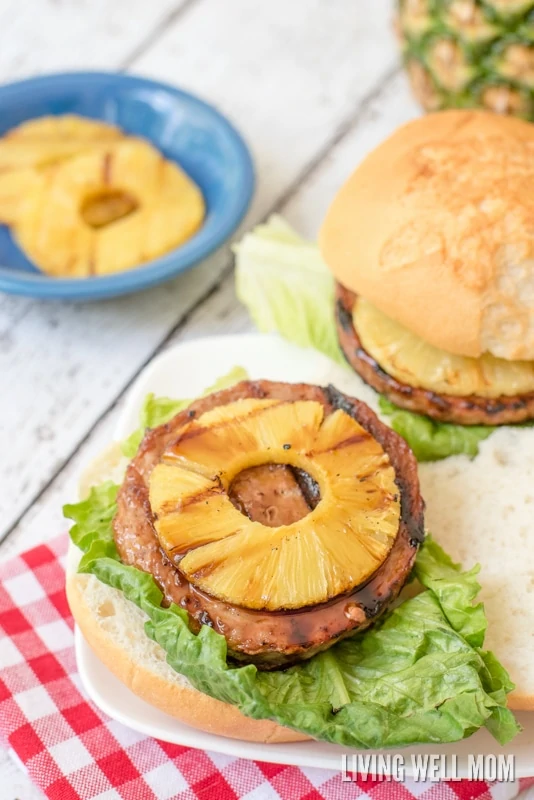 Back to our Hawaiian Teriyaki Turkey Burgers….
Here's what you'll need for Hawaiian Teriyaki Turkey Burgers:
(affiliate links)
*we use this gluten-free, soy-free teriyaki sauce
made from coconut (it's delicious!)
Heat up your grill to medium heat.
While it's warming up, brush some of the teriyaki sauce on one side of your turkey patties.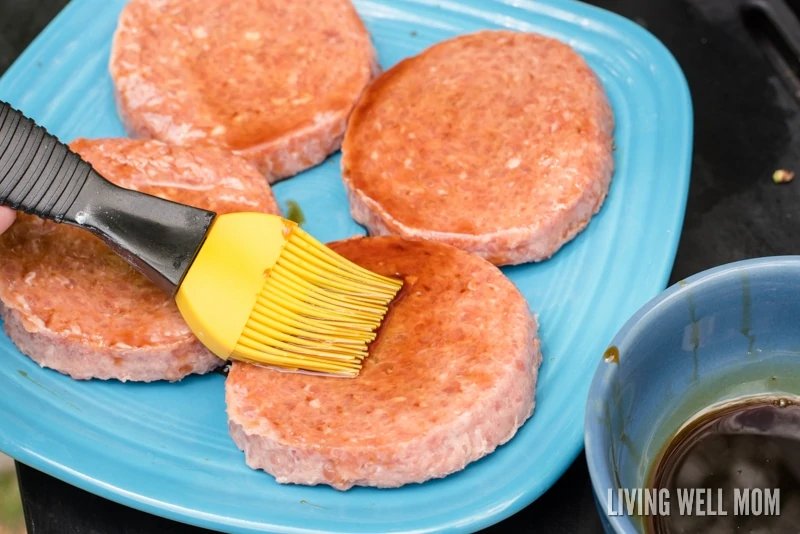 Place the turkey patties on the grill and grill on medium heat for 6-8 minutes. If you have an upper rack on the grill, you can add the pineapple slices at this point too. If not, wait until later.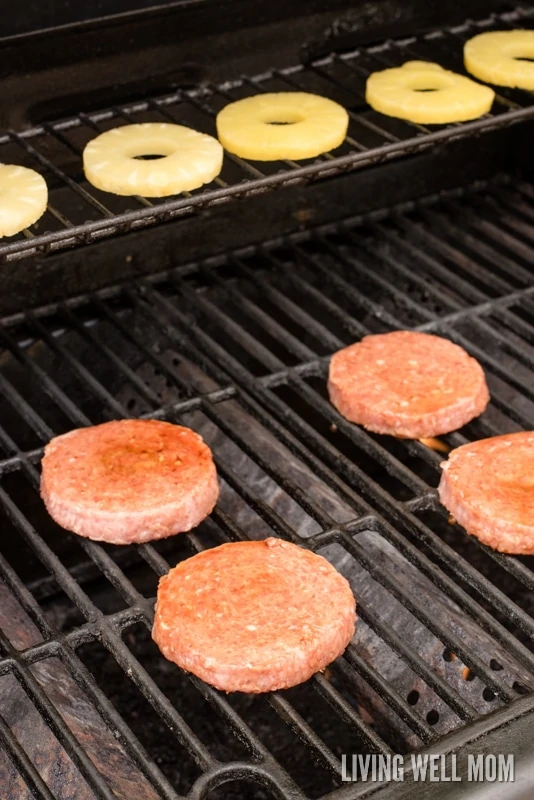 Flip the patties over and brush with more teriyaki sauce. This combination of teriyaki and already-included seasoning cooked into these patties is amazing.
If you haven't already, you can begin grilling the pineapple slices now.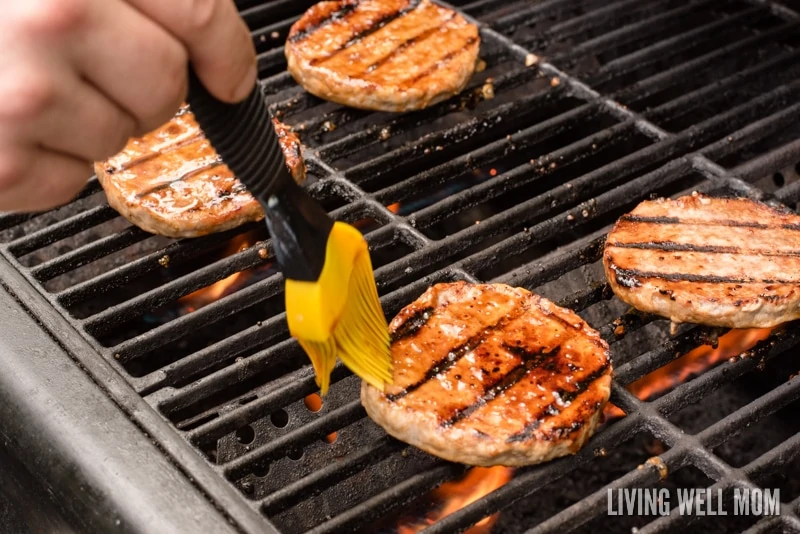 Grill until the patties are done (165 degrees on a meat thermometer) and until the pineapple slices are cooked to your liking.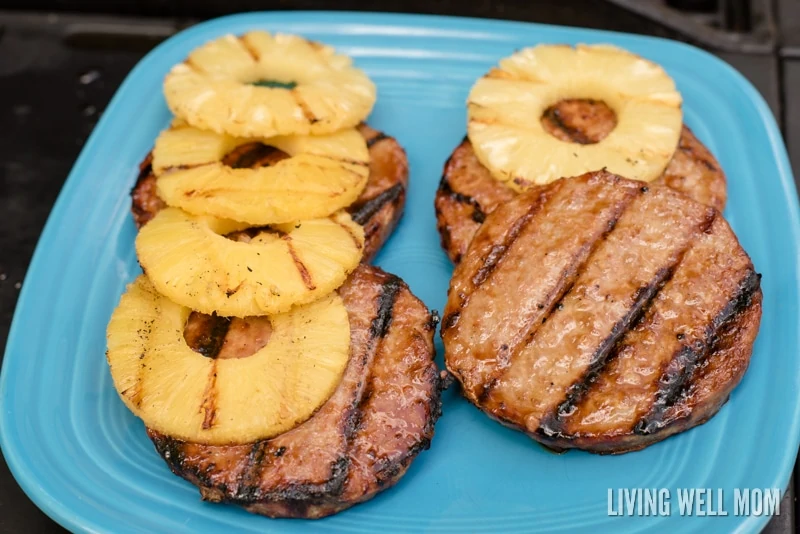 Serve your delicious Hawaiian Teriyaki Turkey Burgers topped with lettuce, a grilled pineapple slice, and a dash of teriyaki sauce for added flavor.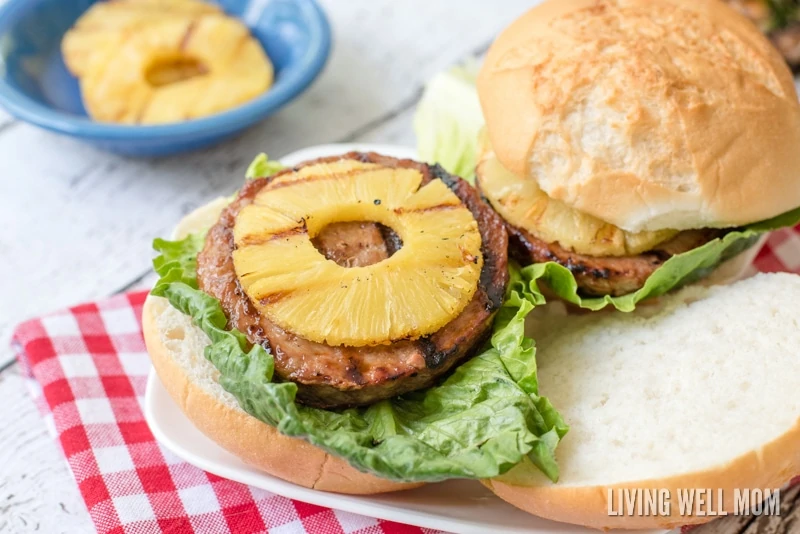 Print
Quick 'n Easy Hawaiian Teriyaki Turkey Burgers
A tasty twist on the classic grilled burger – Hawaiian Teriyaki Turkey Burgers are a favorite with the whole family, including kids!
Author:
Prep Time:

2 mins

Cook Time:

10 mins

Total Time:

12 mins

Yield:

4

1

x
4

turkey patties
pineapple slices – fresh or canned

1/4 cup

teriyaki sauce + a little more for drizzling over your cooked burgers*
romaine lettuce leaves

4

buns
Instructions
Heat the grill to medium heat.
Brush teriyaki sauce on one side of the turkey patties. Grill for 6-8 minutes, then flip. Add the pineapple slices to the grill if desired.
Brush the patties more teriyaki sauce and grill for 2-4 minutes longer or until done (165 degrees with a meat thermometer.) Remove the turkey burgers and patties.
Serve with fresh lettuce, grilled pineapple slices, and a dash of teriyaki sauce for added flavor.
Enjoy!