We all know it's important to include green vegetables in our diets and many of us do that by eating salads. But sometimes those regular ol' leafy green salads get boring. That's one of the many reasons why I love today's recipe – Strawberry Spinach Salad with Goat Cheese.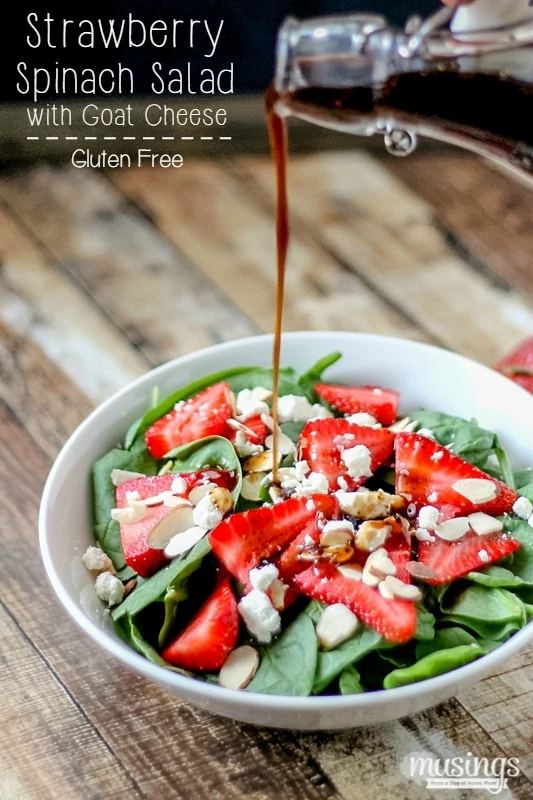 This tasty salad is anything but ordinary and boring. It has healthy green spinach, juicy strawberries, and goat cheese and almonds for protein. The homemade balsamic dressing takes this delicious salad even farther.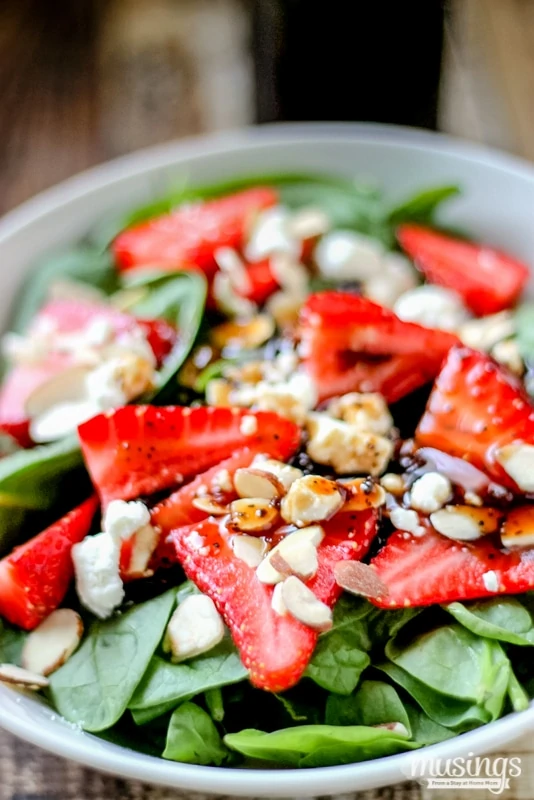 And if you're gluten-free like so many people now days, including my own family, this strawberry spinach salad fits the bill too.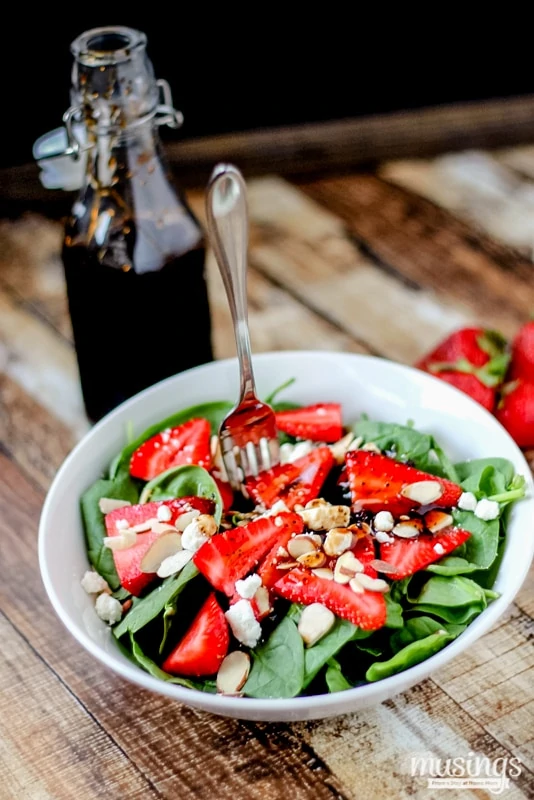 Strawberry Spinach Salad with Goat Cheese:
Strawberry Spinach Salad with Goat Cheese
This easy recipe is a delicious way to get add more greens to your diet. Plus there's protein and it's gluten free!
Prep Time:

5

Total Time:

5 minutes
For the Salad

6 cups

baby spinach, rinsed and spun dry

1 cup

chopped strawberries

1⁄4 cup

sliced almonds

1⁄4 cup

crumbled goat cheese or chevre
For the dressing

1⁄4 cup

balsamic vinegar

2

cloves garlic, minced

2 tsp

brown sugar

1⁄2 tsp

salt

1⁄2 tsp

fresh cracked black pepper

1⁄4 cup

extra virgin olive oil
Instructions
In a medium bowl add balsamic vinegar, garlic, brown sugar, salt, and pepper; whisk well until the sugar is dissolved. Add oil very slowly, whisking constantly while adding. (Alternatively, you could pour the vinegar mixture into a jar, then add the oil and shake to combine. Set aside.)
In a bowl or dish, add half of the spinach, strawberries, goat cheese, and nuts. Drizzle dressing over the top. Repeat for second salad.