Make your own homemade pumpkin spice syrup recipe in just 5 minutes as a delicious topping for desserts or addition to any latte or coffee. As a recipe that uses healthy ingredients and can be sugar-free, it's a guilt-free treat that's perfect for fall or any time of the year!
If you love coffee, lattes, cocoa, or just all things pumpkin spice, you're going to love this homemade pumpkin spice syrup.
This pumpkin spice syrup recipe is super easy and quick to make. And you even probably have the simple ingredients in your kitchen already! Plus, it saves money (far cheaper than Starbucks pumpkin spice latte or coffees!) and tastes so good!
And, as if that's not enough, there's no straining or extra equipment required for this easy recipe.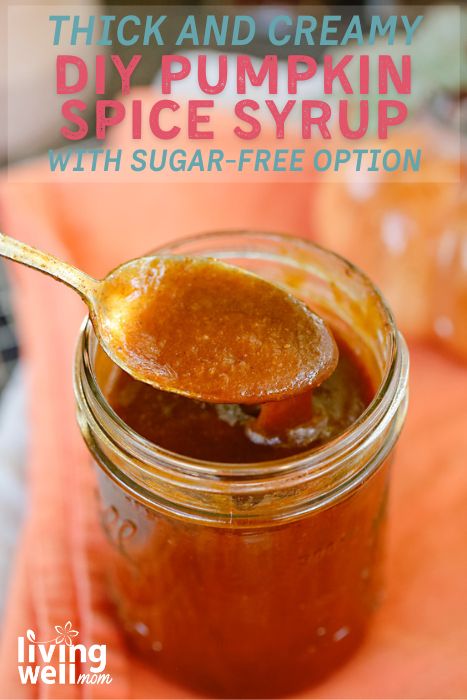 Pumpkin Spice Syrup Recipe Consistency
This recipe is not super thin like a normal pumpkin spice syrup is; it's actually more of a sauce.
When I tried to get a simple syrup consistency, the additional time, effort, and materials were not worth it. I went back to this 'pumpkin spice sauce' because it's so delicious and easy. I don't mind the extra thickness at all, and I don't think you will either.
We want an easy and delicious recipe, right? If we have to take time and extra supplies (like cheesecloth for straining the syrup), it just might not happen and we don't want that!
Plus, you'll save money since you need to use less of this thick syrup than you would a thinner one.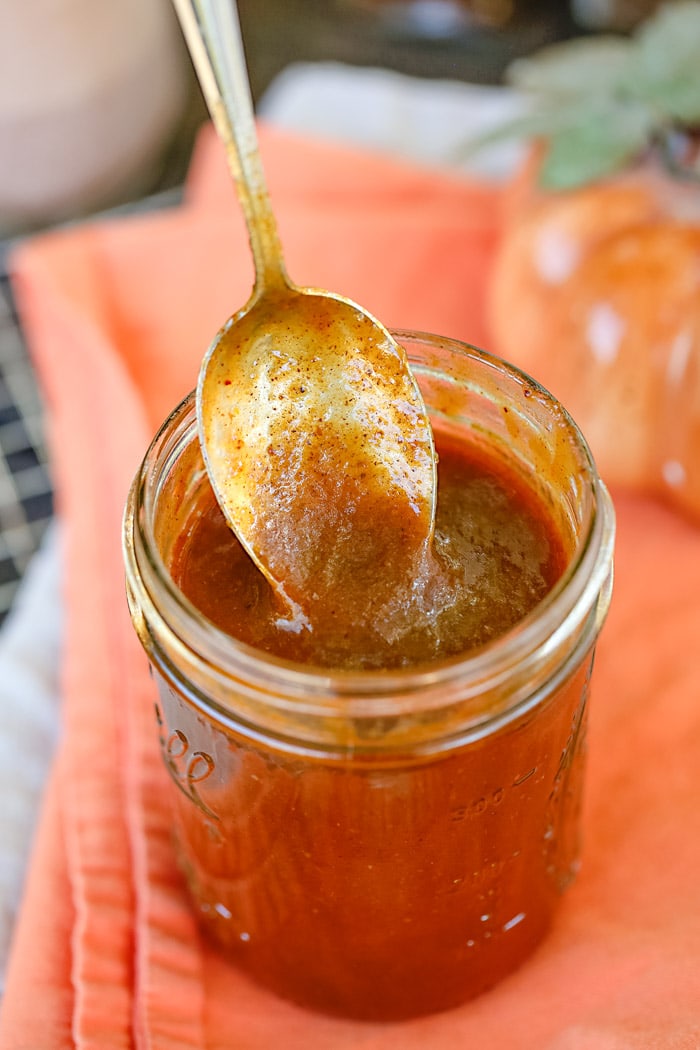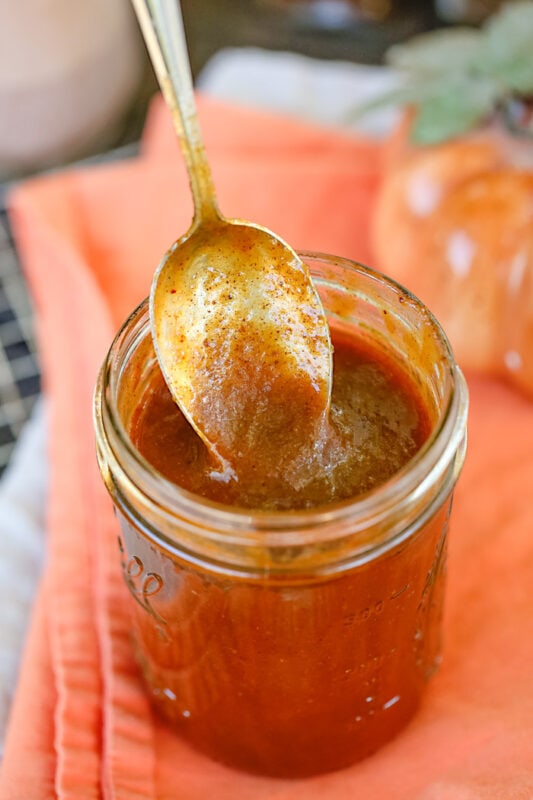 I have to say that I find this simple pumpkin spice syrup so yummy, I personally now prefer it to a coffee shop pumpkin spice latte. It's an added bonus that this recipe costs pennies and is healthier with no high fructose corn syrup or other ingredients that leave us craving sugar later.
This recipe is also easy to tweak as a sugar-free pumpkin spice syrup, too by using Swerve, a natural sweetener with stevia and erythritol. Yes – HEALTHY! Or you can use brown sugar or coconut sugar. I'll show you how to do both versions here.
This DIY pumpkin spice coffee syrup is also naturally dairy-free and gluten-free. Actually, it's vegan too.
Want more pumpkin spice? Try these recipes: Gluten-Free Pumpkin Spice Snickerdoodles, Pumpkin Spice Mousse, Pumpkin Overnight Oats, and Pumpkin Granola.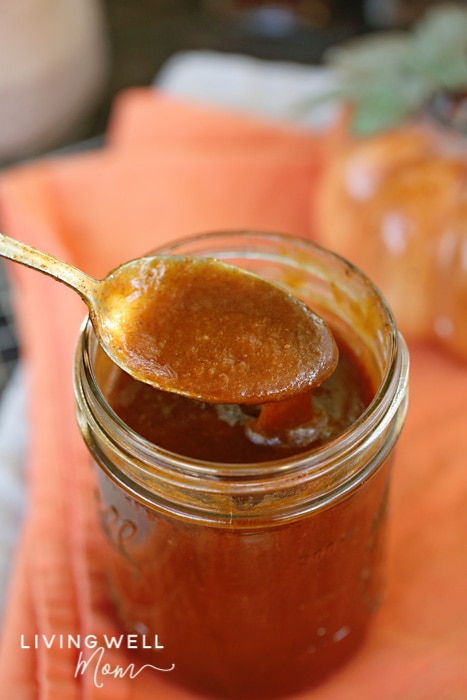 Pumpkin Spice Syrup Video Tutorial
Recipe Ingredients
Here's what you'll need:
Or, alternatively, you could change up the spice combo and use pumpkin pie spice, cinnamon, and cloves. Please see the printable recipe card below for more details.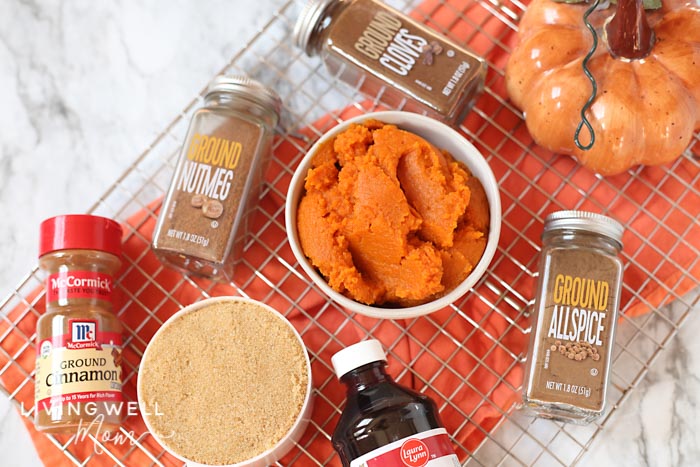 How to Make Your Own Pumpkin Spice Syrup
Here is the process to follow for making this delicious recipe.
First, turn your burner to medium heat and add all the ingredients into a small saucepan.
Whisk occasionally until the mixture begins to simmer, then boil.
Turn the heat down to medium/low and simmer/boil for about 2 minutes, stirring occasionally. There's no dairy in this pumpkin spice recipe so you don't have to stir it constantly.
After 2 minutes, remove the pan from the heat, whisk the ingredients again, and allow it to cool. You can use it immediately or allow the mixture to cool.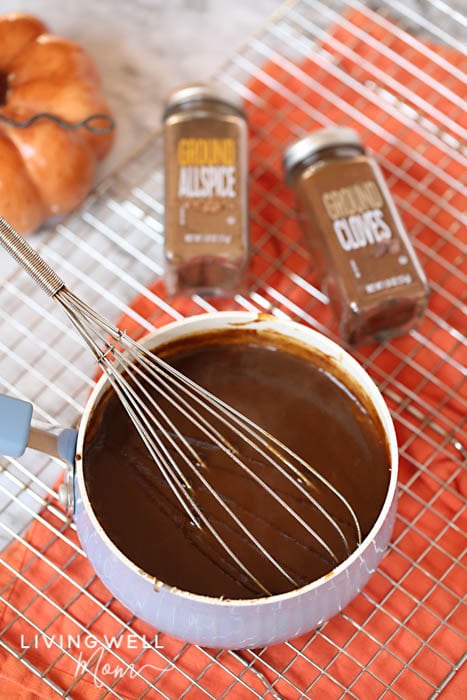 RECIPE TIP: If you find that your pumpkin spice syrup is grainy, you may choose to send it through a fine mesh strainer.

But you shouldn't need to. I've had many family and friends help me test out this recipe, and I had no complaints about the consistency or had anyone experience difficulty with it not mixing in smoothly.
Sugar-Free Pumpkin Spice Syrup
If you want to turn this recipe into a sugar-free version, simply eliminate the sugar from your ingredients list. Then, make the rest of the recipe the exact same way with or without the addition of the sweetener, depending on your health goals.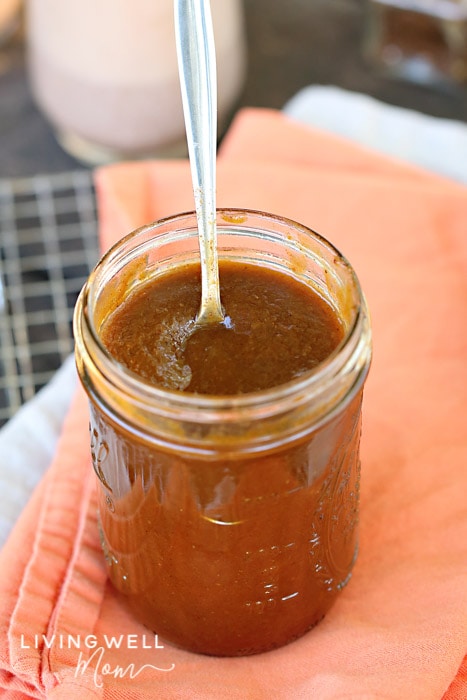 Pumpkin Spice Hot Cocoa Recipe
If you're not a big coffee drinker (or like me, you've had to stop drinking coffee for various reasons), you can still enjoy delicious pumpkin spice hot beverages!
I've recently discovered that sugar-free pumpkin spice syrup tastes absolutely heavenly in a cup of dark hot chocolate.
Here's what you'll need: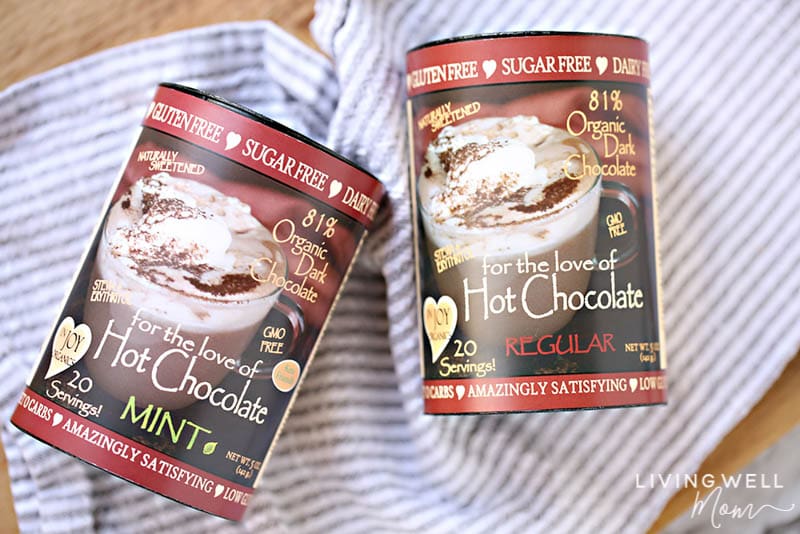 I love this healthy hot cocoa because it tastes delicious without the guilt of a sugary cocoa (it's sweetened naturally with stevia and erythritol).
Heat your milk to your desired temperature. I like it just steaming but not boiling. Pour it into your blender along with 1 tablespoon healthy cocoa mix and 2 tablespoons pumpkin spice syrup.
The cocoa is strong and you need to double the amount of pumpkin spice so it doesn't overpower the pumpkin spice. Blend for 10 seconds, pour into your mug, and enjoy!
*I recommend blending this pumpkin spice hot cocoa recipe as it breaks up the clumps and ensures a smoother result.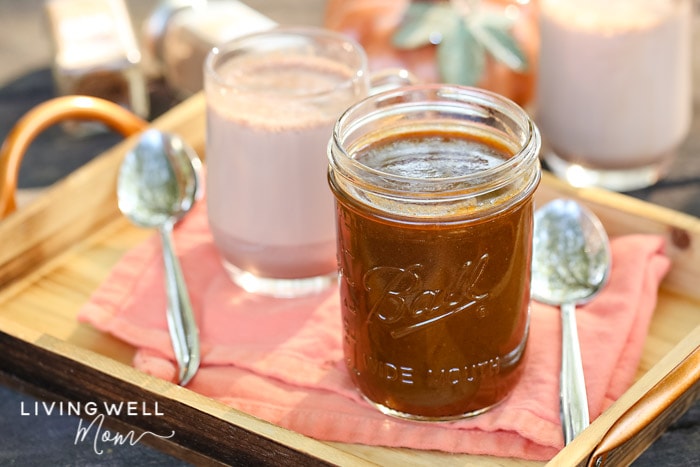 FAQs
Here are a few questions I see readers ask regularly. If you have a question but don't see it answered below, please drop it in the comments!
What is pumpkin spice seasoning made of?
Generally, pumpkin pie spice is a blend of ground cinnamon, ground nutmeg, ground ginger, ground allspice, and ground cloves.
If you really wanted to, you could substitute pumpkin pie spice instead of the individual spices. Should you choose to do that, I recommend starting by adding with 2 teaspoons of pumpkin pie spice to this recipe and adding a little more at a time if you want more seasoning.
How do you store this pumpkin spice syrup recipe?
Store this sauce covered in an airtight 2-cup glass mason jar in the fridge. It should last for about 2 weeks when refrigerated.
How much homemade pumpkin spice syrup do you need to use?
I recommend starting with about 1 tablespoon of your homemade pumpkin spice syrup for one cup of coffee. Add the tablespoon to your beverage and stir it up.
You can always add a little more if you want a stronger pumpkin spice flavor, but you can't take it out once it's in there. So start small and continue adding until you get the right amount.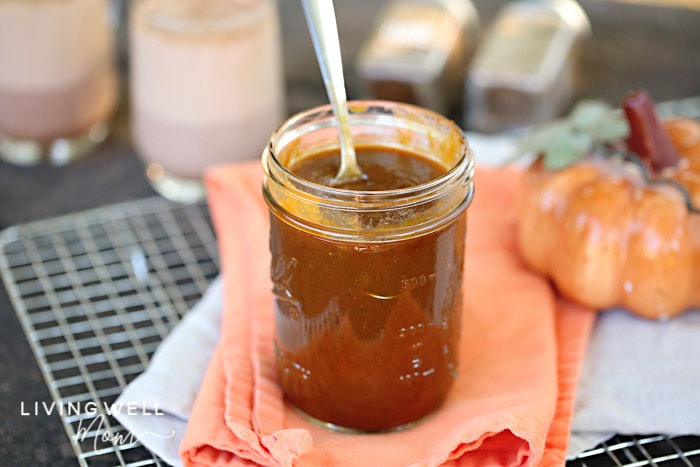 How can you use this recipe?
Drizzle it as a sauce over vanilla ice cream.
Make some homemade brownies and smooth this pumpkin spice sauce over it. (I tried that earlier this week and it was amazing!)
You could even add it to your baking recipes where you want a little pop of pumpkin spice flavor.
Add a dollop in your morning yogurt or oatmeal, or spread it over toast, waffles, or pancakes.
And of course, it will transform your coffee or homemade latte.
I hope you love this sugar-free pumpkin spice syrup recipe as much as I do! Give it a try and let me know what your favorite way to use it is!
More Delicious Pumpkin Recipes
If you love all things pumpkin, check out these other delicious recipes: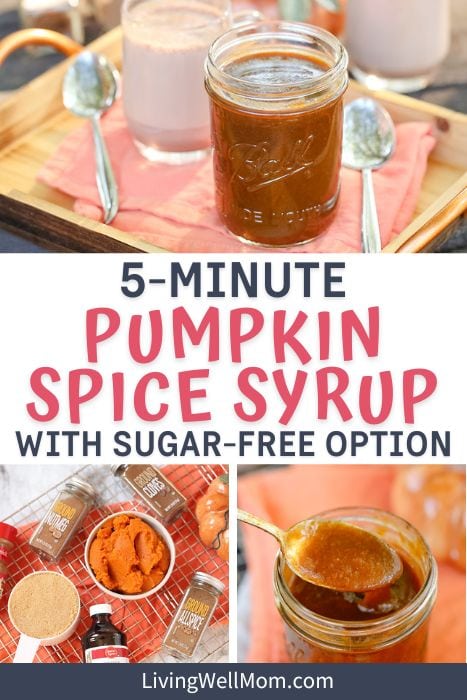 Print
Homemade Pumpkin Spice Syrup
This mouth-watering pumpkin spice syrup recipe is quick and easy to make, will satisfy your craving without the junk (includes a sugar-free version), and saves money!
Author:
Prep Time:

2 min

Cook Time:

3 min

Total Time:

5 min

Yield: approx

2 cups

1

x
Category:

sauce

Method:

cooking

Cuisine:

American
Instructions
Whisk together all the ingredients in a small-medium sized pot. (Make sure you leave a little room for the mixture to expand as it boils.) Turn the heat on medium-heat.
Whisk occasionally until it begins to simmer then boil. Turn the heat down to medium and simmer/boil for 2 minutes, whisking occasionally.
Remove from the heat, whisk again, and allow to cool.
You can use it immediately or allow the mixture to cool, then pour it into a 2 cup mason jar and cover.
Store in the refrigerator. It will be thick. You can shake the covered jar or stir to blend again if needed. It should last for about 2 weeks in the fridge.
Notes
Use approximately 1 Tbsp pumpkin spice syrup for a cup of coffee. If you're using cocoa, start with 1 Tbsp, but you may need 2 Tbsp depending on how strong your cocoa is.
Keywords: pumpkin spice syrup, sugar-free pumpkin spice syrup, pumpkin spice hot cocoa