About a month ago, we learned that not only did I have many food sensitivities, but so did my four children. Theirs weren't as severe as mine, but we still had to make some changes in their diets. Our whole family has been gluten free since August, but as of last week, we've gone dairy-free, soy-free, and corn-free too.
I've been on a stricter-than-Paleo diet since September because of my health issues, but the kids had to change.
It's not easy to find ready-made food that doesn't have at least one of the above. There are many gluten free and dairy free foods now, but soy and corn? They're in EVERYTHING and corn isn't labeled clearly either.
Dinner is easy because I already make Paleo for the whole family so I can eat it too. But school lunches and snacks are challenging because I can't simply reach for the boxed granola bars or tortilla chips on busy days. Aside from boxes of raisins and a special brand of rice cakes, I have to prepare everything my kids eat now.
I've been working on redoing some of our favorite recipes, along with trying new ones and today I have a delicious recipe to share with you all.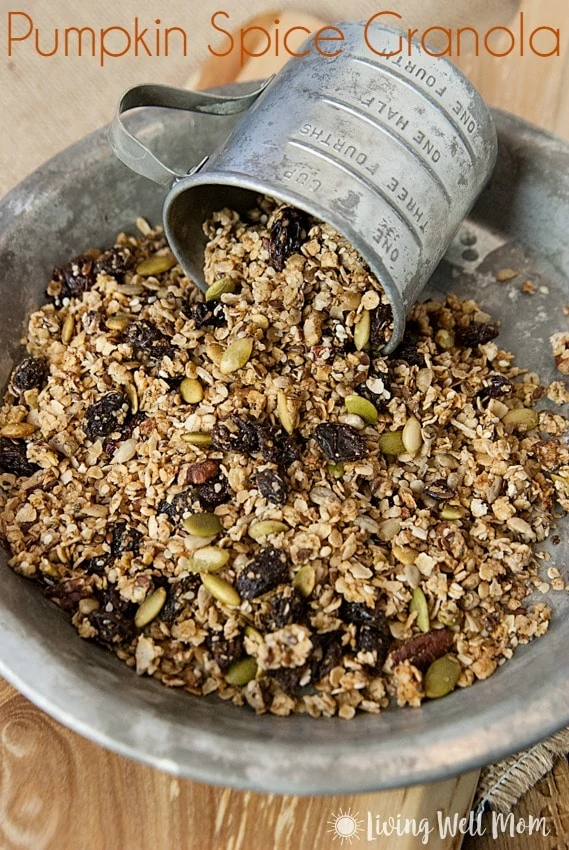 My whole family loves this recipe for Pumpkin Spice Granola. There's oats, nuts, dried fruit, maple syrup, pumpkin pie spice, pumpkin, and more all blended together to form a delicious hearty snack. And yes, this is gluten free – we simply use gluten free oats.
Because there are oats in this recipe, this is not considered a Paleo approved food. I'm currently working on a Paleo version and if it turns out like I hope, I'll be sharing that soon!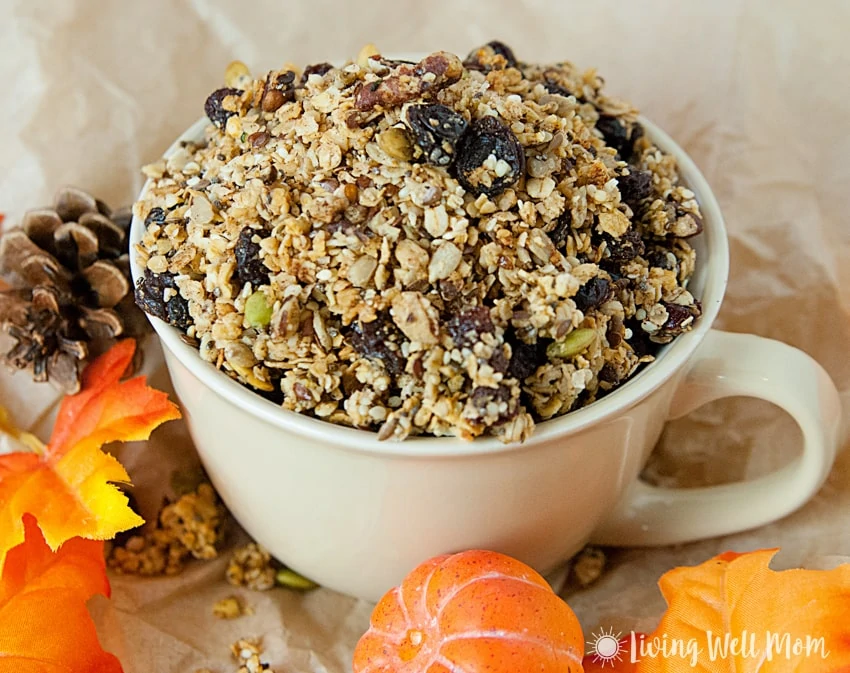 I love this particular version because there's lots of protein from all the nuts so it keeps my family satisfied longer. That's something I look for in snack recipes for my kids especially.
My daughter Emily has breakfast at 7 am and her school schedule allows her lunch at 1pm! That's a long time to go with just one small snack mid morning! Recipes like this Pumpkin Spice Granola help her last that long morning before lunchtime.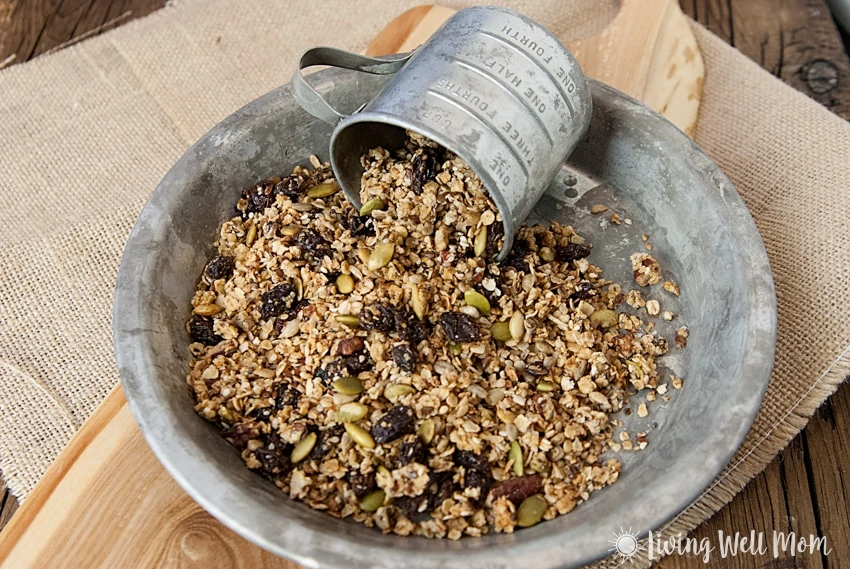 My younger boys don't usually like to eat nuts, such as almonds, cashews, or sunflower seeds (not counting peanut or almond butter which they would gladly eat every meal if I allowed), but they even have they love this granola recipe.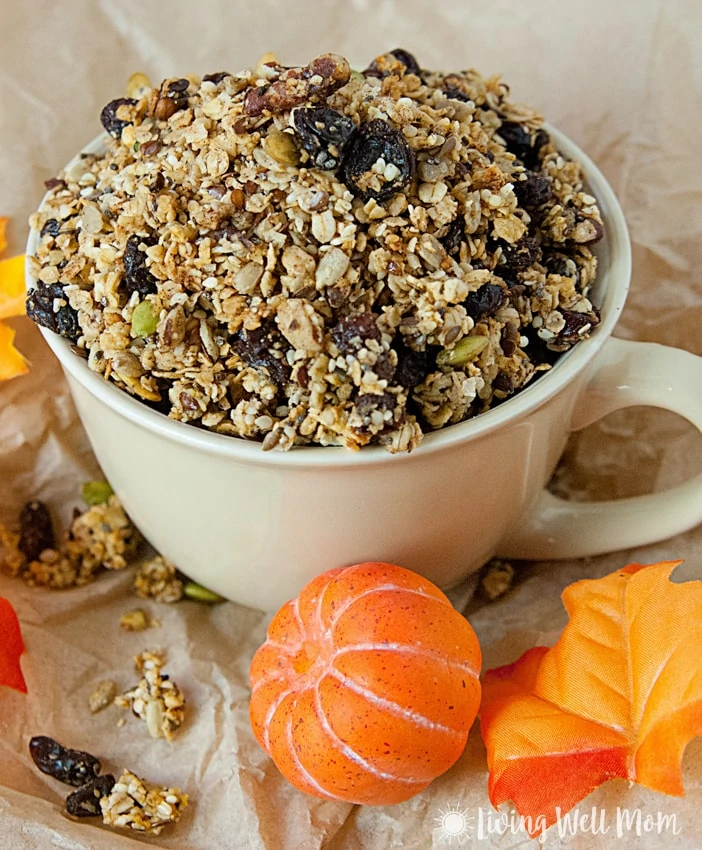 This granola is so easy to make, my older children often help make a batch. It's quick too, taking less than 30 minutes to prepare and bake!
I usually make a batch over the weekend and keep it in the refrigerator to be handed out with snacks and lunches throughout the week. One batch will feed my husband and four children through about 3 snacks, which is about 15 servings.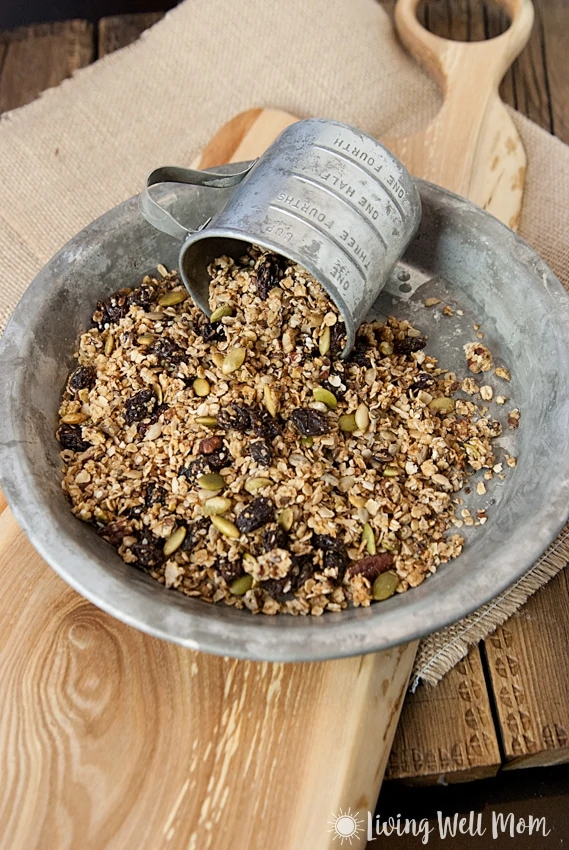 Print
Pumpkin Spice Granola
A delicious hearty snack the whole family will love that takes less than 30 minutes to prepare.
Prep Time:

5 mins

Cook Time:

20 mins

Total Time:

25 mins

Yield:

10

servings

1

x
Category:

snack
2 cups

oats, quick-cooking, gluten-free

1/2 cup

raisins

1/4 cup

dried cranberries

1/4 cup

unsweetened coconut, shredded

1/4 cup

pumpkin seeds

1/4 cup

sunflower seeds

1/4 cup

flax seeds

1/4 cup

pecan pieces

1/4 cup

chia seeds

1.5 teaspoons

cinnamon

1 teaspoon

ginger

1/4 teaspoon

cloves

1/4 teaspoon

allspice

1/4 teaspoon

nutmeg

1/4 cup

coconut oil, melted

1 teaspoon

vanilla

1/4 cup

maple syrup or honey

1/4 cup

pumpkin puree
Instructions
Preheat oven to 350.
Combine all the dry ingredients together in a large bowl.
In a separate smaller bowl, mix together the remaining wet ingredients very well.
Pour the wet pumpkin mixture over the granola mix and combine well.
Spoon onto a parchment lined baking sheet and bake for about 20 minutes, stirring half way through. You can bake slightly less or longer depending on how crisp you like your granola
Notes
Store in an airtight container in the refrigerator.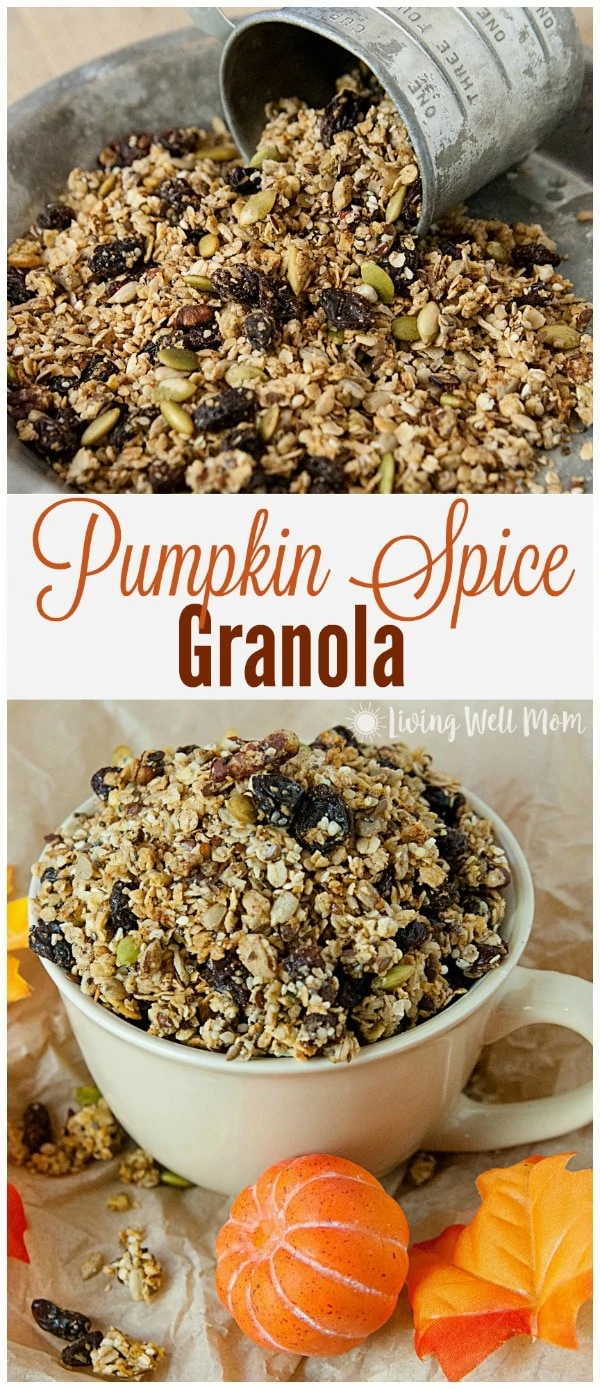 What's your family's favorite healthy snack?