This simple mango pineapple smoothie is the perfect thing to reach for this summer. Not only is this recipe delicious, but it's also loaded with good-for-you vitamin C to help stay healthy.
I actually made two versions of this smoothie to share with you all today: a mango pineapple smoothie recipe for kids and another version just for adults with a little extra something. 😉
Mango Pineapple Smoothie Recipe
My kids love helping me create new recipes, especially fun things like smoothies. Recently my son, Joshua, and I decided to come up with our own smoothie recipe.
We decided on a mango pineapple combination and started tossing things into the blender. After a half dozen versions, I had found a recipe I loved and Joshua loved a different one.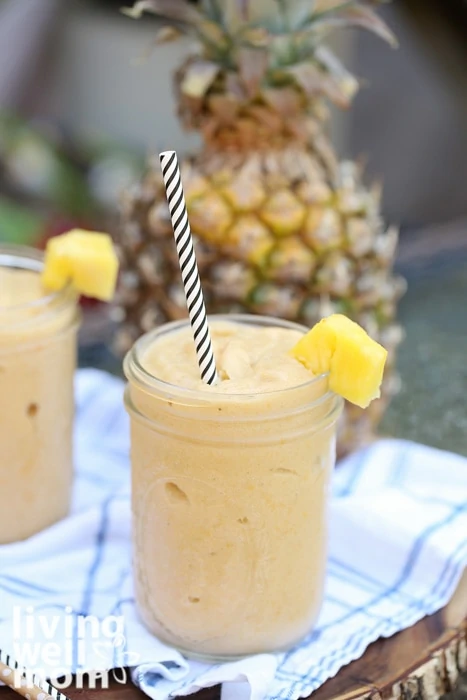 Since we couldn't agree on which version was the best, we decided to share both recipes with you.
Smoothie Recipes for Kids
The smoothie recipe my children preferred has a few extras like a couple of clementines and a bit of banana.
This is my son's favorite recipe – after trying several others and going back to this one, he proudly proclaimed this the best. My other kids all agreed!
Smoothie with Vitamin C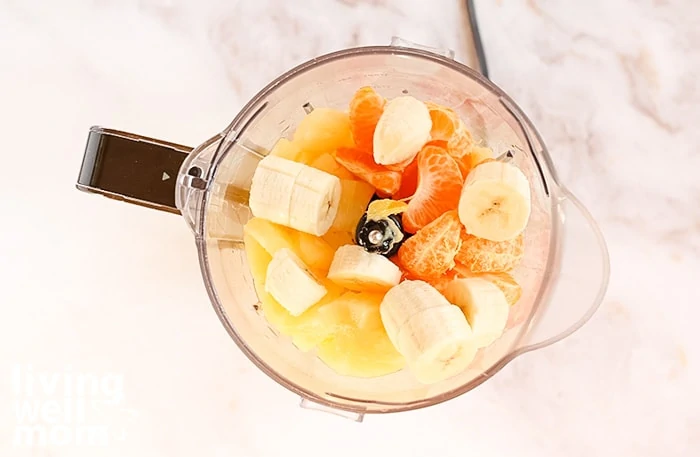 Truth be told, I was glad that was the one they like the best. That was the mango pineapple smoothie that had the most vitamin C by far!
Did you know that both mangos and pineapple have more vitamin C than oranges? But, just for good measure we added a clementine to it anyways.
Getting your children to drink this is way easier (and healthier) than a vitamin. I could see myself making this one way into cold and flu season!
Mom's Mango Pineapple Smoothie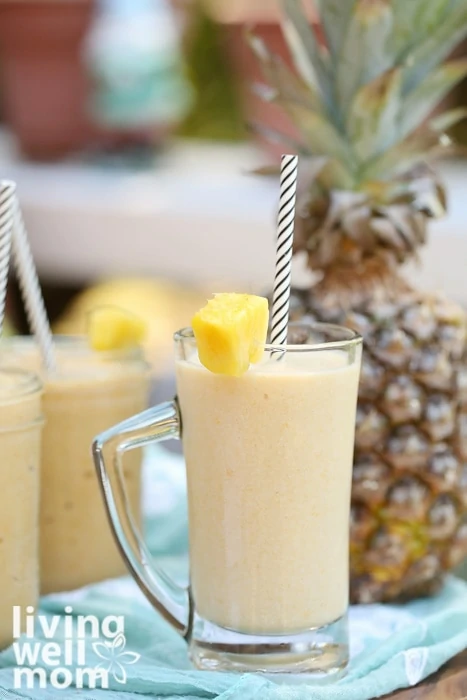 I thought the mango pineapple smoothie my kids liked was good, but I preferred a lighter version. The smoothie I ended up calling the winner was made with coconut cream and a bit less fruit.
Smoothie with Rum
There's one other (optional) thing that makes this version a more adult-friendly drink. A splash of rum!
I do this on a (rare) occasion as a special treat—it's delicious. The flavors work very well together. I almost feel like I'm at a fancy resort!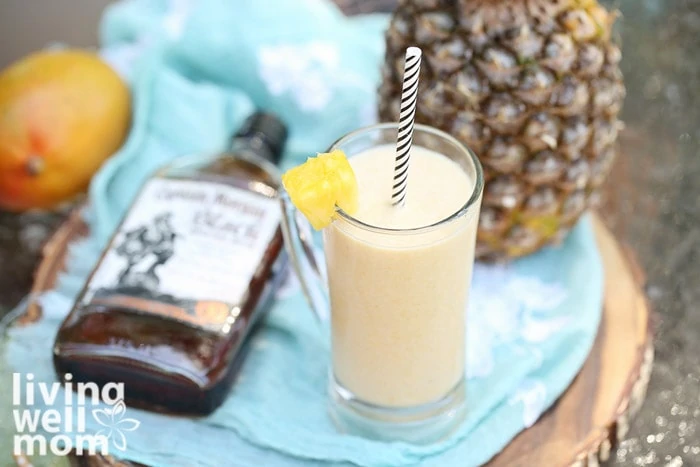 How to Make the Mango Pineapple Smoothie
Since the kids' version won out in terms of votes, I'll share more about that here. To get the recipe for my favorite version, take a look at the recipe card below! Trust me, your family will love either version.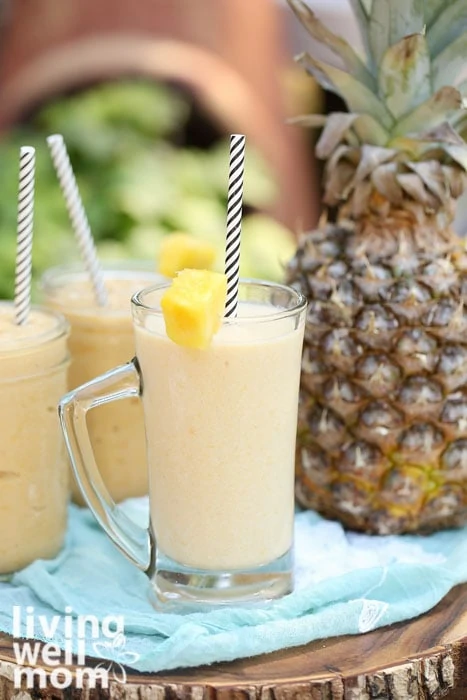 Smoothie Ingredients
For this mango pineapple smoothie, you'll need:
Mango
Pineapple
Peeled clementine
Banana
Milk (I use almond milk)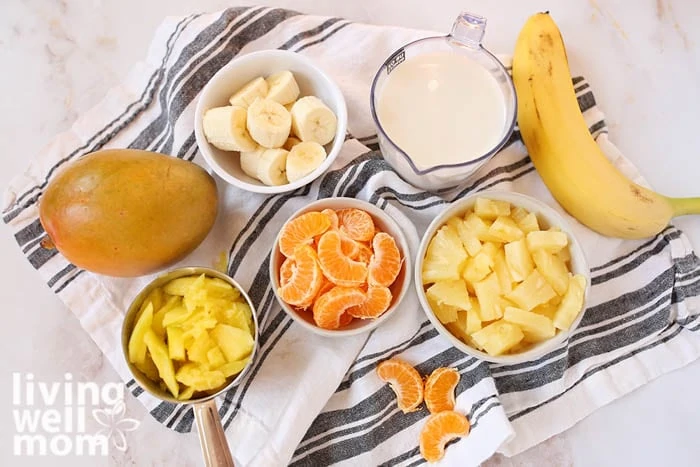 How to Make the Smoothie – Video:
Making this mango smoothie couldn't be easier. All you need to do is grab your ingredients, add them to a blender, and blend until smooth. Simple!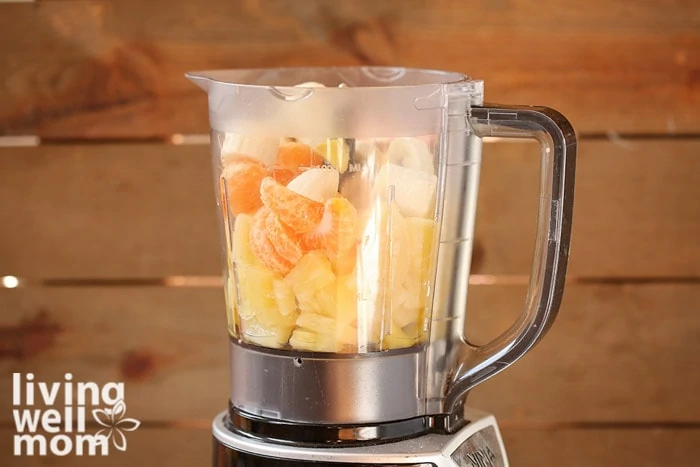 Best Blender for Smoothies
Whichever version you opt for, they will be infinitely better if made in a good blender.
I have to admit, I used to think smoothies were kind of meh. I spent so long dicing and chopping ingredients into tiny pieces only to have them not fully blend. There's nothing grosser than taking a sip of something you think is smooth only to end up with chunks! Ick.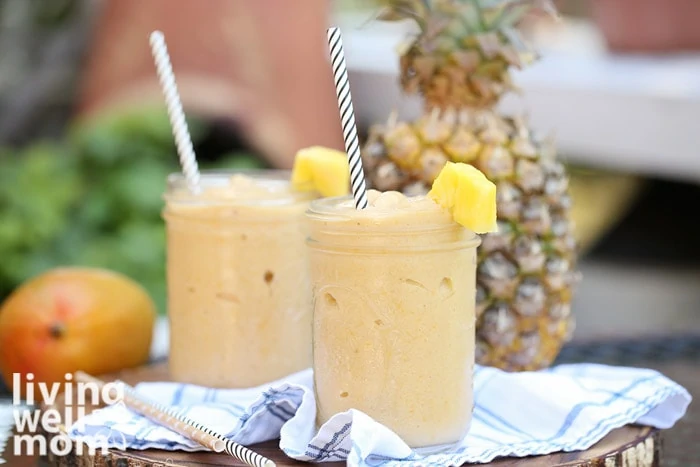 That all changed when I got a good blender. I have a Vitamix blender and it was one of the best kitchen appliance purchases I've ever made. It works so well and is easy to clean too.
I have thrown in whole frozen bananas, a pineapple core, and so many other fruits that would have jammed my old blender. It makes the best smoothies every time, including this mango pineapple smoothie!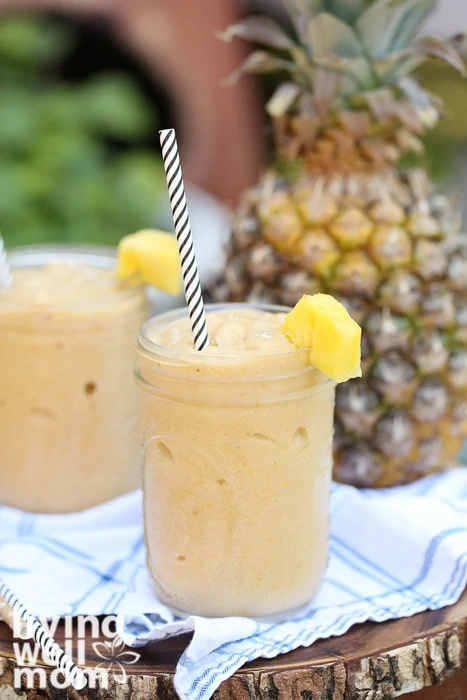 I know the Vitamix can be on the pricer side, but it's worth every penny. I use it for all kinds of other things. You'd be surprised! I've used it to make homemade taco sauce, pumpkin spice syrup, and even kids' floam.
To keep the cost down as much as possible, I purchased a refurbished blender for a cheaper price. It's worked well with no issues at all.
Try a Smoothie Bowl
My family's preferred way is to drink this the "normal way", out of a cup with a straw. However, there is another fun way to enjoy the mango pineapple smoothie if you want to change it up.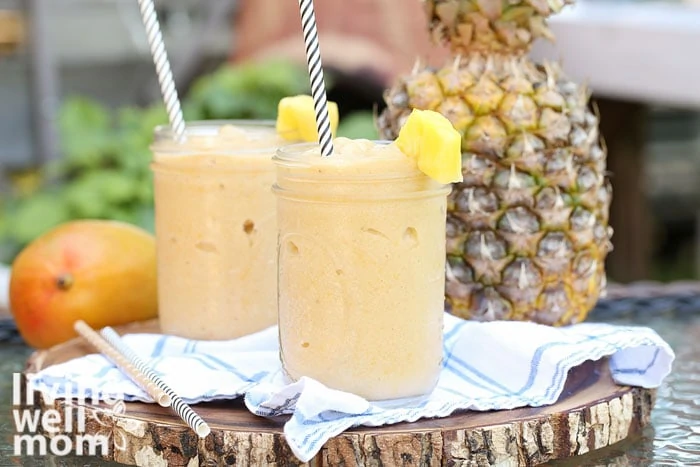 If you haven't had one before, smoothie bowls are basically a smoothie poured into a bowl and topped with some wholesome ingredients.
This recipe would work well topped with coconut flakes, blueberries, nuts, fresh pineapple wedges, or anything else you have on hand that feels tropical.
I hope you all enjoy this mango pineapple smoothie just as much as my family has. It's our new go-to smoothie recipe and we haven't gotten sick of it yet!
Pin the image below to save the recipe for later!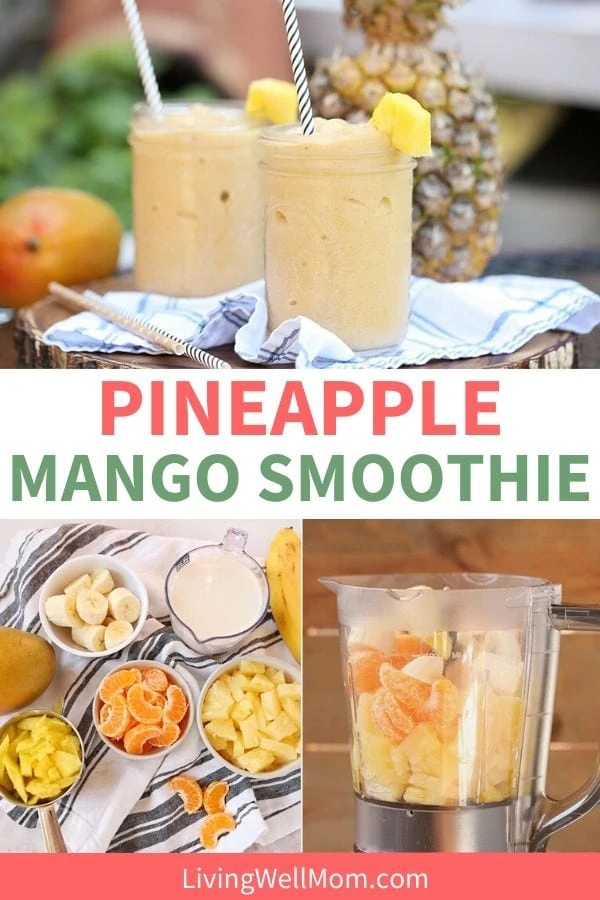 Print
Mango Pineapple Smoothie
This mango pineapple smoothie is packed with both Vitamin C and flavor.
Author:
Category:

beverage

Method:

blender

Cuisine:

American
For the Kids' Version:
1 cup frozen chopped mango (or fresh mango)
½ cup frozen chopped pineapple (or canned pineapple)
1 small mandarin cutie orange, peeled
½ banana
1 cup almond milk or any milk you prefer
Mom's Preferred Version:
1 cup mango
½ cup pineapple
⅓ cup coconut cream*
1 cup coconut milk*
optional splash of rum
*Instead of the cream and coconut milk, use 1 can of this coconut milk – it has cream layer on top)
Instructions
Put all the ingredients into a blender and blend well until smooth.
Notes
The nutritional info listed below is for the Mom's recipe.
Keywords: smoothie recipe, pineapple smoothie, pineapple mango