Tacos are a perfect easy family meal; kids love 'em and so do Mom and Dad. You can mix it up with different meats, and choose between hard or soft shells or even serve on lettuce. If you really want to take your tacos to the next level, I suggest you whip up this quick taco sauce recipe.
Why Homemade Taco Sauce?
You may be wondering…why homemade? I get it. It seems easier to just toss a bottle of the pre-made stuff into your grocery cart the next time you're planning taco night. But, have you have ever looked at store-bought taco sauce carefully?
One of the ingredients in bottled taco sauce is high fructose corn syrup. A lot of kids, especially those with ADHD or autism, react poorly to it. My oldest son is one of them, so when I couldn't find any sauce in the store without HFCS, so I came up with my own taco sauce recipe.
I'm so glad I did too! Every time I make this, I get so many compliments from friends and family. You will too! 🙂
Now we can really enjoy taco night without worrying about any additives or ingredients that might not be good for your family.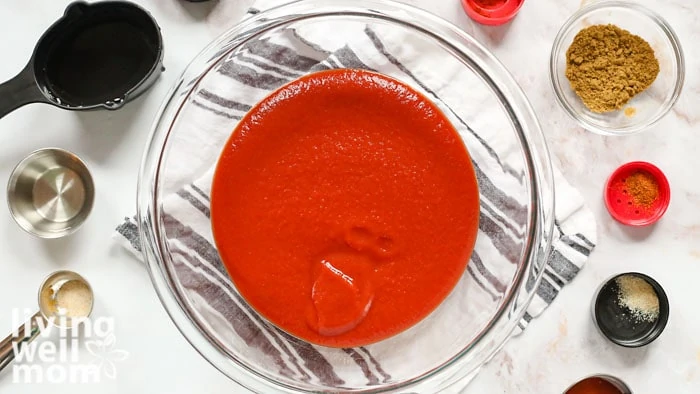 Quick 5-Minute Taco Sauce
If you're still not convinced, it's okay. I'll admit that, at first, I wasn't thrilled to make one more thing from scratch. I love "homemade," but I'm also very busy. I'm sure most of you can relate!
But this homemade taco sauce recipe surprised me with just how easy it is to make. It's just as easy as my homemade taco seasoning recipe we've used for years now.
In fact, it takes less than 5 minutes to whip up this taco sauce recipe! You can make it with a mixer, by hand, or in a blender so it really couldn't be any easier. Plus, it has a pretty decent shelf life which is always nice!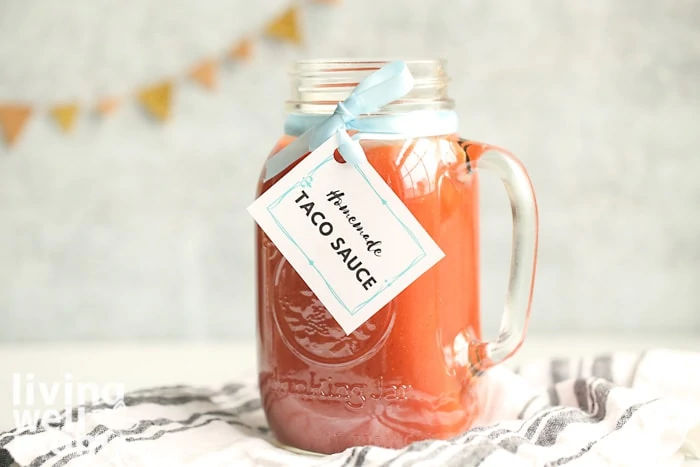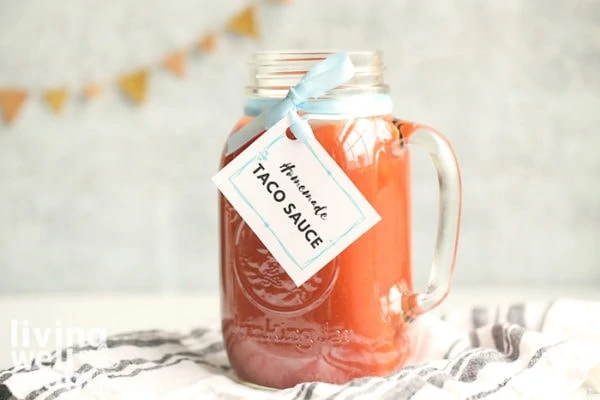 The Difference Between Salsa and Taco Sauce
I often get asked if salsa and taco sauce is the same thing. The quick answer is no.
It's easy to understand how the two can be confused. After all, both are staple condiments for Mexican food, and both are tomato-based.
However, salsa is typically chunky and made with fresh vegetables like tomatoes, onions, and jalapenos. On the other hand, taco sauce utilizes dried spices and vinegar to add flavor to tomato sauce.
What Does Taco Sauce Taste Like?
If you haven't tried taco sauce before, you're in for a real treat. It's hard to describe the taste exactly, but the best way I can is it's similar to ketchup but more vinegary than sweet. Plus, depending on how you make it, there's more of a kick to it too.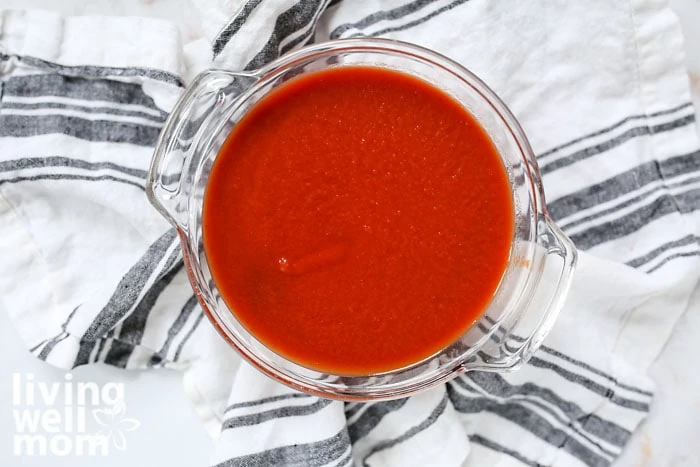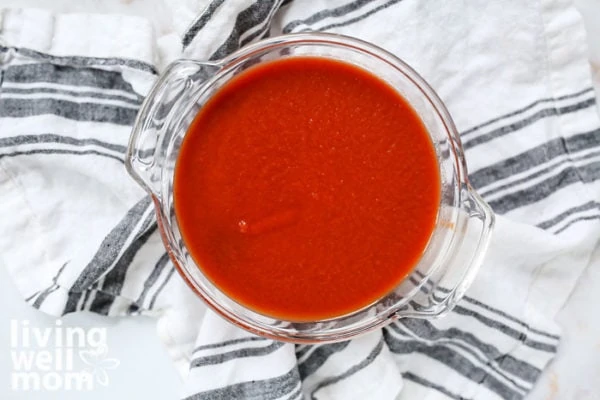 What's in the Taco Sauce Recipe?
This homemade taco sauce recipe is delicious. With a simple blend of spices, vinegar, tomato sauce, and a touch of honey for a little natural sweetness, my kids tell me it tastes just like the Ortega brand they love. And for kids, that's a major compliment, you know!
The great thing is, none of these ingredients are hard to find or expensive. In fact, you likely already have all of these items at home already in your pantry!
It might take a little bit of experimentation to find the blend of spices your family likes best, but that's what's so fun about this taco sauce recipe. You can add a little more or less of something if the mood strikes you. That being said, I suggest you follow the recipe as provided below the first time you make it—it's balanced perfectly in my opinion!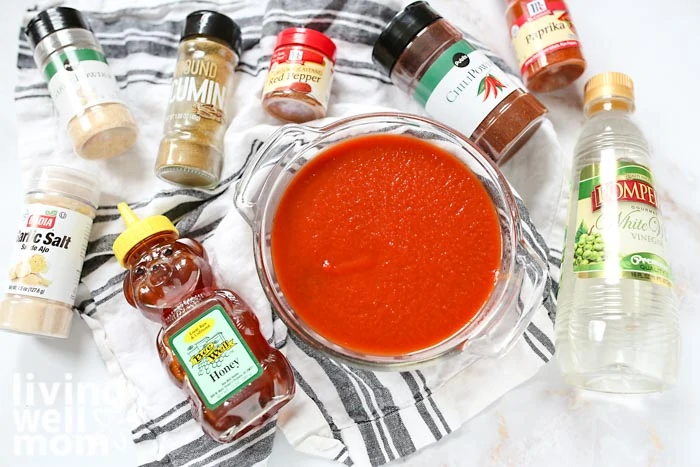 How to Serve This Taco Sauce Recipe
One of the surprising things about taco sauce is just how versatile it can be! Here are a few of my favorite ways to enjoy this tasty condiment:
Add to your favorite tacos
Use as a salad dressing (it's fantastic mixed with ranch!)
Layer it on your nachos
Pour over meatloaf
Bake it into a taco casserole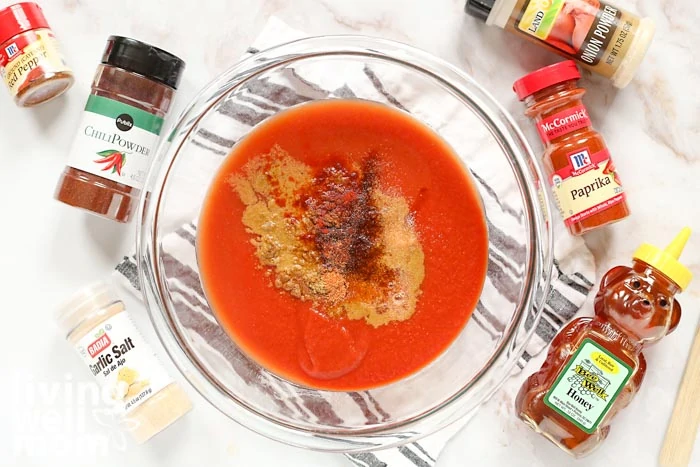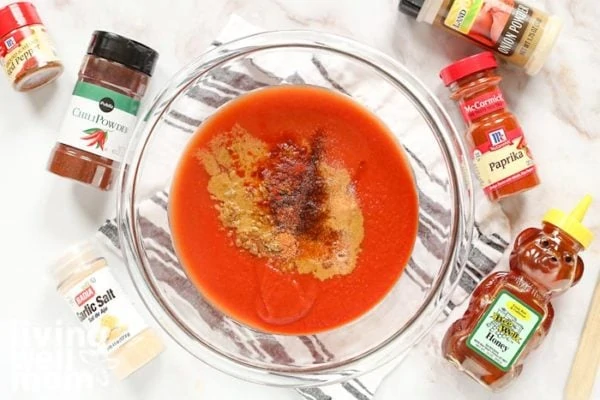 How Should I Store Homemade Taco Sauce?
I recommend using a mason jar to store your homemade taco sauce in the refrigerator. Not only will it look cute, but a lidded mason jar will keep your taco sauce fresh as long as possible.
How Long Will This Taco Sauce be Good For?
This taco sauce recipe has a surprisingly long shelf life! One batch will stay good for about two weeks. If the water separates on the top, just shake up the jar and your taco sauce will be as good as new.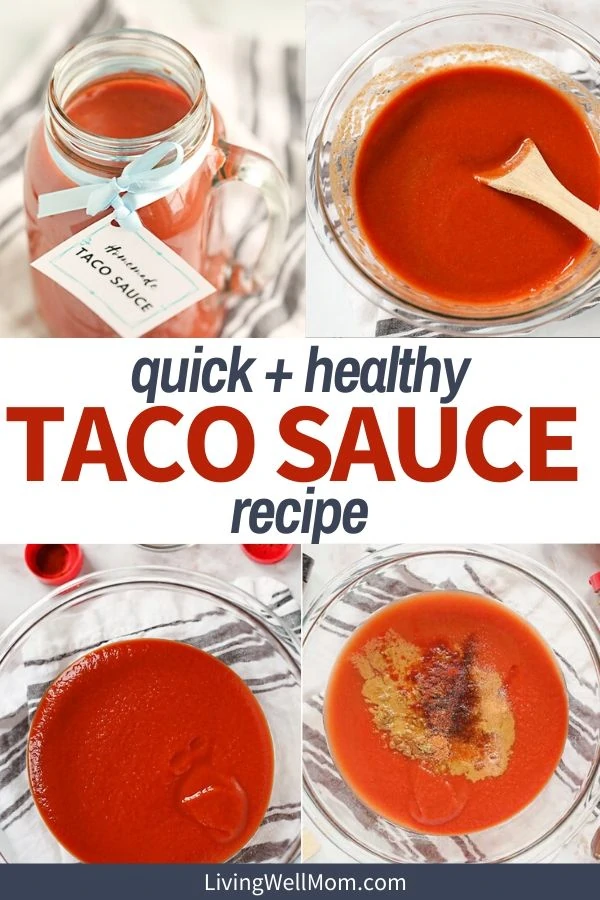 Other Recipes to Try:
If you're looking for more Mexican recipes to try, I have a few family favorites to share with you! Give these a try:
Print
Homemade Taco Sauce
With spices, vinegar, tomato sauce, and a touch of honey, this kid-approved Homemade Taco Sauce tastes just like the store bought stuff, but without high fructose corn syrup.
Author:
Prep Time:

5 mins

Total Time:

5 mins

Yield: about

20 oz

1

x
Instructions
Combine all the ingredients.
Store in the refrigerator.
Make sure to pin the recipe so it's easier to find later!