Make Taco Tuesdays easier, healthier, and more affordable by making your own taco seasoning at home! This easy DIY taco seasoning recipe is kid-approved and adds the perfect Mexican flavor for a delicious weeknight meal.
I wanted to switch our family to eating organic for a long time, but the simple reality is that it is too expensive to do for us.
However, a few months ago, I realized I didn't have to take an all-or-nothing approach. While we might not be able to buy our entire weekly haul of produce (it's a lot) from the organic section, I could start weeding through my pantry and make strategic (and easy) swaps.
Making changes gradually has always worked best for me, anyway!
One of the first things I did was to ditch buying store-bought taco seasoning packets and begin making our own homemade taco seasoning.
Did you know that those little taco seasoning mix packets from the store are loaded with sodium, MSG, corn fillers, and other unnecessary ingredients like sugar and whey (milk)?
I have no idea why all that stuff is included in the ingredients, but I do know that I don't want to feed it to my family.
Benefits of making DIY taco seasoning
There are several reasons why making your own taco seasoning makes sense.
First, it only takes a few minutes and some common kitchen spices to mix up a batch of homemade taco seasoning—no harmful or unnecessary ingredients are required!
Also, making your own spice blend saves money! It's far cheaper to buy all the spices required (which will last for quite a few batches) than it is to buy those little packets that run $1-2 each.
Note: Approximately 2 tablespoons of homemade taco seasoning = 1 store-bought packet.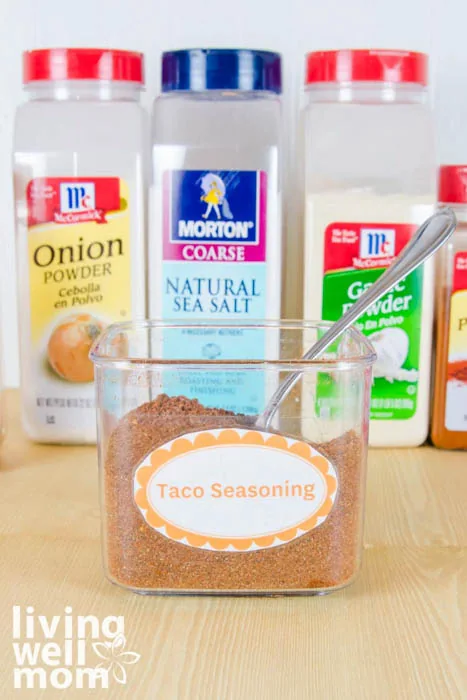 And, finally, it tastes incredible. The first night I made a taco dish using this homemade taco seasoning recipe, my husband turned to me and told me it was the best tacos he'd eaten in a long time.
As they say, the proof is in the pudding, friends!
Now I mix this homemade taco seasoning recipe regularly and use it on some of our family favorites, including ground beef tacos and my Slow Cooker Chicken Tacos and Easy Enchilada Casserole recipes.
By the way, if you love Mexican food as much as we do, make sure you also try my Easy 5-Minute Taco Sauce Recipe.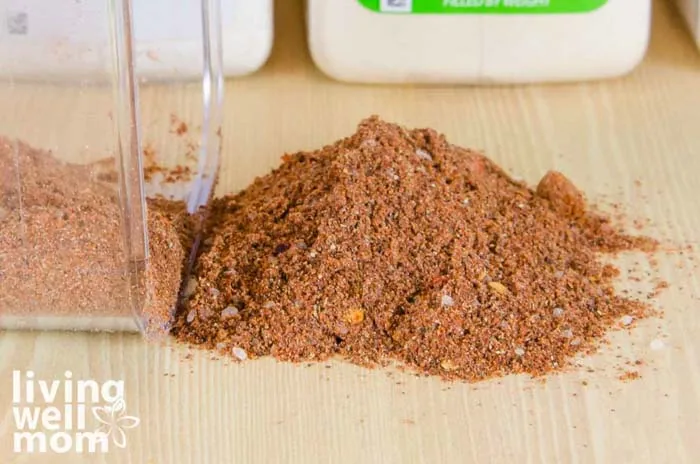 Ingredients for taco seasoning
Here's what you'll need to make this delicious blend. For the full recipe details, please see the printable recipe card at the bottom of this post.
Note: I recommend making the recipe as directed the first time. Then later, you can change the quantities if you'd like to adjust them slightly. For example, you may want it spicier (or less spicy), with less salt, etc.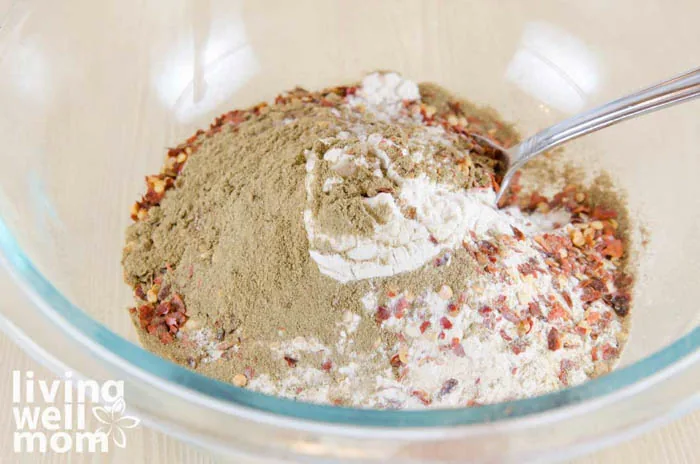 How to make homemade taco seasoning
Are you ready to start taking control of your seasonings? All it takes is two steps!
Step 1
Mix all the spices and seasoning together in a small bowl.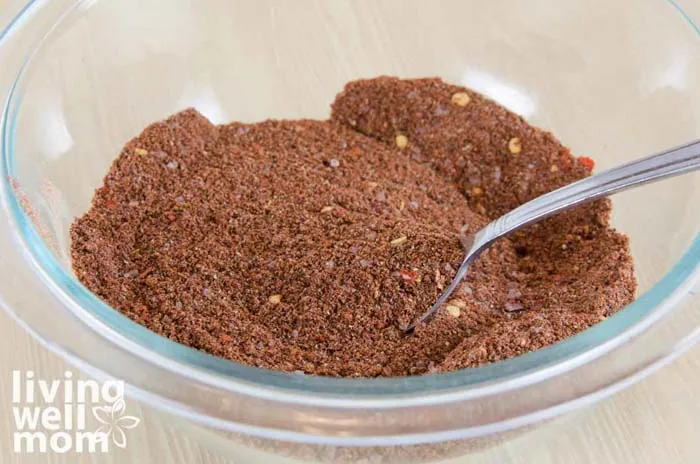 Step 2
Store your taco seasoning mix in an airtight container or mason jar. That's it! I told you it was easy. 🙂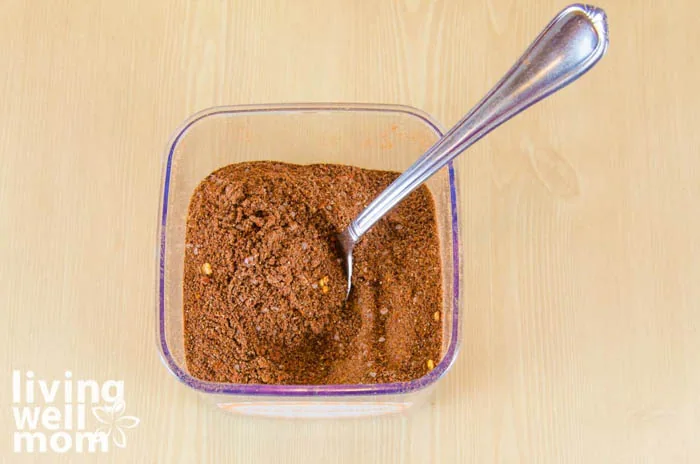 How to use bulk taco seasoning
When you're ready to use your taco seasoning in a recipe, I recommend using 2 tablespoons of taco seasoning for each pound of ground beef (or the protein of your choice) that you cook. Season your protein like this:
Cook your protein.
Add 1 cup of water plus 2 tablespoons of taco seasoning.
Let the protein and seasoning simmer in the water until the water has mostly evaporated.
Serve immediately.
Note: If you're cooking something like shrimp that can reach a point of being overcooked quickly, I recommend adding the seasoning to the pan right away instead of cooking or browning the protein first.
How to make mild taco seasoning
I love a little heat, but if you want to keep your seasoning on the mild side, simply eliminate the crushed red pepper flakes. You will still have a healthy and flavorful seasoning to use – just without the heat!
How to make taco seasoning in bulk
As a busy mom, I love it when I can do things once and reap the benefits at least two or three times from a single effort.
Similar to my Creamy Chicken Enchiladas recipe, which makes two meals at once, it's easy to double, triple, or quadruple (or more!) this recipe and have it ready anytime you make a Mexican dish.
I usually triple the recipe and fill up a Better Homes & Gardens container from Walmart to store my taco seasoning. It cost about $5 and is a perfect size.
I make this recipe regularly because we love Mexican food and eat it frequently!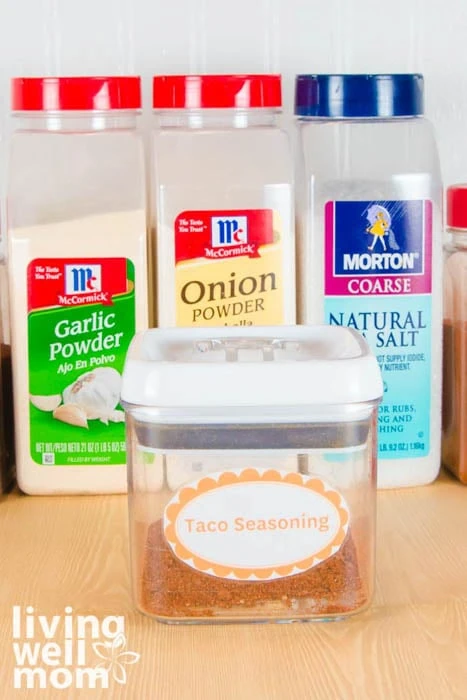 FAQs
Here are some questions that I frequently see from readers about making this homemade seasoning blend. If you don't see your question answered below, please leave it in the comments!
Is t​​​​​his homemade taco seasoning recipe gluten-free?
Yes! Unlike when you buy seasoning packets and have to double-check that the company didn't add any gluten, this recipe is naturally gluten-free.
What types of protein can I use with this seasoning?
It will work with any protein you want to use for your Mexican recipes! We've used it with chicken, ground chicken, beef, and ground turkey. I think it would also taste amazing on shrimp, veggies, and even black beans!
What can I substitute for crushed red pepper flakes?
You could easily use cayenne pepper in place of the crushed red pepper flakes. I recommend starting with a 1/2 teaspoon and increasing in small increments from there based on your personal preferences.
I hope this taco seasoning recipe convinces you to try making your own seasoning mixes because they're so easy to make!
More delicious recipes to try
If you love this recipe, I think you'll love these other ideas too!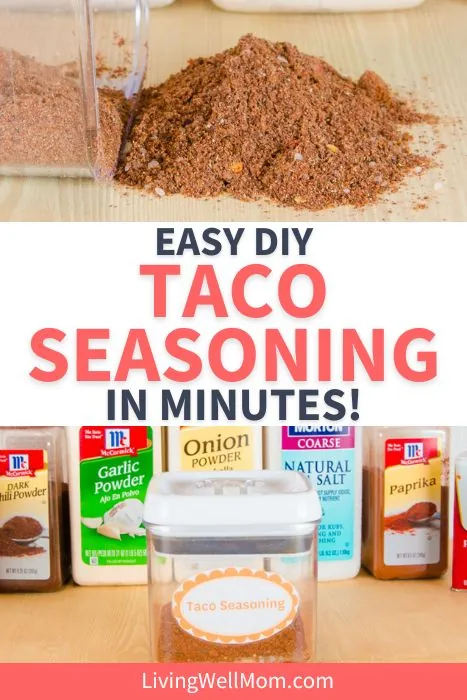 Print
Homemade Taco Seasoning Recipe
All you need are a few minutes and common kitchen spices to mix up this delicious homemade taco seasoning mix that's perfect for all your Mexican recipes.
Author:
Prep Time:

5

Total Time:

5 minutes
3 tablespoons

chili powder

¾ teaspoon

garlic powder

¾ teaspoon

onion powder

1 teaspoon

crushed red pepper flakes

1/2 teaspoons

oregano

2 teaspoon

paprika

1.5 tablespoons

ground cumin

1 tablespoon

sea salt

1 tablespoon

black pepper
Instructions
Mix all ingredients together.
Store in an airtight container.
Notes
Use approximately 2 tablespoons per pound of meat to substitute a taco seasoning packet.
Keywords: homemade taco seasoning