Creating a hearty family-favorite meal is totally possible on busy nights when you've got the right recipe! This one-pot enchilada casserole is just the time-saving dish you'll want to make.
Life is busy, and it's not always easy to make home-cooked dinners for your family every night. Trust me, I get it! If you find yourself running kids from activity to activity on some (or most!) nights, you're going to love this easy meal!
I love one-pot dinners because they don't take up as much time with cooking multiple things or cleaning as many dishes. When it comes to busy family nights, time-saving one-pot recipes are my secret weapon in the cooking department.
This Enchilada Casserole is a hearty Mexican dinner the whole family will love. You'll enjoy all the delicious Mexican food flavors without all the time-consuming prep and cooking that many dishes require!
If you love enchilada casserole, give these Easy Beef and Bean Enchiladas or Easy Taco Pizza. Plus, your entire family will love these creamy chicken enchiladas!
One-Pot Weeknight Enchilada Casserole Magic
This meal is delicious, filling, and quick to throw together… it checks all the boxes!
When we're juggling multiple commitments, there's no time for cooking complex recipes. With this enchilada casserole recipe, you can have dinner on the table from start to finish in about 30 minutes. In other words, it's a big reward for just a little bit of work.
Oh, and prep time is a snap too! You don't have to prepare any ingredients ahead of time other than making sure the meat is thawed. And, as if all that isn't enough, you don't even have to bake this dinner in the oven. Huge time-saver!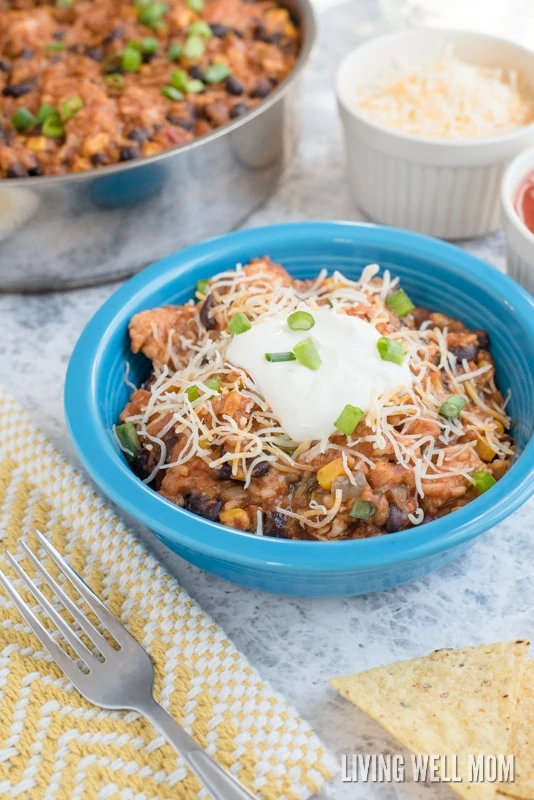 Did I mention this dinner is gluten-free without even trying to be? (Even if you don't normally eat gluten-free, you won't miss it with this meal – trust me!) I can't get over how easy and HOW delicious it is.
As I experimented with the recipe, I made this dinner 4 times in one week and 3 more times the following week. My family never complained once. They gobbled it up every time and asked for more – that's what I call a successful dinner right there!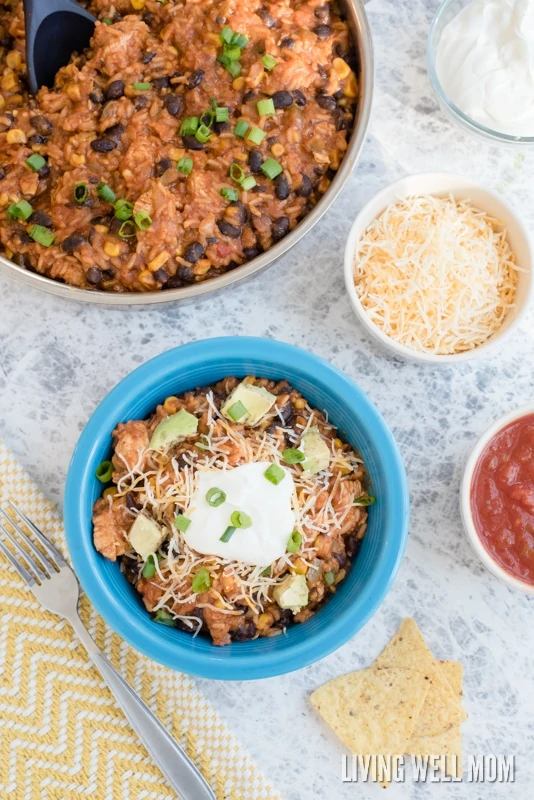 Now The Kids Can Cook Dinner
In fact, this recipe is so easy that my husband made this dinner one night and proclaimed that it's "Dad-approved!" And now, after making this recipe for a while, my teens make it for family dinner often. Even my 12-year-old has recently learned how to cook enchilada casserole. Win-win!
I kid you not. Someone in my family makes this enchilada casserole at least 2-3 times a month because it's so easy, and we love it SO much. 😁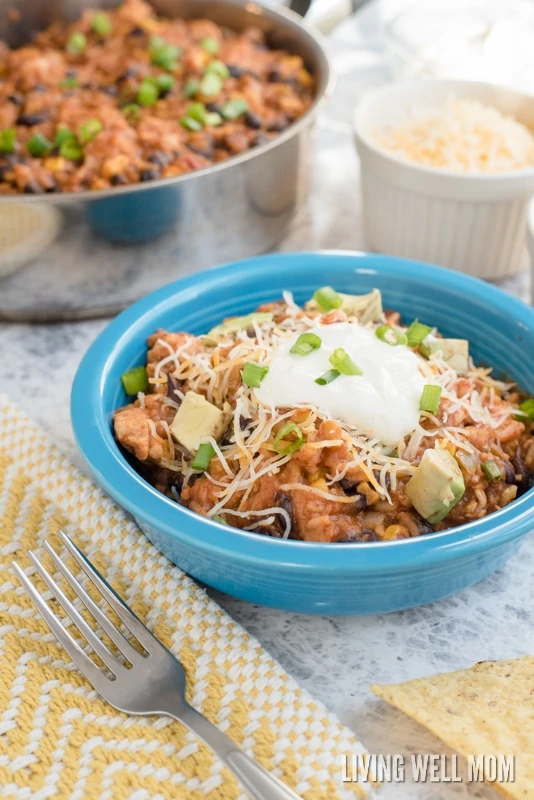 Ingredients Needed For Enchilada Casserole Recipe
Avocado Oil – If you don't have avocado cooking oil, feel free to use olive oil or your favorite cooking oil.
Turkey Breast – You could also substitute chicken breasts, ground turkey, or ground beef.
Diced Onion – Use frozen diced onion if you're short on prep time.
Taco Seasoning – Taco seasoning packets are fine, but I love to use homemade taco seasoning. Adjust the seasoning level to your taste.
Black Beans – I prefer to use canned black beans for faster and easier prep. Be sure to drain and rinse them.
Canned Corn – Alternatively, you could use frozen corn in this recipe.
Green Chilies – Choose hot or mild based on your preferences!
Enchilada Sauce – Either canned or homemade sauce works great.
Salsa – Different flavors of salsa are a quick and easy way to add a little variety when you want it.
10-Minute Rice – Adds starch and heartiness to the dish.
Shredded Cheese – Try Mexican-style or cheddar cheese – the cheesier, the better!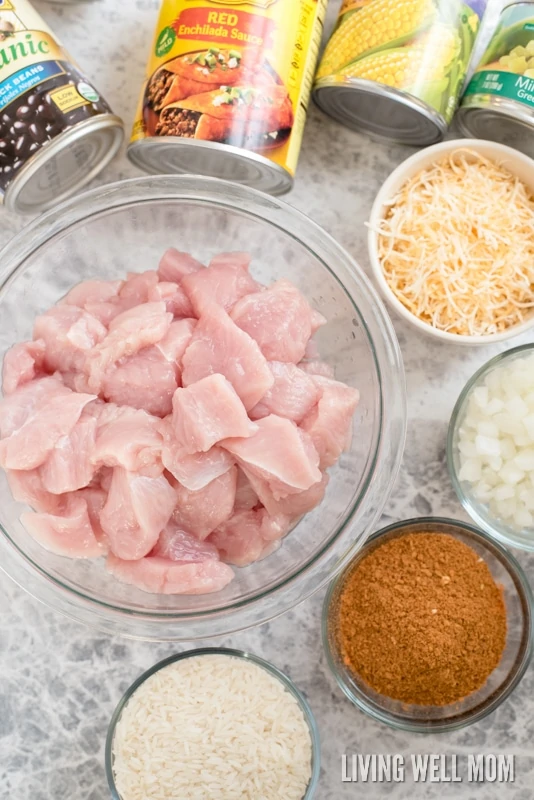 How To Make Turkey Enchilada Casserole
The process for making this weeknight meal is super simple. Just follow the directions below. Feel free to grab the printable recipe card so you can add this recipe to your monthly menu rotation!
First, slice the turkey breast cutlets into small pieces.
Then, heat the avocado oil in a large pan over medium-high heat and add the turkey.
Next, add the diced onion (I highly recommend buying frozen already chopped onion – you'll save yourself the eye-watering hassle of chopping yourself) mid-way through the turkey cooking.
Continue to saute the turkey and onion until cooked thoroughly and the onion is tender.
When the turkey is cooked, add the taco seasoning and stir.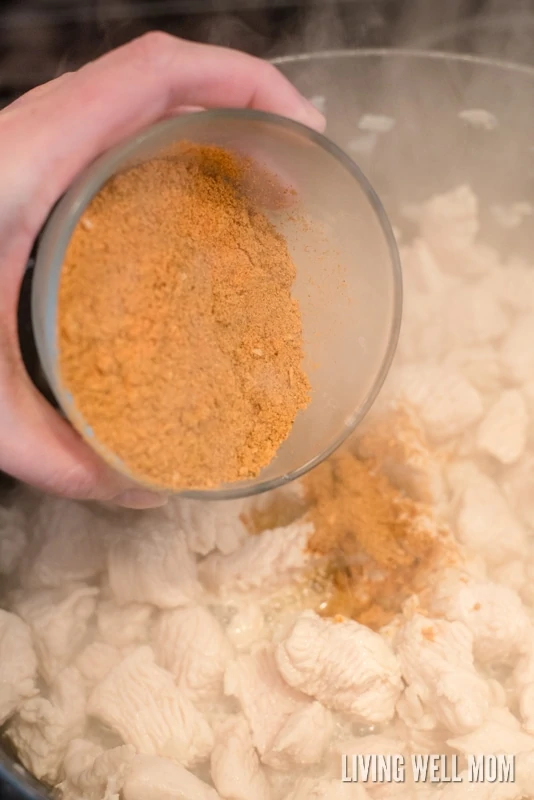 Then, add the black beans, corn, green chiles, and enchilada sauce and stir.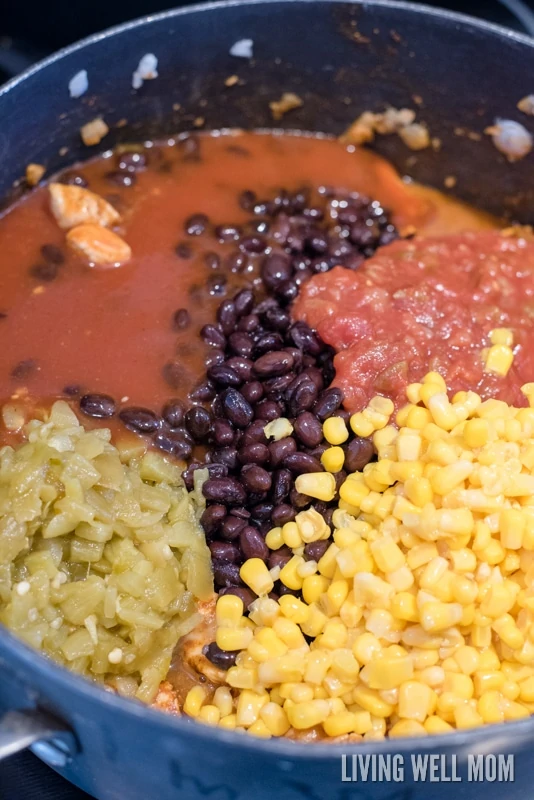 Next, add the quick-cooking rice (you can use regular long-grain rice, but it will increase your cook time by 15-20 minutes).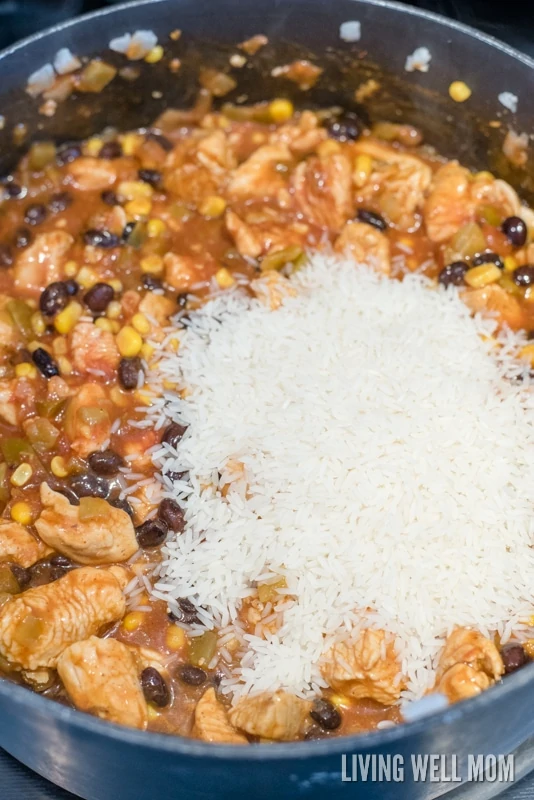 Stir well and reduce the heat to medium-low.
Stir every couple of minutes, so the rice doesn't stick to the bottom and burn until the rice is cooked through. (This will take about 10-15 minutes, depending on how quick-cooking your rice is.)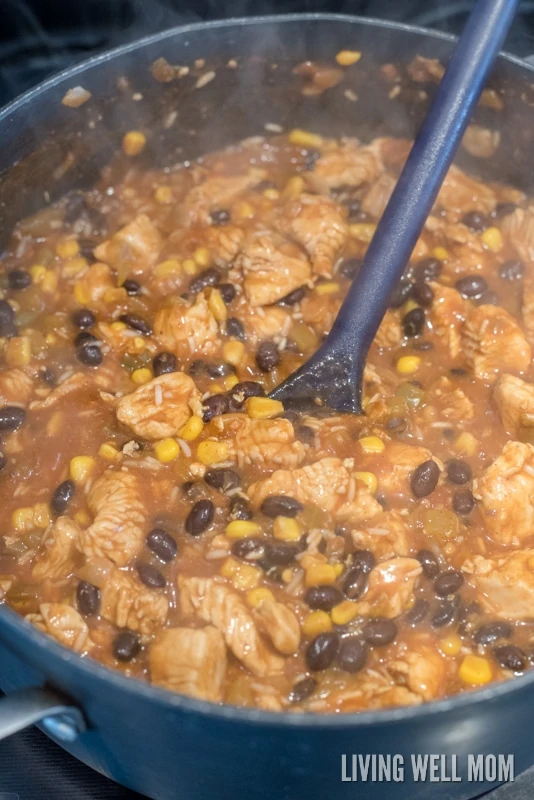 Lastly, stir in the cheese and remove it from the heat. Let sit for about 5 minutes to cool slightly.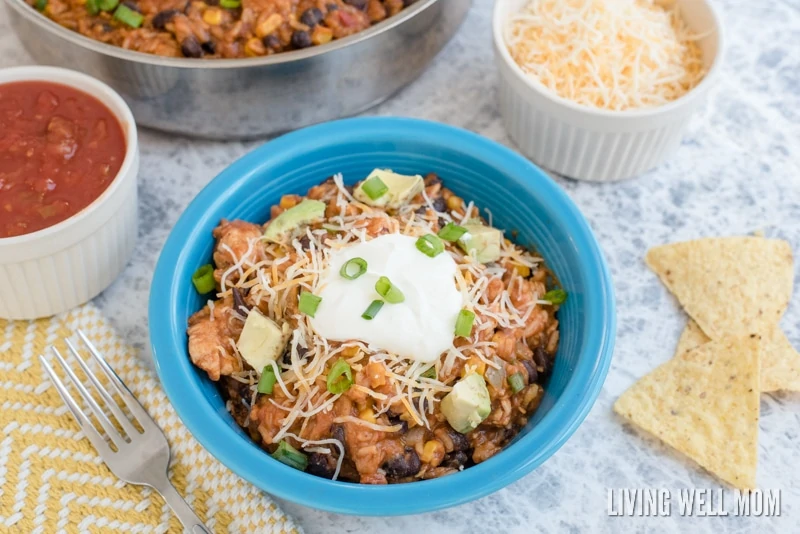 Serving Ideas And Tips
Serve with your favorite toppings – shredded cheese, sour cream, green onions, avocado, etc. We often eat our turkey enchilada casserole over tortilla chips – almost like nachos.
My husband commented that this would make a great, hearty dip too, and I couldn't agree more!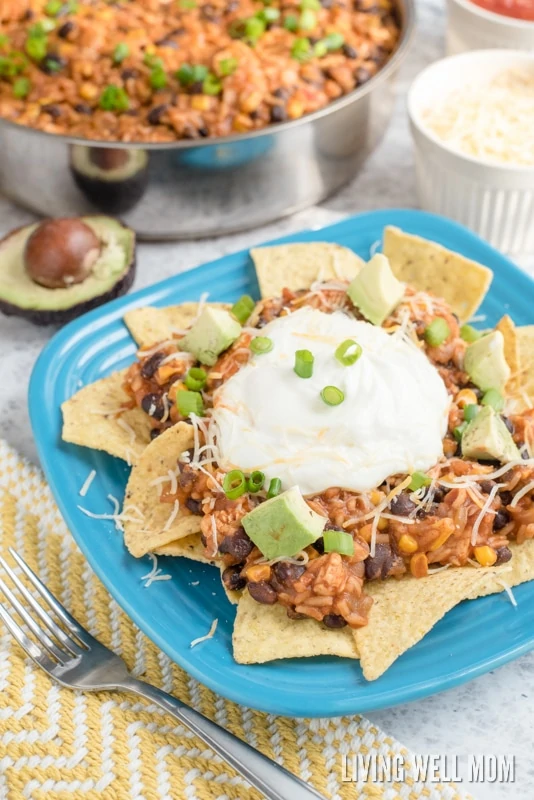 Variations For Enchilada Casserole
I don't normally make this recipe several times a week, but when I do make it more often than normal, it's fun to add a little variety. This enchilada casserole recipe is not only simple to make, but it's very versatile too!
Here are some simple ways you can change it up:
Make your enchilada casserole mild or hot, depending on what your family prefers. Just choose your favorite salsa – mild, medium, or hot. You can also increase the "heat" by adding more taco seasoning, cayenne pepper, or hot chilis.
Swap out the meat. Try it with chicken breasts, ground chicken, rotisserie chicken, or even ground beef. Simply changing up the type of meat you use can add a delicious change in flavor to the entire dish!
Change out the beans. Don't have black beans? Try this recipe with pinto beans or even refried beans!
More Dinner Recipes To Try:
Print
One-Pot Enchilada Casserole
This hearty, one-pot dinner is ready in 30 minutes or less from start to finish and easy enough for Dad to make. Kids love this Mexican dinner too!
Author:
Prep Time:

2 mins

Cook Time:

30 mins

Total Time:

32 mins

Yield: serves

1

0

1

x
2

lb ground beef or ground turkey

1/2 cup

diced onion (use frozen for faster prep)

1

–

2

packets taco seasoning or 4-5 Tbsp homemade taco seasoning (to your taste)

2

15oz cans black beans, drained and rinsed

1

15 oz can canned corn

1

4.5oz can minced green chilies

1 cup

salsa

19oz

can enchilada sauce

1 cup

instant rice (or precooked rice)

1 cup

shredded Mexican cheese or cheddar cheese
tortilla chips
Your preferred toppings: shredded cheese, sour cream, avocado, olives, etc.
Instructions
Brown the ground beef in a large saucepan on medium-high heat, stirring well. Midway through cooking, add the chopped onion. When the beef is cooked, drain, then add the taco seasoning.
Add the black beans, salsa, corn, green chilies, enchilada sauce, and rice. Stir well.
Reduce heat to low-medium and cook, stirring frequently, until the rice is cooked through. Be careful not to let the bottom scorch.
When the rice is cooked through, remove from the heat and let sit for about 5 minutes.
Serve over tortilla shells and top with desired toppings.
Notes
Note: This recipe makes a lot and is great as heated leftovers the next night. It will also thicken more overnight.
Pin the image below to save the recipe for later!