Looking for a simple weeknight dinner idea that your kids will absolutely devour? Look no further! My kids practically dance around the kitchen when they see me making these slow cooker sloppy joes. Even better? With wholesome, natural ingredients, this is one dinner you'll feel great about making for the family.
When life is a whirlwind, it's not easy to plan and actually cook healthy meals for your family regularly. The good news is it is possible to prepare good-for-you meals that are quick and easy to make and tasty!
This recipe for slow cooker sloppy joes has quickly become a favorite meal for me and my family for all of those reasons.
Simple Slow Cooker Recipe
A few years ago, I wasn't sure what all the fuss was about when it came to crock pots. Then, I had kids, and suddenly I realized just how brilliant this little appliance was! It's the ultimate real-life example of set it and forget it, and as you moms know, it can make all the difference.
I love this Slow Cooker Sloppy Joes recipe because it fits the bill of both easy to make and delicious. Since I can throw it in the slow cooker and it's ready come dinner time, it's a perfect busy weeknight meal.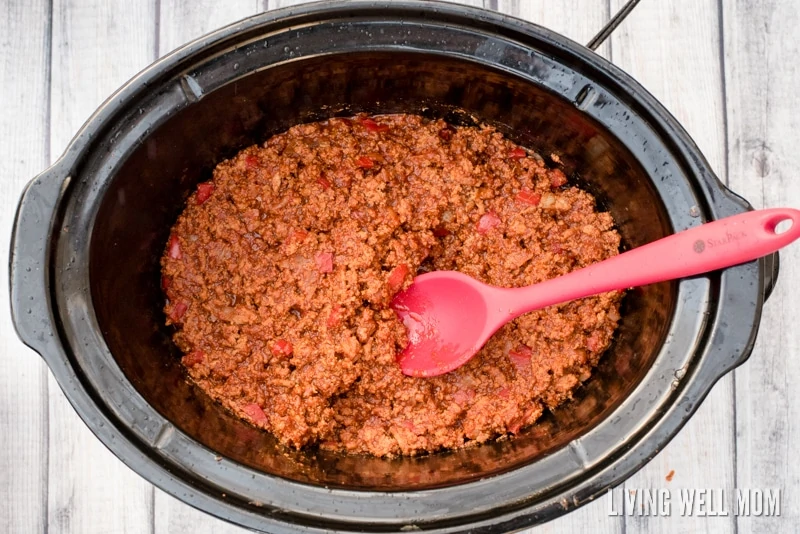 Paleo Sloppy Joes
If I can combine the ease of a crockpot meal with the benefits of paleo-style eating, that's all the better! These paleo sloppy joes use natural ingredients that still taste fantastic. Of course, once you scoop it onto a bun, it's no longer paleo, but you could enjoy this on a bed of lettuce too!
My family loves my Slow Cooker Sloppy Joes recipe because it's "so good!" At least that's what my sometimes-picky kids have told me over and over. When I made this three times in one week because I was testing out variations, there were no complaints. Now that's a test right there!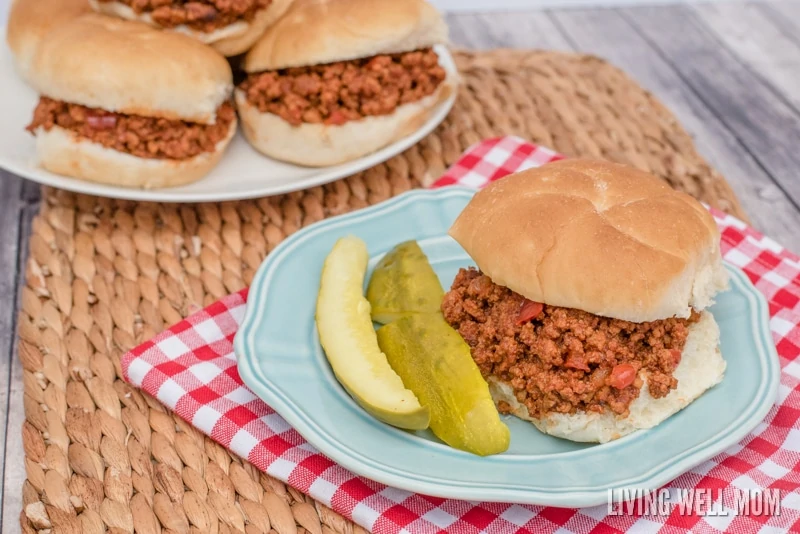 Slow Cooker Sloppy Joes with Ground Turkey
I opted to make this version even healthier by using ground turkey and Paleo-friendly ingredients. These slow cooker sloppy joes are a meal you can feel good about serving your family.
When choosing ground meat to use for this recipe, I highly recommend you look for one that is raised humanely by family farmers. I also recommend you look for one that does not use growth-promoting antibiotics, steroids or hormones either.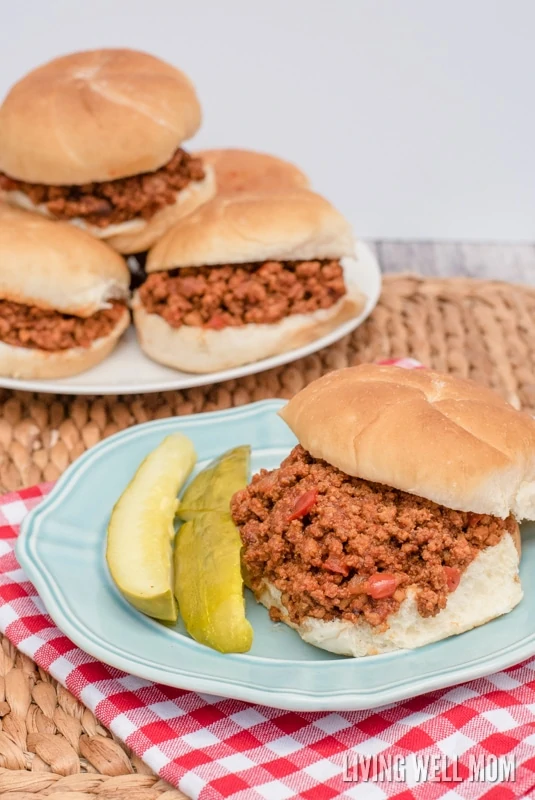 How to Serve These Slow Cooker Sloppy Joes
I used buns in these photos because that's how we all recognize Sloppy Joes, but I normally serve my family sloppy joes over lettuce. My kids like to make Sloppy Joes Lettuce Wraps. It's rather messy (it is sloppy joes after all) and doesn't photograph well so that's another reason why I used buns in the photos.
Obviously if you use regular buns, this recipe won't be Paleo, but you could use a gluten-free bun for a gluten free version.
However you make it, Slow Cooker Sloppy Joes is a great family dinner.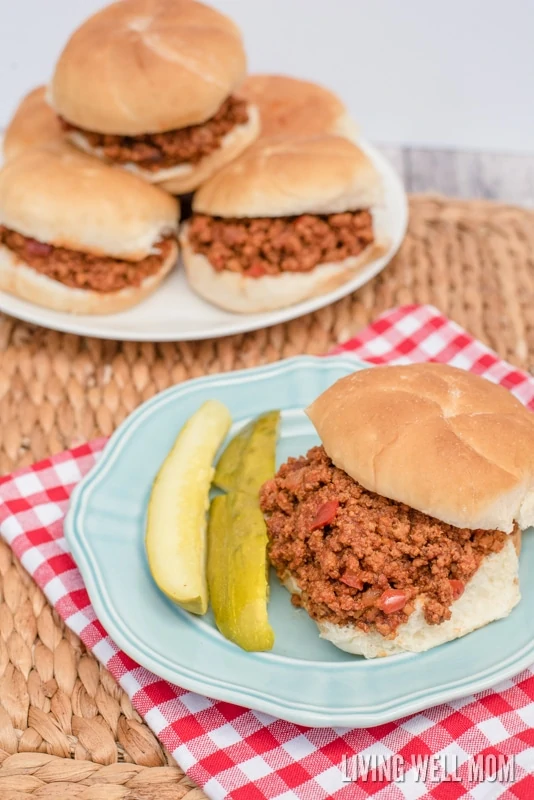 How to Make Slow Cooker Sloppy Joes: 2 Versions
There are two different ways you can make Slow Cooker Sloppy Joes. Each has advantages and disadvantages, so choose whichever version works for you!
Version One
The first version takes about 10 minutes of prep time. You brown the ground turkey first, then transfer the meat and other ingredients to your slow cooker. You'll need to add a little more water with this method. Give everything a good stir, put the lid on, and cook on low for 3-4 hours.

Version Two
The second version takes about 5 minutes of prep time and that's only from chopping the onions and red pepper (Hint: for even faster prep, buy frozen minced onion! I haven't found frozen red pepper yet or I'd jump on that wagon too!).
Throw everything in your slow cooker, chop up the ground turkey (I love my ground meat chopper
), mix everything well, and cook for about 4-6 hours on low. This slow cooker sloppy joe version is my favorite because it's so quick, but the result is usually a little more chunky. We don't mind.
Serve this dinner with your family's favorite vegetable side dish, like steamed broccoli or roasted vegetables for a perfect healthful meal on any busy weeknight!
Print
Easy Slow Cooker Sloppy Joes
Tangy and delicious with better-for-you ingredients, this easy Sloppy Joes recipe is sure to become a favorite dinner for your whole family.
Author:
Prep Time:

10 mins

Total Time:

10 mins

Yield: serves

6

-8

1

x
Instructions
Method 1:
Brown the ground turkey over medium heat.
Place in slow cooker, add the remaining ingredients, plus ½ cup water, stir and cook on low for 3-4 hours.
Method 2:
Put all the ingredients in the slow cooker, mix very well (try to chop up the ground turkey as much as you can), put the cover on, and cook on low for 4-6 hours.
Stir well before serving.
Serve your sloppy joes over lettuce or your favorite buns.
Just pin it below to find the recipe later!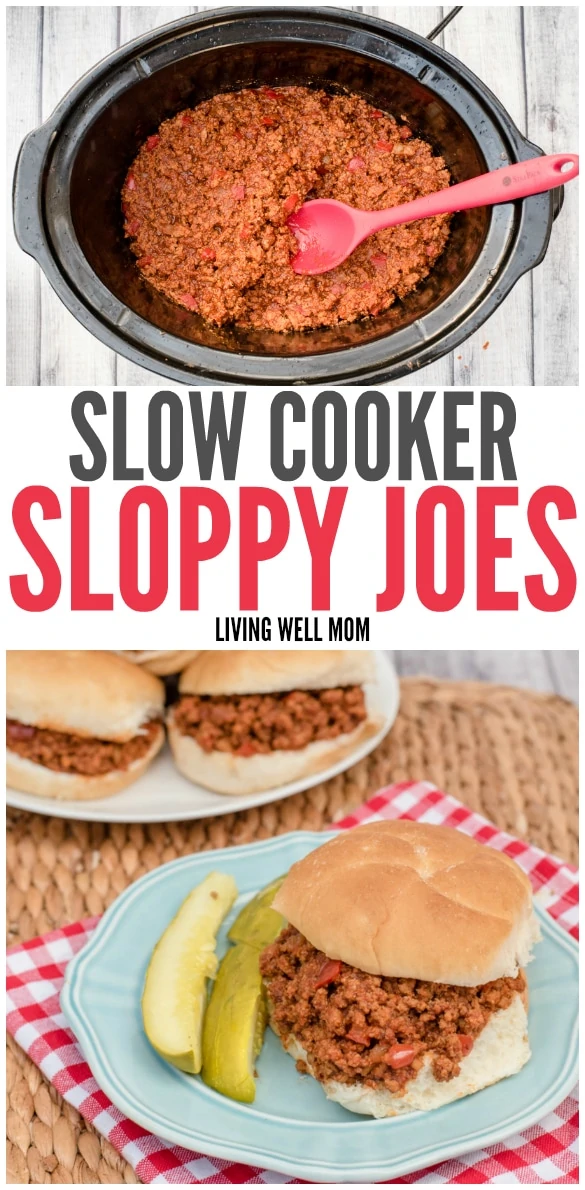 Save