Tasty Chicken and Rice Casserole is a gluten-free casserole that's packed with hearty ingredients like chicken, rice, vegetables, and a flavorful sauce. Then, the entire casserole is finished with a crunchy topping.
It can be hard to make easy (and quick) dinners that are gluten-free or dairy-free on those busy nights when you're juggling soccer practice and piano lessons and homework and all the things. If you're trying to make dinner quickly that's both gluten-free AND dairy-free, you can almost forget about getting it done easily!
This chicken and rice casserole is a great weeknight supper for the family because it's filling and simple to make. Plus, it's gluten-free and dairy-free so if your family has food sensitivities, this is the perfect dinner all-around. My favorite part is that it's a universally-enjoyed dish, so even if you have picky eaters, they will love this dish (music to my ears!).
In short, it satisfies every single checkbox a busy mom could want for a weeknight meal!
Chicken and Rice: a Classic Combination
Chicken and rice is often a staple dinner for many people because it's filling and easy to make, but the combo can quickly become boring. Often a dish that can be a little bland which is the basis of why people enjoy it, but it's also the very reason that it can feel worn out over time.
That's a big reason (only one of many, really) why this Tasty Chicken and Rice Casserole is so good. It's not your average chicken and rice. The tasty sauce contains mayonnaise – yes, mayonnaise! It's an ingredient you wouldn't normally see in a chicken dinner other than a chicken salad, but it works SO well in this case.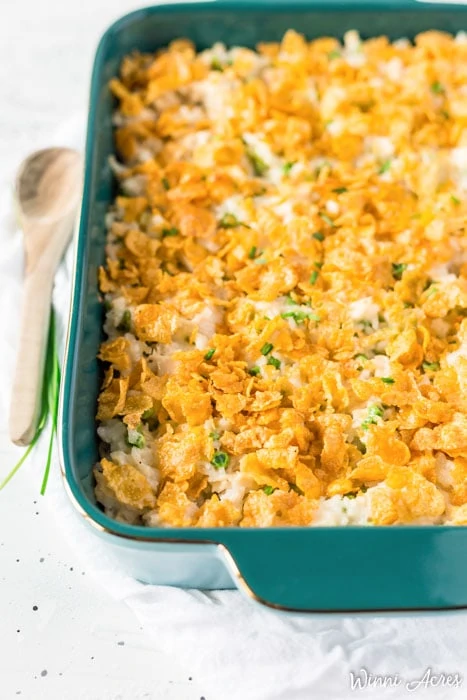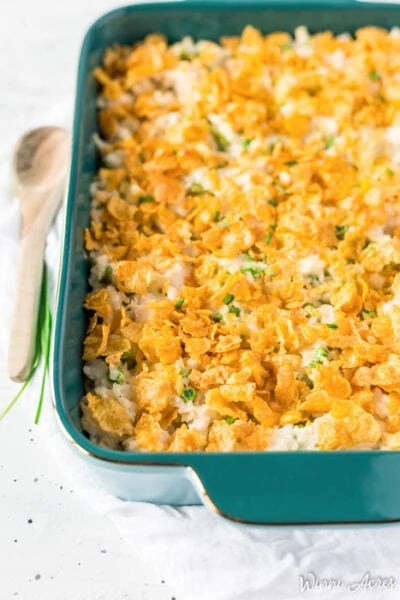 Making Chicken and Rice Casserole Interesting
My best friend and I came up with this recipe together when we adapted an old recipe I've had in my cookbook binder for a long time. We made it together one night when both of our husbands were working late and we were hanging out together with our kids.
We were both impressed with just how delicious this gluten-free casserole dish turned out to be!
Even our kids enjoy it. Well except her 5-year-old and my 7-year-old and that's because they are both adamantly against anything with peas. (Once they picked out the peas, they both liked this easy dinner, particularly the "crunchies" on the top.)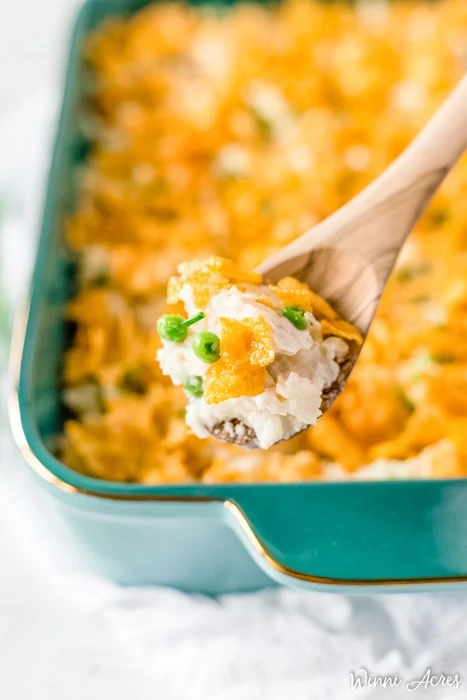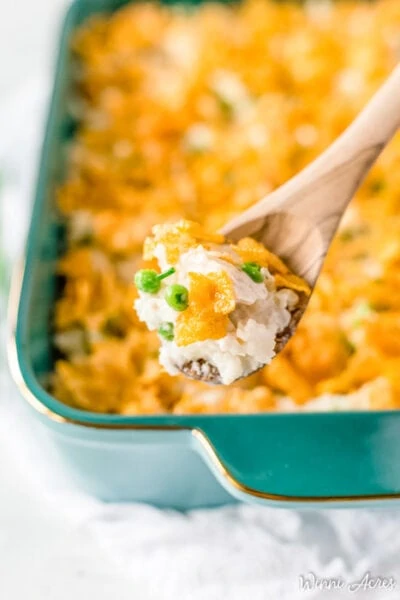 A Couple of Twists Make This Casserole Different From the Standard
The "crunchies" or golden, crunchy topping is simply corn flakes and coconut oil. Easy peasy and yes, completely gluten-free!
Pro Tip: Make sure you check the ingredients on the corn flakes. It turns out the generic brand at our local grocery store contained wheat, while the name brand Corn Flakes was gluten-free.
2021 Update: I've been informed that Kellogg's corn flakes are no longer gluten-free. If you or your loved one has Celiac disease, please check carefully to make sure your corn flakes are truly gluten-free.
A reader suggested using Corn Chex because those are gluten-free.
This casserole is also dairy-free because we use coconut oil and almond milk in this recipe. I love my dairy, but I didn't even notice the difference with these substitutes. You can also use a butter-free alternative instead of the coconut oil.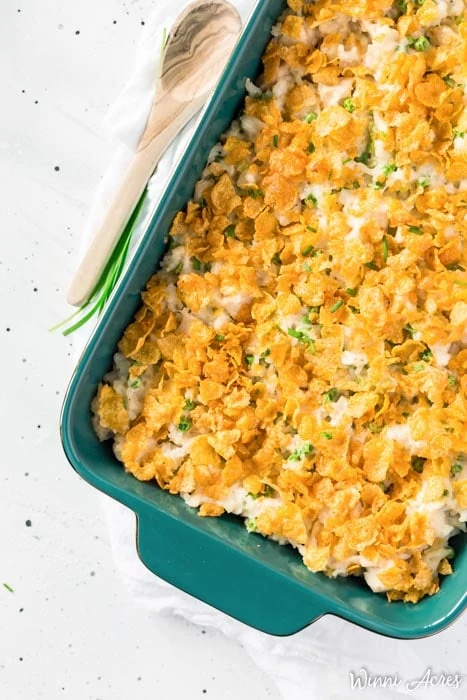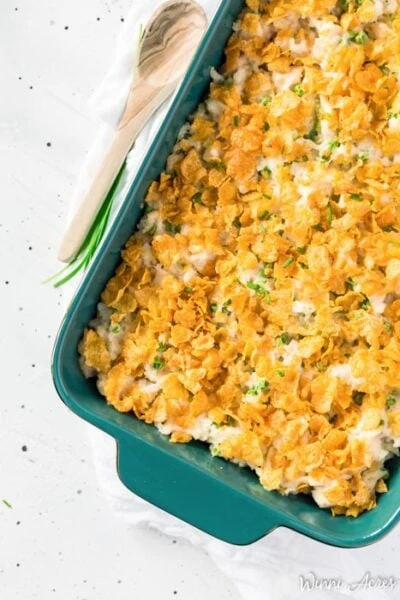 Tasty Chicken and Rice Casserole Tips
Here are a few tried and true tips to ensure that your family loves this recipe as much as ours did.
Almond Milk
Make sure you use regular almond milk, not "vanilla" flavored almond milk, which gives it an odd, almost sweet taste. I've found that vanilla almond milk is best used for baking, not cooking. (Think about recipes you'd include vanilla extract in or not.)
Use Leftover Chicken
How many times have I stood in my kitchen wondering what to make with our leftover baked or rotisserie chicken? Oh so many. Not anymore, though!
This tasty chicken and rice casserole is great for using up that leftover chicken. If you're cooking chicken the night before, cook a little extra and this easy casserole will come together even faster. Or use those leftovers from your rotisserie chicken.
Make Rice Even Faster
Cook your rice in a pressure cooker (Instant Pot) for faster cooking. There are so many incredible things you can make in an Instant Pot, and rice is just one of them! Here are 19 of my favorites!
Measure Your Ingredients
I'll admit it, I can be a cook that "eyeballs" ingredients ("sure, that looks like 1 teaspoon"). However, this recipe is not the one where you want to do that. Break out those measuring cups and measuring spoons!
Follow the exact measurements for the best results. It's tempting to want to add extra rice to stretch the casserole further or throw in the extra chicken you have, but if you do, this casserole may turn out too dry. (Trust me: I've tried it and it wasn't pretty.)
Suggested Supplies
Here are a few recommended supplies for making this easy dinner. You probably already have them in your kitchen!
large saucepan or stockpot
9″x13″x2″ baking dish – I had one similar to this for a long time and loved it, until my kids accidentally broke it.
instant pot (optional but awesome for cooking rice quickly… and chicken!)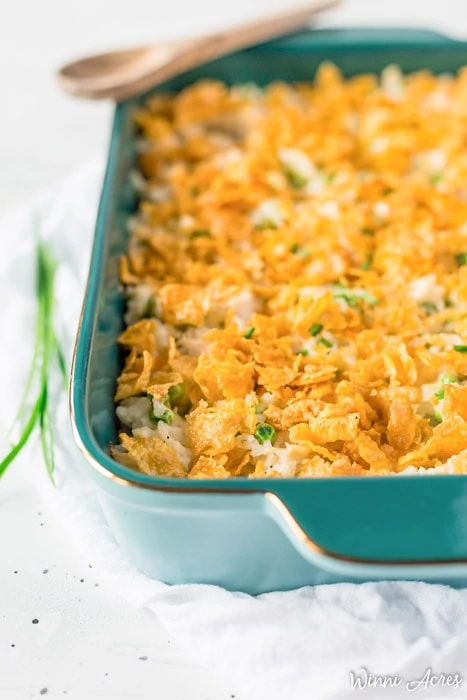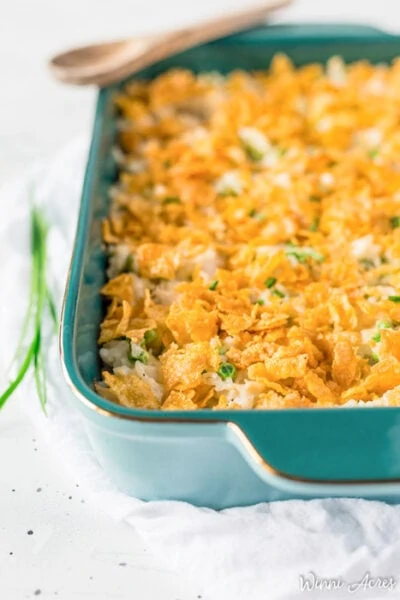 Enjoy This Diary-Free and Gluten-Free Casserole
There you go! I hope you enjoy this tasty chicken and rice casserole as much as we do. Every mom needs a few "ace-in-the-hole" dishes that she can whip up quickly on those busy nights. It's a real bonus when the entire family likes the meal, and this gluten-free casserole dish fits the bill!
Give it a try and see for yourself. If your family is anything like mine is, I just know you'll be glad you made it.
Print
Tasty Chicken and Rice Casserole
Tasty Chicken and Rice Casserole that's both gluten-free and dairy-free and tastes so amazing that your entire family will love it.
Author:
Prep Time:

25 mins

Cook Time:

25 mins

Total Time:

50 mins

Yield:

8

servings

1

x
Category:

dinner

Method:

cooking

Cuisine:

American

Diet:

Gluten Free
1 cup

chopped celery

1/3 cup

onion, diced

1/4 cup

coconut oil or butter substitute, divided

4

minced garlic cloves, minced

3 Tbsp

gluten-free flour 1-to-1 mix (I use Bob's Red Mill)

1 1/2 cups

almond milk (regular, not vanilla)

3/4 cup

mayonnaise (I use this.)

4 cups

shredded chicken, cooked

3 cups

cooked rice (I use Jasmine rice.)

1 cup

frozen peas, thawed

1 teaspoon

lemon juice

1 1/2 tsp

salt

1 teaspoon

pepper

3/4 cup

coarsely crushed cornflakes or corn chex
Instructions
If your chicken isn't already cooked (leftover chicken works great for this recipe), cook it however you prefer. I like to cook 2-3 chicken breasts in water over the stove. I bring a med-large pot of water to a boil with the chicken already in it, then turn down to medium heat and cover while it simmers for 20-30 minutes. Check for doneness and remove when cooked through. Don't overcook or your chicken will be too tough.
At the same time, cook your rice according to package directions. (I use jasmine rice and cook it in my instant pot.)
Preheat your oven to 350 degrees
In a large saucepan, over medium heat, saute the onion and celery in the coconut oil until tender. Add the garlic and cook for another minute. Stir in the gluten-free flour and gradually stir in the almond milk. Cook and stir until somewhat thick and bubbling (about 2 minutes).
Turn off the heat and stir in the mayonnaise, lemon juice, salt, and pepper. Add the chicken (be sure to measure it), rice, and peas and stir.
Spoon into a 9x13x2″ baking dish.
Melt the remaining 1 Tbsp coconut oil and mix together with 3/4 cup coarsely crushed cornflakes. Sprinkle over the top of the casserole. Bake at 350 degrees, uncovered, for about 25-30 minutes or until starting to bubble.
Notes
Note: we use Miracle Whip (with olive oil, so there is no high fructose corn syrup) for this recipe. I have not tested this recipe with other mayonnaise brands.
Keywords: gluten-free casserole, dairy-free dinner, chicken and rice
Copyright © Living Well Mom. All content and images are copyright protected. Please do not use my images without prior permission. If you would like to republish this recipe, please re-write the recipe in your own words. Alternatively, you may link back to this post for the recipe.

just pin it below to find the instructions later!