Feed the whole family with these easy and filling creamy white chicken enchiladas! Kids and adults will all love the creamy sour cream sauce that makes these tasty white chicken enchiladas truly special.
Creamy chicken enchiladas regularly appear on my menu planning because this recipe is one of our favorite family meals. My kids all love it. Even my uber-picky Luke and Emily gobble it up and ask for more (win!).
But this cheesy dish isn't just a favorite kid-friendly meal. It's a crowd-pleasing hit with the adults too.
And it's different than many other enchilada recipes because instead of using traditional red enchilada sauce, it uses a creamy white sauce that's addictively delicious.
Easy weeknight dinner recipe
With a spicy cream cheese chicken mixture inside and a creamy white sauce topped with cheese on top, these creamy chicken enchiladas look like you spent all day making them.
You'll be surprised at just how easy this recipe is to make (don't worry, your secret is safe with me!).
Make the recipe even easier by seasoning your chicken with my homemade taco seasoning in place of the spices.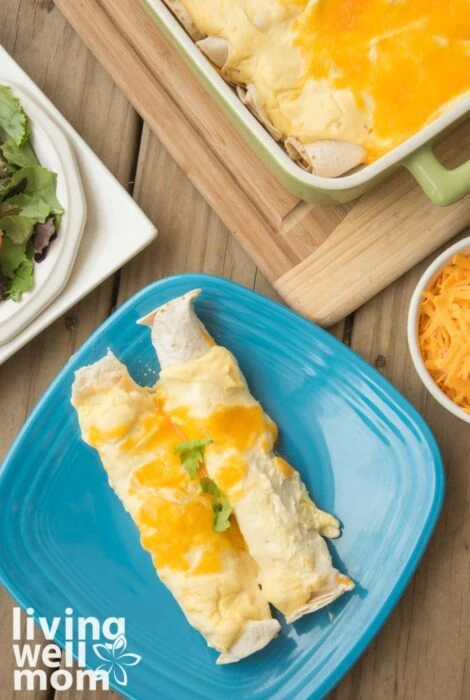 I've had this recipe for creamy chicken enchiladas for so long, I'm not even sure where I found it. It's such a great easy family meal that I know you'll love it just as much as my own family does.
Note: White chicken enchiladas are definitely not diet food, but if you eat them in moderation, you can still enjoy them. I usually have one enchilada with dinner. Occasionally I might have two if I'm really hungry. While I wouldn't be able to eat it every night and expect to lose weight, I'm fine with it once in a while.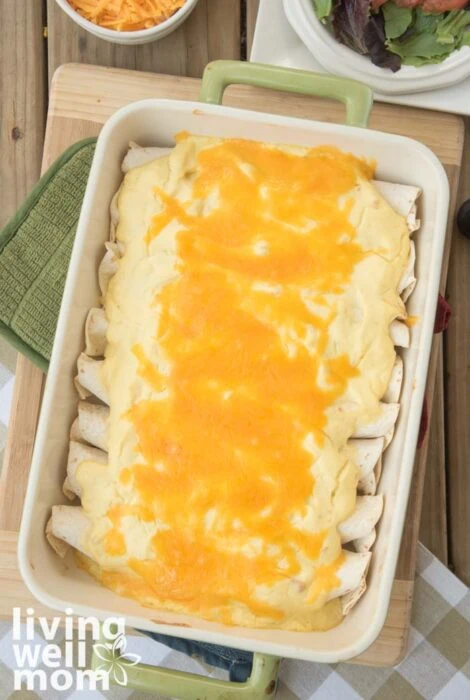 One white chicken enchiladas recipe makes multiple meals
Another great thing about this delicious dinner is that the recipe makes a lot of food. The full recipe makes two 9x13x2″ pans. That's at least two nights of dinner.
And when you're a busy mom, isn't it nice to cook dinner one night and have enough leftovers to prevent the need to cook another night? I love a good hearty meal that provides enough food for more than one night.
When I make these creamy white chicken enchiladas, we usually eat almost a full pan the first night, so that leaves the second for the next dinner, and usually extras to save for a weekly leftover night.
Or another way you could use these chicken enchiladas would be to enjoy one pan for dinner (and leftovers) and freeze the second for another night when you're too busy to cook from scratch!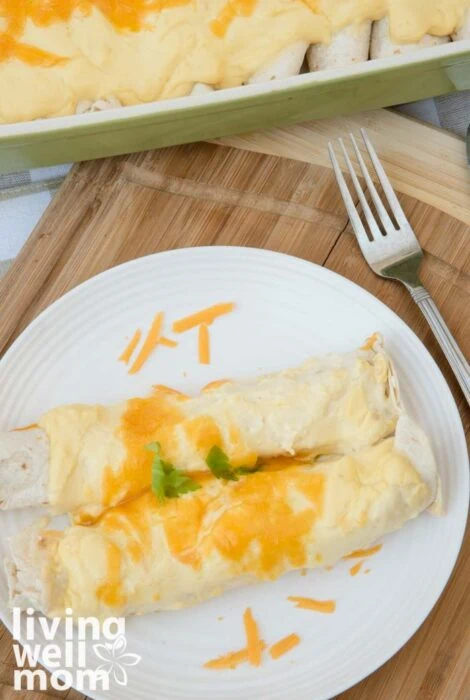 Ingredients needed
Here's what you'll need for this recipe. For the full recipe details, please see the printable recipe card at the bottom of this post.
Cream cheese
Water
Spices – onion powder, ground cumin, chili powder, salt, and pepper
Chicken breast, cooked and shredded
Flour tortillas
Cream of chicken soup
Sour cream
Milk
Shredded cheddar cheese – Monterey jack cheese, pepper jack cheese, cheddar, or Mexican blend
How to make white chicken enchiladas
This recipe is super simple. It does take about an hour to make, so it's not the best choice for the busiest weeknights. However, since it makes two full pans, it's great for a crowd or dinner another night. Here's how to make it.
Step 1
Beat together the water, softened cream cheese, and spices until smooth and creamy in a large bowl.
Step 2
Add the chicken and stir until combined.
Step 3
Take a tortilla and add about 1/4 cup of this chicken mixture in the center.
Step 4
Roll up the tortilla and place it in a greased 9x13x2 inch baking dish. Note: You will make enough of these to fill up two baking dishes.
Step 5
Mix together the cream of chicken soup, sour cream, and milk in a medium bowl. Pour this mixture over the enchiladas.

Step 6
Bake in the oven, uncovered, at 350 degrees until heated through (about 30 minutes). Sprinkle cheddar cheese on top and bake for an additional 5 minutes to melt the cheese.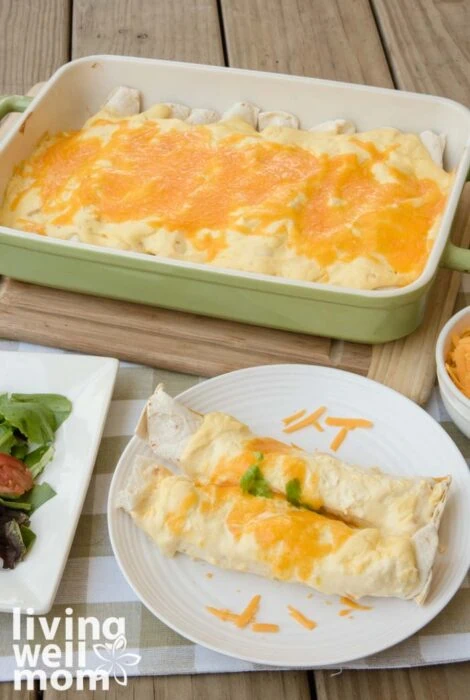 Creamy chicken enchilada dinner notes and tips
Save money by stretching this meal even further! I'm all about saving money on my grocery budget but still eating well. To do this, simply use slightly less chicken breast and stuff the tortillas a little less full. Or, if you like them really filled, go ahead and pack them full.
You can also adjust the spices to your taste, though I think this combination is pretty close to perfect.
Buy a rotisserie chicken and use that meat to save time, instead of cooking and shredding the chicken yourself.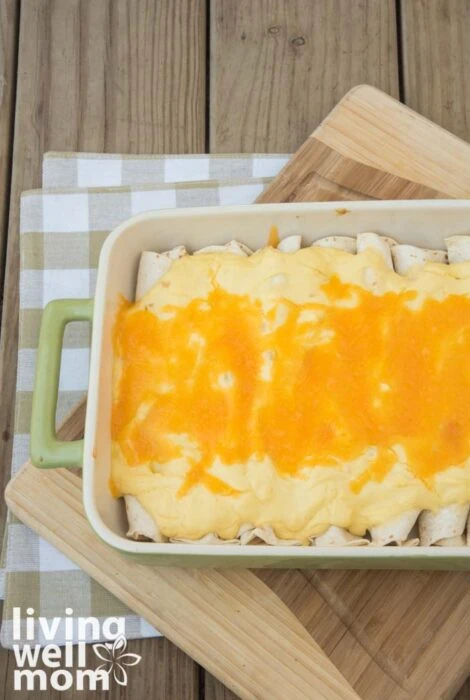 White chicken enchiladas FAQs
Here are some questions that I frequently see readers ask about making creamy chicken enchiladas. If you don't see your question answered below, please leave it in the comments!
Can I use corn tortillas instead of flour tortillas?
If you need to eat gluten-free (or don't like flour tortillas), you can use corn tortillas (check to make sure they're gluten-free when purchasing) or even gluten-free tortillas.
Note: Flour tortillas have more give in them, so they roll well without breaking. Corn tortillas will probably break, but they'll still taste good!
Can I use burrito-size tortillas for this recipe?
I would recommend using the 6-inch tortillas because they fit perfectly into your casserole dish without being bulky or too much for little ones to eat.
How should I serve this white chicken enchiladas recipe?
I love serving it with some Mexican rice and sometimes some black beans. I often garnish it with fresh cilantro, green chiles, or avocado slices.
How do I store leftovers of white chicken enchiladas?
Store any leftover enchiladas in an airtight container in the fridge for up to 5 days. The tortillas may start to get soft after a couple of days, but these enchiladas will still taste yummy!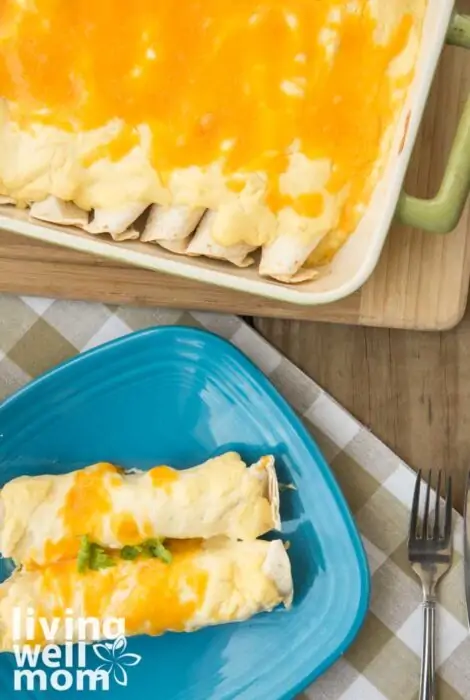 More family favorite recipes
If you love this meal idea, I think you'll love these too!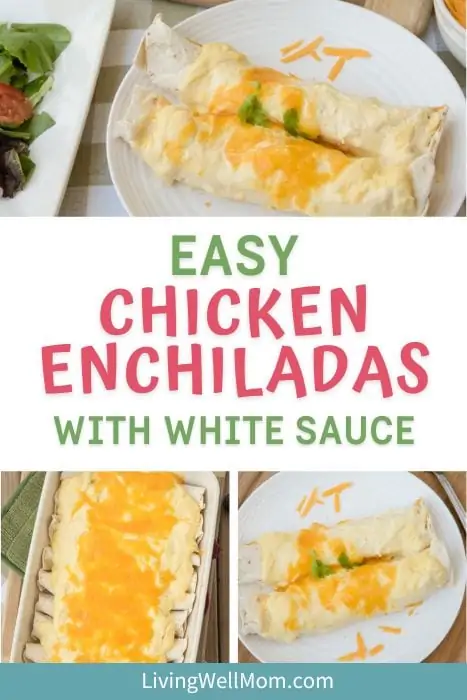 Print
Creamy Chicken Enchiladas
With a spicy cream cheese chicken mixture inside and a creamy sauce topped with cheese on top, Creamy Chicken Enchiladas is so tempting, you'll be surprised at how easy it is to make.
Prep Time:

30

Cook Time:

35

Total Time:

1 hour 5 minutes
1

(8 oz) package cream cheese, softened

2 tablespoons

water

2 teaspoons

onion powder

2 teaspoons

ground cumin

2 teaspoons

chili powder

1/2 teaspoon

salt

1/4 teaspoon

pepper

2

pounds chicken breast, cooked and shredded

20

flour tortillas (

6

inches)

2

cans (10 3/4 oz ea) cream of chicken soup

2 cups

(

16 oz

) sour cream

3/4 cup

milk

2 cups

(

8 oz

) shredded cheddar cheese
Instructions
Beat the softened cream cheese, water, and spices together in a large bowl until smooth. Add the chicken and stir. Place approximately 1/4 cup of the chicken mixture down the center of each tortilla. Roll up and place in two greased 9x13x2 inch baking dishes.
In a smaller bowl, mix the cream of chicken soup, sour cream and milk. Pour over the enchiladas.
Bake, uncovered, at 350 degrees for about 30 minutes or until heated through. Sprinkle with cheddar cheese and bake 5 more minutes or until the cheese is melted.
Notes
Note: Remember this makes 2 full pans of enchiladas. If you don't need that much, half the recipe for just 1 pan. Enjoy!
© Musings From a Stay At Home Mom. All images & content are copyright protected. Please do not use my images without prior permission. If you want to republish this recipe, please re-write the recipe in your own words and link back to this post for the recipe.