Life is busy and it's not always easy to make home-cooked dinners for your family every night.
That's why I think you'll love today's easy meal!
One-Pot Turkey Enchilada Casserole is a hearty Mexican dinner the whole family will love. You'll enjoy the delicious flavors of Mexican food without all the prepping and cooking times!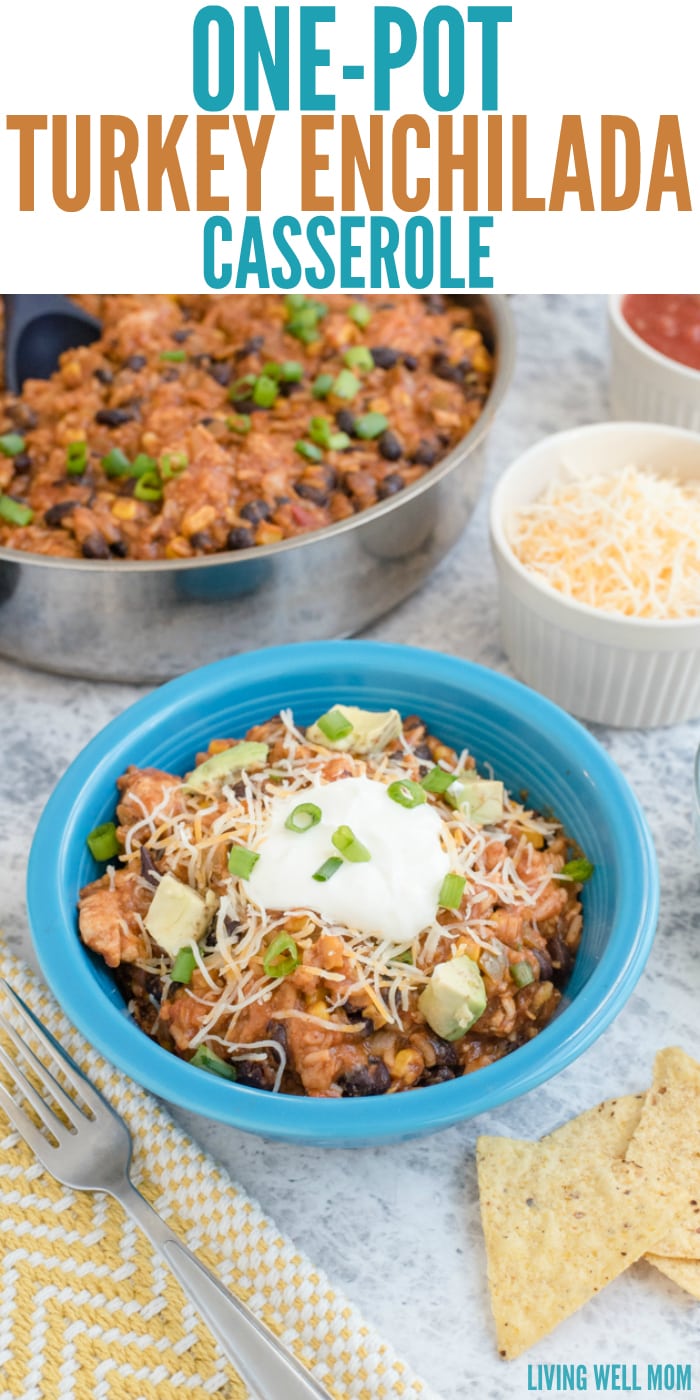 This One-Pot Turkey Enchilada Casserole is a great easy weeknight meal. It's simple to cook and you can have dinner on the table from start to finish in about 30 minutes.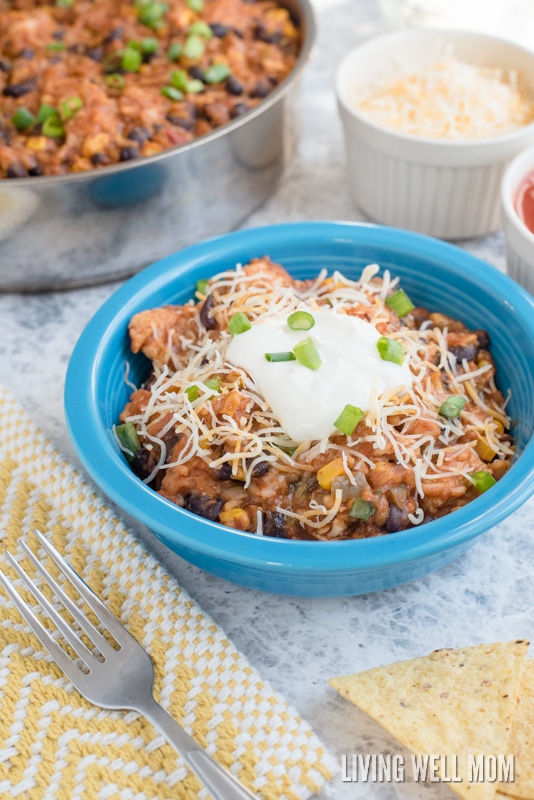 You don't have to prep any ingredients ahead of time either, other than making sure the meat is thawed. And you don't have to bake this dinner in the oven, like other versions.
Did I mention this dinner is gluten-free without even trying to be? (Even if you don't normally eat gluten-free, you won't notice it with this meal, trust me!)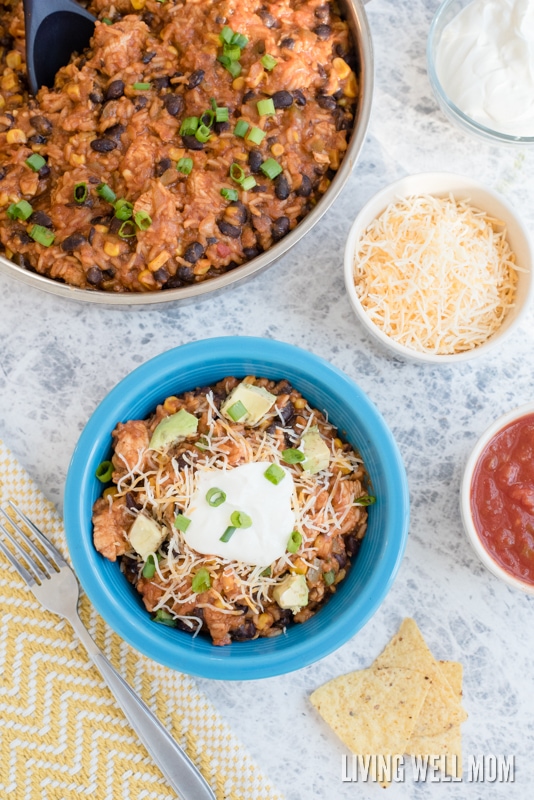 You can make this One-Pot Turkey Enchilada Casserole mild or hot, depending on what your family prefers. Just choose your favorite salsa – mild, medium, or hot. You can also increase the "heat" by adding more taco seasoning.
I've been very busy lately and haven't had much time to cook. So I decided to experiment with adding a new easy weeknight meal to my menu list and this One-Pot Turkey Enchilada Casserole is the result.
I can't get over how easy it is to make and HOW good.
As I experimented with the recipe, I made this dinner 4 times in one week and 3 more times the following week and my family never complained. They gobbled it up every time and asked for more. That's a successful dinner right there!
Even more, my husband made this dinner one night and he proclaimed it to be very easy and "Dad-approved!"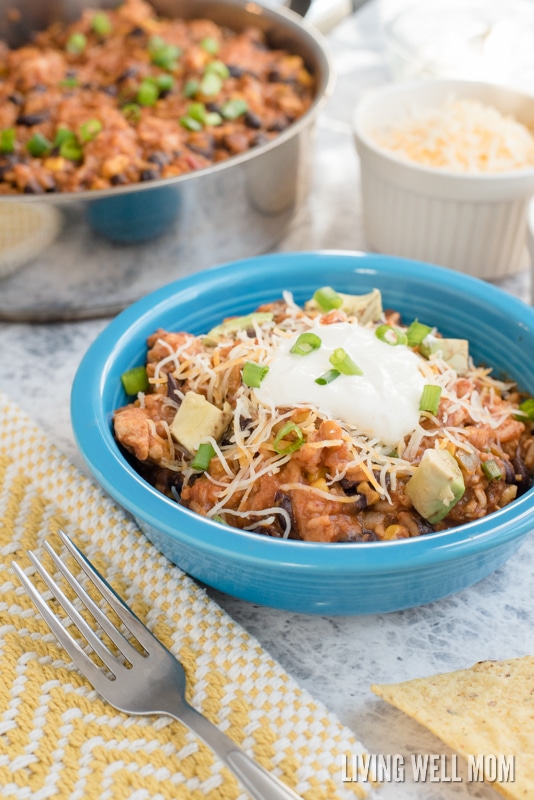 Let's get down to cooking.
One-Pot Turkey Enchilada Casserole recipe:
I use Shady Brook Farms turkey cutlets for this recipe because the meat is tender and delicious.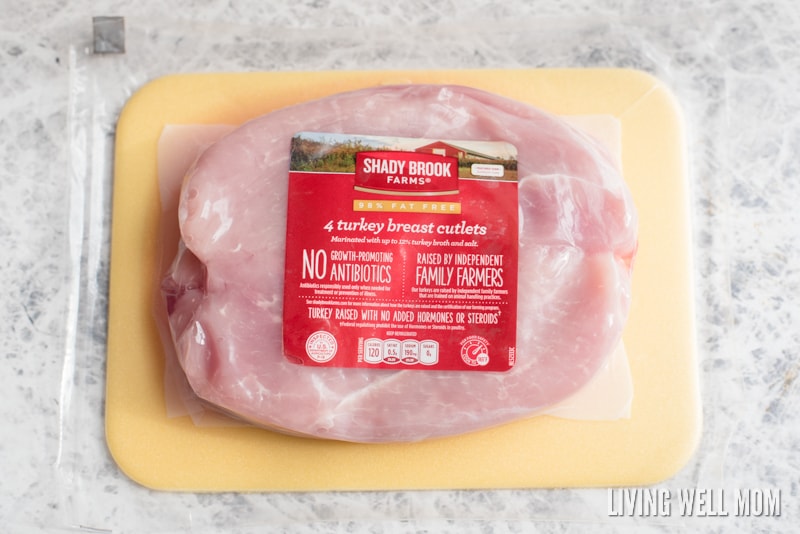 I also love that Shady Brook Farms turkeys are humanely-raised raised on family farms. (I've seen it myself when I toured one of their Virigina farms.)
Their turkeys are never given hormones or steroids (which no poultry in the US is allowed to be given) or growth-promoting antibiotics. You can read more about that here.
To add to that, Shady Brook Farms turkey is affordable! We eat Shady Brook Farms turkey almost every day, whether it's their delicious turkey sausages for breakfast or ground turkey in Slow Cooker Sloppy Joes and we never get tired of it.
Shady Brook Farms is also known as Honeysuckle White Turkey in most areas of the country, so check your meat department to see what your store carries.
You can learn more about Shady Broom Farms and Honeysuckle White Turkey family farms and how the turkeys are raised on 700 independent family farms here: 700 Reasons
Back to our One-Pot Turkey Enchilada Casserole…
What You'll Need:
Note: I used chicken breast for this recipe one night when our store ran out of Shady Brook Farms turkey breast cutlets as they often do (clearly I'm not the only one who loves this brand) and the recipe was good, but the meat was not nearly as tender or delicious. So yes, you can sub the turkey breast for chicken, but I highly recommend turkey.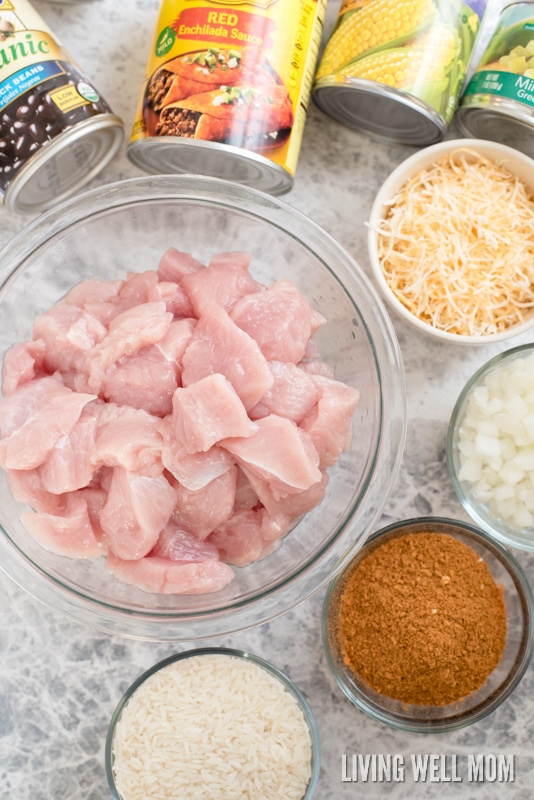 Slice the turkey breast cutlets into small pieces.
Heat the avocado oil in a large pan over medium-high heat and add the turkey. Saute until cooked through.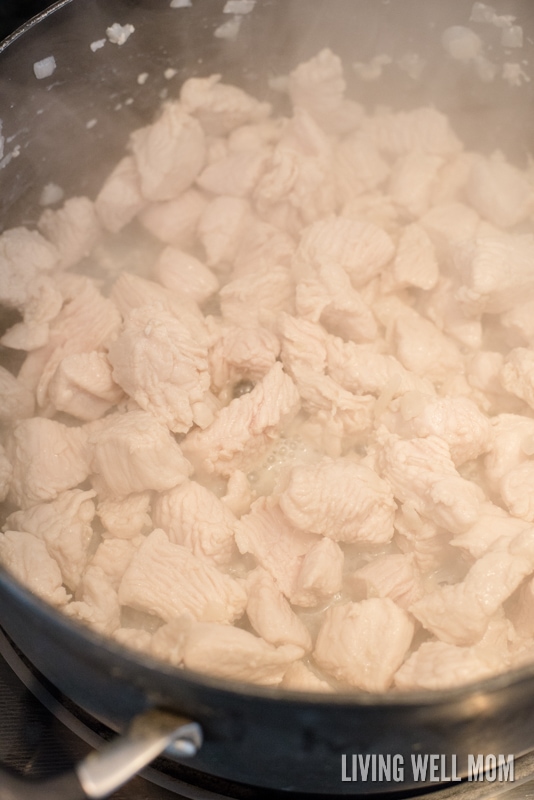 Add the diced onion (I highly recommend buying frozen already chopped onion – you'll save yourself the eye-watering hassle of chopping yourself) mid-way through the turkey cooking.
When the turkey is cooked, add the taco seasoning and stir.
Add the black beans, corn, green chiles, and enchilada sauce and stir.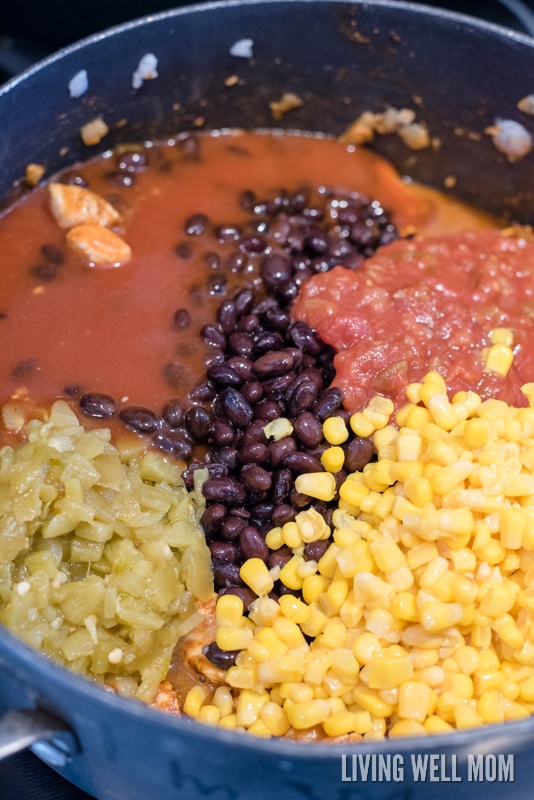 Add the quick-cooking rice (you can use regular long-grain rice
, but it will increase your cook time by 15-20 minutes).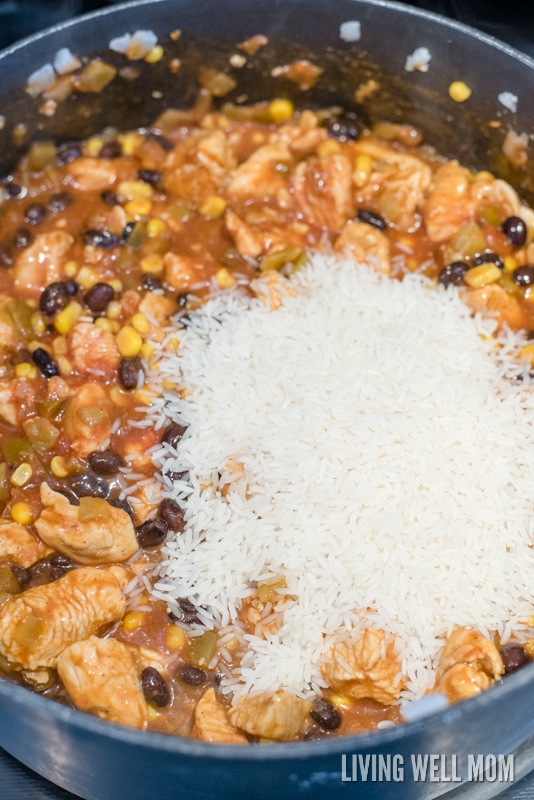 Stir well and reduce the heat to medium-low.
Stir every couple of minutes so the rice doesn't stick to the bottom and burn until the rice is cooked through. This will take about 10-15 minutes, depending on how quick-cooking your rice is.
Stir in the cheese and remove from the heat. Let sit for about 5 minutes to cool slightly.
Serve with your favorite toppings – shredded cheese, sour cream, green onions, avocado, etc.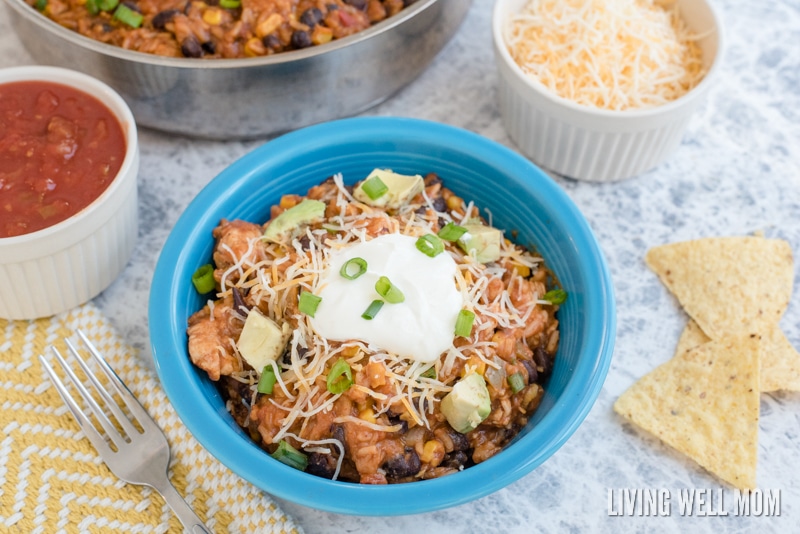 We often eat our turkey enchilada casserole over tortilla chips.
My husband commented that this would make a great hearty dip too and I agree!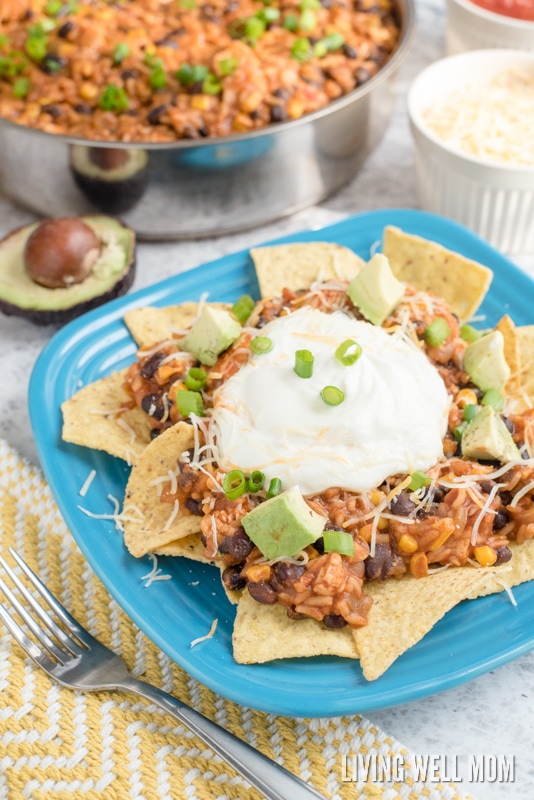 this heart, gluten-free dip is absolutely delicious and doubles as a tasty Mexican dinner!" width="534″ height="800″>
Print
One-Pot Turkey Enchilada Casserole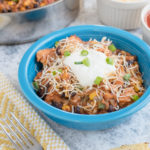 This hearty, gluten-free, one-pot dinner is ready in 30 minutes or less from start to finish and easy enough for Dad to make. Kids love this Mexican dinner too!
Author:
Prep Time:

2 mins

Cook Time:

30 mins

Total Time:

32 mins

Yield: serves

10

1

x
2 Tbsp

avocado oil (or your favorite cooking oil)

2

–

2.5

lb turkey breast

1/2 cup

diced onion (use frozen for faster prep)

1

–

2

packets taco seasoning or 4-5 Tbsp homemade taco seasoning (to your taste)

2

15oz cans black beans, drained and rinsed

1

15 oz can canned corn

1

4.5oz can minced green chilies

1 cup

salsa

19oz

can enchilada sauce

1 cup

10-minute rice

1 cup

shredded Mexican cheese or cheddar cheese
gluten-free tortilla chips
Your preferred toppings: shredded cheese, sour cream, avocado, olives, etc.
Instructions
Heat a saucepan with the avocado oil over medium high heat. Cut the turkey breast into small pieces and saute until cooked through. Midway through cooking, add the chopped onion. When the turkey is cooked, add the taco seasoning.
Add the black beans, salsa, corn, green chilies, enchilada sauce, and rice. Stir well.
Reduce heat to medium and cook, stirring every few minutes, until the rice is cooked through. Be careful not to let the bottom scorch. If the casserole begins sticking, reduce the heat further.
When the rice is cooked through, remove from the heat and let sit for about 5 minutes.
Serve over tortilla shells and top with desired toppings.
Notes
Note: This recipe makes a lot and is great as heated leftovers the next night. It will also thicken more overnight.