We all know that moms are superheroes. They dedicate every ounce of their day to their kids and ask for nothing but love in return. But what we don't see is the constant stress, worry, and self-doubt that moms endure every day in order to lead the way. That's where positive affirmations for moms come in.
I am just as guilty of putting myself down at times. Whether it's when I feel like a failure for not getting everything done in the day or that I worry I am not a good enough mother when my child erupts in tears. But I am only human – and so are you.
Affirmations for new moms are one of the first things I suggest when someone tells me they feel as though the weight of the world is on their shoulders. Practicing them has made a drastic difference in my life, and today I wanted to share with you some of the positive affirmations for moms that I use every day.
Trust me, if you are an exhausted mom running on empty…I've been there. This helps.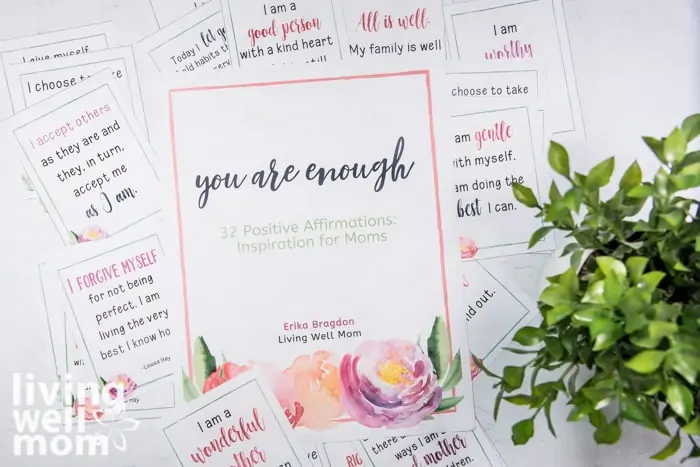 What Are Positive Affirmations?
Affirmations, in general, are statements that you repeat to yourself, good or bad. So often in our days, we say negative affirmations to ourselves without even realizing it. Think, I can't do that, or I'm such a terrible mom. They come up as small blips, happening without thinking. It's our subconscious at work revealing those negative thoughts we try to suppress.
Positive affirmations are the opposite. Unfortunately, we don't often think of positive thoughts subconsciously and must make more of an effort to tell ourselves the good we see reflected back at us.
The positive statements are either things that are already true or that you want to become true. You don't say it because you are looking for praise, but because you aspire to be the statement. Just by saying these things out loud, you are rewiring your subconscious. You are the master of your own narrative here!
It's important to note that positive affirmations should not be a to-do list item. Instead, they are meant to motivate you and be a strong moment of pause in your day that you dedicate to yourself.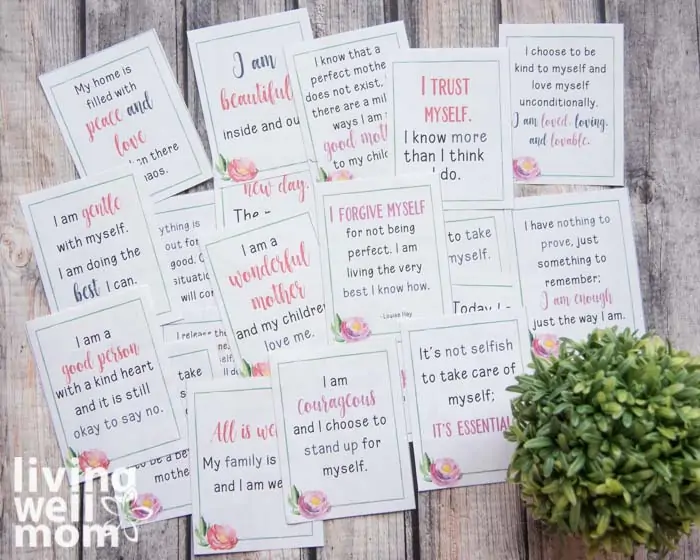 How Do They Help?
You will need patience when it comes to reciting positive affirmations. It can take a while to reverse all the negativity that has accumulated in your mind. Repetition is key. Performing these affirmations regularly will create long-lasting change.
I've been practicing positive affirmations for 5 years now, and it has made a world of difference in how I see myself. I noticed a change in my confidence levels, self-esteem, stress levels, and overall mental health. With just a minute every day, it's one of the easiest ways to make a difference.
To begin practicing positive affirmations, pick a few of the positive affirmations for moms down below that resonate with you. Start with one a day. I like to recite my affirmations in front of the mirror. You can make it part of your morning routine or say them whenever you feel like you need the extra boost.
I won't lie; it will feel bizarre at first. This is your brain refusing to acknowledge the positive statements. You can try to rephrase things at first to make them feel more natural. Instead of a statement, turn it into a desire. For example, change I am strong and powerful into I want to be strong and powerful.
We are taught to be humble and to put others first. But now is a time for you to learn to love yourself.
This is a great activity to model for your kids too. You can set apart some family time for affirmations where you each do your own. Grab the affirmations for kids here, and my positive affirmations for teens here.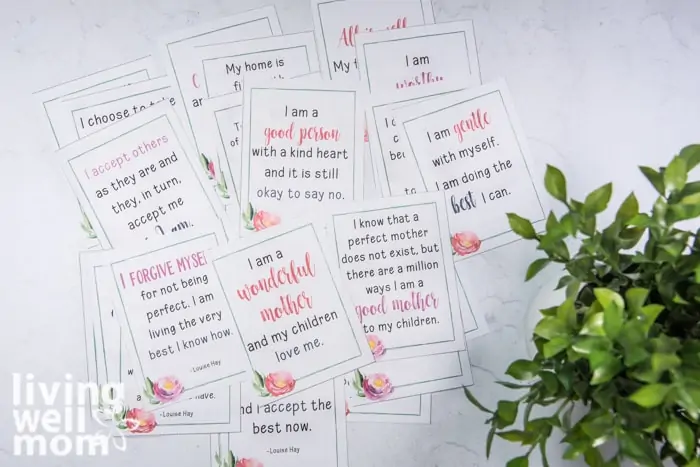 25 Positive Affirmations For Moms
I am more than enough. – Kris Carr
2. Regardless of my setbacks, I always have a comeback in me. – Kris Carr
3. I accept myself.
4. I am strong, able, and calm.
5. I stand up for myself.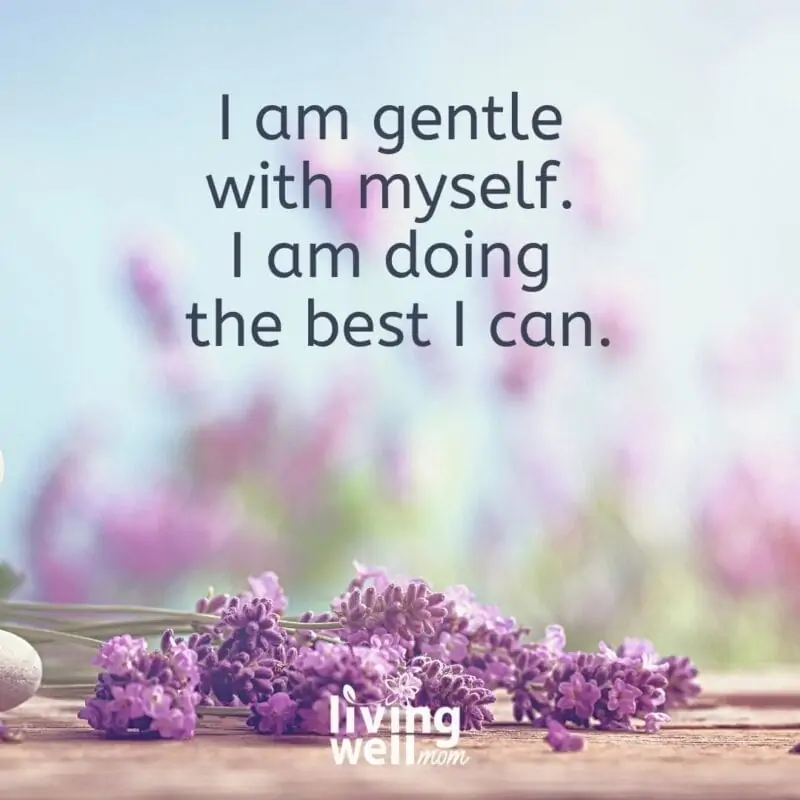 6. I build new healthy habits for a bright future.
7. I focus on the positive.
8. I know that taking care of myself makes me the best mom I can be.
9. It is okay to ask for help when I need it.
10. I am proud of myself.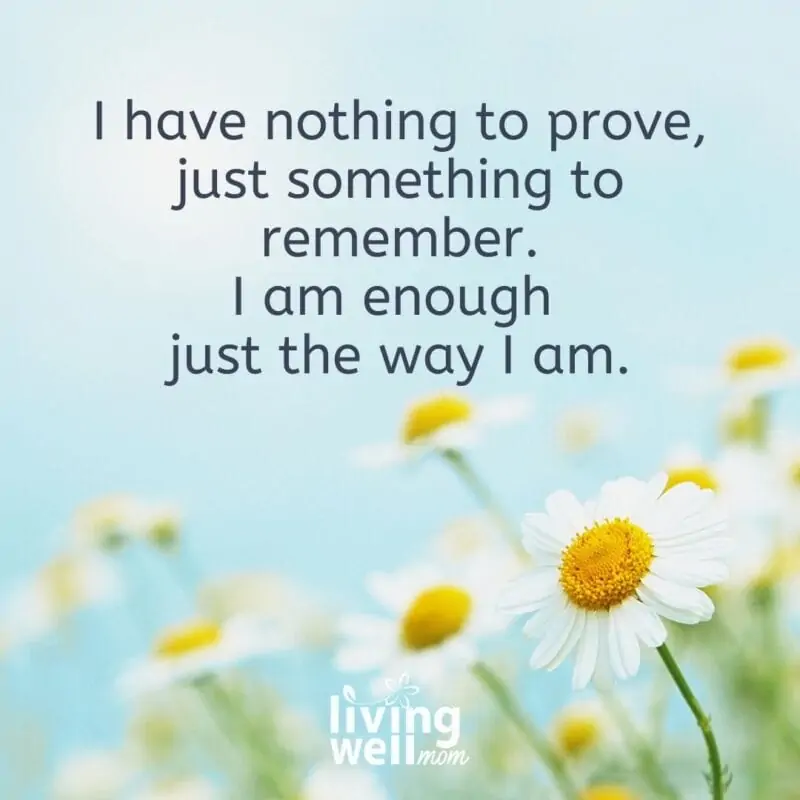 1. I am good to myself.
12. I don't waste my energy worrying about things that are out of my control.
13. I am worthy of great success.
14. I am a positive spirit.
15. I can do anything, but not everything.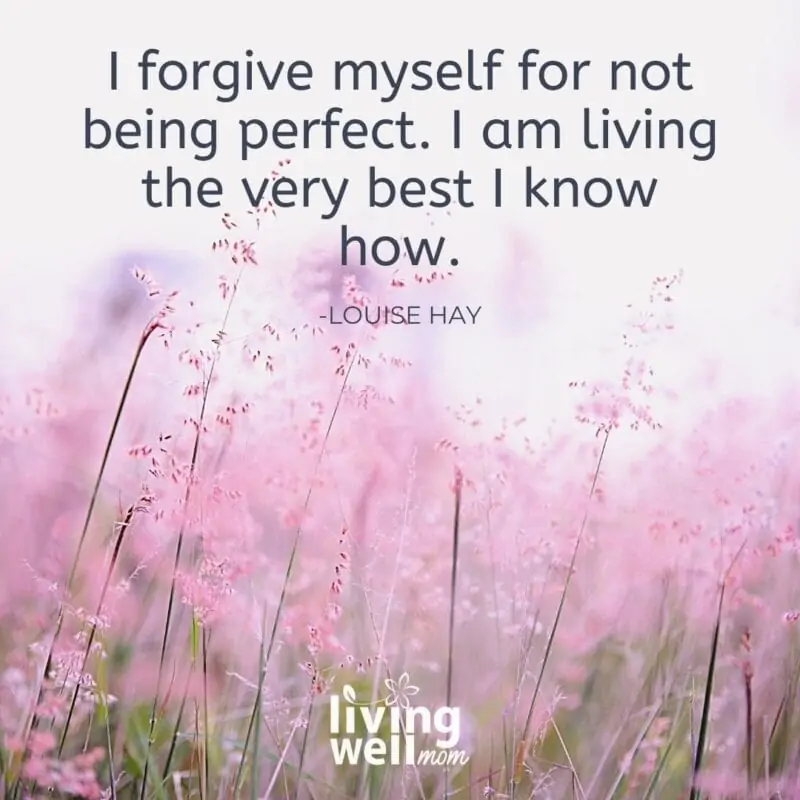 16. I will look forward, not back.
17. I become more confident every day.
18. I am above negative thoughts and reactions.
19. I have wisdom and guidance.
20. I woke up this morning for a purpose.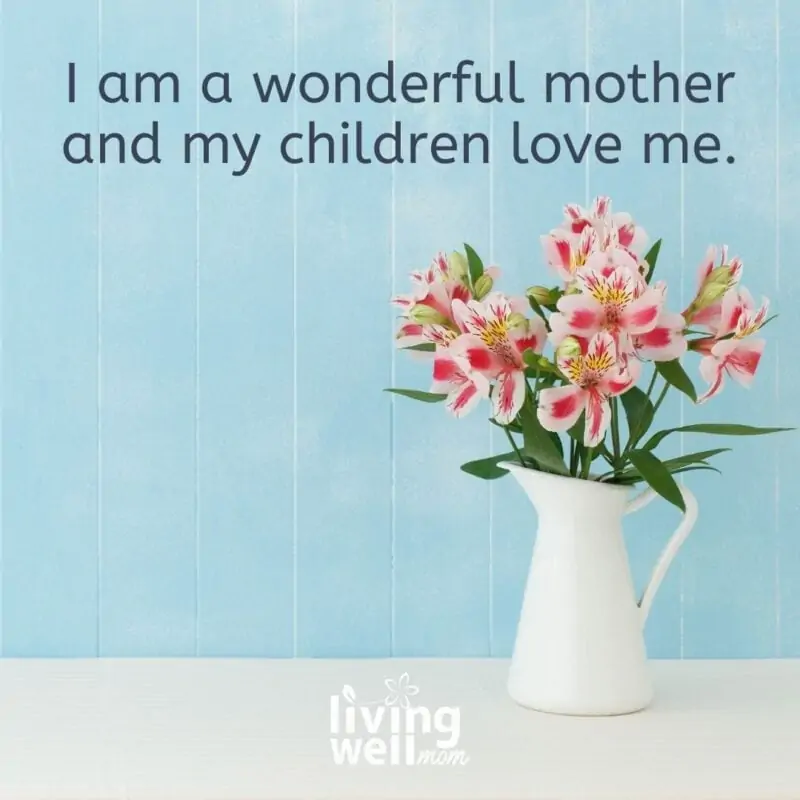 21. I do not need to be perfect.
22. I inspire my children every day.
23. I will not let my anxiety control the way I feel and react.
24. I am a mom, I am human, and I make mistakes.
25. I have faith that I am on the right path.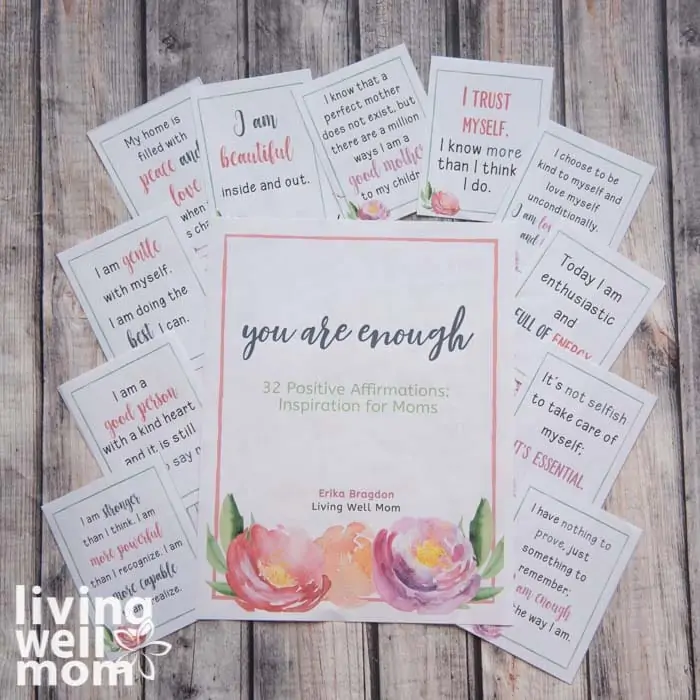 Printable Positive Affirmations for Moms
Positive affirmations are more than just pretty words; they help your mind focus on positive truths that will stay with you and help you be your absolute best.
These positive affirmations for working moms, stay-at-home moms, young moms, and everything in between are just the tip of the iceberg. To make things easier, I have already laid my go-to positive affirmations in an easy printable.
The You Are Enough: Positive Affirmations for Moms cards come with 32 printable affirmation cards, one for every day of the month – as well as a bonus. You simply print them out, cut out each affirmation, lay them in a stack where you won't forget them, and begin creating your new narrative full of light and positivity.
Get your own printable affirmations for moms here. And remember to be kind to yourself, mama!
Pin the image below to save this post for later.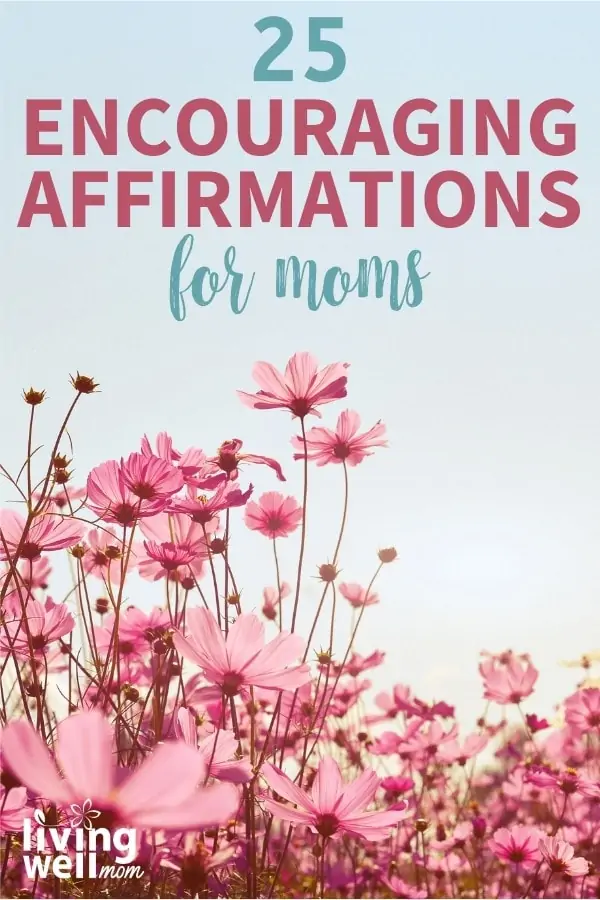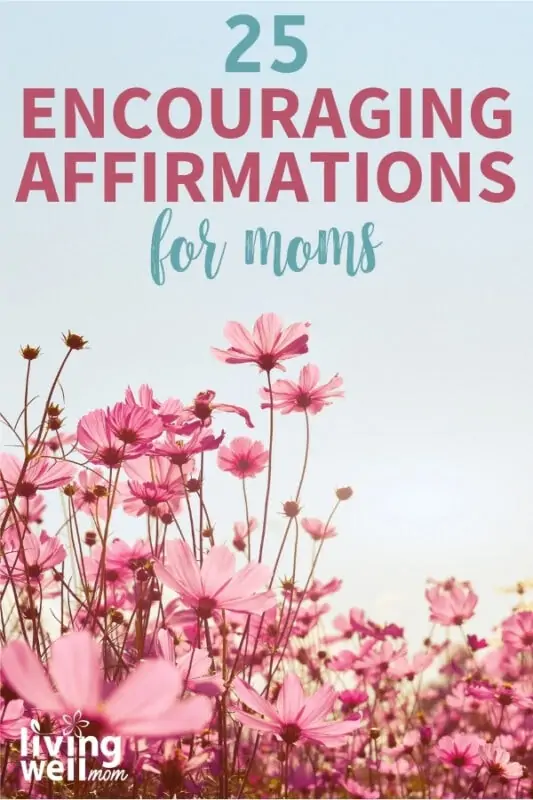 More Encouragement for Moms: