Looking for a way to boost your child's confidence or sense of self-worth? Look no further than these affirmations for kids! These simple, meaningful phrases will affirm your child, helping them develop into a healthy and happy individual.
Wait…why do we need affirmations for kids?
Before we get into the affirmations, let's talk about why we even need them in the first place. Why affirm a child?
Well, just like us adults, your little ones can often struggle with anxiety, self-doubt, and fear. While we'd all love to bubble wrap our kids and only let them hear how amazing they are, the real world can be rather harsh.
And to save our kids from feeling this emotional pain as best we can, affirmations are a great way to boost confidence and affirm self-worth.
Affirmations help build confidence. They can give your child positive motivation to succeed and follow their dreams. Affirmations also remind the recipient that they are worthy and capable of great things.
And affirmations can even help your child cope with difficult emotions, such as fear. Kids may struggle with feelings of inadequacy sometimes, especially if feeling inferior to peers. Affirmations can give them a reminder that negative feelings will pass and they are still strong and oh-so-worthy!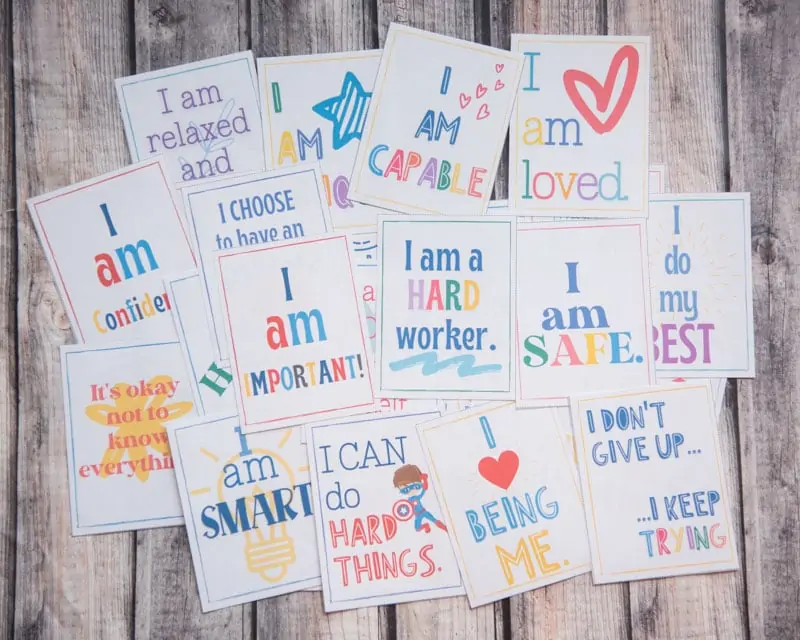 How to Use Affirmations for Kids
So affirmations are a great idea, but how exactly can you use affirmations for kids? Easy!
Affirm your child with simple phrases. You don't have to be Shakespeare or even Dr. Suess in order to affirm your child; just affirm them by reading some positive quotes for kids outloud.
The key here is to be consistent.
Kids have two things going against them when it comes to affirmations:
1. Negative comments have a greater impact. It's much more difficult for kids to shrug off an insult than it is for us as adults, which means their self-esteem suffers if they hear negative comments often.
2. They may not want to hear the affirmations. You know that whole selective hearing thing kids have? It comes into play here too. When adults choose to practice affirmations, they are very intentional with listening to them. Your kid…not so much, probably.
The Power of Repetition
So, what can we do to help our child take in these important words? Say them over and over!
Repeating affirmations to kids is effective. Just as affirmations help affirm your self-worth, affirmations for kids work because they affirm the child's sense of self-worth. So if a positive affirmation is said just once and never repeated, it probably won't do much good.
However, affirmations can be very powerful when said often.
This is because affirmations for kids work on the principle of repetition; affirmations are a "nudge" to the subconscious mind.
An affirmation that is repeated over and over will begin to shift your child's perception of themselves from negative to positive.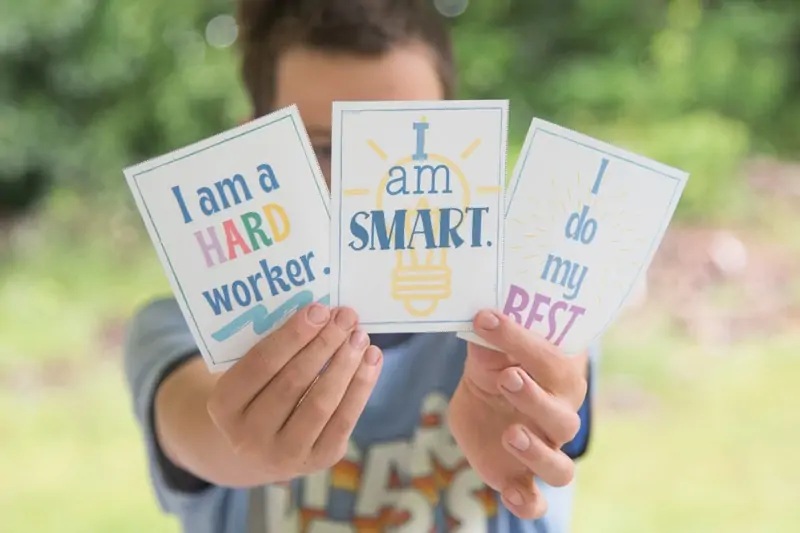 Tips for Sharing Affirmations with Children
As discussed above…repeat them often!
If you have a child who can read, hang the quote in a high-visability area such as the fridge or a bathroom mirror.
Put the affirmations in a fun font or color so they are more appealing to kids.
Have the child repeat the affirmation back to you after you say it.
Make it a part of your daily routine. Whether you opt to do it first thing in the morning, right before drop off, or in the evenings before bed, be consistent.
If your child is old enough, you could even consider making affirmational flashcards and reading them together each night before bedtime. This will give you some quality time with your kiddo while reinforcing positive affirmations.
Make sure your child sees you practicing your own affirmations for moms too!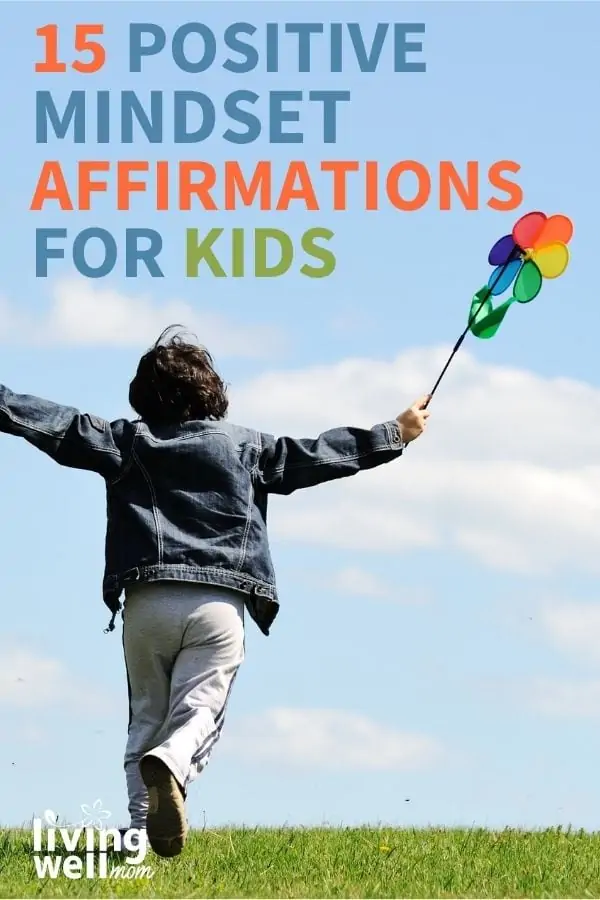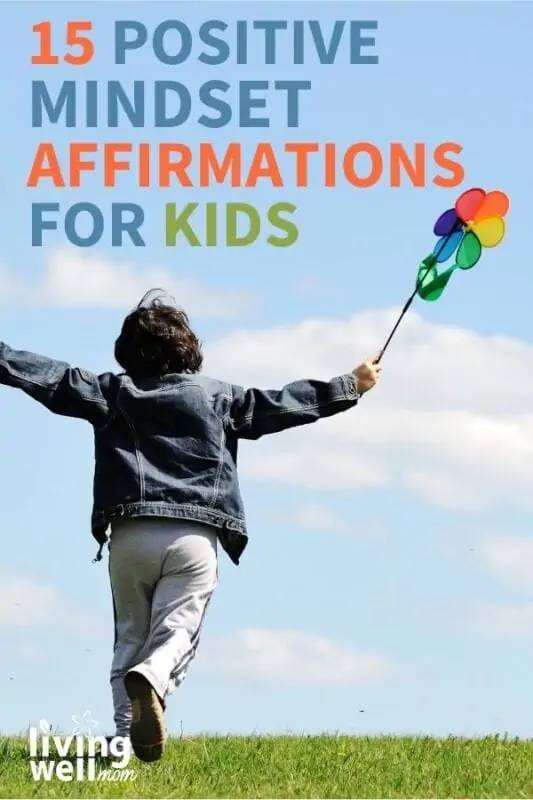 15 Positive Quotes for Kids
Here are some affirmations to get you started:
I am confident.
It's okay not to know everything.
I am smart.
I can do hard things.
I love being me.
I don't give up…I keep trying.
I do my best.
I am safe.
I am a hard worker.
I am important.
I am loved.
I am capable.
I am unique.
I can do anything I put my mind to.
I am proud of myself.
Printable Affirmations for Kids
Positive affirmations are powerful. They can shape your brain into something that's accepting and optimistic, a major key to happiness.
I know what it's like to watch your child struggle with self-doubt and it's absolutely heartbreaking!
But affirmations for kids truly are one of the most powerful tools you have as a parent. They help your child build confidence, affirm positive feelings, and affirm their sense of self-worth.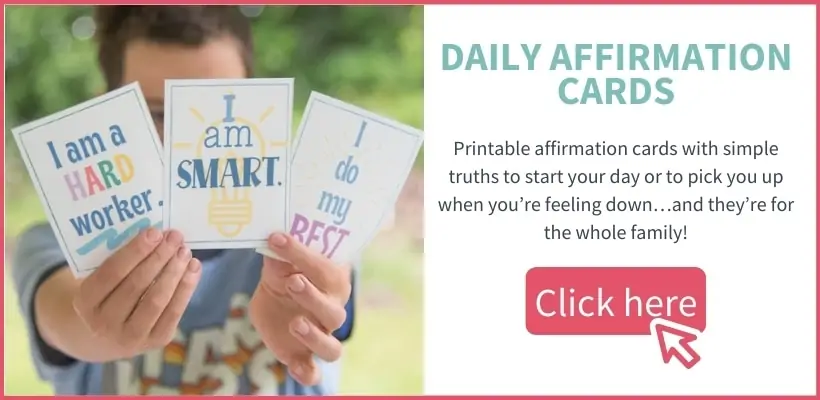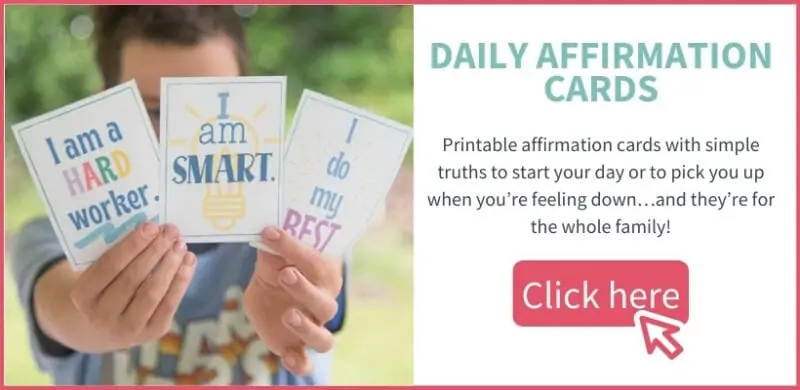 That being said, it can be a bit overwhelming to get started. To make it super easy, I have a gorgeous affirmations printable bundle made just for children!
These positive affirmations are simple enough for very young children to memorize, while also being deep enough to create a root of confidence that will flourish for years to come.
This bundle of 31 affirmations for kids features a kid-friendly design that your little ones will be drawn to. There's enough to do a new one every day of the month, or you can simply focus on the ones you need the most in this season.
To use them, simply download the bundle, print off the affirmations, and hang them up somewhere they can be seen each day.
While you're at it, make sure to take care of yourself too. This set of printable affirmations for moms is so life-giving!
Have older children? These positive affirmations for teens work wonders.
Pin the image below to save the affirmations for later.