If you need a comprehensive list of gluten-free candy options, I've got you covered! Here's my ultimate list of every type of gluten-free candy – it includes chocolate bars, candy corn, and everything in between. If you're gluten-free, check out these great options for Halloween, Christmas, Valentine's Day, or any occasion!
Often when people decide to go gluten-free for whatever reason, there's a sense of loss because they think they can't enjoy some of their favorite treats. And holidays (like Halloween) are one of those times when kids tend to feel that sadness most acutely.
But I have great news! A gluten-free diet doesn't mean your child can't enjoy any candy ever again!
Whether they want to enjoy sweets for Halloween, Christmas, Valentine's Day, birthday parties, or regular special treats throughout the year, there are plenty of gluten-free candy options that your child can enjoy without worrying about a tummy ache or other issues later on.
As everyone in the gluten-free world knows, limiting your gluten intake can be a challenge. It seems like reading labels has become a pastime. Memorizing the hidden names of gluten-derived ingredients is an ongoing process.
Well, here's an area where you can put down your reading glasses and step away from the fine print of the package labels. I have spent time researching the matter so that you don't have to, and I have put all my findings together in one list!
Use this gluten-free candy list as an easy reference list to help you know quickly and confidently which candy is safe for your child (and you) to eat (or avoid).
Gluten-free safety note
Use this list as a guide only – recipes and ingredients can change at any time. This list only includes candy that contains no gluten in its ingredients.
This doesn't mean, however, that there isn't any cross-contamination with equipment. Some brands avoid cross-contamination, while others do not. Additionally, this is for candy in the United States because ingredients may vary in other countries.
Also, some candies are gluten-free year-round, while others may be gluten-free only seasonally because the manufacturer uses a different plant for seasonal candy creation, and there can be cross-contamination. One prominent example of this is seasonal Reese's Peanut Butter Cups (eggs, pumpkins, trees, hearts), which are not gluten free, even though their standard peanut butter cups are.
I have included notes throughout this list. If you have ANY questions, please research it more thoroughly to be sure.
Finally, although wheat is one of the eight allergens that are required to be highlighted on the ingredients label, gluten is NOT. Gluten is found in wheat, rye, barley, and some oats. If you see barley malt listed in the ingredients, that candy is NOT gluten-free.
Take this list and use it as a starting point. Make notes or cross off items that may not work for you based on your needs and sensitivities!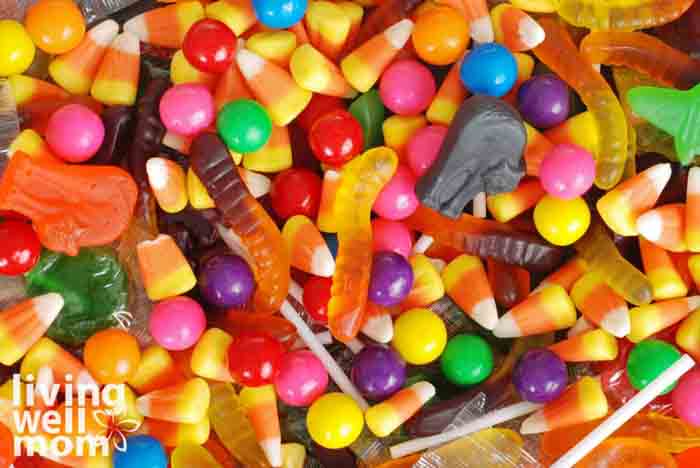 Most popular gluten-free candy
Here are some of the most popular gluten-free candy options to enjoy:
Chocolate Gluten-Free Candy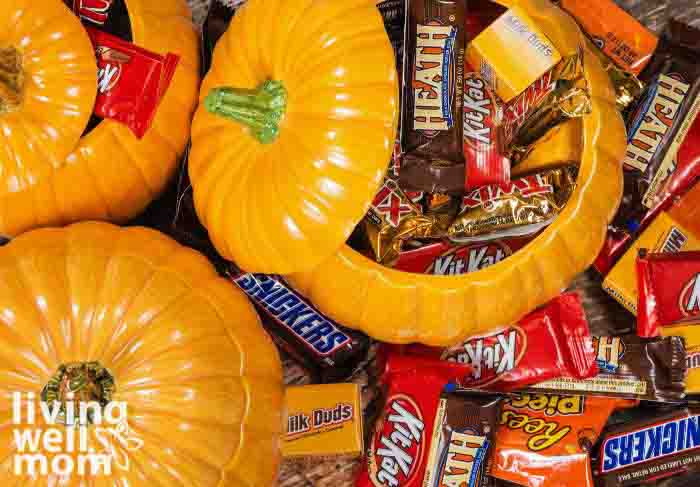 Love chocolate (me too!)? These candies are good options:
Halloween Gluten-Free Candy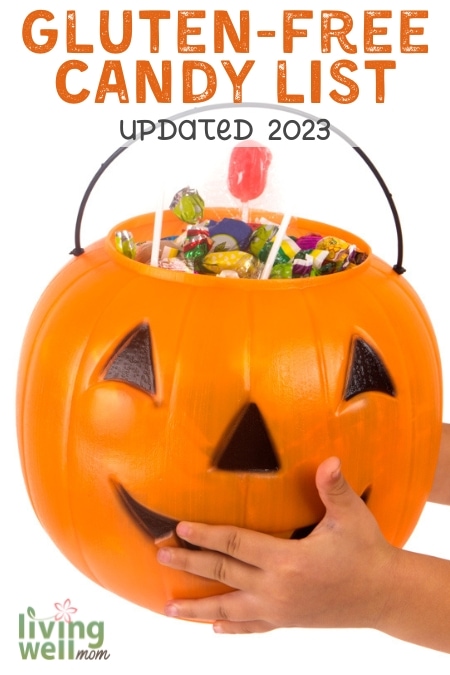 Trick or treat! In addition to the candies mentioned above, these popular Halloween candies are generally safe for a spooky good time:
Christmas Gluten-Free Candy
The holiday season is often filled with sweet treats. In addition to the candies listed above, stick with these options to feel your best:
Valentine's Day Gluten-Free Candy
Love is in the air! You and your kiddos will love these GF-safe treats:
Junior Mints (Heart-Shaped)
Lifesavers Candy 'n Stickers
Easter Gluten-Free Candy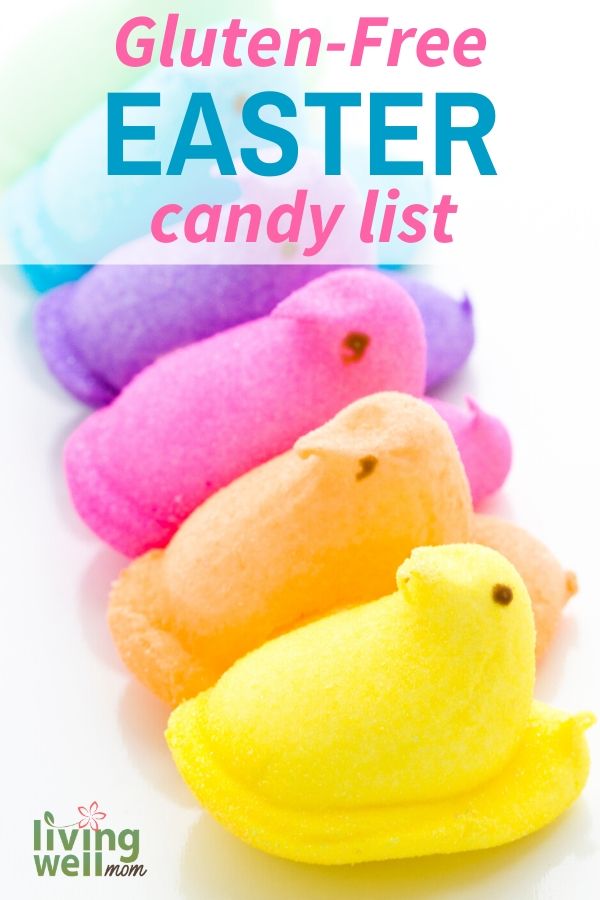 In addition to the candy options listed above, celebrate the holiday with these gluten-free candy options:
Starburst jelly beans (original, tropical, red fruits)
Peeps – All colors except Rainbow are safe.
Cadbury Cream Eggs – According to celiac.com, most (if not all) Cadbury Cream eggs are gluten-free
Dove chocolates

Dove chocolate eggs
Dove hollow chocolate bunnies
Dove solid chocolate bunnies
Dove truffle eggs

Almond Joy eggs
Mounds eggs
Reese's peanut butter

Reese's Easter peanut butter eggs, including white and miniatures
Large Reese's bunny (LARGE only – The mini-sized bunnies are unsafe, according to celiac.com
Avoid the foil-wrapped mini eggs because those do contain gluten.

Starburst – Easter fruit chews
Candies that are NOT gluten-free
Did you know these candies are NOT gluten-free?
Gummy bears are typically NOT gluten-free
Wonka Everlasting Gobstoppers
Wonka Gummies
Wonka Nerds are NOT gluten-free
Of course, there are a bunch more candies that are not safe, but I wanted to let you know about those 3 Wonka candies because I thought they were gluten-free until I checked more closely.
Gluten-Free Candy FAQs
If you're new to the gluten-free world (or even if you're experienced), there are probably at least one or two questions about this topic floating around your brain. Here are the questions I see most often from readers.
Are Snickers bars gluten-free?
Yes, according to the Snickers website, all Snickers, including Snickers Dark, fun-size, and minis, are gluten-free!
Are Lindt or Lindor Chocolate gluten-free?
It appears that most of their chocolate, including their popular truffles, are NOT gluten-free.
Their website states: Gluten can be found in several premium chocolate products that Lindt & Sprüngli produces; either as a cereal ingredient or as a barley component. For consumers who are sensitive to gluten, we do offer certain premium chocolate products that are manufactured without cereal or barley malt, which may be suitable for consumers with such dietary restrictions. These offerings include our white chocolate products, as well as high cocoa content chocolate bars from our EXCELLENCE line – 70%, 78%, 85%, 90%, 95% and 99%.
Are M&M's gluten-free?
M&Ms, except for the pretzel, crispy, and seasonal items, are gluten-free.
Are Reese's gluten-free?
All Reese's items are gluten-free, with the exception of seasonal items.
Are Butterfingers gluten-free?
As of writing, original Butterfingers are gluten-free, BUT all other Butterfinger flavors are NOT. From candy bars to candy corn, you'd be surprised at how many allergy-friendly options there are out there. I hope this list helps reduce the time you spend figuring out what you and your kids can eat so that you all can spend it enjoying those tasty morsels!
More Gluten-Free Ideas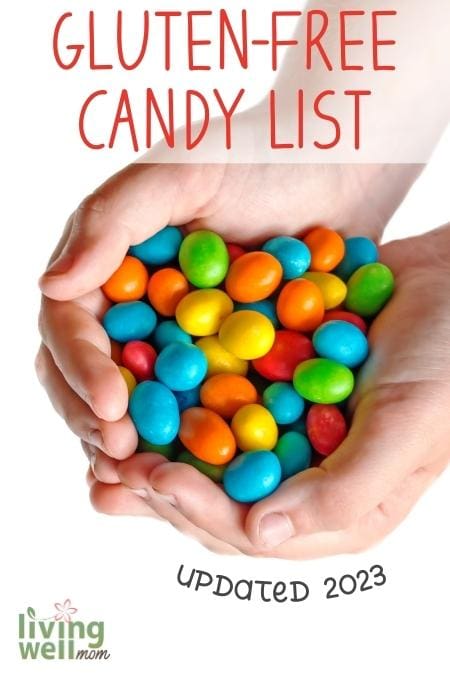 What's your child's favorite gluten-free candy? Know of any I missed? Leave a comment to share, and I'll update the list.