Looking for gluten-free lunches for your kids? These back to school gluten-free lunch ideas are easy, allergy-friendly, healthy, and delicious that even picky eaters will like!
My whole family was on a gluten-free diet at one point and I know how tricky it can be to pack a variety of gluten-free school lunches for your kids and keep it simple. That's why I've created this list to give you lots of ideas.
Now, you don't have to research for hours to find something your child will eat and is allergen-friendly; you can find all the yummy easy ideas you'll need right here!
Of course, you could have your child order school lunches (most public schools have to accommodate dietary restrictions and provide gluten-free lunches), however, if your child has celiac disease and is extremely sensitive to gluten, that may be a risk you're understandably not willing to take.
Or if your kids aren't that sensitive, you may find the cafeteria school lunches boring, not as nutritious, and expensive for what you get. Personally, that's why my kids never bought lunches from school.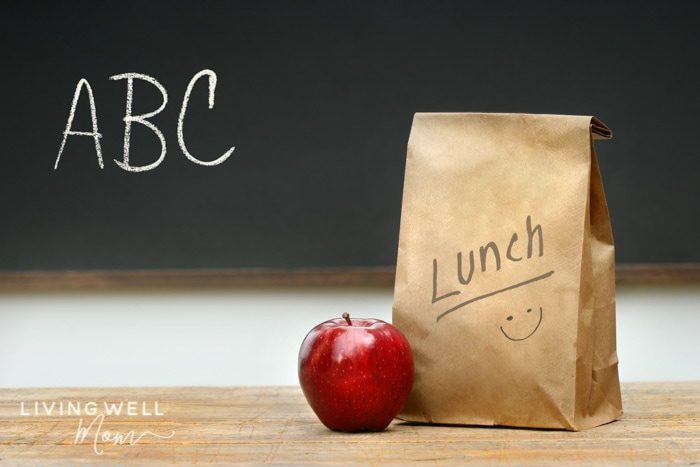 Packing a Gluten-Free School Lunch
How do you pack a gluten-free lunch for school?
This was one of the overwhelming questions I had when my kids first started eating gluten-free. But it's really not that hard.
You can pack a gluten-free lunch very much like a regular school lunch except you're substituting gluten-free ingredients.
Just be sure you always check the labels before you serve your child a new food. You might be surprised at the random foods that DO contain unexpected gluten.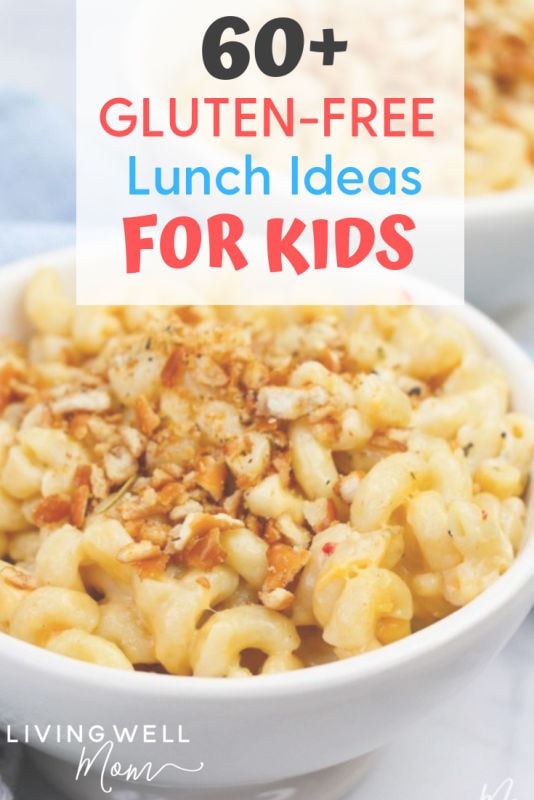 Gluten-Free Lunch Ideas
Let's start with the main protein part of your child's lunch.
Protein:
Deli meat roll-ups with a cheese stick *choose lunch meat that is gluten-free. You'd think they all would be, but some brands may have a sneaky ingredient or two that isn't wheat-free
Eggs – hard-boiled, scrambled, egg salad / add a cooked cut-up hotdog for more flavor and protein
Peanut butter or sun butter and jelly on a corn tortilla or gluten-free bread.
Mikey's Pockets
These tasty Hot-Pocket-type pockets are not only certified gluten-free, they are also dairy-free and certified Paleo-Friendly as well.
Mikey's sent my family a few samples to try out, including Mikey's Pizza Pockets in both Cheese and Pepperoni and their new Egg, Cheese, and Ham Breakfast Pockets. We absolutely LOVED them!
As a busy mom, I was happy with how quick and easy they are to prepare. Mikey's Pockets are frozen and you simply pop them in the microwave for 2 minutes and they're ready! They are PERFECT for busy school mornings when you're rushing the kids out the door to get to school on time.

It's not easy to find convenient food when you have dietary restrictions and Mikey's not only has both convenience and allergen-friendly food, it's also delicious!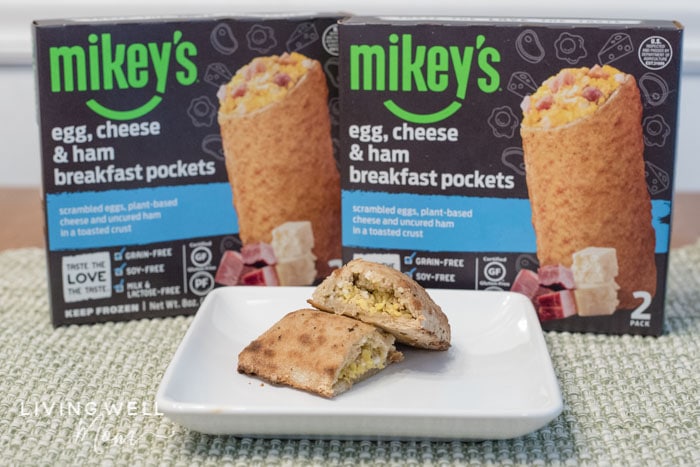 And Mikey's Pizza Pockets make a perfect delicious filling gluten-free lunch idea for kids! So easy and yummy. My children all loved them and couldn't decide which flavor (pepperoni or cheese) they loved best.
Either way, if you're looking for an easy gluten-free lunch idea, Mikey's is a delicious option and we highly recommend them!
Learn more about Mikey's food here. Find a store near you that carries Mikey's by visiting their "Where to Buy" page.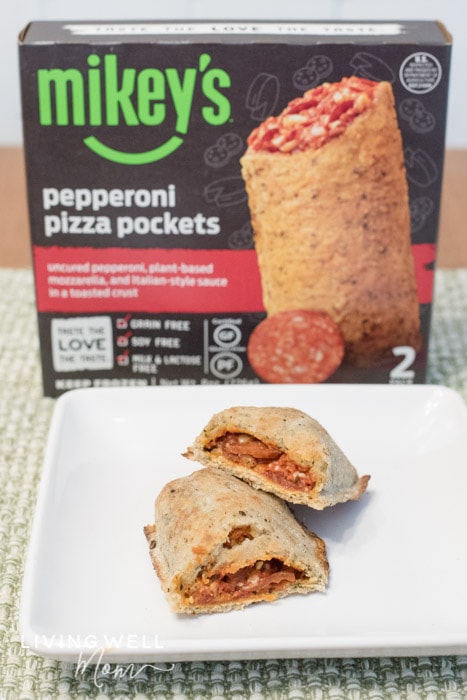 Hotdog, by itself or with a gluten-free bun
Leftover taco salad
Sausages (check for gluten-free)
Tuna salad on a gluten-free sandwich or with lettuce as a salad
Deli meat wrap with a corn tortilla or gluten-free bread
Grilled cheese with gluten-free bread or try this Grilled Cheese, Ham, and Broccoli
Gluten-free macaroni and cheese – try this instant pot homemade mac and cheese – or you can stick with boxed mac 'n cheese. My kids love Walmart's brand.
Waffle peanut butter sandwich (use gluten-free waffles)
Gluten-free chicken nuggets (buy frozen or make them yourself)
Zucchini Sausage Egg Mini Quiches
Hawaiian Cauliflower Pizza (my kids never guessed it had cauliflower in it!)
Leftover pumpkin chili
Leftover sloppy joes on a gluten-free bun, bread or plain
Leftover Tuna Patties
tuna salad
egg salad
2-ingredient banana pancakes – breakfast for lunch and easy!
leftover enchiladas
waldorf chicken salad with blueberries and grapes
Fruit & Veggies for Gluten-Free Lunches
Banana sliced with peanut butter or sunbutter
Celery with peanut butter or sunbutter and raisins – check out this post for a more creative idea
Raisins, craisins, or dates
Sliced apples with peanut butter or sunbutter
Any fruit (grapes, melons, apples, strawberries, berries, etc.) with this tasty peanut butter yogurt fruit dip
Homemade fruit salad in a container
Acai smoothie bowl in a sealed container – send the fruit in a baggie or other container to be added at lunchtime
Applesauce in a pouch or container
Vegetables with hummus (baby carrots, snap peas, cherry tomatoes, celery, sweet peppers)
Yogurt
Cottage cheese with fruit
strawberry banana smoothie in a covered mason jar
Snacks to include for School Lunches
Gluten-Free Apple Oatmeal Muffins
Peanut butter snack balls or energy balls
Peanut butter date energy balls
Gluten-free Gingerbread Muffins
Banana Snack Balls / Energy Bites
Gluten-Free Pumpkin Streusel Muffins
Granola bars
Gluten-free crackers
Rice cakes
Gluten-free tortilla chips
fruit roll-ups or fruit chews
Gluten-Free Lunch Treats
Gluten-free Chewy Peanut Butter Cookies
Gluten-Free Oatmeal Raisin Cookies
Gluten and dairy-free Chocolate Chip Cookies
Gluten and dairy-free Chocolate Chip Bars
Gluten and dairy-free Fudgy Brownies
Chunky Monkey Banana & Chocolate Bites
gluten-free krispy rice treats
Strawberry rice krispie treats
Supplies for Packing Gluten-Free Lunches
I do NOT recommend:
expensive bento boxes – they're usually too small for anyone older than toddlers and way too pricey especially if you have multiple kids as I do
cheaper plastic bento storage boxes – I've purchased at least 4 different versions and they all leak with the lids not snapping on or breaking after a couple weeks of use. They may be cheaper but it's still a waste of money.
I DO recommend these back to school lunch supplies:
quality lunch bag
reusable storage containers – perfect for sandwiches/wraps or bringing leftovers to school – these containers are inexpensive and have lasted us a long time.
thermos container for leftovers
generic plastic sandwich bags or (if you prefer) reusable storage zippered bags
reusable cutlery (I've given up on these as my kids lose them and it's too pricey to keep replacing 4 sets, but if you prefer reusable utensils, this set is very nice.)
water bottle – there are tons of options now so you'll want to see what works best for your child, but we've had good luck with these styles:
What are your favorite gluten-free lunch ideas for kids?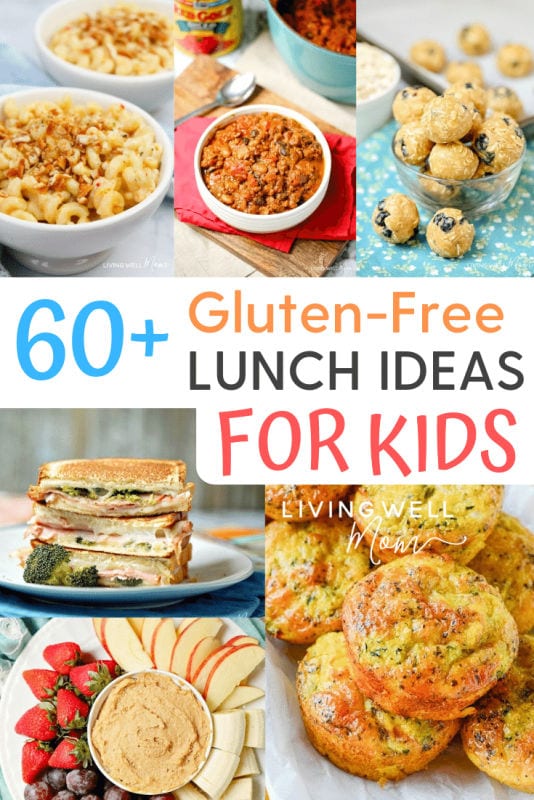 This post is sponsored by Mikey's Pockets. The opinions and text are all mine.