Easy pumpkin chili is simple to make and absolutely delicious. This is a perfectly filling meal the whole family will love during the chilly fall (and winter) months. Plus, it uses fall-favorite pumpkin for added flavor and a boost of nutrients and fiber.
If your family is anything like mine, you probably eat a good amount of chili during the colder months. And why not? It's hearty, easy, and delicious! Plus, all you have to do is serve it with some bread, cornbread, fruit, or a salad for a complete meal!
Since this pumpkin chili recipe is naturally gluten-free and dairy-free, it's a great meal if you have food sensitivities. And it's so delicious that people without food sensitivities love it too.
This version is a little different from my Beanless Turkey and Sweet Potato Chili but equally as yummy and easy to make.
I actively seek out simple meals that everyone can enjoy together, regardless of diet restrictions, and this one definitely fits the bill!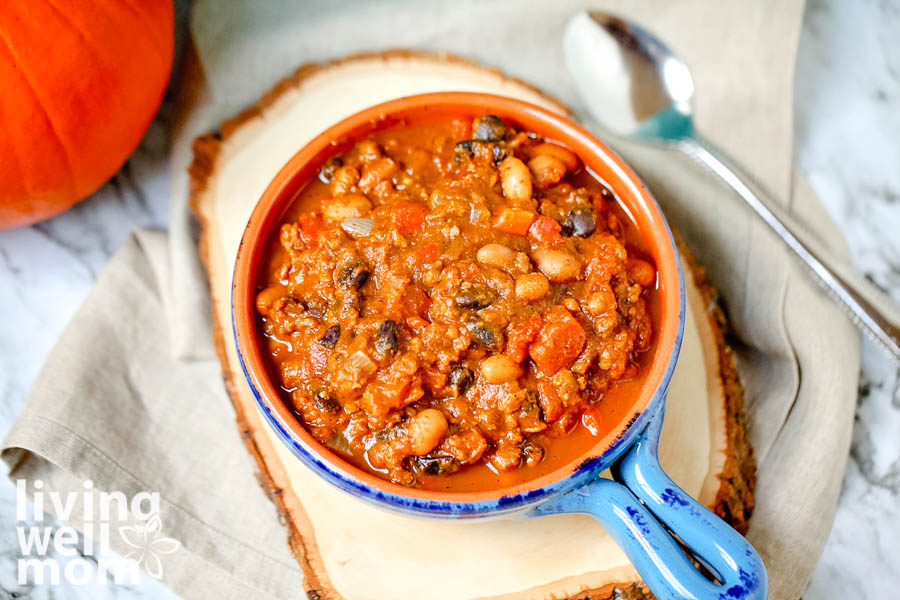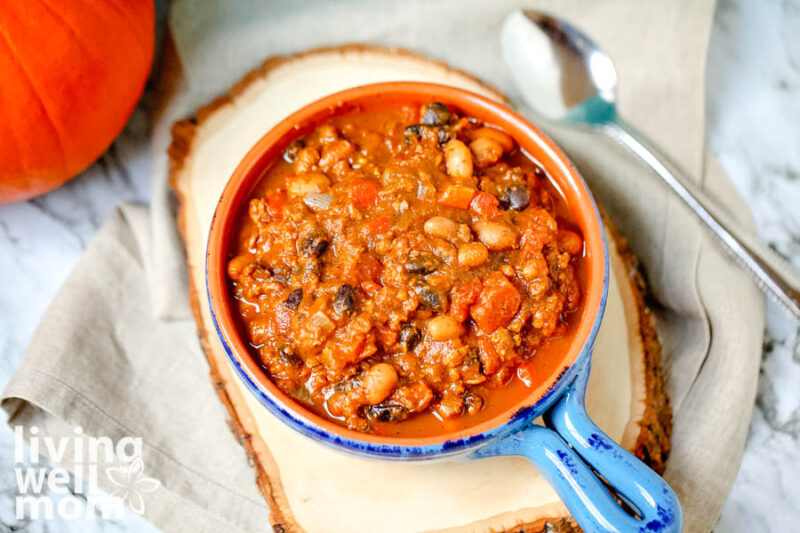 Pumpkin Chili – A Go-To Weeknight Meal Option
As a busy mom of four, my favorite dinner recipes need to fit the following requirements:
Require no more than 30 minutes to make.
Easy to whip up – no complicated steps to lose track of while the kids interrupt and (preferably) not a lot of chopping.
Be nutritious.
Taste delicious!
This easy pumpkin chili recipe hits the mark on every one of those items and more! It's definitely one of my all-time favorite meals, and my entire family loves it too!
(Well, in the interest of full disclosure, I must add my two pickiest kids sometimes turn their nose up at this chili, but they do that with all chili and many other recipes too.)
You can make this dish from start to finish in 30 minutes or less, thanks to using time-saving canned and frozen foods. And, believe it or not, using those foods don't take away any of the nutrition factor either!
And if that's not enough to make you want to try this recipe, this pumpkin chili tastes even better the next day after the flavors have had more time to settle in. It makes for great, easy-to-heat-up leftovers (and school lunches) too!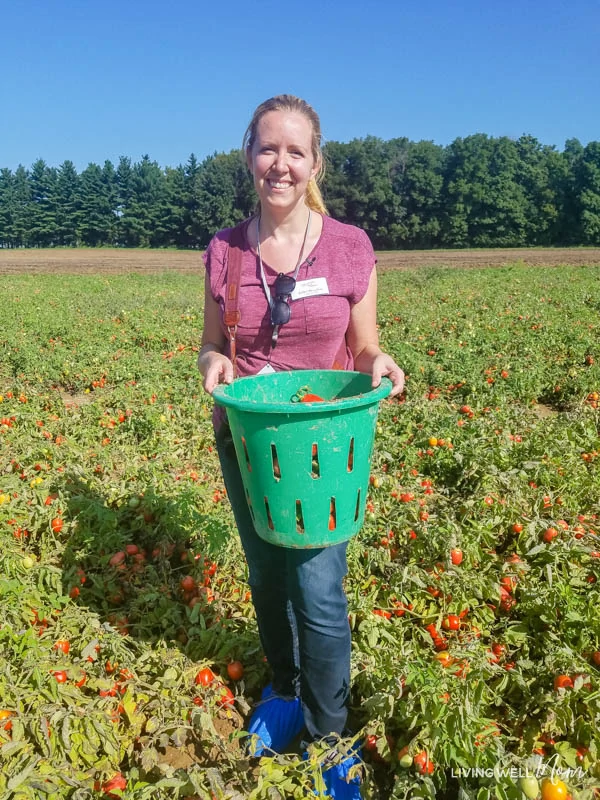 Canned Food Facts
I prefer to use Red Gold, Redpack, or Tuttorosso (the same brand, just different labels) canned tomatoes. I toured one of their family farms not too long ago when I joined the "Farm to Can" tour with Refreshingly Real.
The tour taught me some interesting things about canned food.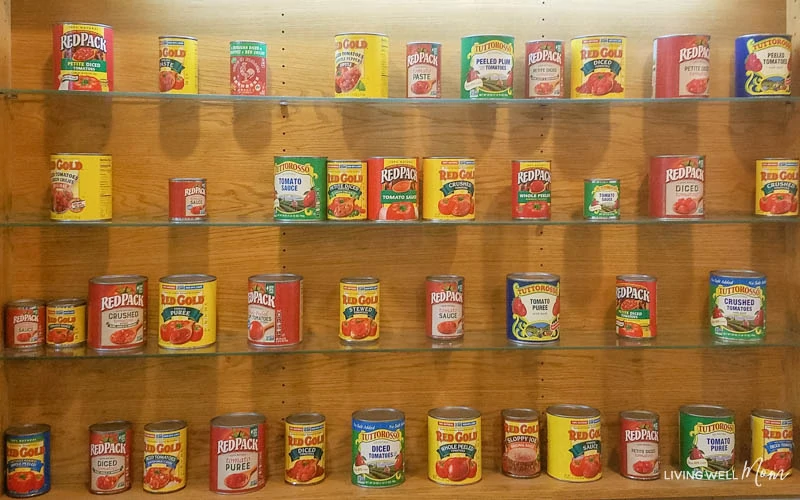 I know that many people feel uneasy about using canned foods. I understand that feeling because I felt the same way, but I recently learned a few things about canned food in general that might ease your mind about using them.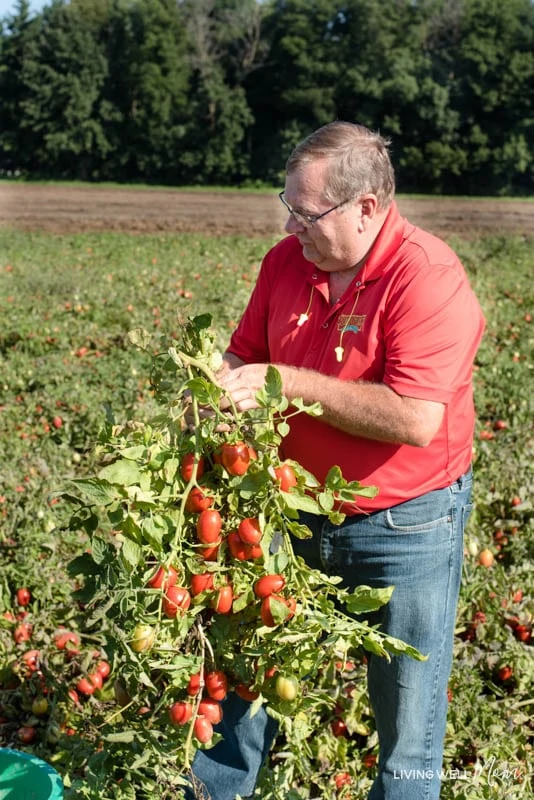 Canned fruits and vegetables are fresh. In fact, canned produce often goes from the field to the can within 4.5 hours, whereas fresh produce often takes 21 days from the field to the store.
Canned produce does not require preservatives or additives and can be preserved with steam.
Cans are made from recycled steel now.
Canned food is actually packed when nutrition levels are the highest because they are canned at the peak of harvest.
90% of canned food in America is now non-BPA, and the remaining 10% will be there soon.
For more info on canned food, read The Truth About Canned Food.
Now that I know all those interesting facts, I readily use canned foods with my family frequently now. It makes my life easier, cooking time faster, and overall we're eating more homemade healthier meals.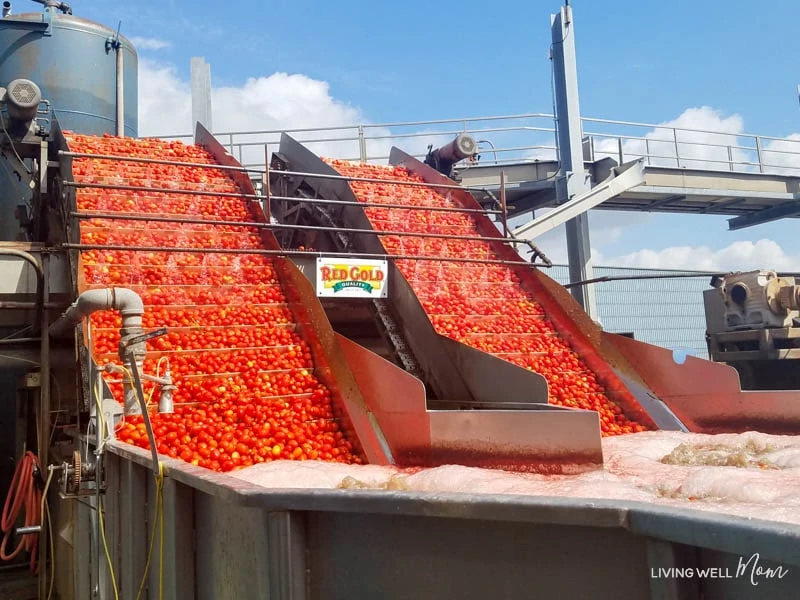 Now, let's chat about how to make this chili!
Easy Pumpkin Chili Ingredients Needed
Please scroll down to the bottom of the post for the full printable recipe.
Dash of olive oil
Ground beef or turkey
Red bell pepper, diced (or use 3/4 cup frozen diced pepper for faster prep)
Onion, diced (or use 3/4 cup frozen diced onion for faster prep)
Garlic cloves, minced
Spices – chili powder, cumin, ground cinnamon, onion powder, chipotle powder (optional, but recommended for a nice smoky flavor!)
Salt and pepper to taste (I use at least 1 tsp salt and ½ tsp pepper)
Pumpkin puree (not pie filling)
Black beans, drained
Pinto beans, drained
Diced tomatoes, not drained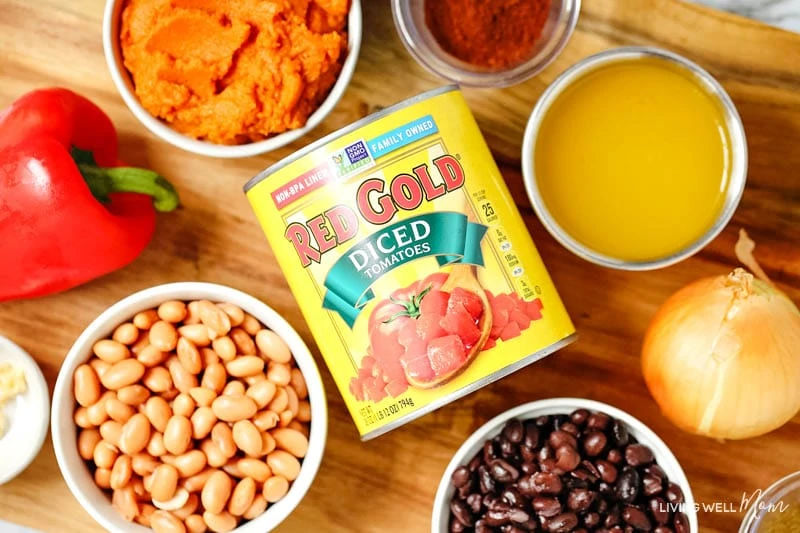 How To Make Easy Pumpkin Chili
Here is the process for making this hearty, delicious family-favorite pumpkin chili recipe.
Step 1
There's not too much prep work – especially if you use frozen veggies. However, if you use fresh, dice the bell pepper and onion before you get started.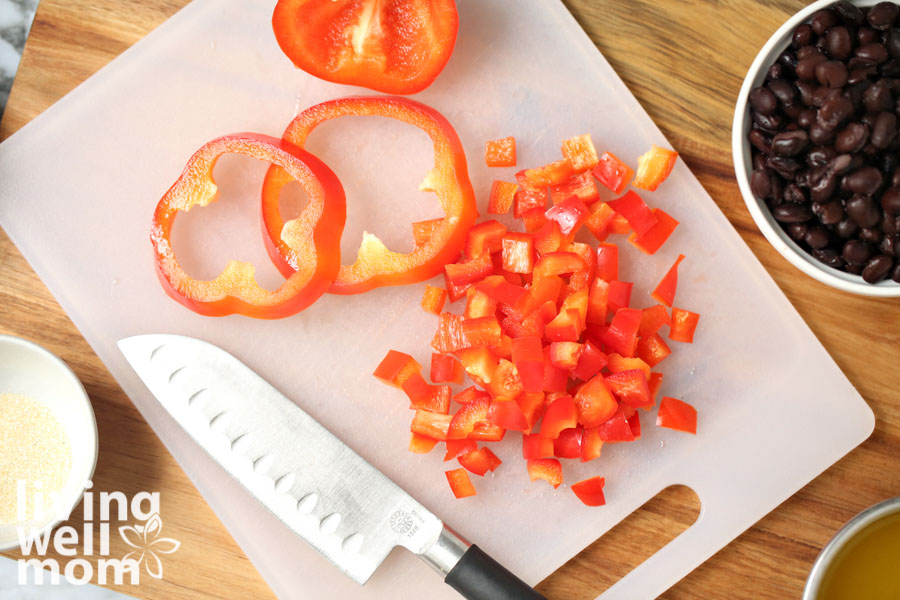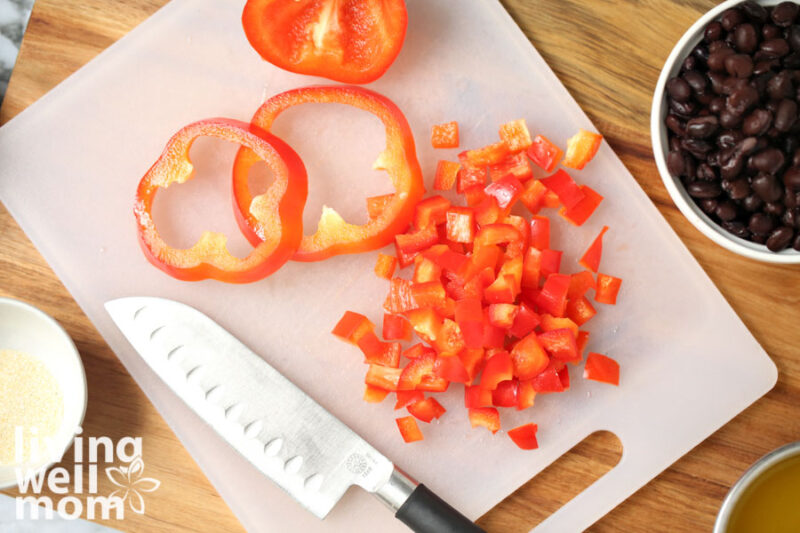 Then, in a large pot or dutch oven over medium heat, brown the meat with the bell pepper, diced onion, garlic cloves, and a dash of olive oil.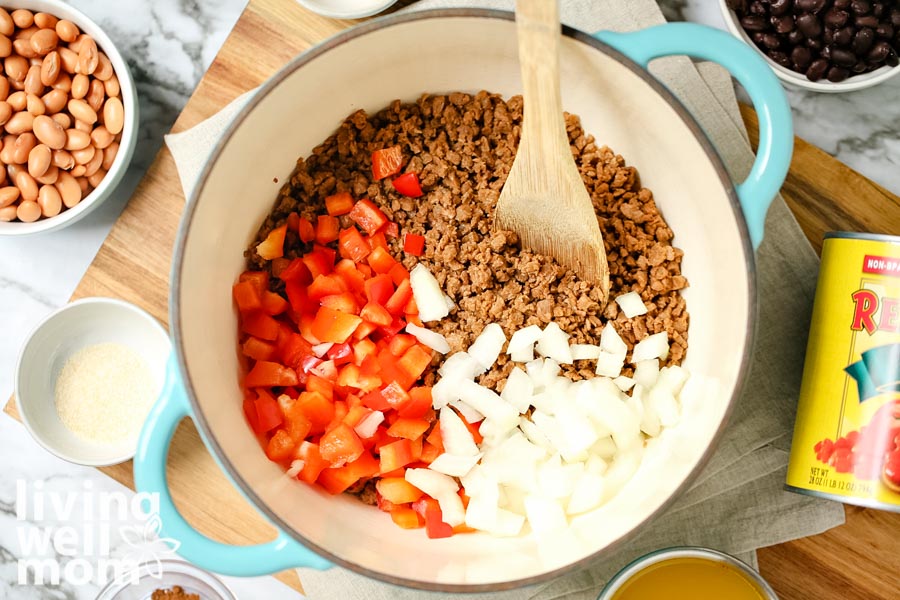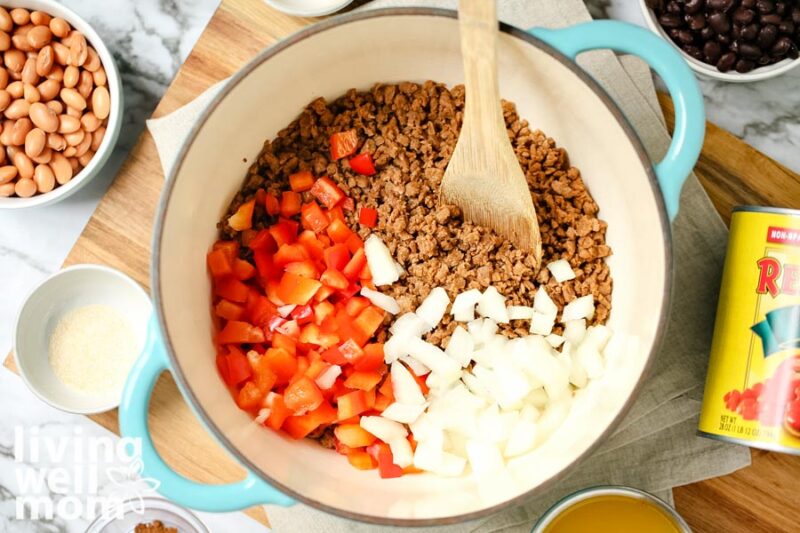 Step 2
When the meat is browned, add the spices to the meat.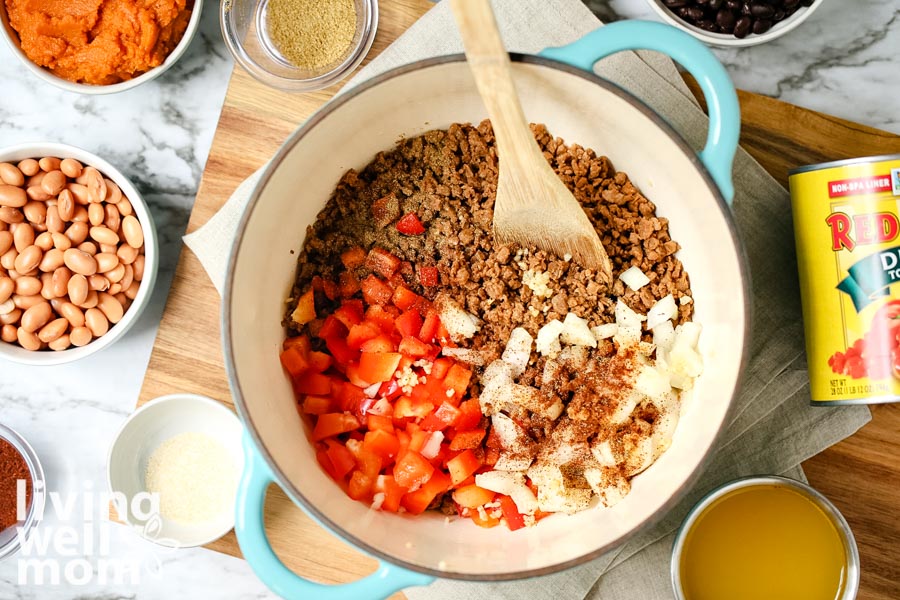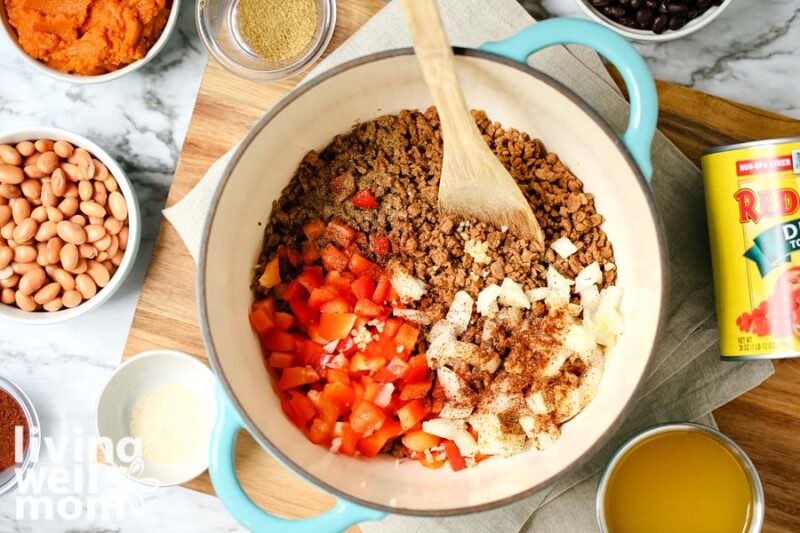 Stir, then season with salt and pepper as desired and stir.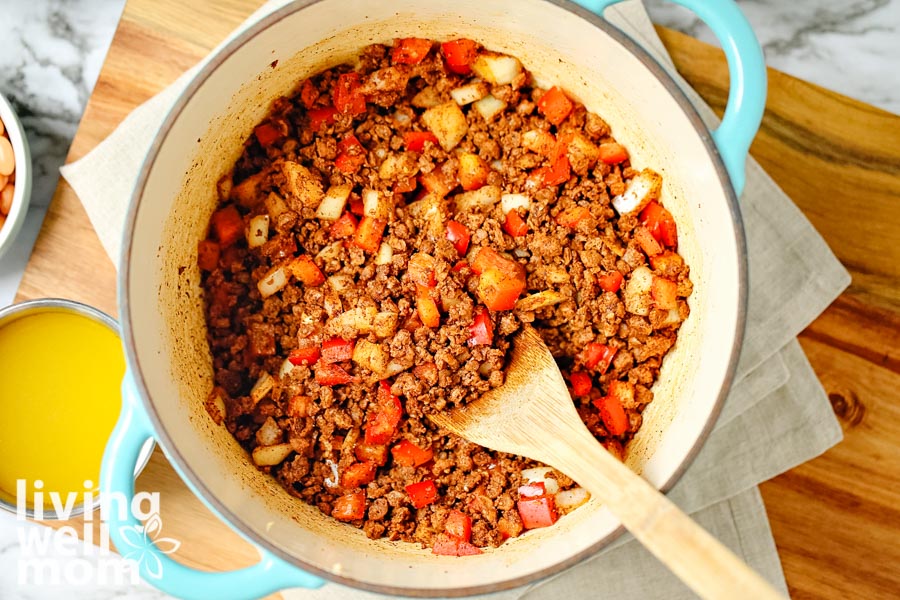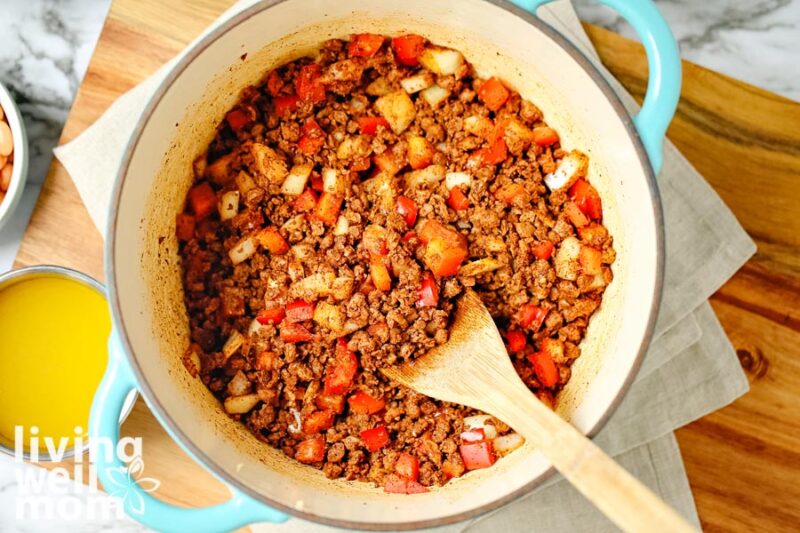 Step 3
Keep your chili on medium heat, and add the canned pumpkin, beans, and diced tomatoes. Mix well.
Next, add the chicken broth.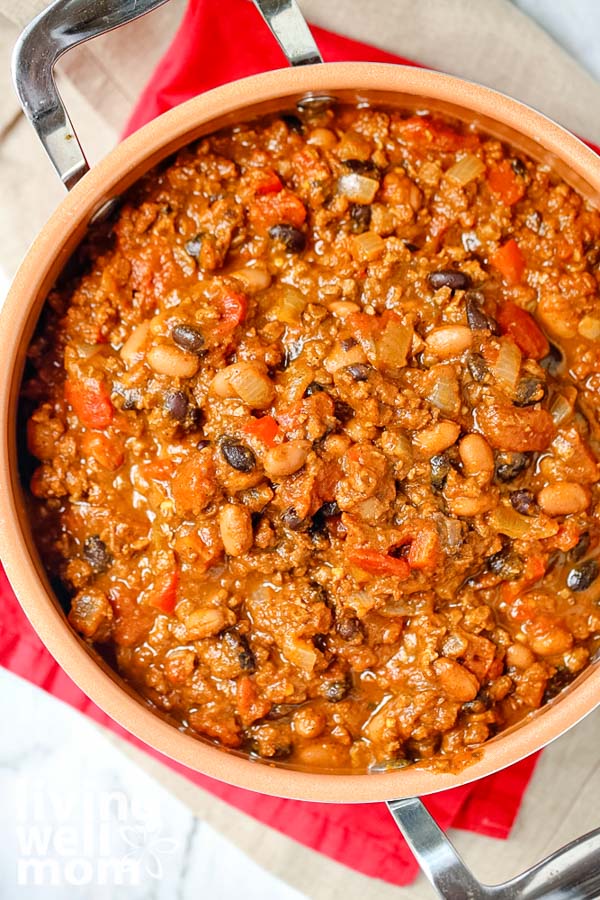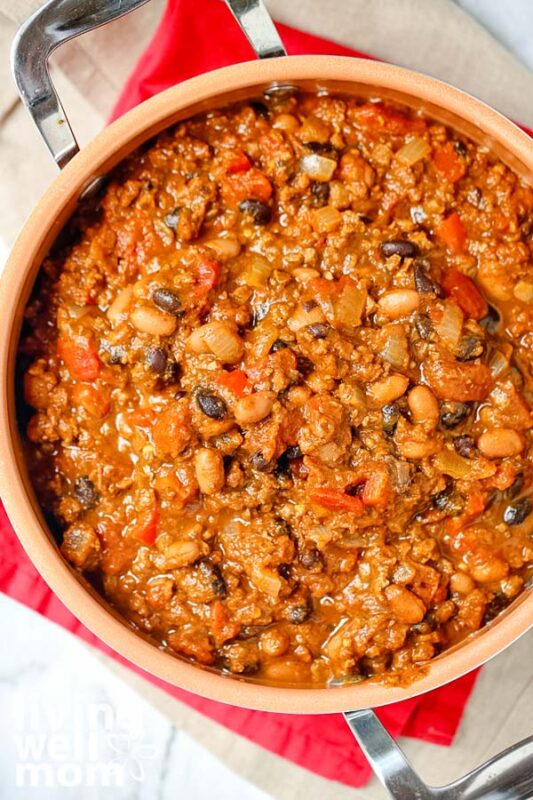 Step 4
Then, simmer and stir somewhat often over low-medium heat, covered, for 10-15 minutes – or until you are ready to eat.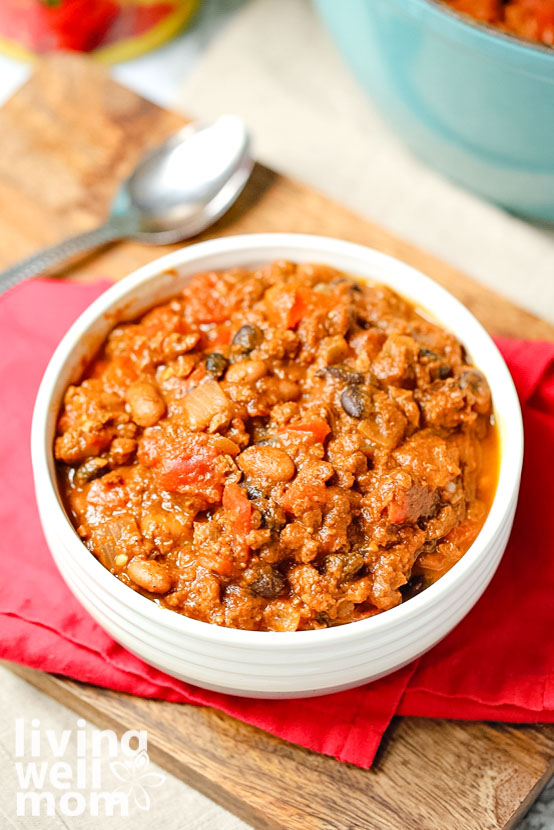 Serve your chili in a bowl and top it with sour cream, shredded cheese, jalapeno slices, oyster crackers, or whatever toppings you prefer. This chili works well as leftovers for the next day (or more).
Pumpkin Chili FAQs
Here are a few questions that readers frequently ask about making homemade chili. If you have a question but don't see it answered below, please leave it in the comments!
Do I have to use ground beef in this recipe?
No, with all the flavors in this chili, you could easily use ground beef, ground turkey, or ground pork, and it would taste equally delicious!
How can I add some heat to this pumpkin chili recipe?
You can use your favorite method for adding heat to this chili. However, my preferred way is to add a dash of chipotle powder or cayenne pepper to taste.
My chili is too thick. How can I thin it out?
I usually use about 1 1/2 cups of chicken broth in this recipe, but you can use less if you prefer a thicker chili or more if you prefer it thinner. If you don't have chicken broth, you can use vegetable broth instead.
A great thing about this recipe is the ability to adapt it to your preferences.
How do I store leftovers?
If you have any chili leftover, you'll be so glad because it's even better the next day! Store leftovers by putting your pumpkin chili into an airtight container in the fridge. You can expect the leftovers to stay good for up to 5 days.
Can you freeze pumpkin chili?
Yes! Here's how I recommend you do it.
Spoon chili into quart-sized freezer zipper bags – you should leave enough empty space that you can seal it without making a mess. Seal the bag, gently squeezing the air out of the bag as you shut it.
Lay it as flat as possible and freeze. Some people recommend placing the filled freezer bag flat on a cookie sheet to freeze. Then, once frozen, take the pan out, and your bag of chili will be frozen perfectly flat. This will help keep your chili from getting freezer-burned and save space in your freezer.
To defrost it, lay it out on your counter on a cookie sheet or put it in your refrigerator overnight. Simply reheat on the stove or in the microwave, and enjoy!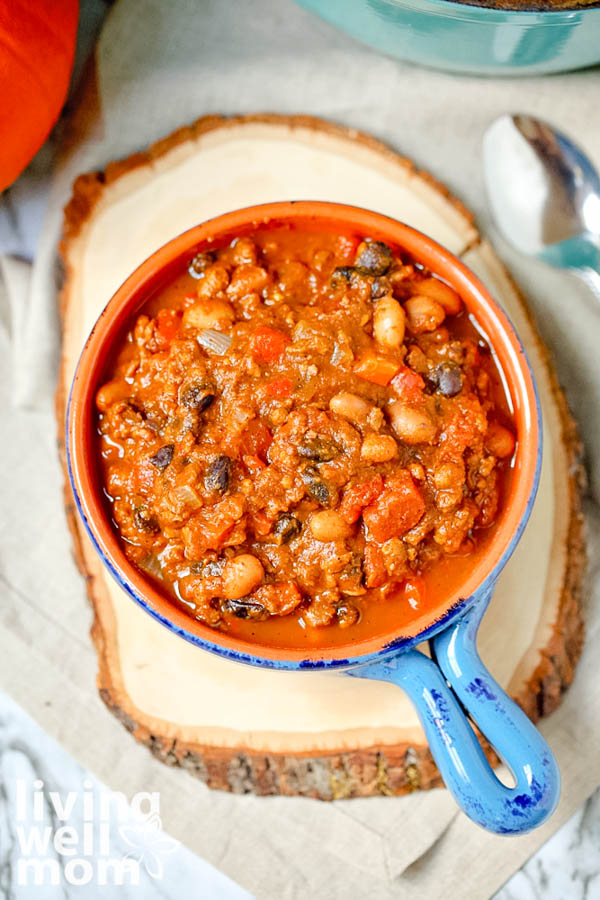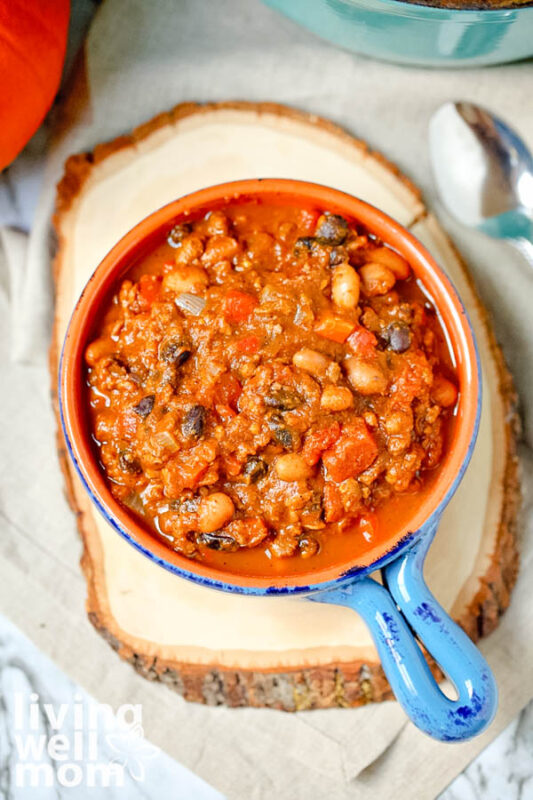 I hope you've enjoyed this delicious pumpkin chili recipe. Maybe it will become a favorite fall staple that's quick and easy, nutritious, filling, and delicious for your family too!
More Dinner Recipes to Try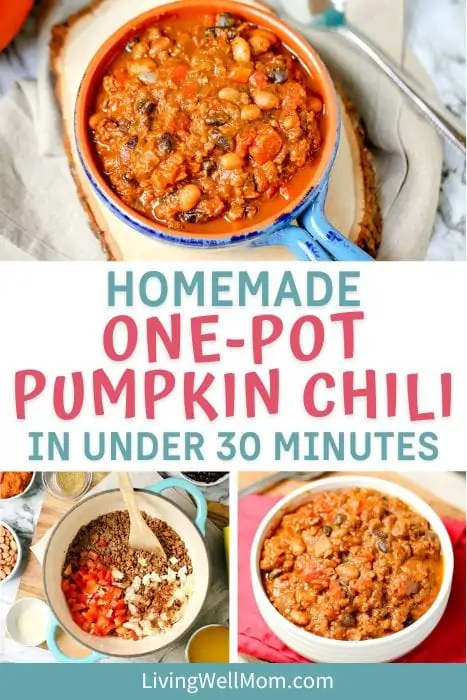 Print
Easy Pumpkin Chili
A quick and easy, hearty, delicious meal the whole family will love during the chilly fall (and winter) months.
Author:
Prep Time:

5 mins

Cook Time:

20 mins

Total Time:

25 mins

Yield:

6

-8

1

x
Category:

dinner
dash of olive oil

1

lb ground beef or turkey

1

red bell pepper, diced (use frozen for faster prep)

1

onion, diced (use frozen diced onion for faster prep)

3

garlic cloves, minced

2 Tbsp

chili powder

1 Tbsp

cumin

½ tsp

ground cinnamon

1 tsp

onion powder

¼ tsp

chipotle powder, optional
Salt and pepper to taste (I use at least 1 tsp salt and ½ tsp pepper)

1

(15 oz can) pumpkin puree (not pie filling)

1

(15 oz can) black beans, drained

1

(15 oz can) pinto beans, drained

1

(28 oz can) diced tomatoes, not drained

3/4

to

1 1/2

cups chicken broth
Instructions
Over medium heat, brown the meat with the pepper, onion, and cloves with the olive oil in a large pot.
Add the spices (chili powder, cumin, onion powder, cinnamon, chipotle powder, salt, and pepper).
Add the pumpkin, beans, and diced tomatoes. Stir well.
Add 3/4 cups chicken broth to your chili and stir. Add more if you prefer a thinner chili.
Simmer, covered, for 10-15 minutes or until ready to eat.
Notes
Please note that all nutrition calculations are estimated and may vary depending on the brand, quantity, how accurate your measurement is, etc.
Keywords: chili, gluten-free dinner, one-pot dinner, dairy-free, gluten-free