These easy sloppy joes are a quick-and-easy weeknight meal you can whip up in 15 minutes or less. This hearty dinner recipe is filled with protein, deliciously flavorful, and kid-approved too!
There was a point in time when I hadn't had a sloppy joe in years. In my mind, it was associated with middle school lunchtime nightmares and wet, bland meat being dumped onto a soggy piece of bread (anyone else?).
But, after purchasing some extra ground beef on sale, I decided to give a homemade sloppy joe recipe a try…and I'm so glad I did! These sandwiches are so flavorful and delicious—everyone in the household gobbled them up, mom included! 😉
There's not a lot of meals my entire family—all six of us—love, but this is one. Your family will love it too!
Easy Sloppy Joes
Making this dinner couldn't be any easier! It's as simple as browning meat and adding ingredients and giving it a stir. I'll walk you through the entire recipe below.
I use the McCormick Sloppy Joe recipe with a slight variation. This is a quick and easy dinner; it only requires 10-15 minutes from start to finish.
Plus, it's all done in one single pot, which means less dishes too.
This crispy baked chicken nuggets recipe is another quick and easy dinner too.
What You'll Need to Make this Homemade Sloppy Joes Recipe:
Ground beef – I recommend stocking up when it's on sale. For this recipe I think ground beef tastes best, but you can also sub it out for ground turkey or chicken.
Tomato paste – you need the tiny-sized can for this recipe.
McCormick Sloppy Joe Seasoning Mix – using this seasoning mix is what makes these sloppy joes so easy to put together! If you prefer to make your own seasoning rather than use a packet, follow the instructions in my slow cooker sloppy joe recipe.
Worcestershire sauce
hamburger buns for serving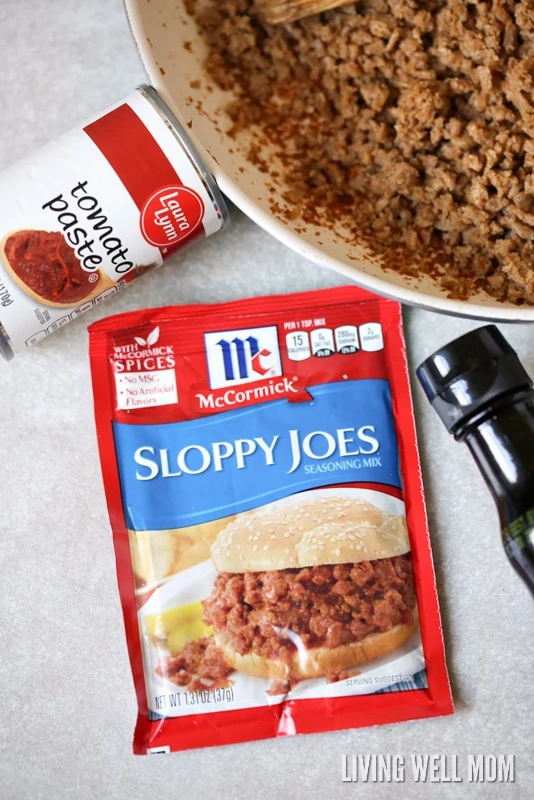 Can I make these sloppy joes gluten free?
If you avoid gluten, you're in luck! This dinner is easily gluten-free too with two simple tweaks.
First, make sure you are using a gluten-free brand of Worcestershire sauce, such as Lea & Perrins. It's made without barley or wheat and it's absolutely delicious!
Secondly, grab some gluten free burger buns rather than the wheat ones.
That's it – easy peasy!
How to Make Easy Sloppy Joes
First, grab your favorite skillet and brown your ground beef. Make sure to drain any fat.
Then, once the meat is well cooked and browned, add the tomato paste…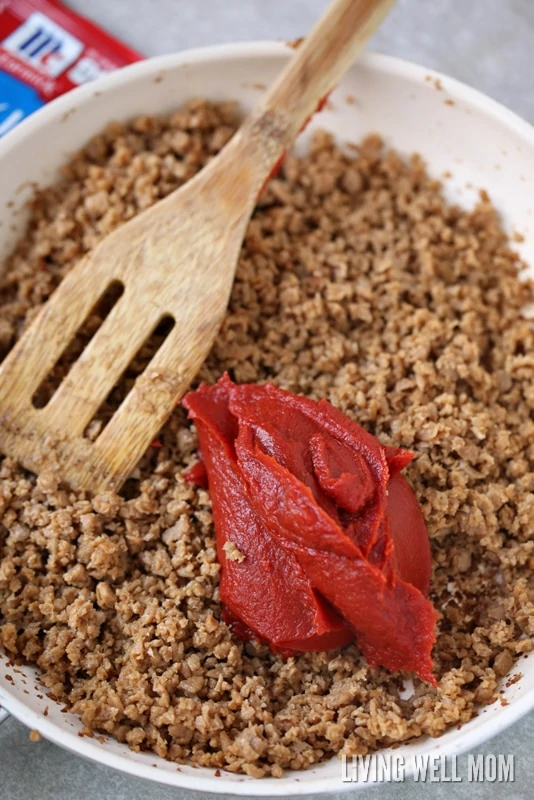 …and the packet of McCormick Sloppy Joe seasoning, plus 1 cup of water.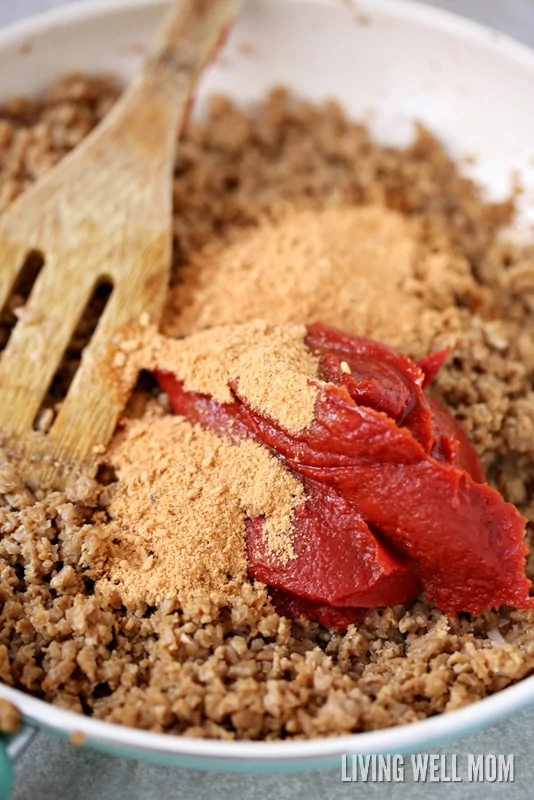 Stir it up really well.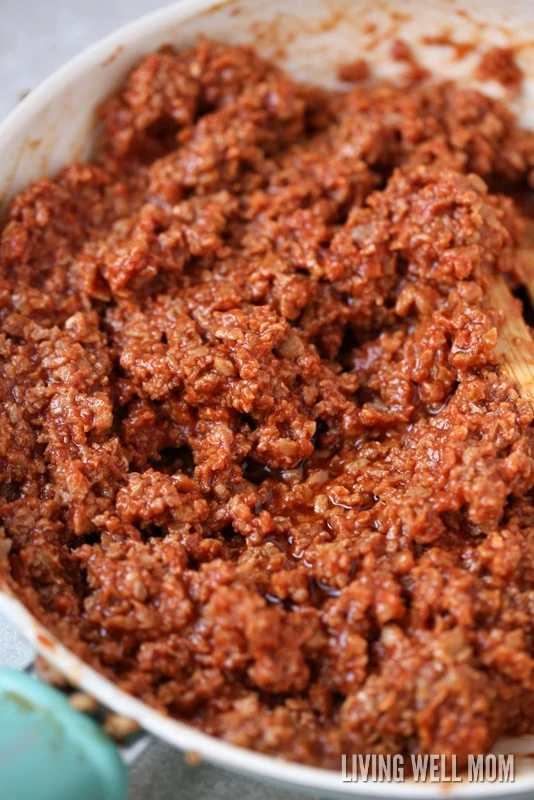 Next, add 2-3 teaspoons of Worcestershire sauce and stir. How much you put in depends on how much flavor you like. Do you go for a more bold flavor? Pour it in! If not, then add a little less.
Cook for a couple minutes on medium heat until it's bubbling.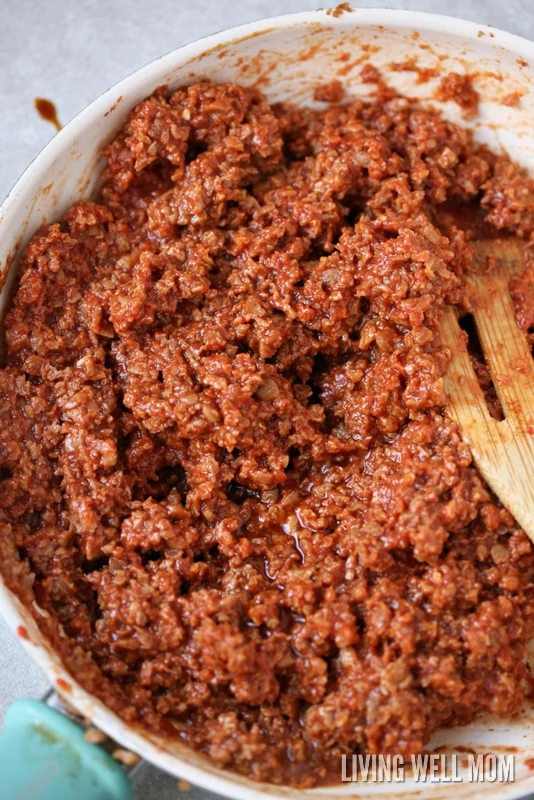 At this point, you could serve it now, but it would be a little soupy. To get rid of the "soupy-ness," reduce the heat to low, and let your sloppy joes simmer for a few minutes to thicken. Make sure you are occasionally stirring to prevent burning.
Now it's done! Didn't I tell you this was a super easy recipe?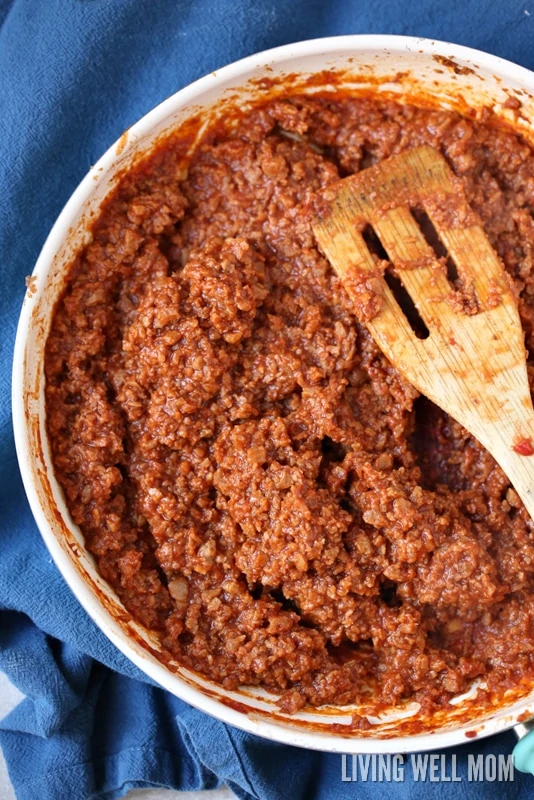 Serve on hamburger buns. It should make about 8 Sloppy Joes – you can stretch it to go a little farther if you put less meat on each bun.
Other Ways to Serve a Sloppy Joe
Are you looking to change it up? If so, there are several other ways you can enjoy this sloppy joe meat other than the standard bun. A few ideas include:
Scoop the meat onto a loaded baked potato
Mix together with macaroni and cheese
Spread the sloppy joe meat over a pizza (may I suggest this awesome homemade cauliflower pizza crust?)
Mix the sloppy joe together with pasta for a fun take on meat sauce
Serve it on a bed of coleslaw for a crunchy, low carb meal
Make the sloppy joe mixture as part of your next Taco Tuesday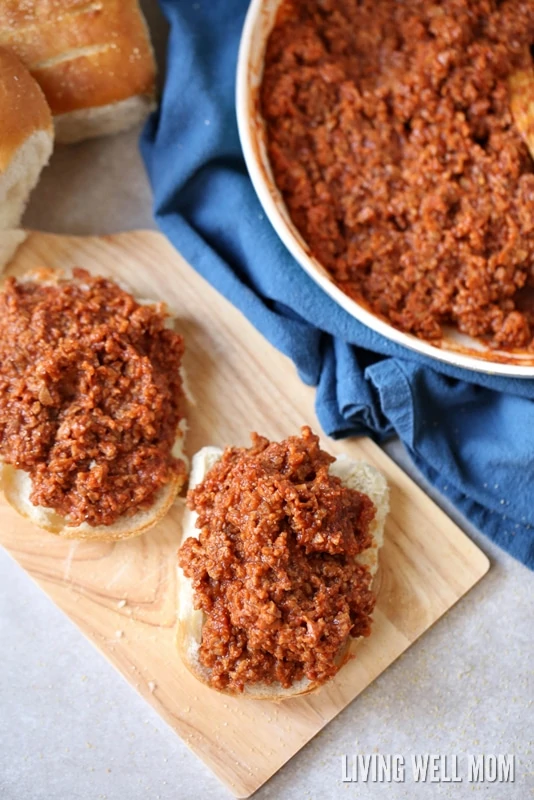 Can I freeze sloppy joes?
Yes, the sloppy joe mixture can be frozen and enjoyed later. To do so, prepare the mixture as usual, then allow it to cool. Once it's cooled, scoop a few portions into a zipped topped bag and freeze them flat.
To thaw, you can leave the bags in the fridge and then reheat, or use the defrost setting on your microwave.
What should I serve with sloppy joes?
My family enjoys One-Pot Sloppy Joes with baked beans (from a can because we're going for fast prep here) and a green veggie, like broccoli.
It also works well with a bagged salad and a handful of chips.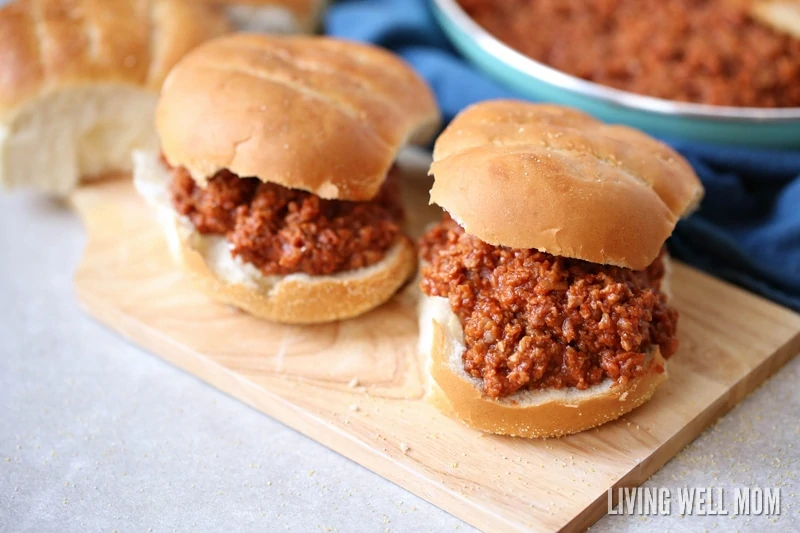 However you prefer it, it likely won't take your family long to dig into your delicious homemade sloppy joes! Enjoy!
More Easy Dinner Recipes
Pin the image below to save the recipe for later!

Print
Easy Sloppy Joes
One-Pot Sloppy Joes is a quick-and-easy weeknight meal you can whip up in just 15 minutes. This hearty dinner recipe is deliciously flavorful and kid-approved too!
Cook Time:

15 mins

Total Time:

15 mins

Yield:

4

-6

1

x
Instructions
Brown the ground beef over medium-high heat until cooked through.Drain the grease.
Stir in the tomato paste, seasoning mix, water, and Worcestershire sauce. Heat through until bubbling.
Reduce heat to low and simmer for 5 minutes, stirring occasionally.
Serve on hamburger buns.