If you're looking for a quick and easy dinner after a busy day, you'll love this simple recipe. This gluten free beef and broccoli is a delicious one-pot meal that's ready in 30 minutes or less.
With ground beef, garlic, ginger, oyster sauce, and broccoli served over rice, this gluten free ground beef recipe will remind you of your favorite takeout, only it's cheaper and healthier for you.
As an added bonus, this gluten free ground beef recipe is also soy-free, and dairy-free. It's a delicious way to enjoy a "normal" meal if your family has dietary restrictions.
Gluten Free Beef and Broccoli Recipe with Ground Beef
Rather than the typical beef and broccoli recipe with pieces of steak, this version uses ground beef instead. There are a few reasons for this, mainly budget and ease of cooking!
Steak can take longer to cook, plus you have to be careful not to overcook or the meat will get tough. Plus, I can often find ground beef on sale, especially in bulk. I rarely find steak on sale!
So when I was developing this recipe, I opted to give it a try with ground beef – or hamburger as some refer to it – and was pleasantly surprised. that makes this savory dinner faster and simpler.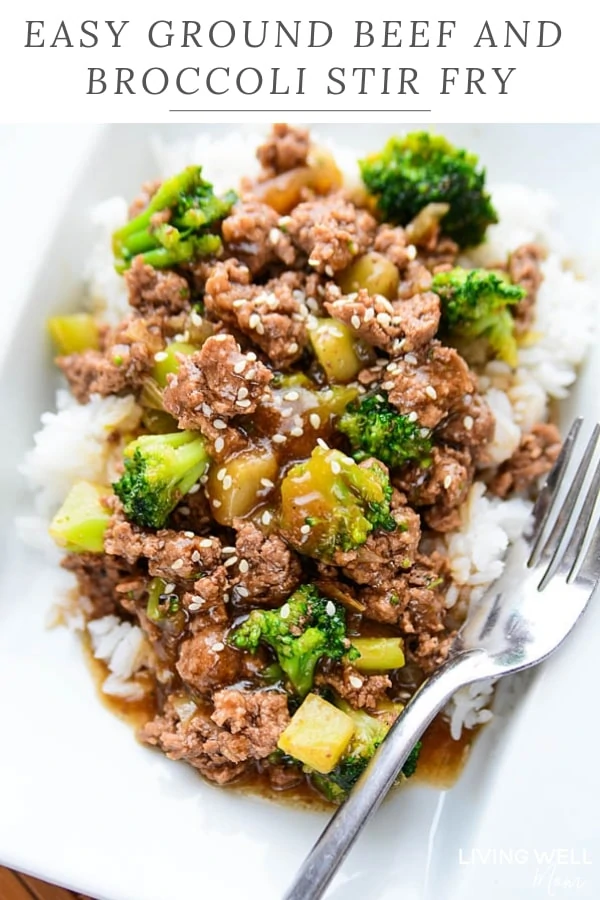 Ground Beef Substitutes
If you prefer leaner meat, you should know that I have tried substituting ground turkey for the beef. While it did work, it was not as tasty in my opinion.
We often enjoy meals with ground turkey, like our Beanless Turkey and Sweet Potato Chili, but I truly think this is one meal that you should stick with the beef.
If you use organic, grass-fed ground beef that's leaner, such as 90%, you'll still have healthy meat and a delicious meal.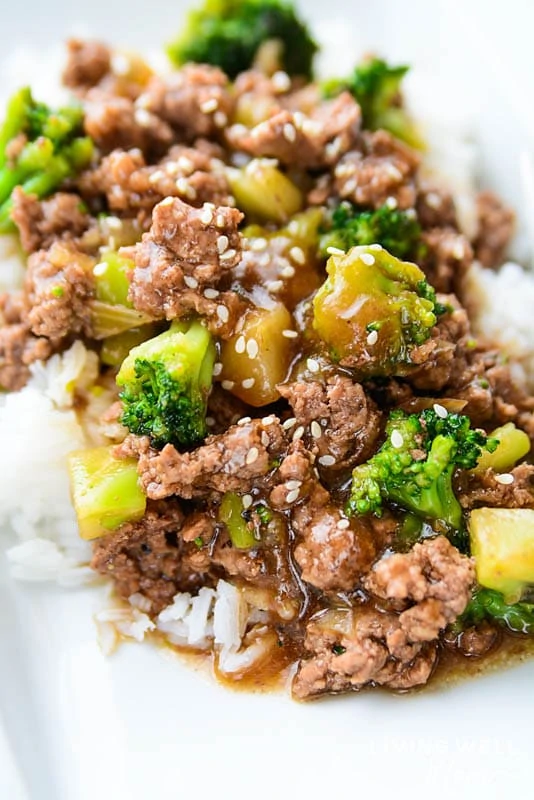 Which sauce should I use?
This simple ground beef recipe calls for ready-made oyster sauce.
While you could make your own brown sugar with soy and sesame sauce, it's just easier to buy ready-made.
I'm so busy that I don't mind using some ready-made ingredients if it means I'm putting a mostly homemade dinner on the table for my family compared to ordering take-out.
Note: some readers have reported this recipe as too salty. This would be due to the brand of oyster sauce. Because of this I only recommend two brands: Kikkoman oyster sauce and Sun Luck oyster sauce. These have always worked great for our family.
How to Make Gluten Free Beef and Broccoli
Let's talk about how to put together this yummy dinner. It's so easy – truly takes just minutes to throw together!
Ingredients Needed:
ground beef
chopped onions – buy frozen chopped onions in the frozen vegetable section of your grocery store. It will save you the time of chopping, not to mention the tears!
gluten-free oyster sauce – I use and recommend Kikkoman oyster sauce – it's gluten-free, soy-free, corn syrup free, and MSG free. SunLuck is also a good brand.
minced garlic
ginger paste
frozen broccoli
rice
sesame seeds – optional but highly recommended
Easy Beef and Broccoli Instructions
In a large skillet, cook the beef until no longer pink, then add the chopped onions, garlic, ginger paste, and oyster sauce.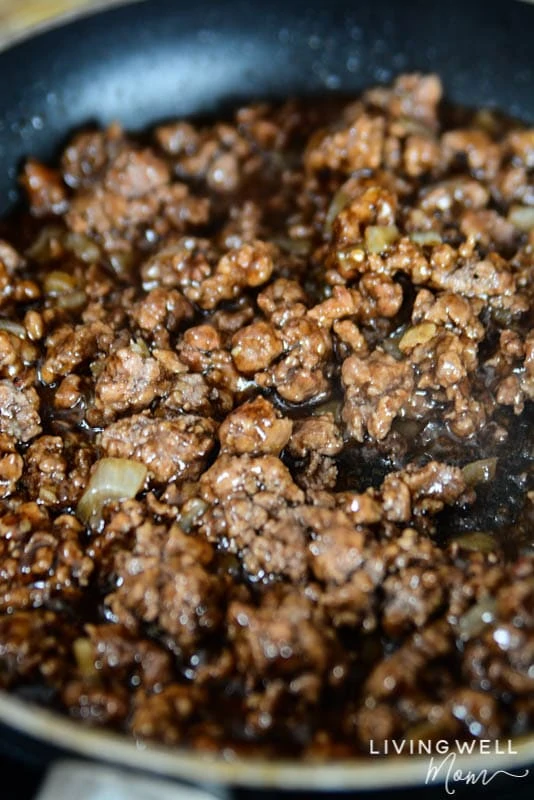 Simmer and stir occasionally to make sure it's cooked evenly.

Add the broccoli and stir in. This is one of those recipes where the end result tastes the same whether it's with frozen broccoli or fresh, so I opt for frozen!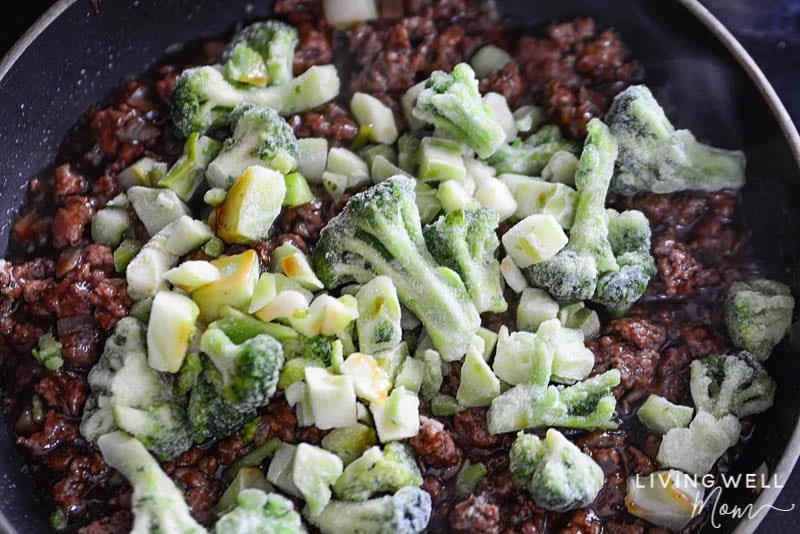 Cover your pan and heat over medium heat for 5 minutes. When you use frozen broccoli, it will release water as it thaws. If you use fresh broccoli, you may need to add a tablespoon or so of water to keep the sauce from becoming too thick.
Stir your ground beef and broccoli every so often and cook until the broccoli is heated through. If needed add a little more water.
Serve with your choice of white, brown, or even cauliflower rice. I personally make my rice in an Instant Pot
before I begin browning the ground beef. I love using my instant pot for cooking rice because it's fast, plus my pressure cooker is multi-purpose. In fact, I often use my instant pot for cooking dinner, including my kids' favorite Gluten-Free Instant Pot Macaroni and Cheese.
Alternatively, you could cook on the stovetop or in a rice cooker according to package or cooker instructions, or even buy frozen rice and heat it up in the microwave right before you serve dinner.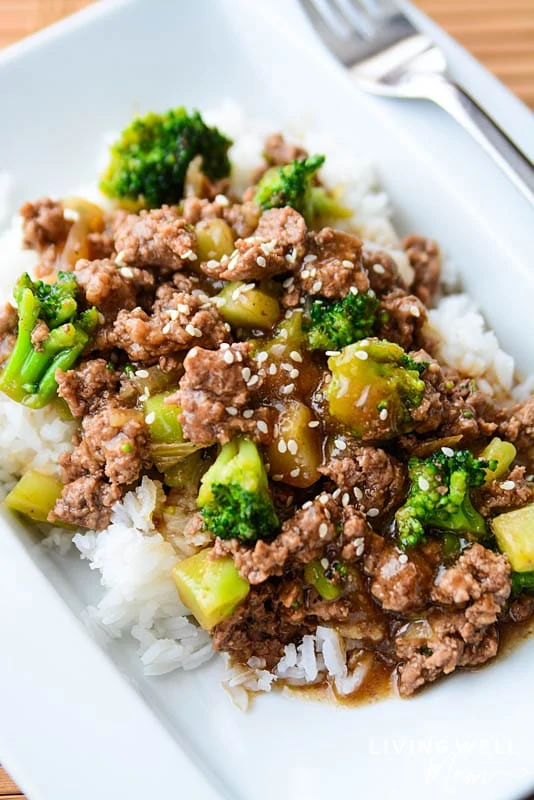 This is the point where you can sprinkle sesame seeds on top. Again, this is optional but it really does take the dish to the next level.
Enjoy your absolutely delicious homemade beef and broccoli dinner!
More Gluten-Free Recipes to Try:
Print
Easy Ground Beef and Broccoli
With simple ingredients and quick and easy prep time, Ground Beef and Broccoli will remind you of Chinese take-out only it's cheaper and healthier!
Author:
Prep Time:

5

Cook Time:

20

Total Time:

25 minutes

Yield:

serves 6

Category:

dinner

Method:

cooking

Cuisine:

Chinese
2 lb ground beef
1/2 cup chopped onions
1 (12oz) jar gluten-free oyster sauce (Kikkoman or SunLuck)
1 Tbsp minced garlic
1/2 Tbsp ginger paste
16 oz frozen broccoli,
2–3 cups raw white rice
sesame seeds, optional
Instructions
Begin cooking your rice first.
In a large skillet, brown the ground beef, then add the chopped onions, garlic, ginger paste, and oyster sauce. Cook over medium heat and stir occasionally for 2 minutes. Stir in the frozen broccoli. Cover your pan and cook for 5 minutes. The broccoli will begin to thaw and release water.
Remove the cover, stir, and cook, checking and stirring occasionally, for 5-15 more minutes until the broccoli is heated through and enough liquid is absorbed to reach the desired consistency.
Serve over rice when ready and sprinkle with sesame seeds if desired.
Keywords: chinese, ground beef, broccoli, rice, gluten-free, soy-free, easy dinner
Pin the image below to save the recipe for later!