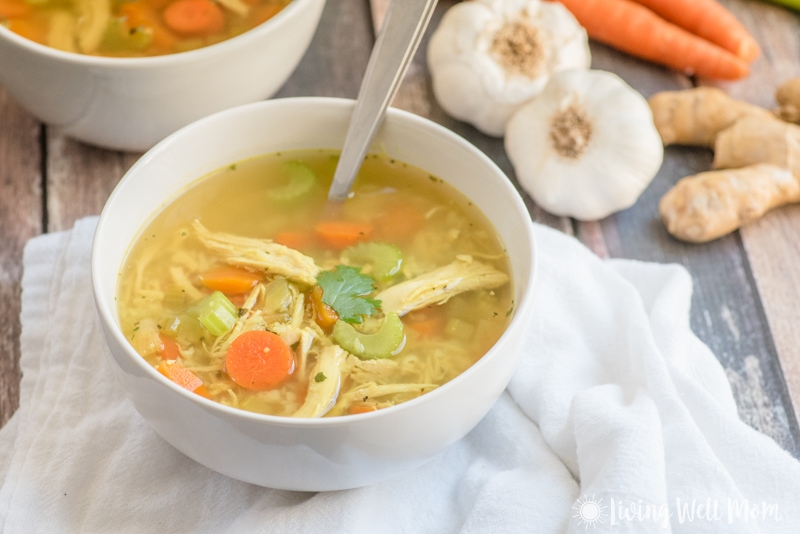 Few things are as soothing and comforting as a bowl of homemade chicken soup. With garlic, ginger, and tumeric, this Healing Paleo Chicken Soup recipe can help fight off the sniffles any day!
And it's so tasty, kids gobble it up and ask for more! Your whole family will love it as an easy meal even when you're not sick.
This homemade Paleo chicken soup recipe is gluten-free, grain-free, and dairy-free and with an amazing combination of spices and vegetables, it's a wonderful way to get nutrients into your family's diet.
It's fairly quick and easy too; you can have dinner ready within an hour (less if your chicken is already cooked)!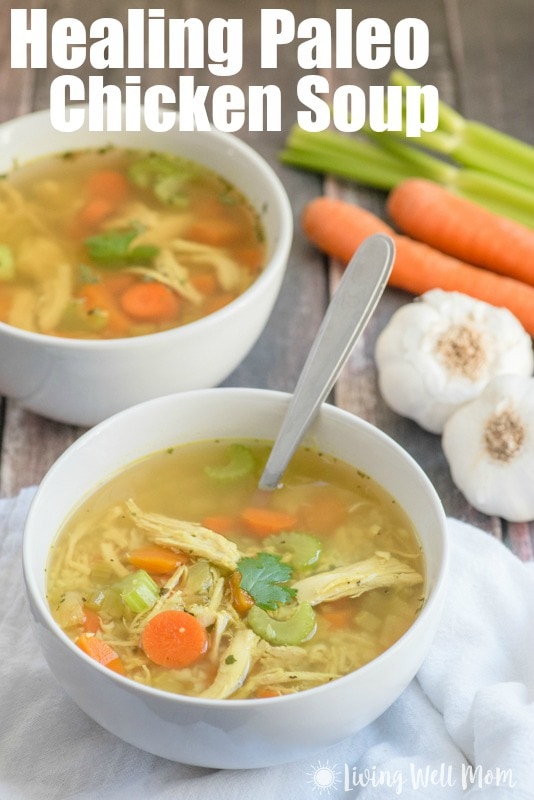 I grew up with the canned chicken soup as our "sick food" and never really liked it. Those squishy noodles and tiny chunks of flavorless chicken are really kinda gross when you think about it. For years, I avoided chicken soup because of that.
Then my best friend introduced me to her family's chicken soup recipe. She's Filipino and includes some of her favorite spices and flavors in her soup, like soy sauce and extra extra garlic. She has no hesitation about putting two whole bulbs of garlic in her soup!
Now me? When I met Allie, I had never used real garlic, only garlic powder. Needless to say, Allie fixed that quickly and I now love garlic almost as much as her.
Anyways, when Allie made her chicken soup for me a couple years ago, I was amazed at how incredibly delicious it was. She gave me the recipe and I've made it many times since.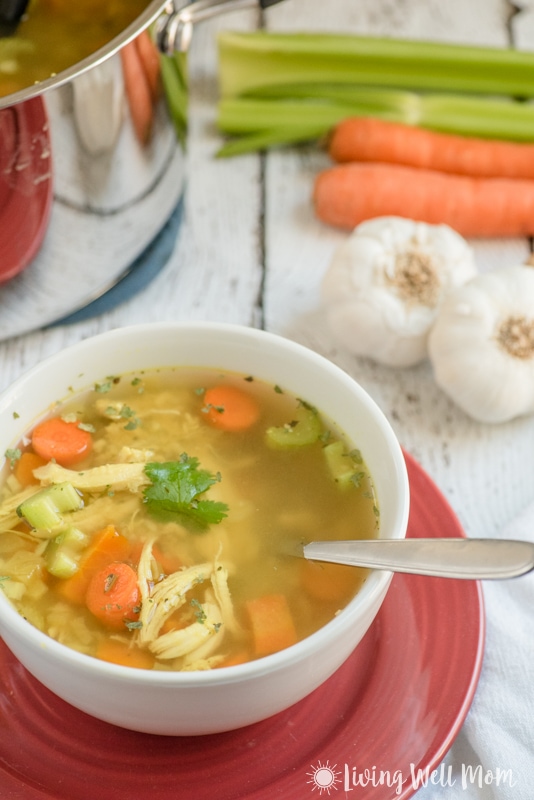 But when I had to cut out grains and soy from our diet a few months ago, I knew I had to rework that chicken soup recipe to fit. I wanted something that would incorporate my friend's flavorful recipe, but stay true to the Paleo diet.
After two+ months of testing, this is the result – a chicken soup that's so good and so effective at helping to fight off illness that I call it Healing Paleo Chicken Soup.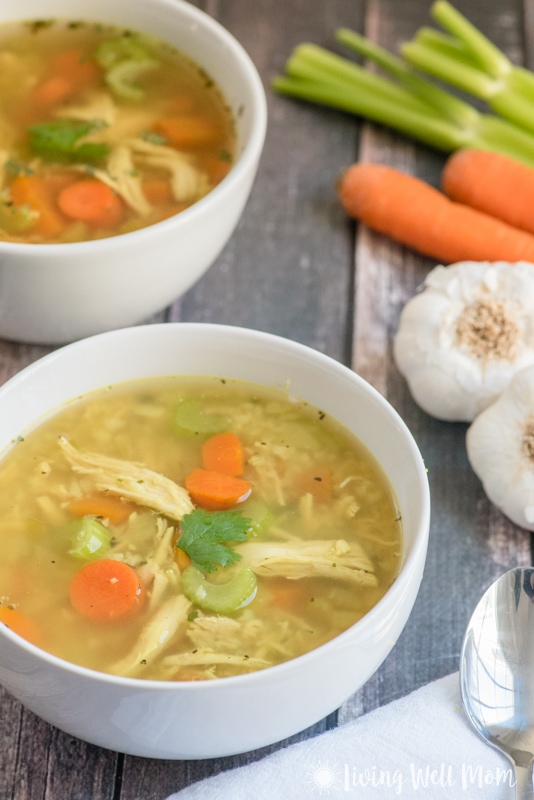 And just to prove how good it is, all four of my kids gobble up this soup and ask for more, even after eating it once or twice a week for several weeks while I've been perfecting the recipe!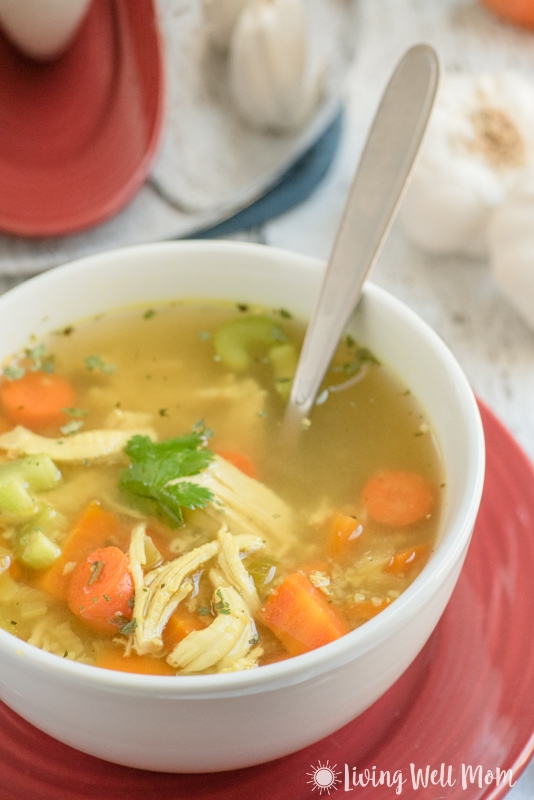 Garlic is essential in this Healing Paleo Chicken Soup recipe, because it has many health benefits, including tons of nutrients (It's packed with Vitamin C, B6 and manganese) and studies have shown that regular garlic consumption can reduce the duration of the cold and flu. Not too bad for such a little herb. (Or is it a vegetable?)
There's also turmeric, which has wonderful anti-inflammatory and antioxidant properties, and ginger, known for soothing digestive issues and fighting infection.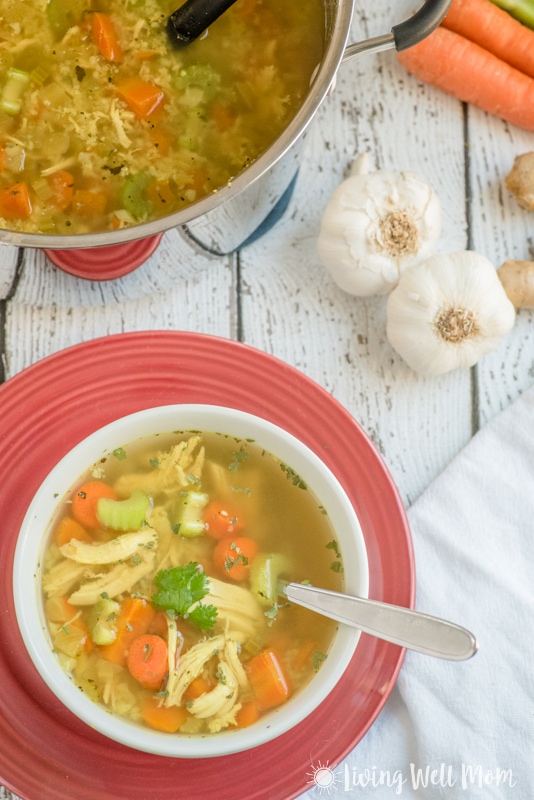 When you combine all of that with chicken, vegetables, and a few choice herbs and spices, you have a powerhouse meal that can help your whole family get healthy and stay healthy.
Print
Healing Paleo Chicken Soup
Author:

Cook Time:

45 mins

Total Time:

45 mins

Yield:

8-10 servings
---
Description
This easy family-favorite Paleo chicken soup is packed with nutrients and healing herbs that can help prevent and reduce the duration of cold and flu symptoms.
---
Ingredients
2-3 lb chicken (I prefer boneless chicken breast, but you can use any chicken)
4 cups organic chicken broth
6 cups water
1/2 cup onion, chopped
1 tsp fresh ginger, grated
3-4 cups carrots, chopped
2-3 cups celery, chopped
6-8 garlic cloves, minced
1 tsp ground turmeric
1 head of cauliflower
1 tsp fish sauce
1/2 Tbsp basil
1/2 Tbsp parsley
3 Tbsp coconut aminos
1.5 tsp sea salt, more or less to taste
1/4 tsp black pepper, more or less to taste
---
Instructions
Fill a large pot with water. Add the chicken and bring to a boil. Reduce heat and simmer for about 30 minutes or until fully cooked through. Remove the chicken and set aside.
While the chicken is cooking, you can cut up the vegetables.
Add the broth and 6 cups of the water the chicken was cooked into a large stock pot. Add the onions, ginger, carrots, celery, garlic, and turmeric. Bring to a boil, then reduce heat to medium and cook, covered, for about 10 minutes.
While the broth and vegetables are cooking, cut up the cauliflower and pulse several times in a food processor until it resembles grains of rice. If you don't have a food processor, you can just cut it up into small pieces.
Shred the chicken and add the chicken and diced cauliflower to the pot, along with the remaining ingredients: fish sauce, basil, parsley, coconut aminos, sea salt, and pepper.
Bring the soup to a boil, then lower the heat and simmer, covered, until the vegetables are tender. Adjust the salt and pepper to taste.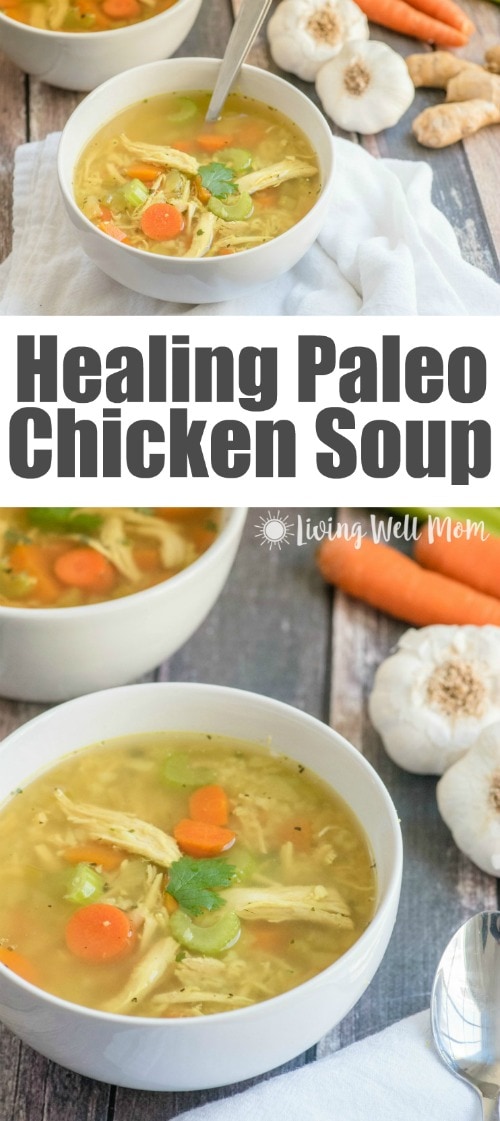 Note: There's no guarantee this soup will heal or prevent illness; it's simply helped my own family and many others time and time again.