I used to think canned food was full of preservatives and I certainly wouldn't have considered it fresh, especially compared with fresh produce. I also didn't believe they were as nutritious as fresh produce.
Plus, there's the BPA issue. BPA is a chemical that used to be found in can linings (and many plastic-items) and was definitely a concern as my son is on the autism spectrum and my whole family has MTHFR, a genetic mutation that makes it difficult for the body to eliminate toxins.
Bottom line: I didn't believe canned foods were a healthy choice for my family.
While I always kept some cans in my pantry, I used them reluctantly and almost felt guilty about it because they were so convenient. After all, doesn't convenient food often mean unhealthy?
But over the years I've learned that perception isn't always reality. And my former perception of canned foods was wrong. You see, I've discovered the truth about canned food and I'm going to share what I've learned with you today.
The Truth About Canned Food
A couple weeks ago, I was invited to attend a farm and canning plant tour in Indiana, called "The Farm to Can Challenge." The experience included visiting a family-owned farm that grows tomatoes for Red Gold Tomatoes.
Red Gold Tomatoes is a fourth-generation family-owned-and-operated company that produces quality, delicious canned tomato products. Their tomatoes come from 14,000 acres in Indiana, Ohio, and Michigan, most of which are family owned and operated farms.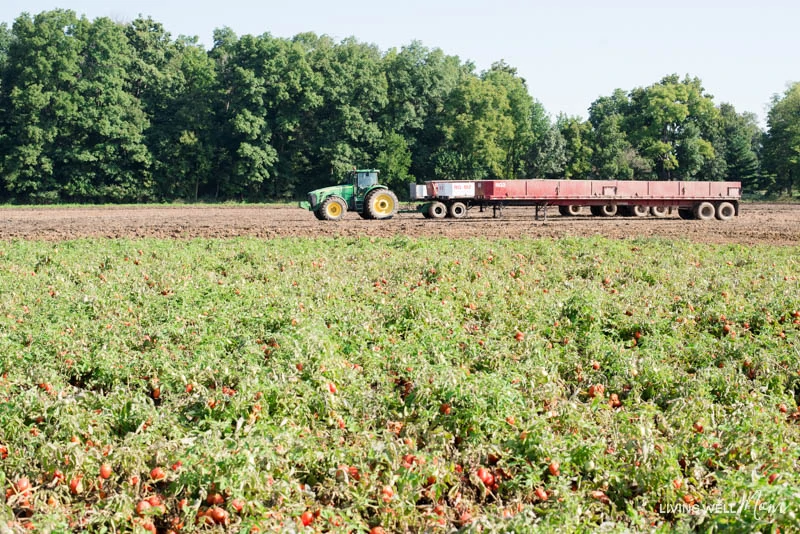 I visited one of those family farms, called Triple S Farm, and witnessed a 60-acre field filled with beautiful, ripe tomatoes being harvested. I was also able to meet the farmer and his wife – Scott and Terri.
I learned some interesting things, including that all Red Gold tomatoes are non-GMO (all tomatoes are actually) and while they're not organic, they use as little as possible pesticides and do regular random residue testing before washing the tomatoes.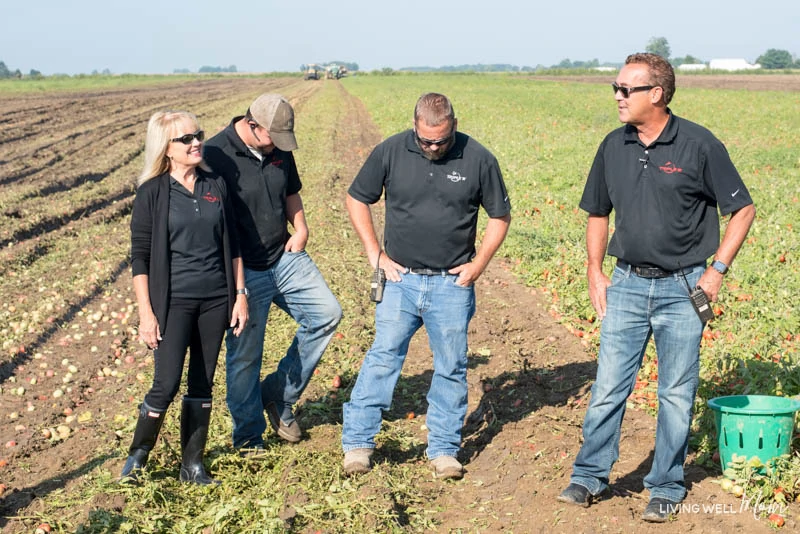 Red Gold readily showed me a test report and it showed that all the results came back with non-detectable levels, aside from one fungicide and that level was and always is well below the acceptable limit. On top of that, Red Gold tomatoes are washed FIVE times before canning. That's 4x more than I wash produce at home!
Tomatoes are picked at the peak of freshness and brought directly to the canning plant, usually just miles away. Once at the canning plant, tomatoes are inspected and sorted by quality and size, then peeled, diced and inspected again. Finally, the tomatoes are placed into cans, sealed, and sterilized before being labeled with the date and time of production.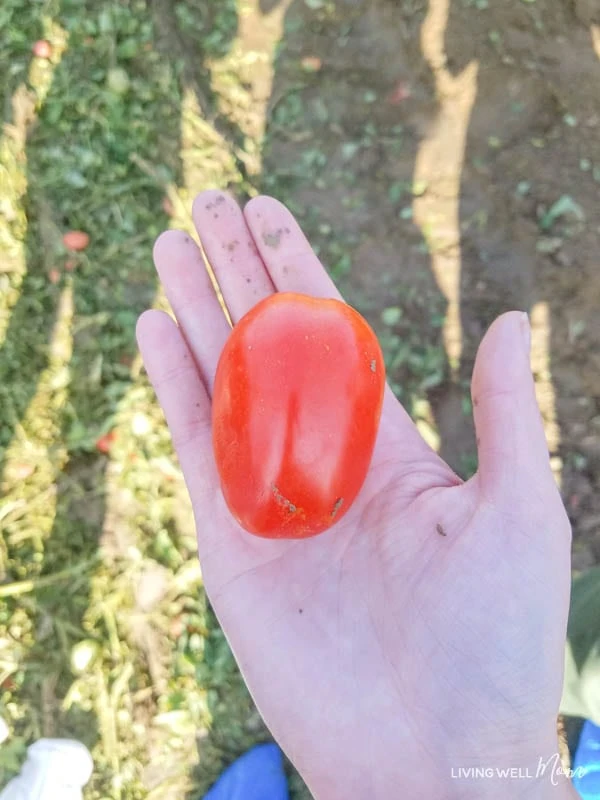 Canned Food Myth #1: Canned Fruits & Vegetables Aren't Fresh
With canned foods, produce is picked at the peak of harvest and sent directly to the canning plant. Most canning plants are located not far from the place of harvest as this helps ensure the freshest results.
Most tomatoes are canned within 4 hours from the time they were picked to when they are sealed in a can. At Red Gold, I learned that the longest length of time between the field to the can is 12 hours. It doesn't get much fresher than that and I know I can't find produce that fresh at the local grocery store. It would be hard to find even a local farmer's market produce quite that fresh and even then, it would only be a few weeks out of the year.
According to a "length of time audit" by the Can Manufacturers Institute in May 2014, canned produce (not just tomatoes) goes from the field to package in 4.5 hours, compared to fresh produce which takes 24 days from the field to store.
I toured one of the Red Gold canning plants in Orestes, Indiana. It was an amazing experience to see the entire process run smoothly with many details working perfectly. This plant cans tomatoes at 3,000 cans per minute during their 10-week late summer tomato harvesting season!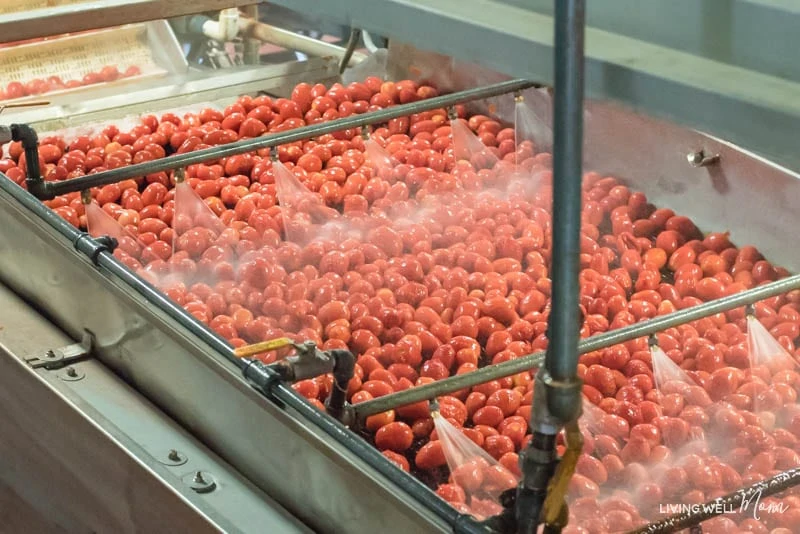 Canned Food Myth #2: Canned Foods Have Additives and Preservatives
One of the most interesting things I learned during my experience on the Farm to Can tour is that no preservatives are necessary or added to canned food.

Cans do not need preservatives or additives because they are sufficiently heated and sealed in air tight containers. This process naturally kills any microorganisms that would otherwise spoil the food.
Each type of canned food is heated for a different amount of time under steam pressure. Tomatoes require less time than pumpkin, for example. Heating the food to a level that will kill microorganisms is the top priority while flavor and nutrition are also taken into account. The perfect amount of time and the perfect temperature is regularly monitored and adjusted as needed.
I learned that commercial canning plants work much as homemade canning does, but on a much larger scale. On top of that, commercial cans are now made from recyclable steel.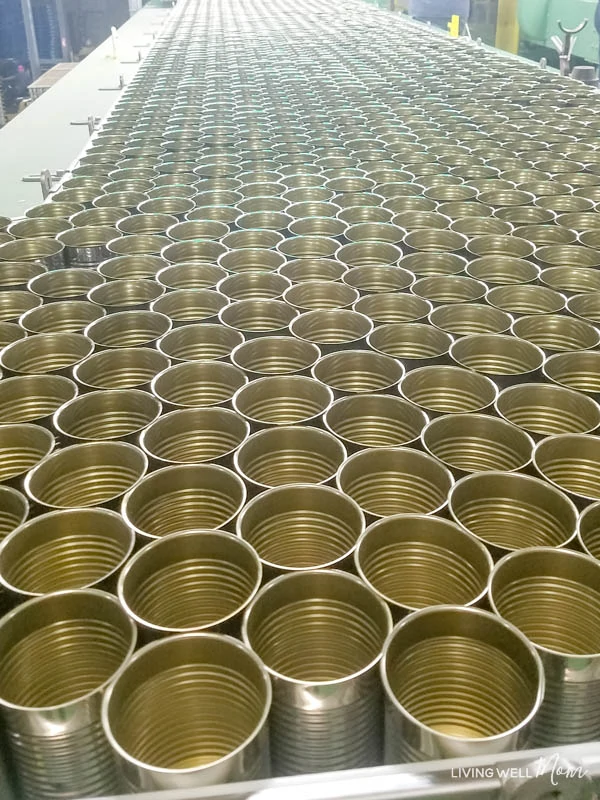 Cans will remain high quality and safe to eat for over 2 years after being sealed and processed as long the can isn't damaged. (Tip: small dents are okay as long as they are not deeper than your finger or located on the seal of the can, which could result in the contents being compromised.)
Canned Food Myth #3: Canned Foods aren't as Nutritious
I used to think canned foods weren't nearly as nutritious as fresh food, but I was wrong.
Canned food is actually packed when nutrition levels are the highest. This is because nutrition levels peak with freshness and as we now know, canned food is packed at the peak of harvest.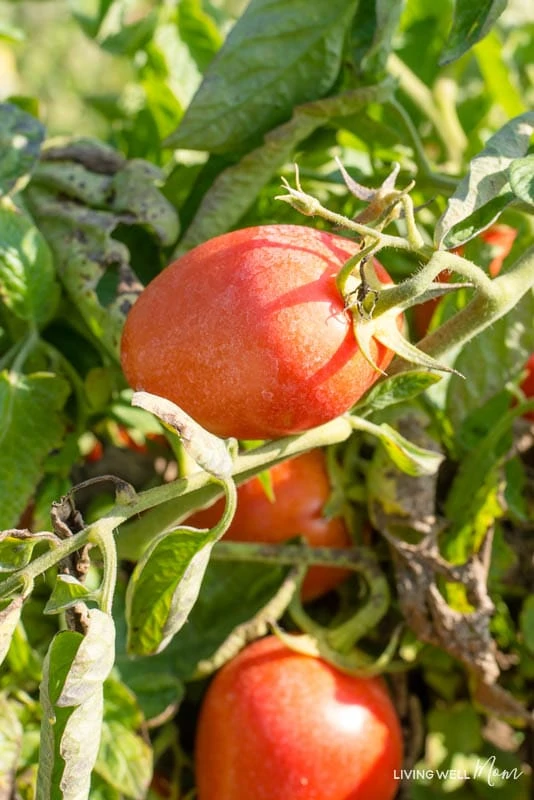 A 1997 study found that the canning process may actually increase the nutrition of certain foods. Canned tomatoes are actually found to have higher levels of lycopene than fresh tomatoes. And canned pumpkin has 540% of the recommended daily amount of Vitamin A while the same amount of fresh pumpkin has only 26%.
I had no idea, did you? And the whole canning process safely seals in those good nutrients.
Canned Food Myth #4: Canned Foods Contain BPA
Let's talk about can linings. I didn't know what can linings really were or why they were used for a long time. (It was always one of those things I planned on researching but never got around to.) But now I know.
Linings are an important part of the canning process for two main reasons:
The lining protects the integrity of the can. Can you imagine if tomatoes were put in a metal can without a lining? The acidic tomatoes would gradually eat away the can itself or at the very least, leach some of the metal into the food. No, thank you! Can linings prevent this from happening.
The lining protects the food and helps preserve the flavor.
The whole BPA-issue has been a hot topic for several years now and thankfully, the industry has heard consumers and are eliminating BPA from their can linings.
Did you know that 90% of cans in America are now non-BPA? I was also told that the remaining 10% should be non-BPA within the next few months. This was news to me and something I was very happy to hear about.
Recently as I shopped, I looked at the cans and was pleased to see that all of the cans I picked up contained language saying along the lines of "non-BPA" or "BPA-free intent." Most were written in small print, something I wish they would improve so people could see it more readily. But it is there if you look.
Red Gold tomatoes are all packed in non-BPA and non-BPS cans. In addition to that, they are regularly testing new can linings to make sure they are using the safest and best liners possible.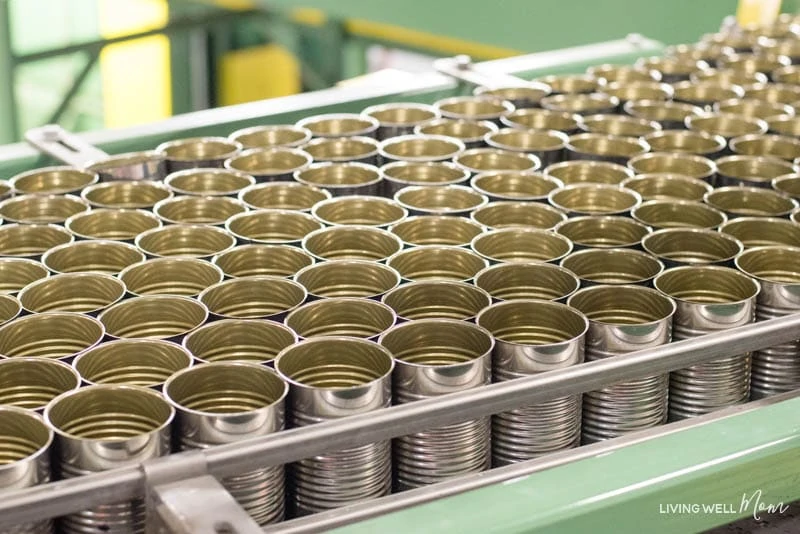 Canned Food Myth #5: Canned Foods are Loaded with Sodium
While some cans do have sodium, there are many reduced-sodium or even sodium-free canned food options available. I've also found that most canned food doesn't have nearly the amount of sodium as some people think they do.
If sodium is a concern for you, check your options and of course, remember to read the label.
The Truth About Canned Food: Canned Food Advantages
Canned Food is Affordable
Many times, canned food is more affordable than fresh produce and it's readily available year-round. Plus you don't have to worry about it going bad and wasting money.
I'm ashamed to admit just how much fresh produce has gone bad in my fridge over the last year alone. With canned food, I don't have to worry about that because cans will last for 2+ years and still taste just as good as the day they were canned.
Canned Food is Convenient
It's much quicker and easier to open a can of food and warm it up for an easy casserole, chili recipe, or one-pot meal compared to time spent chopping fresh produce and cooking it.
I'm much more likely to make my family dinner on a busy evening if I know it's only going to take me 15 minutes compared to looking at a recipe that might be delicious but will require an hour of chopping and cooking.
No Foodborne Illnesses with Canned Food
Because the high-heat canning process thoroughly seals out foodborne pathogens, you don't hear about illness outbreaks related to canned food.
The canning process is also closely monitored by a system called Hazard Analysis and Critical Control Point, which helps identify and build checkpoints throughout the canning process to maintain the highest possible safety standards.
Bottom line: canned food is a safe option too.
Canned Food Provides Variety
We can find almost any type of food that is harvested or processed in a can now. Because of this, we have many delicious foods available to us, from seafood to produce and more.
This also means we can readily buy a variety of canned fruits and vegetables year round, regardless of the season. (Try buying a fresh local tomato in January; it's not going to happen!)
Is Canned Food Healthy?
Canned food is a convenient, affordable, easy way to get more fruits and vegetables into your family's diet.
Yes, I believe canned food can be convenient and healthy, especially when it comes to canned vegetables, like Red Gold's delicious tomatoes.
(Don't have Red Gold where you're at? It's also sold under the names Tuttorosso and Red Pack in other parts of the country. Check the store locator here.)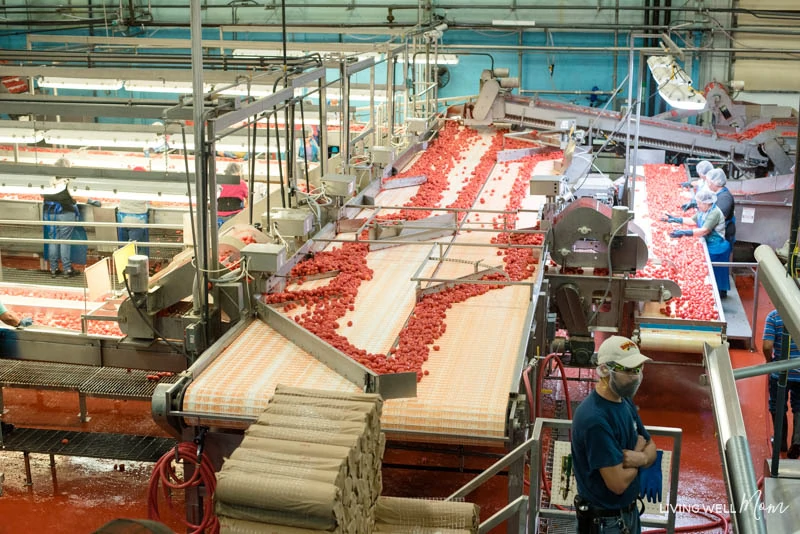 As always, be sure to read labels and make sure you're choosing cans that have ingredients that are right for you and your family.
With all this new information, canned foods are my new best friend when it comes to putting easy, healthy meals on the table for my family.
Just last night, I was able to help put a quick meal on the table despite being sick with a cold. I threw some canned peas in a pot on the stove and my son grilled salmon burgers. With a simple salad and baked beans, we had a tasty meal that required very little effort on my part.
As you can see, I learned quite a bit during my experience with the Farm to Can Challenge and I hope you have too as you've learned the truth about canned food and the canned food myths that we've now debunked.
Here are some of my family's favorite meals that use canned food:
Check out Refreshingly Real for recipes and tips designed to make life easier and more realistic for real parents.
And here's a video clip of our Farm to Can tour and I'm one of the featured bloggers!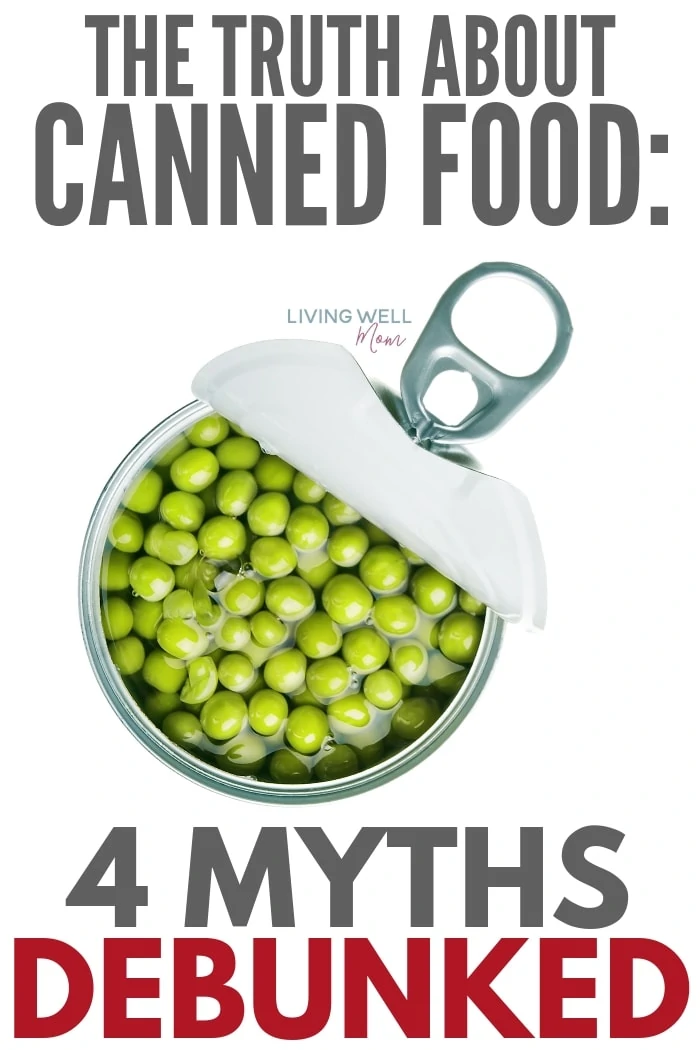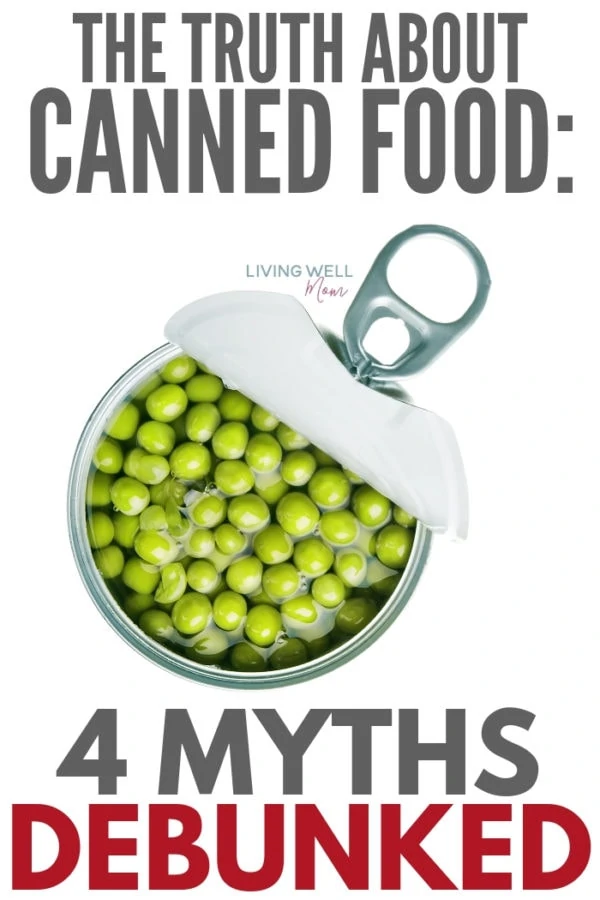 A special thank you to CMI (Can Manufacturers Institute), Refreshingly Real, and Red Gold who invited me on this Farm to Can tour and opened their doors to this skeptical blogger and mother. I appreciate your honesty and willingness to answer difficult questions! This post is sponsored by Refreshingly Real. All opinions are absolutely my own and were not influenced by the sponsor.