MTHFR is an essential enzyme we all have in our bodies. It's also a gene, called Methylenetetrahydrofolate reductase. Try saying that one out loud!
That's why we call it MTHFR.
But what exactly is MTHFR and why do you need to know about it?
The MTHFR gene is still a relatively new discovery and most doctors (in my experience) have no clue what it is. So it's not as easy as just asking your doctor about it. It's also not as simple as googling " MTHFR," because you'll likely come up with tons of research articles that will make your head spin!
My goal today is to simplify the explanation of MTHFR so you can better understand it!
Disclaimer: I'm not a doctor, scientist, or medical professional. I have MTHFR and so do my four children. I'm a mom who has researched this topic, and I'll try my best to put this into accurate, simple-to-understand terms, because this information is too important not to share! If you have any questions, check with your doctor or find a professional who has knowledge in this area.
What does MTHFR mean?
Simply put, MTHFR – both the gene and enzyme working together – helps the body detox. 1
For a lot of people, their MTHFR gene and enzyme system work just fine.
BUT….
Up to 50% of people carry a genetic variation or SNP (pronounced "snip") of the MTHFR gene. 2 This reduces how effective the MTHFR enzyme is and makes it more difficult for the body to process and remove toxins.
There's a decent chance you or someone in your family has the MTHFR gene variant.
I "have MTFHR" as we call it. So does Nathan, my son who has high functioning autism. My husband and other three children do as well.
If you have MTHFR too, it's not the end of the world. It's not a horrendous, scary genetic disease. But it can affect your health and there are things you can do to help.
Let's talk a few more details first.
What exactly is MTHFR?
MTHFR affects the body's methylation process.
Methylation is a metabolic process where the body repairs DNA, recycles molecules needed for detoxification, decreases inflammation, and shuts genes on and off, among other things.
The methylation process has two main parts.
It begins with methionine (an amino acid found in protein foods we eat). The body "methylates" and turns the methionine into homocysteine (another amino acid.) Homocysteine is linked to a number of health problems, including an increased risk of heart disease and stroke. 3 4
Normally, the body converts homocysteine back into methionine and you're all set.

But we've got the MTHFR gene mutation to contend with.
The MTHFR gene plays an important role by providing the MTHFR enzyme required for the methylation process.
When you have a variant MTHFR gene, there is less enzyme and the body isn't able to "methylate" fully as needed. Homocysteine levels can build up and this may increase one's risk of various diseases &/or cause symptoms like memory impairment. 5 6
MTHFR SNP = reduced MTHFR enzyme = reduced methylation
This is also where folic acid comes in.
If you have MTHFR, you need to avoid folic acid. Why?
Folic acid is a synthetic form of b-vitamin. In a non-MTHFR-variant-affected person, the body will break folic acid down into methylfolate (5-methytetrahydrofolate). This methylfolate plays an important role in assisting the methylation process. 7
Wouldn't folic acid be good then?
No, because with a varied MTHFR gene, the body cannot metabolize folate into methylfolate, and therefore, cannot complete the methylation process.
To put it simply, methylation is a crucial part of optimal health. If the body can't methylate properly, nearly all of the body's systems will be affected.
The Risks of MTHFR
Research has shown that MTHFR gene variants can result in an increased risk of:
heart disease, high blood pressure, preeclampsia
stroke
birth defects
blood clots
memory impairment
cancer
weakened immune system
autoimmune diseases
heavy metal toxin accumulation
depression, anxiety, and mood disorders
migraines
fertility issues
Here's an even more extensive list of conditions associated with MTHFR.
Sources: 8 9 10 11 12 13 14 15
MTHFR is not a guarantee you will end up with one or more of the above issues. But it does increase your risk.
It's quite possible you or a loved one may already be affected by one of the above "risks" and that's why you're here.
I have suffered from depression, anxiety, a weakened immune system, and autoimmune disease (Hashimoto's thyroid) myself. My son has autism. You can read more about the link between MTHFR and autism here.
What are the MTHFR SNPs?
There are two main MTHFR SNPs – A1298C and C677T
It's possible to have one copy of either, two copies of one, or one copy of each.
Heterozygous means 1 copy of the gene (A1298c or C677T)
Homozygous means 2 copies of the gene (A1298c / A1298c or C677T / C677T)
Compound heterozygous means one copy of each gene (A1298c / C677T)
It's thought that 50% of the population has one copy of C677T, while up to 25% of people may have two copies.
People who have 2 copies of C677T (homozygous) have at least a 50-60% reduction of MTHFR activity. That means they are functioning at 40-50% of normal at best.
A1298C is the other common MTHFR SNP. 16
I am compound heterozygous; I have one copy of each gene. My autistic son is compound homozygous A1298c (two copies of A1298c)
What can you do about MTHFR?
You can't change your genes, but there a few things you can do to help your body.
1. Avoid folic acid, including folic acid in "fortified" foods.
2. Eat foods rich in natural folate, like dark leafy greens (spinach, kale, dandelion, mustard, etc.) Sunflower seeds, walnuts, almonds, and eggs are also good sources of natural b-vitamins.
3. Supplement with methylfolate
(this is the one we use) and B-12.
This combination can help your body get the methylation process back on track. My kids use methylcobalamin
(Methyl B12). I use Hydroxo-B12
(a slightly different version that works better for my MTHFR SNPs.)
A word of caution: it's best to know exactly what MTHFR variations you're working with before beginning any supplementation. Taking too much too soon can cause detox symptoms. This can vary depending on your specific genes. Get tested if you haven't already.
4. Avoid toxins as much as possible.
Read labels and consider switching to all-natural products. This includes everything from deodorant, toothpaste, cosmetics (this is my favorite all-natural makeup brand), body wash, shampoos, household cleaners, and laundry detergents,
5. Eat healthy, nutritious foods. Consider a gluten-free lifestyle or even grain-free. The fewer chemicals you and your family are exposed to the better off you will be.
6. Take care of yourself. Try to sleep more, exercise more, eat better, and stress less. You'll feel better and your body will thank you for it.
7. Find a doctor to help you. If your doctor isn't supportive, find one who can help you on your journey with MTHFR. This link has a list of doctors who are knowledgeable in this area.
A Few Notes:
I know this is a lot of information and it can seem overwhelming.
Please remember you don't have to change your whole life today.
Consider swapping out your laundry detergent for a more natural version this week. And next week, you could try goat milk soap instead of body wash.
There are many things you can do without overwhelming yourself. Remember too much stress isn't good for you either!
Consider this your journey toward wellness. No one gets "there" all at once; you take one step at a time.
I hope this article has helped you to understand what MTHFR is and what you can do to help yourself and your family.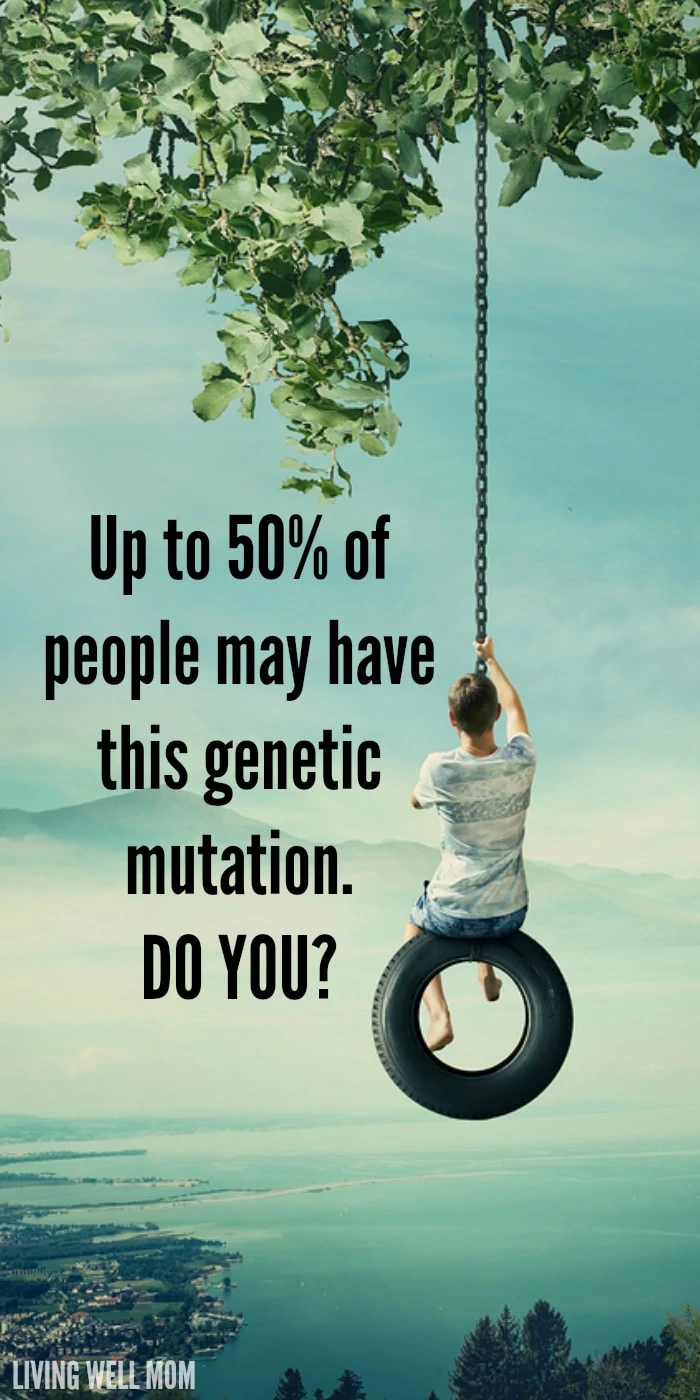 You can read more about MTHFR here:
PreviMedica: Understanding MTHFR Genetic Mutation
Fresh Idea Mama: MTHFR