If your kids are on a restricted gluten-free or paleo-style diet, you know how challenging it can be to provide a variety of healthy lunches. You might find yourself wishing for the old days of boring peanut butter sandwiches, because it's not easy to find a Paleo bread for kids that doesn't require a ton of time or expensive ingredients.
I have four kids and can't afford to make cashew butter bread or some of the other Paleo bread recipes out there. Even if I could get past that, my kids don't always like it!
When I couldn't find a Paleo bread for kids that fit my criteria – simple, easy-to-make, no crazy super expensive ingredients, and most of all kid-approved, I knew I had to come up with my own recipe.
After months of experimenting, I created this delicious recipe for Graham Bread.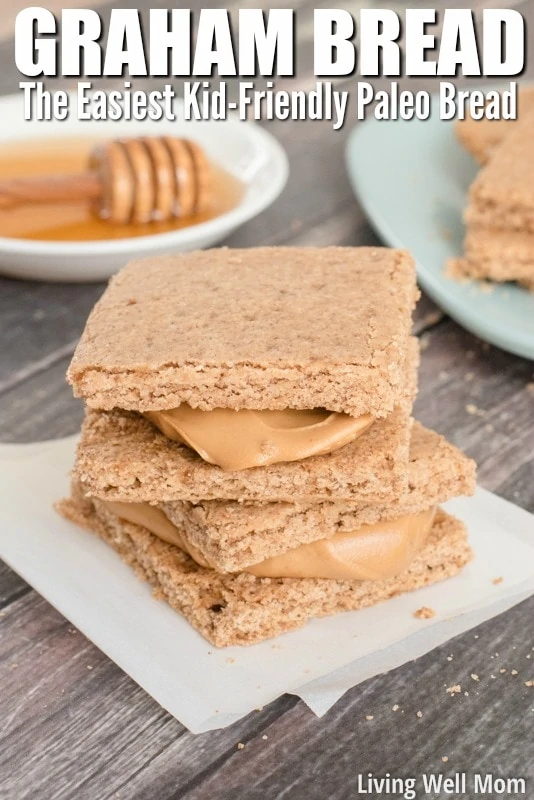 Graham Bread is Paleo-friendly with no grain, dairy, corn, or refined sugar, doesn't have super expensive odd ingredients, takes less than 10 minutes to make (with just another 10-15 minutes in the oven), and best of all it's 100% kid-approved!
My kids adore Graham Bread and they love that they can eat peanut butter sandwiches again!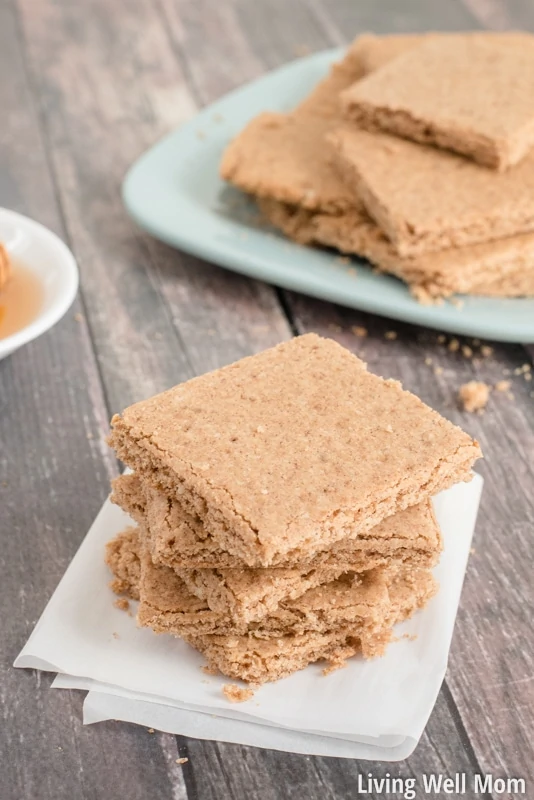 I can't tell you how thankful I am for this easy Paleo bread recipe. I used to spend hours every Sunday afternoon baking and cooking the kids' snacks and lunches for the week, and while I love cooking, it just took too much time.
But this Graham Bread recipe is so easy to make, I can make a couple batches in less than an hour and have lunch for my kids for 2-3 days!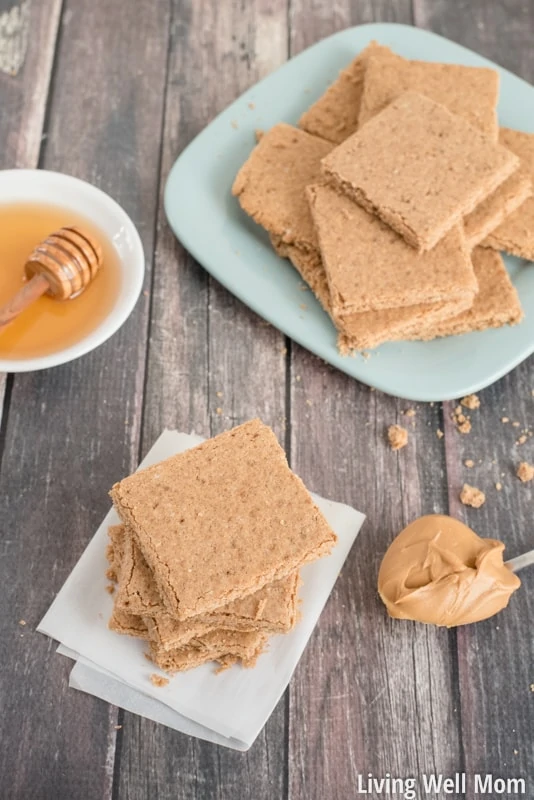 One batch of Paleo Graham Bread makes enough to feed my four kids for one lunch with a little extra. Keep in mind that my oldest is 13 now and eats a lot. He usually brings two "triple" peanut butter Graham Bread sandwiches to school. (Think I'm in trouble?!)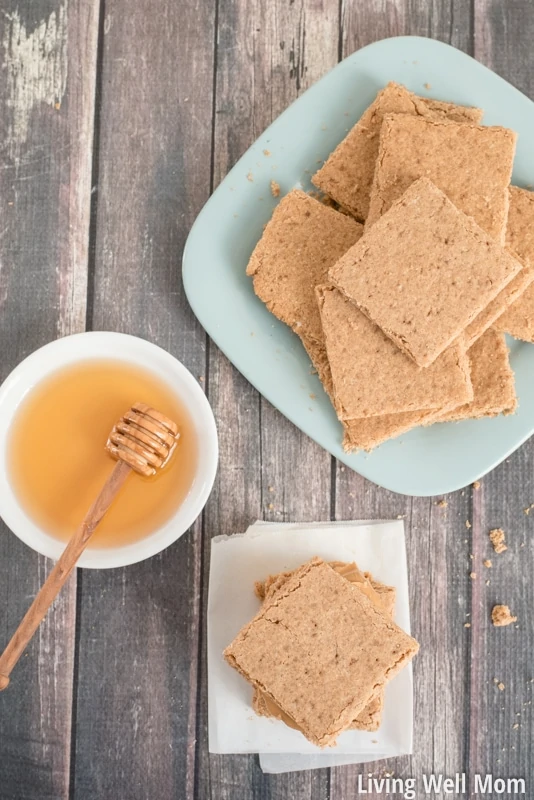 This bread tastes similar to a healthy graham cracker, but isn't crunchy. (I'm working on a graham cracker recipe next.)
It is a little crumbly – I tried so hard to create a no-crumbs version, but I couldn't get it to work without compromising on taste or other important things, like simplicity. Then my oldest son reminded me that "all bread has a few crumbs, Mom," I knew he was right.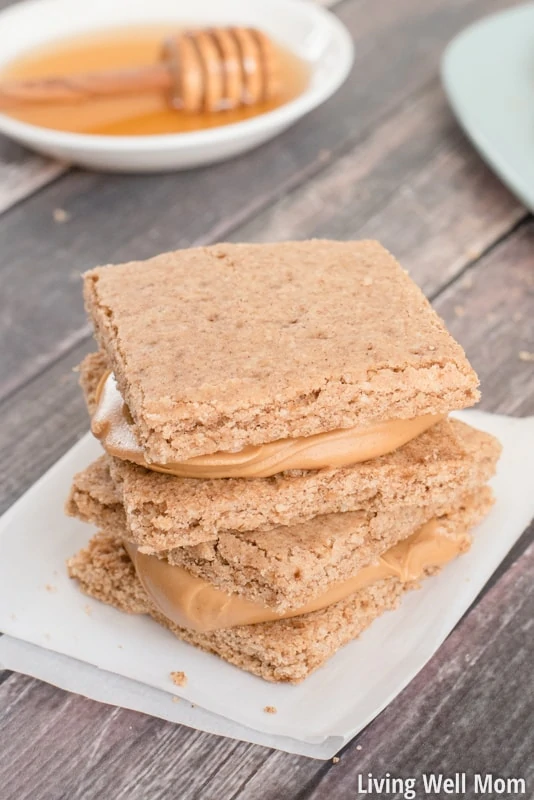 How to Make Paleo Graham Bread:
What You'll Need:
You can make this recipe with a mixer or a food processor. I prefer using my food processor because it's much faster.
Put all the dry ingredients into your bowl or food processor.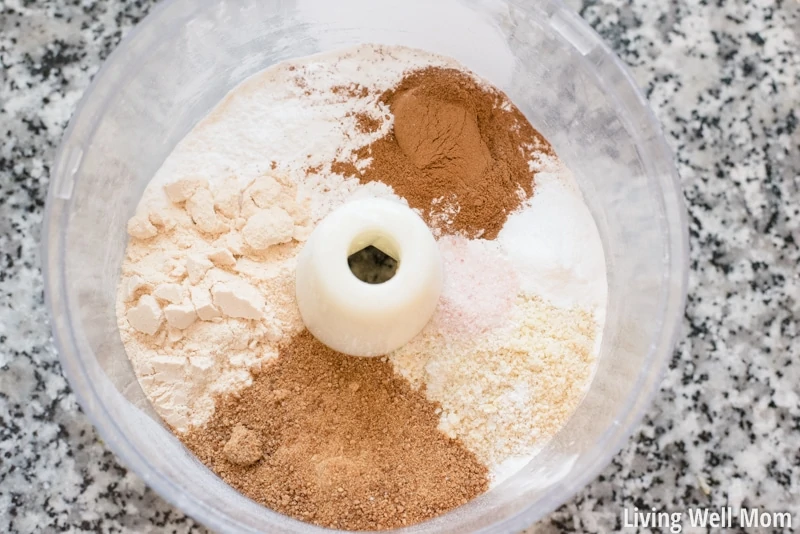 Mix until everything's combined. Add the honey, eggs, and vanilla extract.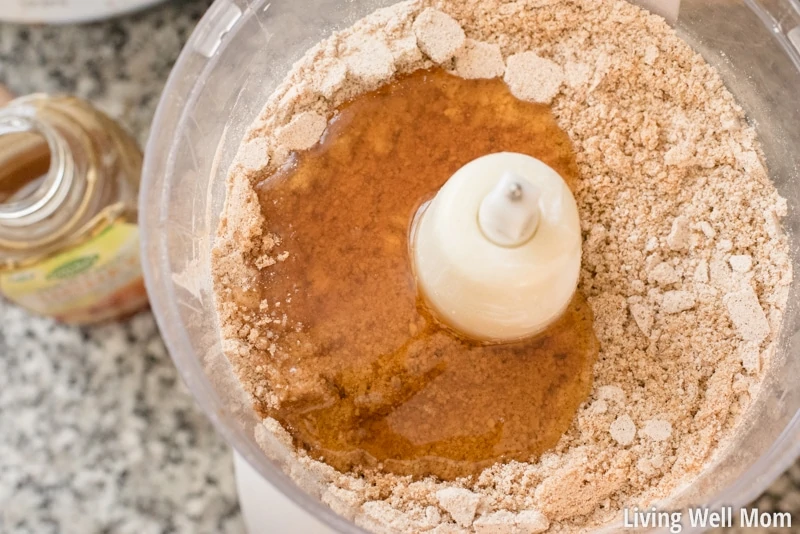 Mix until moistened.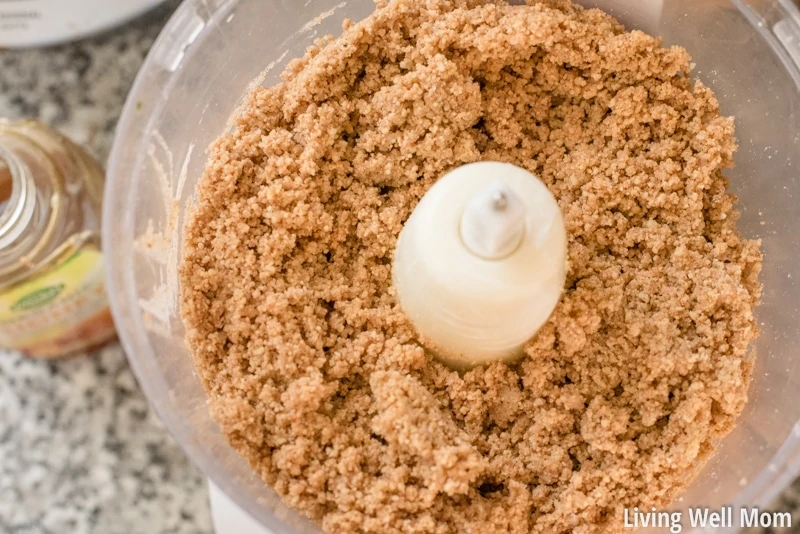 Lastly, pour in the coconut oil. This really brings all the ingredients together and creates a smoother dough.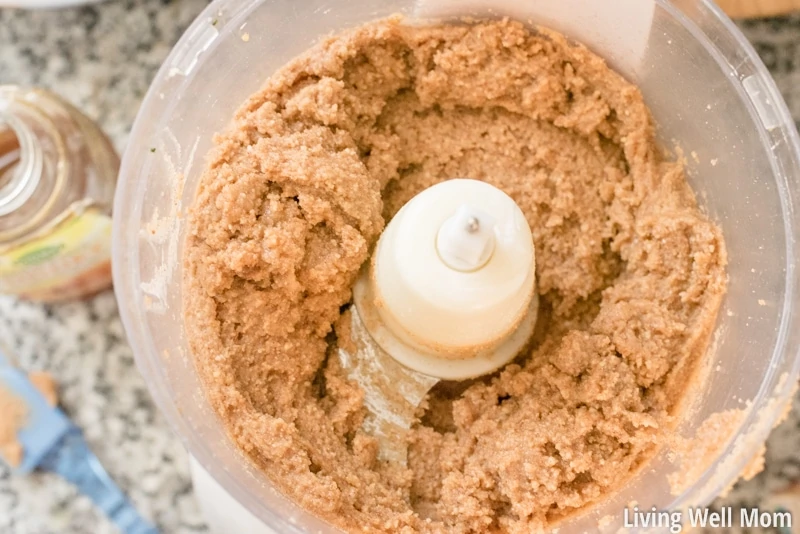 Turn onto a large sheet of parchment paper and put another piece of parchment paper over the top. Roll out with a rolling pin until it's about 1/3-1/2″ thick.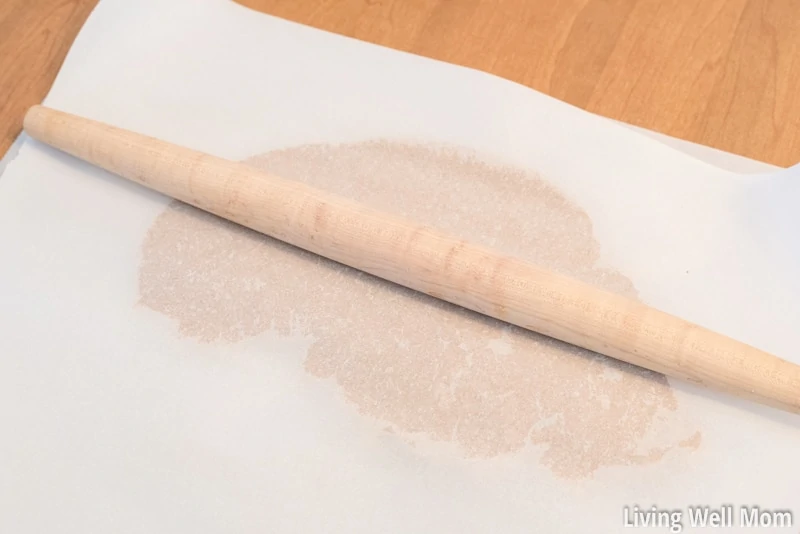 Try to roll it into a rectangle shape, but it doesn't need to be perfect.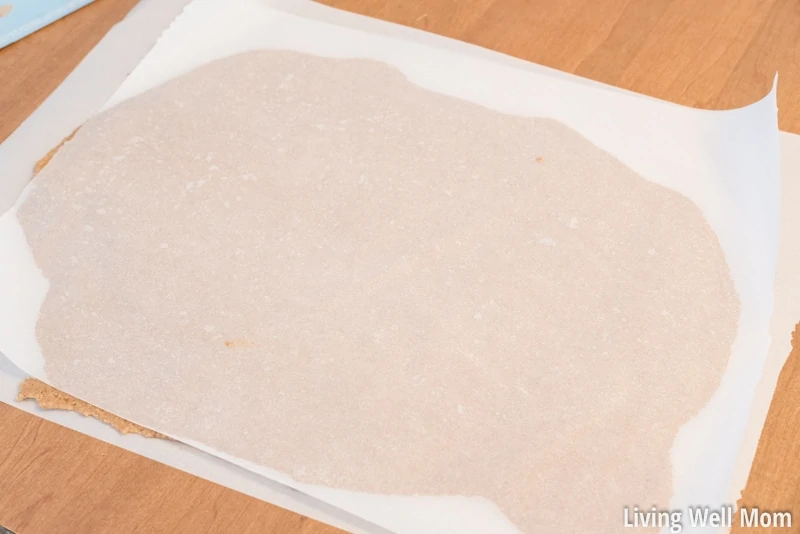 Slowly peel off the top piece of parchment paper and slide the dough with the bottom parchment paper onto a large baking sheet. I use this baking sheet, but you can fit it onto a normal-sized cookie sheet.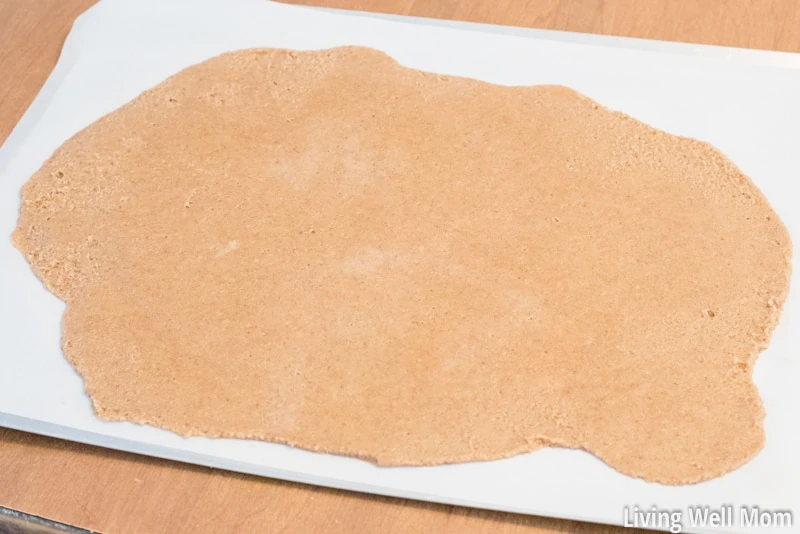 Bake at 375 degrees for 12-15 minutes, until the edges are lightly browned and starting to crack.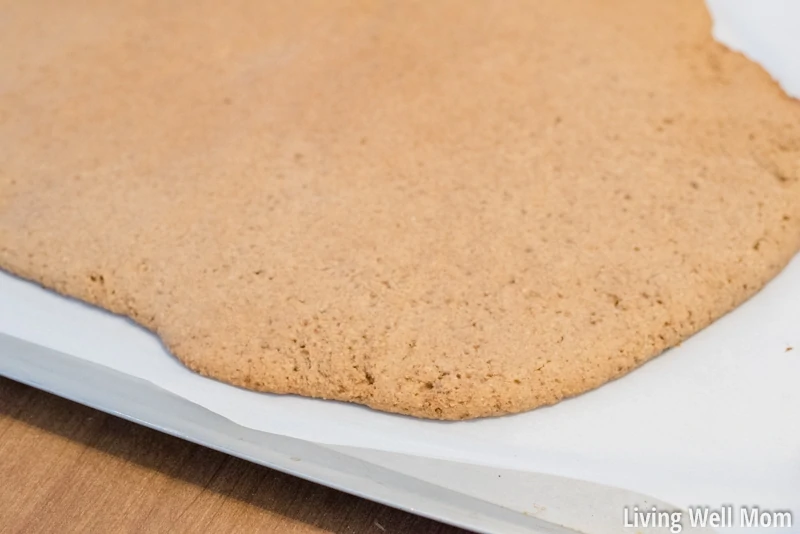 Let the Graham Bread cool for at least 30 minutes, then cut into squares. I love using my stainless steel scraper/chopper.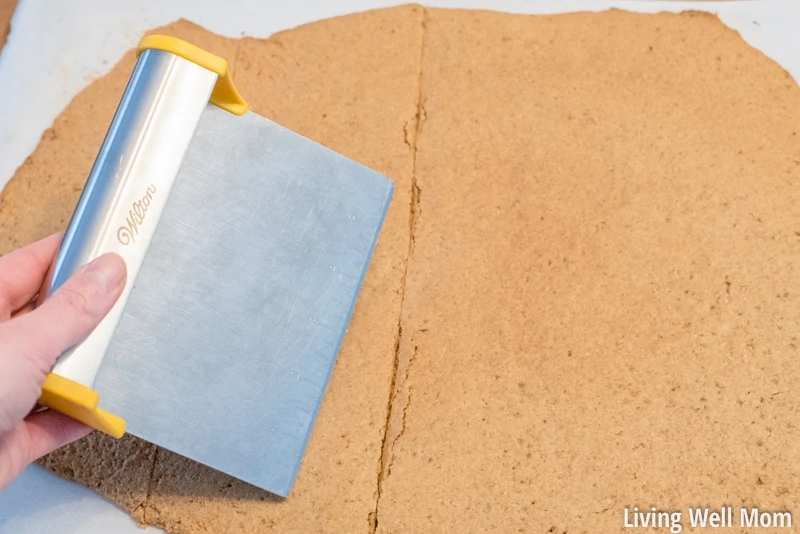 Kids love snacking on the little 'edge' pieces; I'll often put some in my kids lunch along with their sandwich.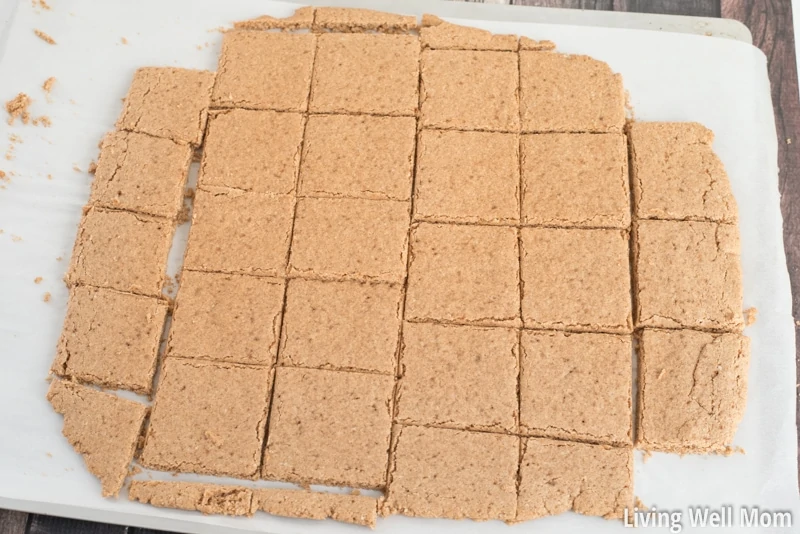 You can immediately make sandwiches for your kids or set aside for later. I usually put a piece of parchment over the top and place the whole baking sheet on top of my fridge. It doesn't need to be air tight if you'll eat it within 2-3 days.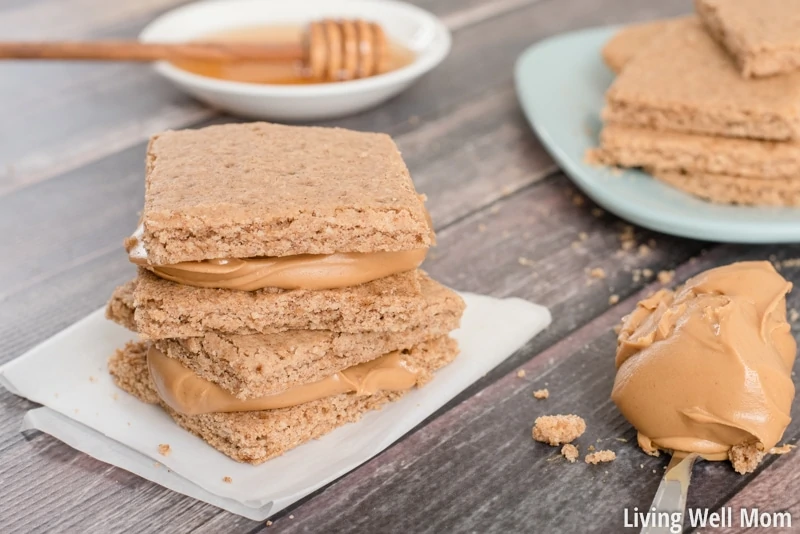 You can cut into pieces and store in a container, but I've found that the graham bread sometimes settles in together and isn't easy to separate. Of course, my kids have never minded a few crumbled or stuck together pieces. That's up to you.
You do not need to refrigerate.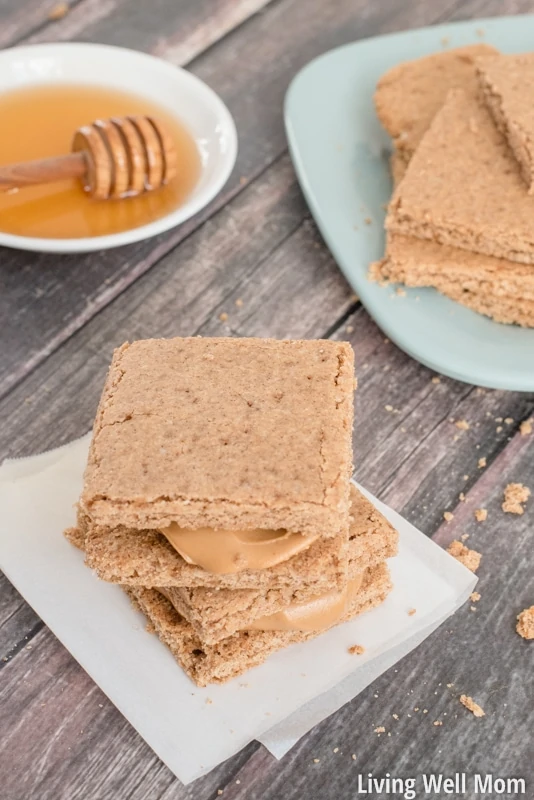 Print
Graham Bread
You'll love this super easy Graham Bread recipe – it's the easiest Paleo bread for kids you'll ever make and kids LOVE it!
Author:
Prep Time:

10 mins

Cook Time:

15 mins

Total Time:

25 mins

Yield:

15

-

18

pieces

1

x
1 cup

almond flour

¾ cup

tapioca flour

½ cup

coconut flour

¼ cup

coconut sugar

1.5 tsp

cream of tartar

¾ tsp

baking soda

1 Tbsp

cinnamon

½ tsp

sea salt

2

eggs

2 tsp

vanilla extract

¼ cup

honey

2

/ 3 cup coconut oil
Instructions
Mix the dry ingredients together, then add the eggs, vanilla extract and honey. Blend until moistened, then lastly pour in the melted coconut oil and mix again.
Scoop onto a parchment paper lined large baking sheet. Lay another piece of parchment paper over the top and roll into a large rectangle with a rolling pin. The graham mixture should be about ¼-⅓" thick, but it doesn't need to be exact.
Bake at 375 degrees for 12-15 minutes, until lightly browned at the edges.
Notes
You can easily make this recipe with a mixer (or even by hand), but I prefer the food processor because it's quicker and smoother.