This easy acai bowl recipe is made with yogurt, colorful fruit, and honey for a tasty, nutritious breakfast, lunch, or snack that can be made in less than 5 minutes. This kid-friendly treat is filled with antioxidents and nutrients to keep them strong and healthy.
Easy Acai Bowl Recipe
This rainbow acai bowl is incredibly easy to put together. If you haven't tried acai before, this is the perfect opportunity to do so!
Where can I find acai?
You may have heard of acai, but chances are you'll never see it in the grocery store produce section. The reason for this is these delicate berries have a very short self life – basically as soon as they are ripe they are picked, pureed, and usually frozen. The freezer aisle is exactly where I usually pick up my acai!
Some producers will also make them into a juice, or even a dehydrated powder. So be sure to ask the manager at your local store to see what your options are.
What does acai taste like?
People generally describe acai as a cross between blackberries and chocolate, or raspberry and cacao. Yummy, right? It's got a sweet-tart-earthy combination happening which I can't get enough of!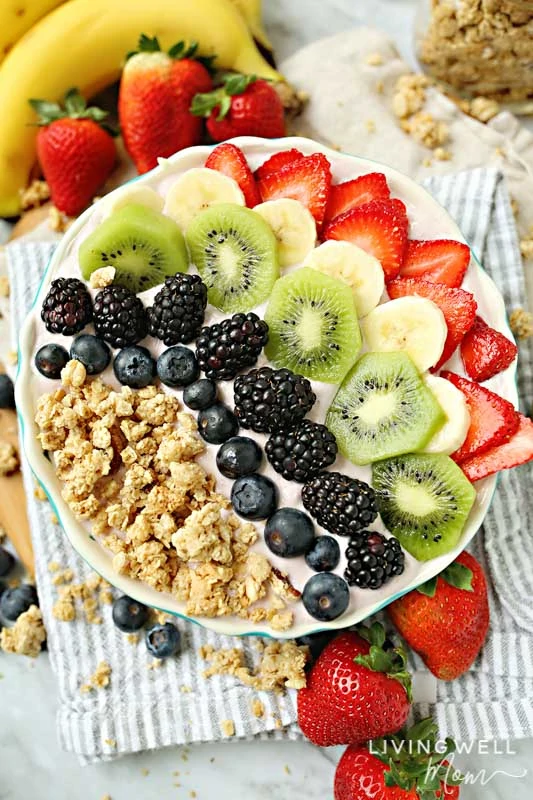 What are the benefits of acai?
Besides tasting amazing, there are several important health benefits to acai. Here are just a few:
They are satisfying. When compared to another berry, the acai stands out because it has lower sugar and more fat than the typical berry.
Acai berries have antioxidents. This is probably the benefit most associated with acai (for good reason!). These berries are dense with antioxidents—3 times more than blueberries!
They have appetite-supression qualities. If you struggle with feeling and staying full, this little berry may be just what you need.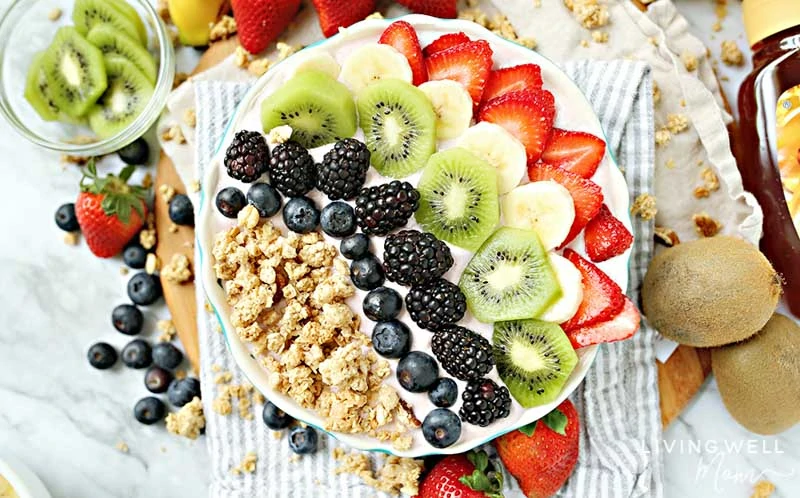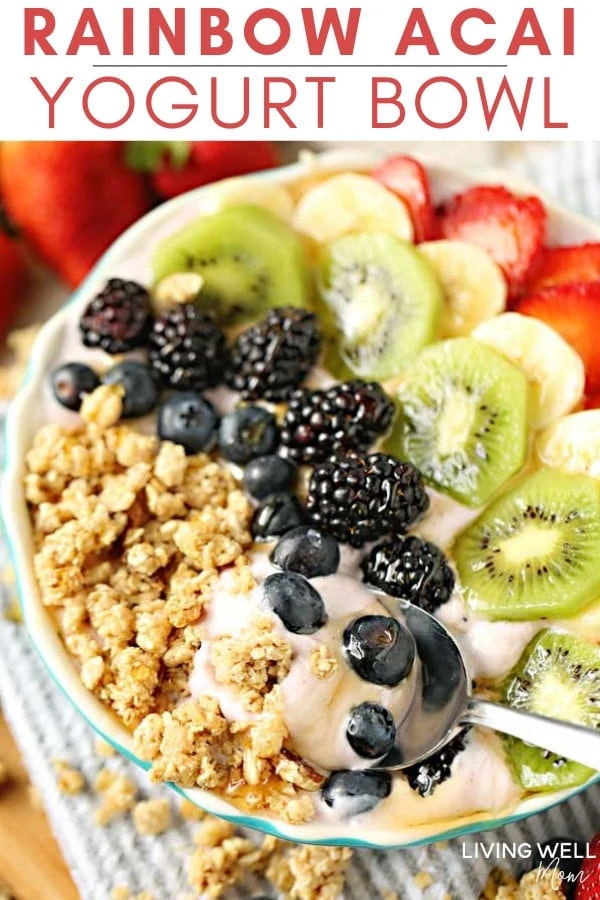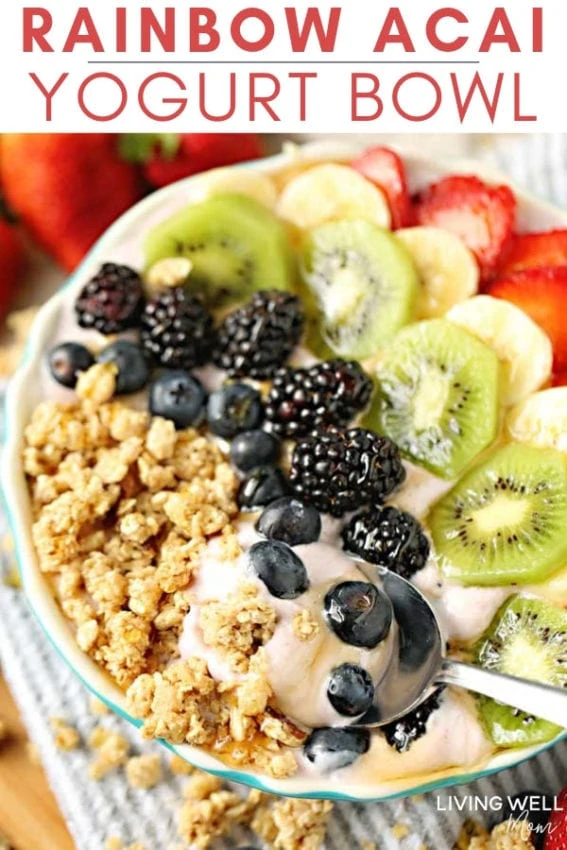 Kid-Friendly Rainbow Acai Yogurt Bowl
Yogurt bowl recipes are a staple in our household. Not only do our kids love them, but they are also a delicious and healthy way to make a quick and easy breakfast, lunch, or snack anyone in the family. For example, my Coconut & Mango Yogurt Bowl recipe is one of my favorite easy lunch ideas and perfect for a busy day.
Kids love yogurt bowls too. This particular easy acai bowl recpe contains a variety of fruit that offers great nutritional benefits, plus the calcium and protein that are usually found in yogurt.
I also like using yogurt because it typically has probiotics. Gut-health is hugely important, particularly in a family like mine with sensitivites and some autoimmune issues.
Plus, here's another fun thing about this easy yogurt breakfast recipe: it's so easy, the kids can make their own!
I usually just lay out all the ingredients on the counter, and add yogurt to their bowls. Then I let them add the fruit and granola toppings and they'll have fun! This works great for picky kids too because they get to decide (within reason) what's on their bowl.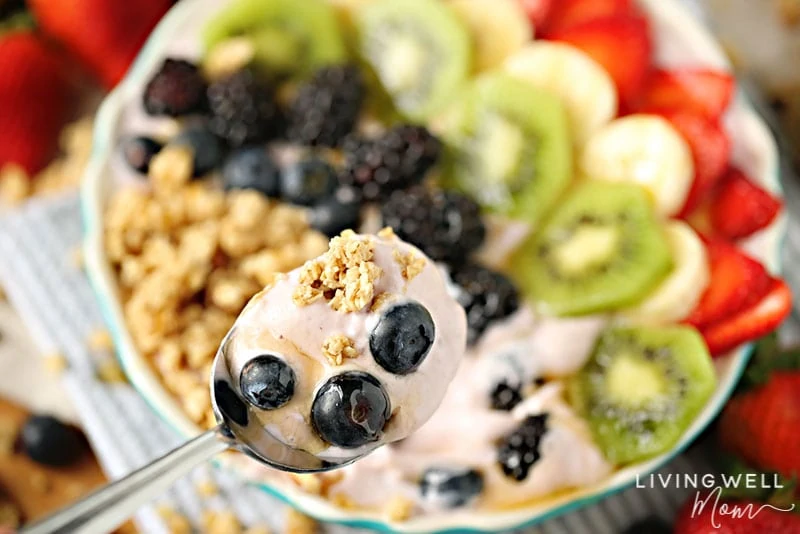 Acai Bowl Ingredients
To make this easy acai bowl recipe, you'll need just a few things:
acai yogurt – or plain or vanilla yogurt mixed with frozen acai puree) If you can't find acai yogurt, get plain or vanilla yogurt and mix in frozen acai puree (you'll need to let it thaw first). Need a dairy-free option? Choose almond milk, cashew milk, or another dairy-free vanilla yogurt
rainbow-hued fruit this is just for fun—you can obviously use whatever oclor fruit you have on hand! A few I use are blueberries, banana, strawberry, kiwi, and whatever other seasonal fruit I have available.
Local honey
Granola
How to Make This DIY Acai Bowl
Start by scooping the acai yogurt into a bowl. Then top it with sliced strawberries…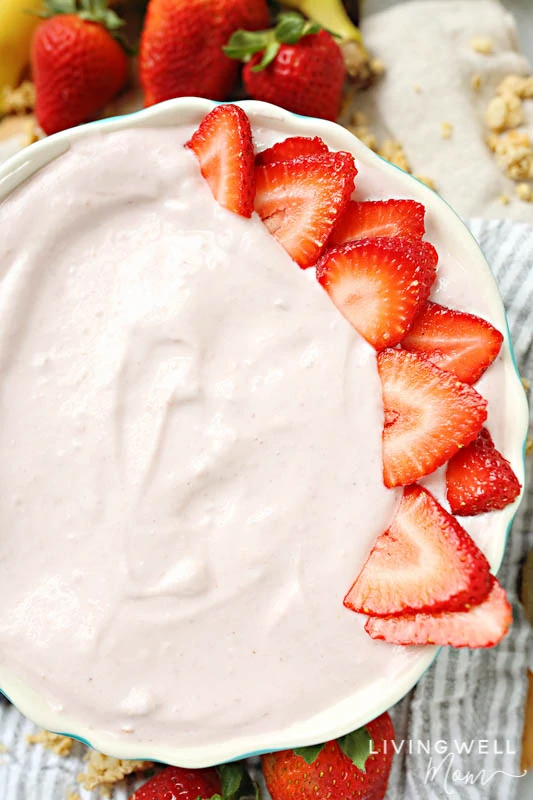 …bananas…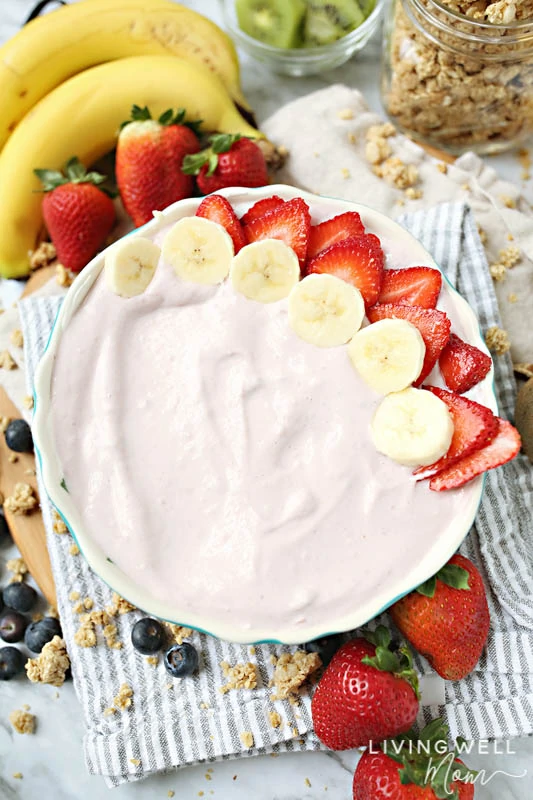 ..kiwi and berries…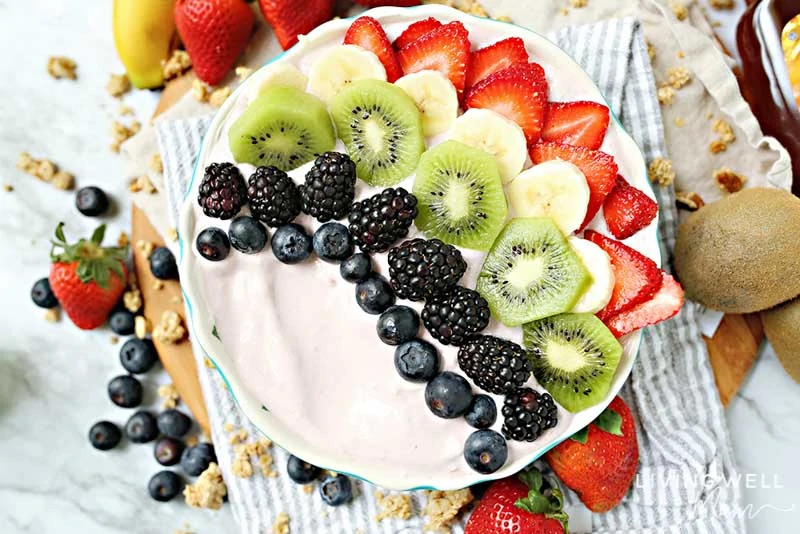 …and granola.
Lastly, drizzle a little honey over the top.
If your kids are helping, you should probably do this step yourself otherwise it may get a little sticky.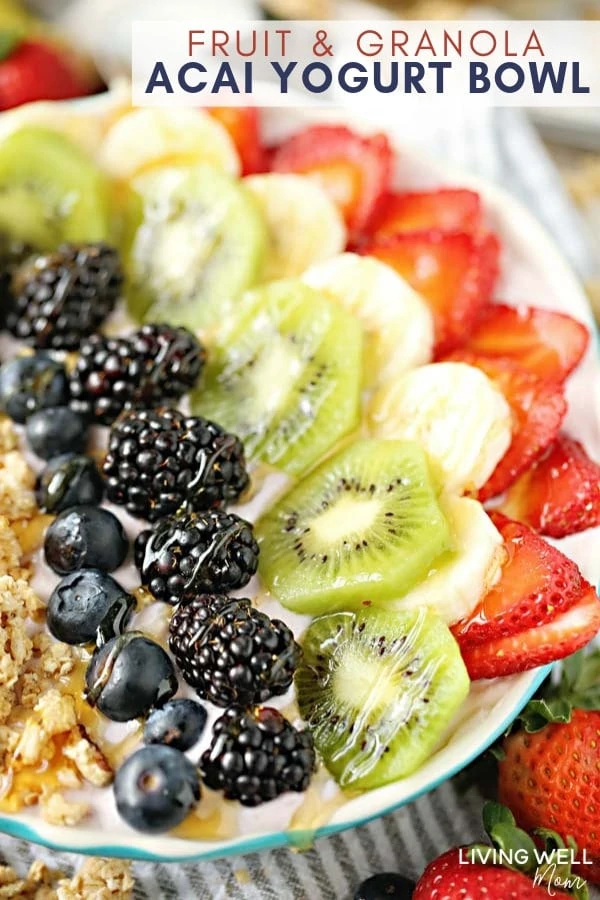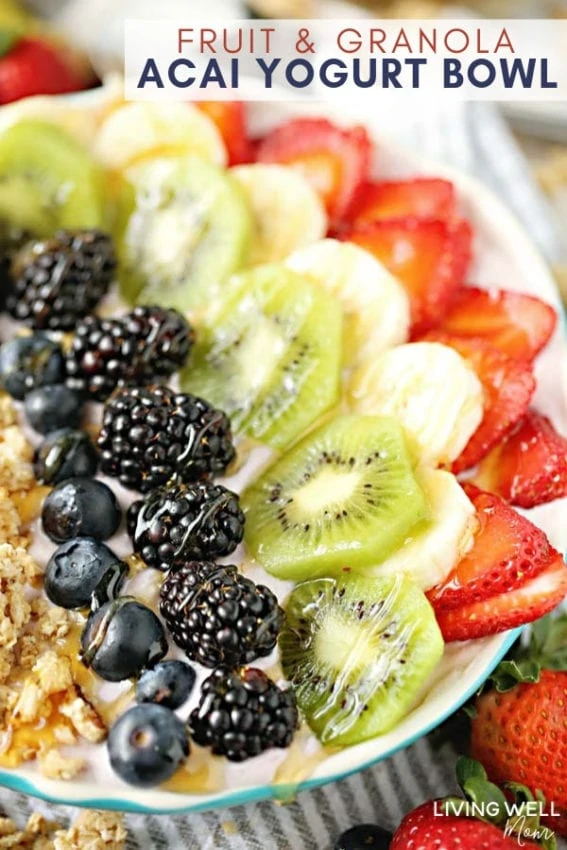 I prefer to use local raw honey for even more nutritional benefits. Raw honey can be great for helping with seasonal allergies and this recipe is an easy way to include it. Remember, do not give honey to babies or infants under the age of 1.
Serve this easy acai bowl recipe right away and enjoy.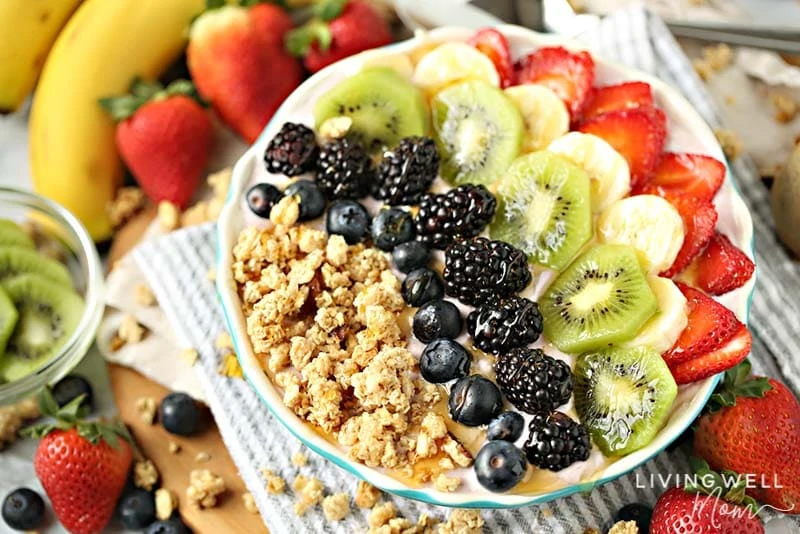 More Kid-Friendly Recipes:
Print
Rainbow Acai Yogurt Bowl
This Rainbow Acai Yogurt Bowl is made with yogurt, granola, colorful fruit, and honey for a tasty, nutritious breakfast, lunch, or snack that can be made in less than 5 minutes.
Author:
Prep Time:

3 min

Total Time:

3 minutes

Yield:

1

1

x
Category:

breakfast

Method:

no-bake

Cuisine:

American
2/3 cup Acai yogurt*
1 tbsp. blueberries
3 – 5 slices, banana
3 – 5 slices, strawberry
3 – 5 slices, seasonal fruit
3 – 5 slices, kiwi
1 tsp local honey
2 tbsp. granola
Instructions
Fill a bowl with yogurt and top with fruit, granola, and honey as desired.
Notes
*if you cannot find acai yogurt, purchase dried acai power or frozen acai puree available in most health food stores to combine with yogurt.
Keywords: yogurt bowl, acai, smoothie bowl, fruit and granola, kids recipe, gluten-free, dairy-free option
Pin the image below to save the recipe for later.