This is a guest post by Megan from Scratch to Basics
Ever since we discovered how easy it is to make spiralized carrot noodles, we've been hooked! Before you get intimidated by the word "spiralized", I'm here to tell you that you don't need any special tools to make spiralized carrots! It's true. Keep reading to see how simple it really is.
I do think we could think of a fun name for carrot noodles. I mean, there's zucchini noodles that people call "zoodles". (Find Erika's easy guide to making zoodles here.) So carrot noodles are…um…"coodles"? Maybe. I'm not sure about that one. It sounds a little bit like "cooties" back from elementary school.
Why should you make Carrot Pasta?
Even if we don't have a cutesy name for carrot noodles, we can still enjoy them. We eat gluten-free in our house for various reasons (but mostly because we just feel better when we don't eat gluten). Just because we don't eat "normal" noodles doesn't mean we can't enjoy some pasta for dinner. We love pasta (who doesn't?)!
Carrot pasta is a healthy, naturally gluten free option that our whole family loves. What's better than a simple, nutritious recipe that's absolutely delicious too?!
And when you use carrots as noodles you get an extra serving of vegetables in your meal. Bonus!
If you're looking for more clever ways to eat your vegetables, try making veggie chips!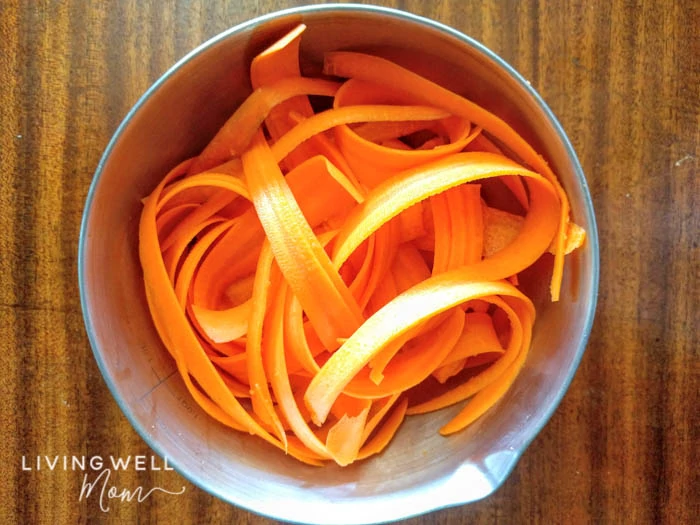 Spiralized Carrots (Without the Spiralizer)
If you have a spiralizer
, you can use it if you'd like. But for those of us that don't have a spiralizer, (or just don't want to get it out), you can use your basic everyday potato peeler
to make these wide carrot noodles.
If you'd prefer thinner noodles, go ahead slice the noodles lengthwise to your desired thickness. Making noodles has never been easier!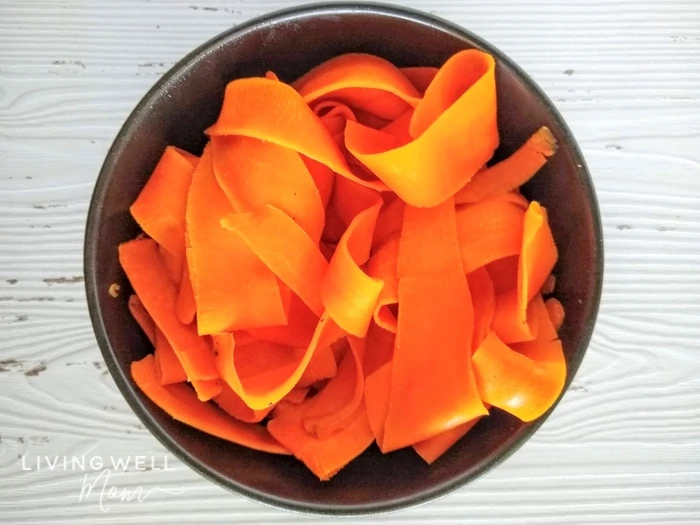 Helpful Tools
You don't need much to make this recipe, but these tools will come in handy. You probably already have them in your kitchen.
Carrot Noodle Recipes
Use carrot noodles in any recipe that you would use traditional pasta. They'll add a sweetness that your whole family will love! Here are some ideas to get your brain started thinking about all the possibilities.
Carrot spaghetti – Make your favorite spaghetti sauce and pour it over your cooked carrot noodles.
Thai carrot noodles – Make a Thai carrot noodle bowl with a simple peanut sauce.
Pesto with carrot noodles – Make carrot noodles with basil walnut pesto for a delicious and flavor-packed meal.
Lasagna – Make lasagna as usual, but replace the wheat pasta layer with strips of carrot pasta.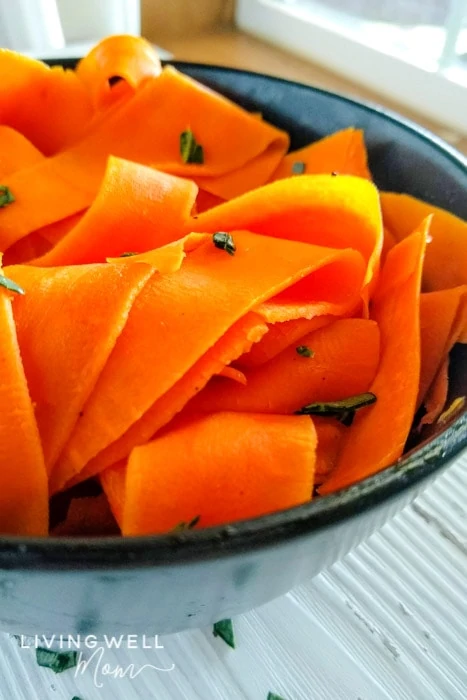 How to Cook Carrot Noodles
In three simple steps and only a few minutes, you'll have healthy spiralized carrot noodles (even if you don't have a spiralizer).
STEP 1: Peel the Carrots
First, peel your carrots with your peeler. Discard the peels into your compost bin (if you have one).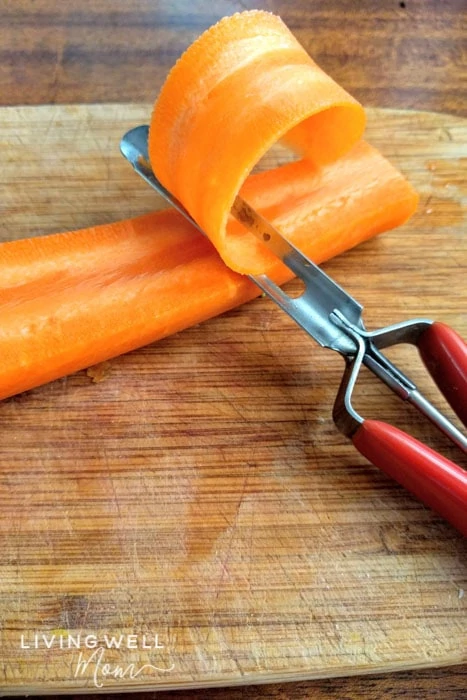 STEP 2: Make the Carrot Noodles
Next, we'll make the noodles. Remember how you just peeled the carrots? Well keep "peeling" them. Each piece that comes off is a noodle. Set the noodles aside in a bowl.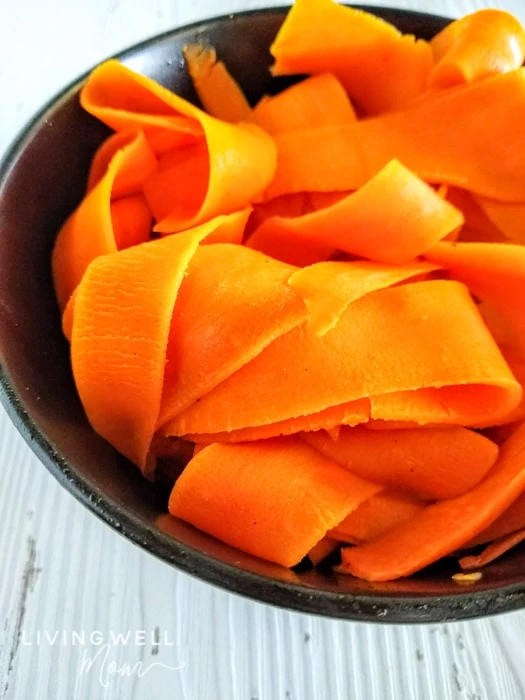 This is a great step for the kids to help with. If they're old enough to use a peeler, they can peel. OR they can move the noodles from the cutting board to the bowl.
STEP 3: Cook the Carrot Noodles
Next we'll cook the noodles. The fastest and easiest way I've found to cook them is to saute them. Get out your saute pan, drizzle the oil, sprinkle the salt, and cook until done.
You'll know they're done because they will lose the crunch, but they won't be too soggy (I'm not a fan of soggy noodles). Cook them until you like the texture.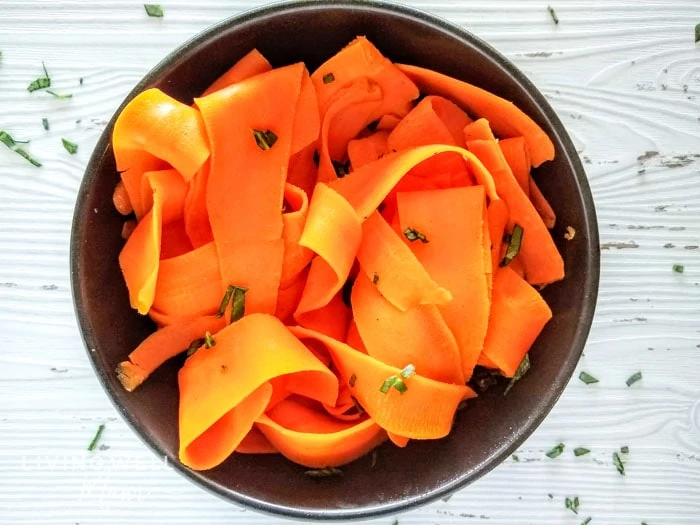 Can I Make Carrot Pasta Ahead of Time?
Yep! You can definitely make the noodles (meaning create the noodles from the carrots) ahead of time. I'd recommend waiting to cook them until you're ready to eat them though. Again with the whole soggy noodle thing. I'm definitely not a fan.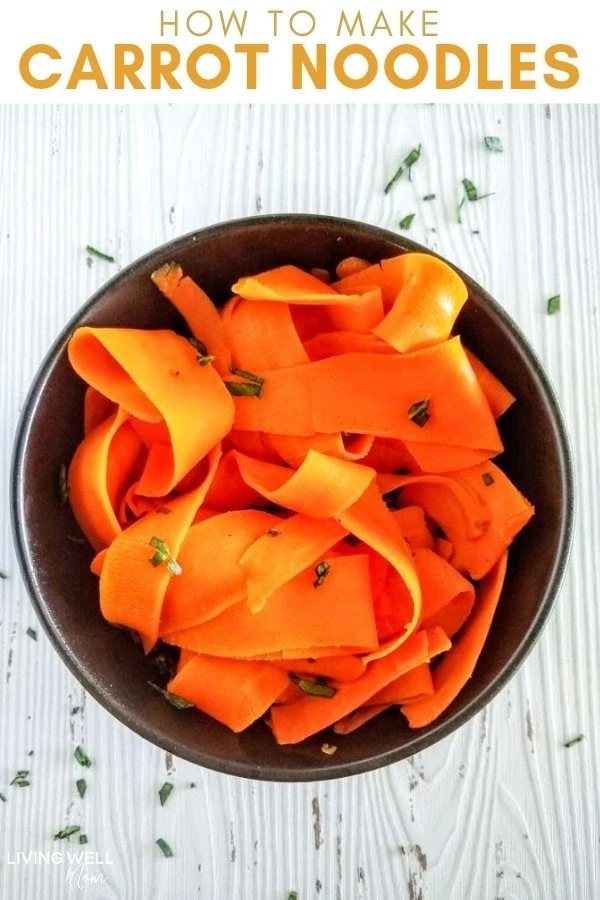 About the Author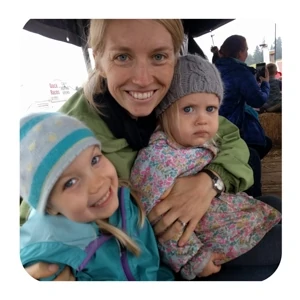 I'm Megan. I'm a follower of Jesus, a wife to a loving husband, and a mom to two sweet little girls. At my blog, Scratch to Basics, I provide simple, delicious and nutritious recipes the whole family will love. When I'm not cooking you can find me outside on our small farm or chasing my two giggling girls around the house.