I didn't believe these delicious Pumpkin Streusel Muffins were gluten-free when I first tried them- they are so good! I love how they're naturally sweetened and easy to make too.
My whole family, including the kids, love this recipe for Gluten-Free Pumpkin Streusel Muffins!
I've been gluten-free for 2 weeks now and I really think I can do this new lifestyle.
Why am I going gluten-free? I want to be healthier. I'm sick and tired of being tired. I'm still dealing with hypothyroidism and a gluten-free diet can help. Plus after reading the book Wheat Belly, it just makes sense. Our wheat is so genetically modified nowadays it's almost scary.
My biggest fear with gluten-free living was not being able to bake. Baking is one of my passions and I would be so sad to give that up. Luckily, I don't have to, because there are gluten-free flour substitutes and lots of amazing recipes.
Nate's been doing gluten-free with me and next, we're going to switch over the kids. I've already been cooking gluten-free meals the past two weeks, but still packing regular sandwiches and snacks for the kids' lunches at school. This week, my goal has been to make homemade gluten-free bread (done!) and gluten-free snacks.
After a google search, I found a recipe for Paleo Pumpkin Muffins and knew it would be a perfect gluten-free snack for the whole family. I modified the recipe somewhat to fit the ingredients I had on hand and to add a little more flavor (I can't get enough of pumpkin spices!)
And thus I introduce you to Gluten Free Pumpkin Streusel Muffins: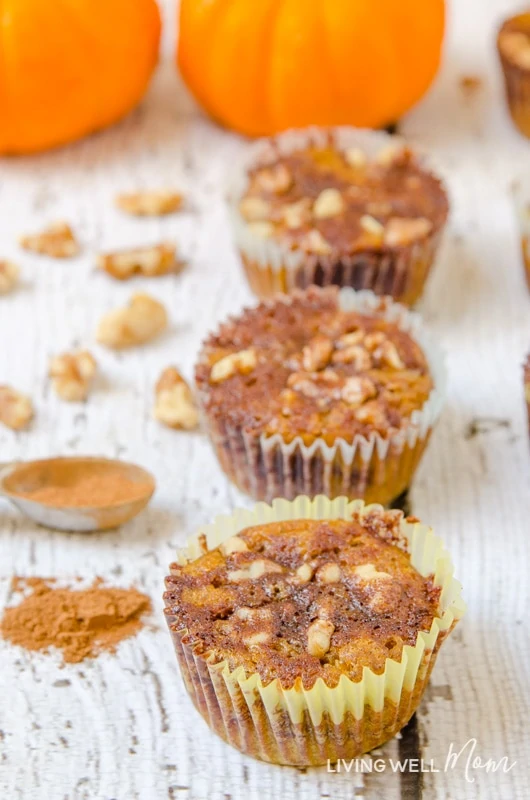 These Gluten-Free Pumpkin Streusel Muffins are amazing.
They're light and flavorful. Perfectly spiced and naturally sweetened with maple syrup and honey. There's pumpkin. What's not to love?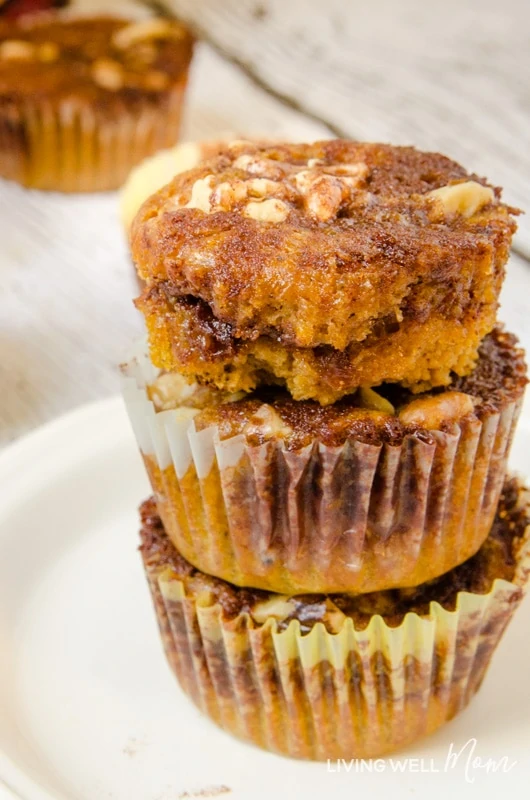 Grab a gluten-free pumpkin streusel muffin when you're running out the door without breakfast. Pack a muffin for a morning or afternoon snack. Send them along with the kids to school or use as an after-school snack. Your family will love them!
Hint: you can make these muffins without the streusel too. (They're a little less messy for little hands.)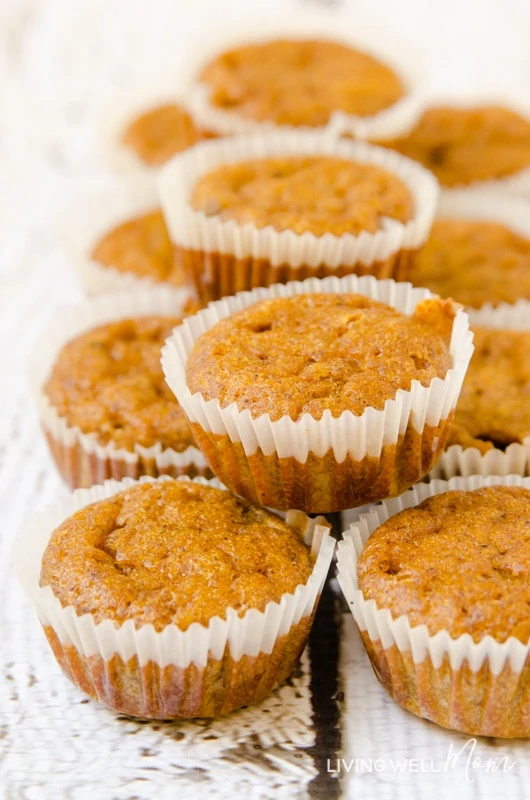 I'm telling you, gluten-free isn't so bad.
Print
Gluten Free Pumpkin Streusel Muffins
Perfectly spiced, naturally sweetened, and an easy-to-make snack the whole family, including the kids, will enjoy.
Instructions
Combine the wet ingredients together with a whisk. Add the spices, baking soda, and sea salt and mix. Add the flour and mix just until combined.
Set aside.
Mix all the streusel ingredients together (except the walnuts) in a small bowl.
Pour 1/2 the muffin batter into the paper-lined muffin cups. Spoon streusel over, saving half for the top. Layer the remaining muffin batter over the streusel. Top with the walnuts and drizzle the remaining streusel over the nuts.
Bake at 350 degrees for 20-25 minutes. (This may vary depending on what type of gluten free flour you used.) For me, it was about 23 minutes.
Notes
Streusel recipe is from http://thenourishinghome.com/2012/03/cinnamon-streusel-muffins-gf/