As a mom to four, I know how hard it is to raise a teen. You want nothing more than for your child to grow up and be happy in life.
However, with the pressures of social media and schoolwork on top of all the other stressors that come from being a teenager, it can be difficult to stay positive. That's why I am a huge believer in positive affirmations for teens.
Believe it or not, but there is power in words. Sadly, our children get hit with a lot of negativity during those tumultuous teenage years.
From raging hormones to bullying to increasing amounts of homework, stress levels can escalate quickly, causing confidence to take a dive. You'll want to be armed with something that will help kids moving forward, even when times are tough!
In this blog post, I'll share 31 positive affirmations for teens that you can use together with your teenager. Whether they find themselves struggling with anxiety or just need an extra boost of self-confidence, these affirmations should do the trick.
What are Affirmations?
If you aren't even sure what an affirmation is, let me explain. It isn't anything that's fancy or fussy – just positive statements that inspire change in your life. As you'll see, these statements can range from simple truths to empowering statements.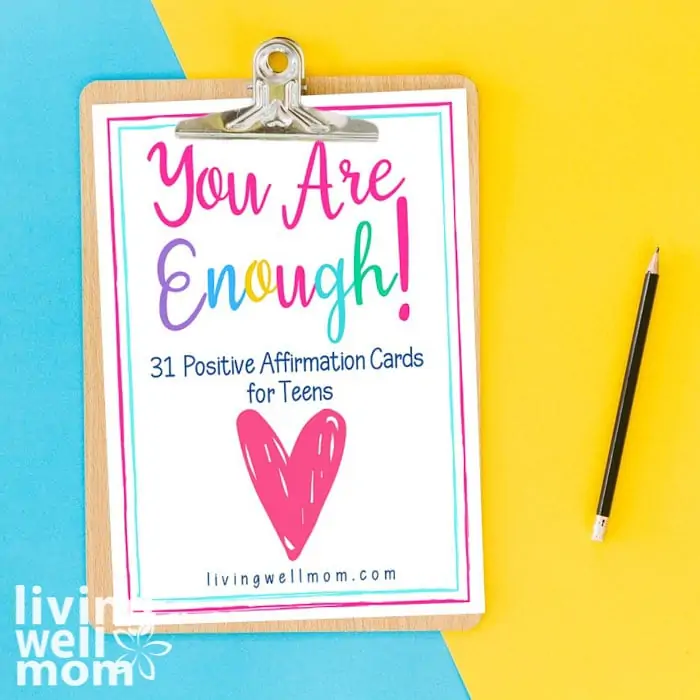 How to Use Affirmations for Teens
I'll show you how to use these affirmations (and give you some of my favorite affirmations for teens to use) but it's important to know that it's okay if you or your teen doesn't believe positive affirmations at first.
To get the most out of them, you should plan on the affirmation being repeated 3-5 times at least two times per day. Your teen may not be a willing participant at first, and that's okay! As a mom, you can speak these life-giving positive thoughts over them until it becomes a habit on their own.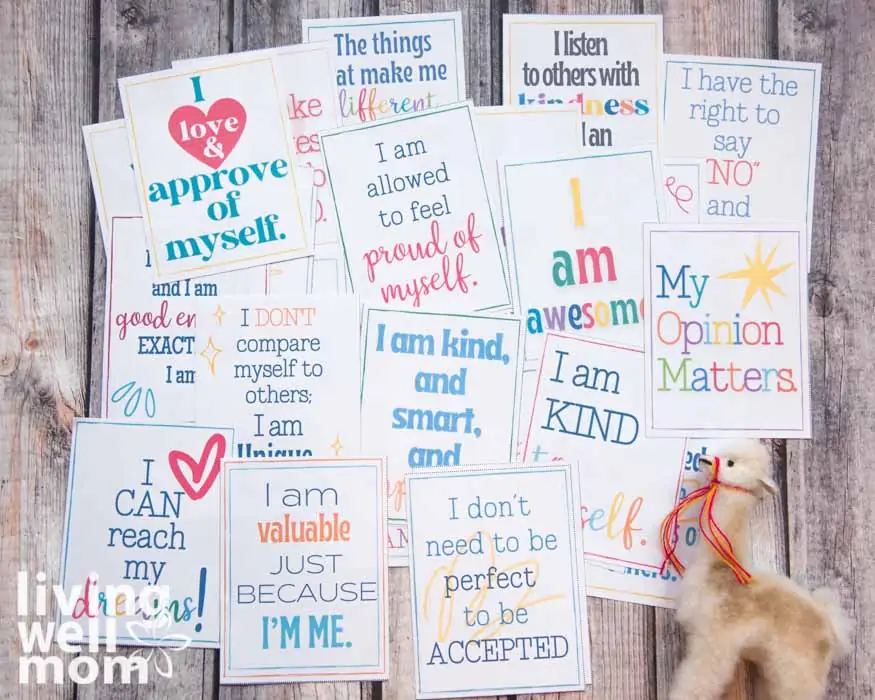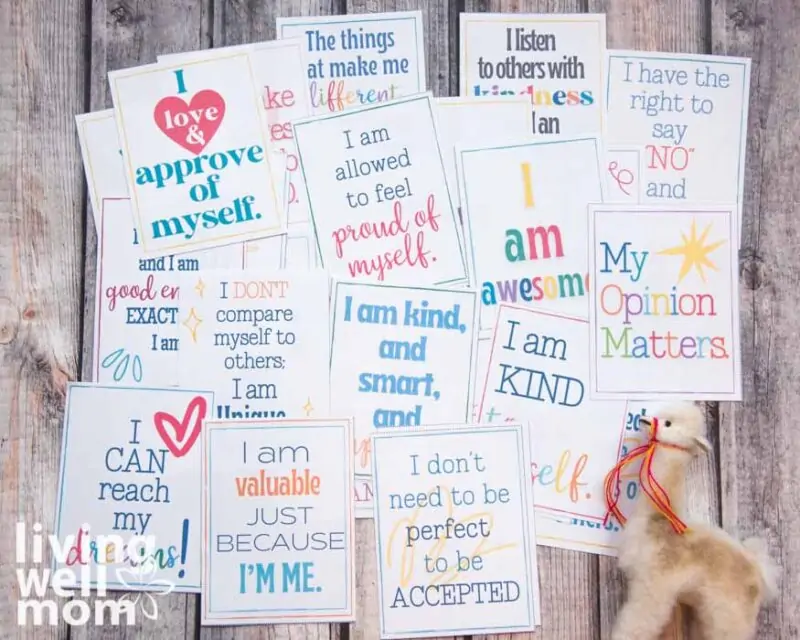 Here are a few easy ways to incorporate these daily affirmations:
Speak them over your child as they are eating breakfast in the mornings.
Tuck a note with an affirmation into their lunch box.
Hang an affirmation statement on their mirror (especially one regarding positive body image).
Add one as their phone background.
Make saying an affirmation out loud part of your evening bedtime routine.
Have your teen repeat the positive affirmation after you throughout the day.
Even if it feels weird at first, it will quickly become part of your routine to build confidence and cultivate positive energy.
Remember, repetition is key!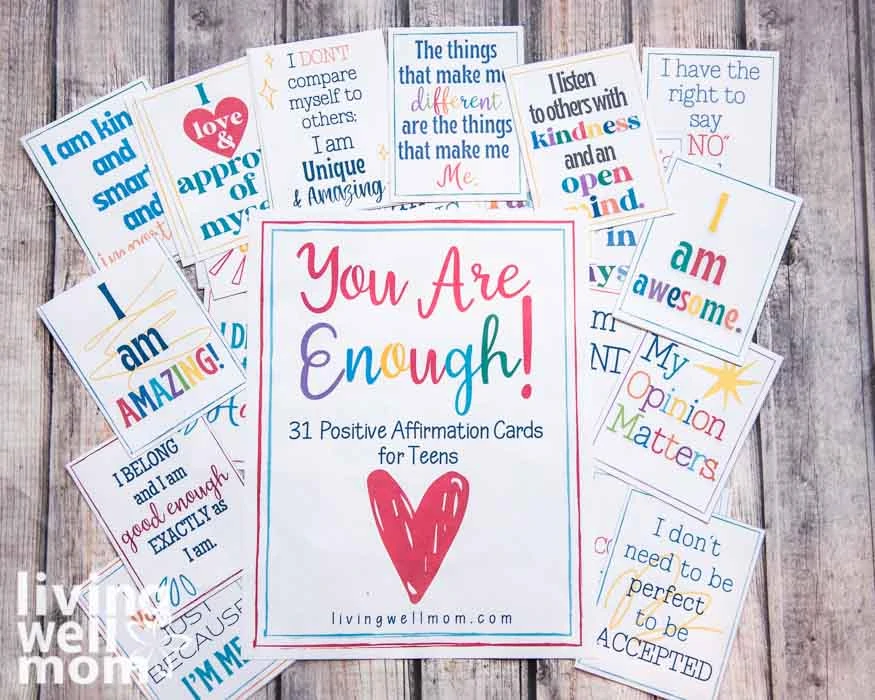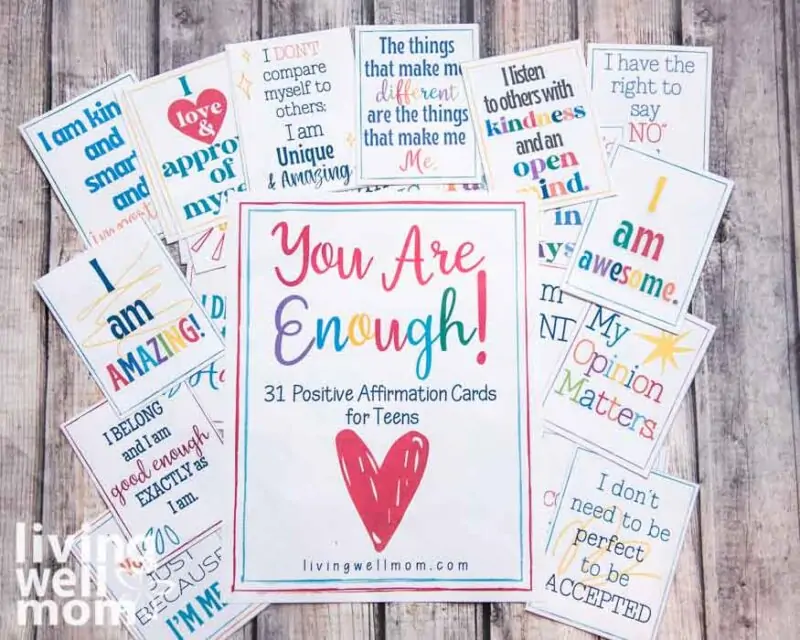 31 Positive Affirmations for Teens
Ready to get started? Take a look at these 31 affirmations and choose the ones that make the most sense for your family. These affirmations are simple and effective and written just for teens.
Grab a free download with all the affirmations below listed:

I am amazing!
The things that make me different are the things that make me me.
I will not compare myself to people on the internet.
I am not controlled by the opinions of others.
I believe in myself.
I am beautiful inside and out
I am valuable just because I'm me.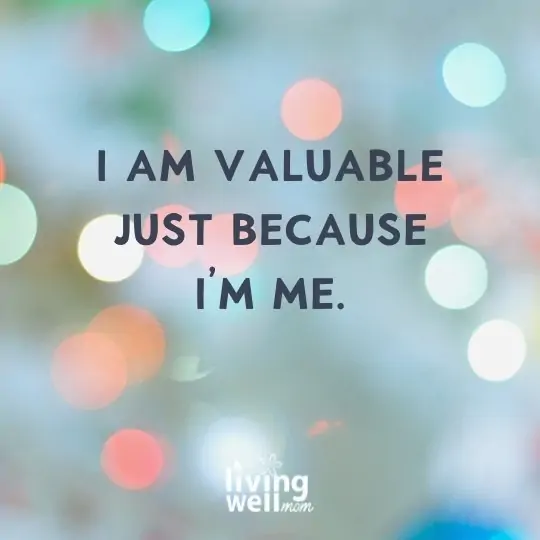 I speak to myself with kindness.

I am awesome!

I offer a unique perspective.
I listen to others with kindness and an open mind.
I am allowed to feel proud of myself.
I don't compare myself to others; I am unique and amazing.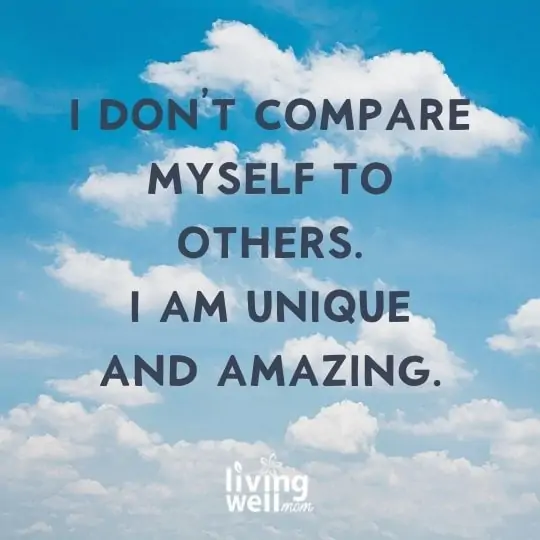 I am kind and smart and important.
I have the right to say "no" and mean it.
My opinion matters.
I can reach my dreams.
I don't need to be perfect to be accepted.
I belong and I am good enough exactly as I am.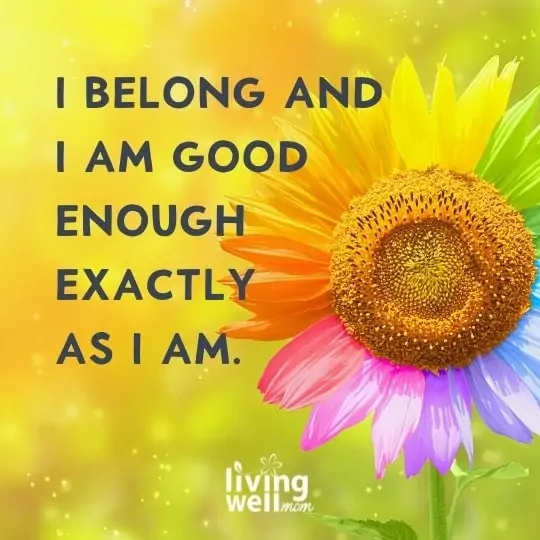 I am kind to myself.
I deserve to be happy.
I can make mistakes and still be loved.
I am safe and secure.
I am loved and more people care about me than I realize.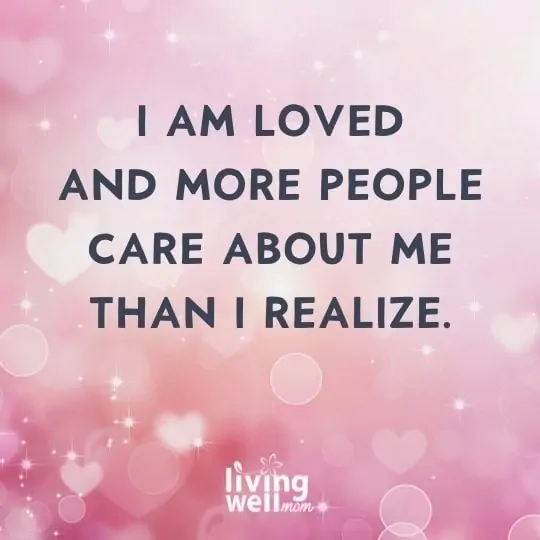 My body and I are friends and we work together as a team.
I can persevere and do hard things.
I am strong.
I know that baby steps add up to big steps.
I am not responsible for how other people talk or act.
I trust myself.
I love and approve of myself.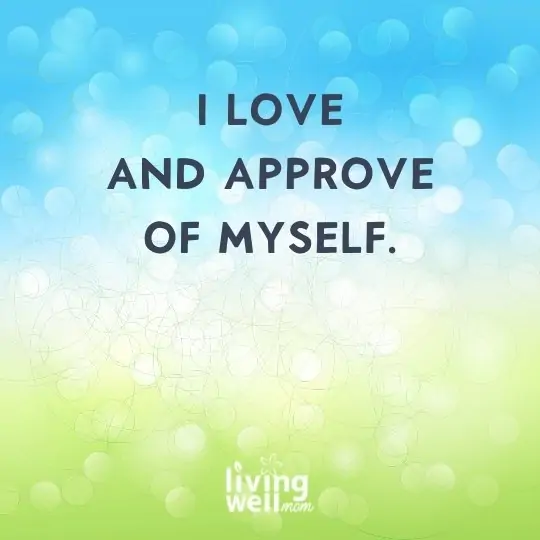 Printed Affirmations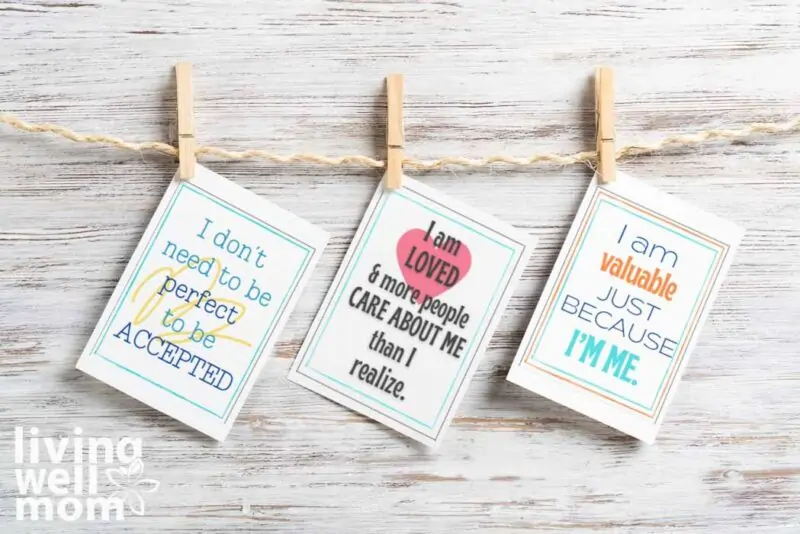 Remember when I said above repetition is key when it comes to these positive statements? One easy way to do this is to showcase these statements around your home. Hanging them on your teen's mirror or framing them at their homework table will go a long way in building that confidence!
To make things simple for you, I've created a bundle of printable affirmations specifically for teens! These affirmation cards are perfect to place by your teen's breakfast in the morning or tuck into their lunch.
All you have to do is hit print and put them on display!
Purchase the printable affirmations for teens here.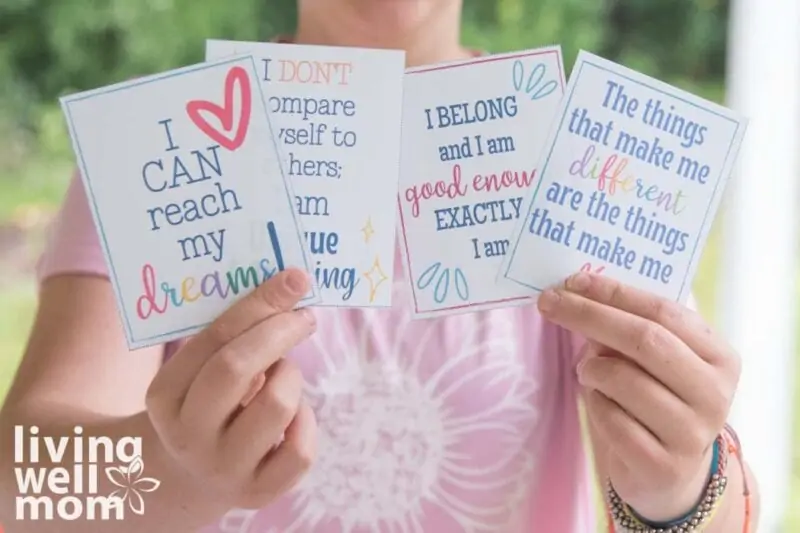 More Affirmations
While teens, in particular, could use an extra dose of positivity, affirmations are beneficial for everyone! Positive thinking has long been known to be a big step toward self-improvement and affirmations are the perfect way to get started, no matter how old you are.
Grab affirmations for moms here, and affirmations for kids here!
More Posts to Read