Stressed and overwhelmed? These days, moms are juggling so many different things, it's more common than ever to feel stressed and anxious. Of course, you want to reduce stress, but you might wonder how when stress relief itself may feel like one more thing on your busy plate!
The answer is easier than you might think; stress management doesn't have to be complicated, time-consuming, or expensive. In fact, it can actually be quite simple and easy.
Here, I'll show you 11 practical stress relief tips for busy moms to help relax and de-stress your mind and body.
11 Simple Stress Relief Tips for Busy Moms
#1 Do something that makes you happy.
This first stress relief tip may sound unbelievably easy, but it is so important. So often, life ends up a routine of serving others time and time again with very little left over for you.
Think of one thing you would love to do that will put a smile on your face. Don't overthink or make it complicated; just consider the first thing that comes to mind.
Now jetting off to Hawaii may not be realistic, but something simple like relaxing uninterrupted in the hammock with a good book may work. Or, try pampering yourself with a relaxing all-natural at-home facial.
Try to make it happen! You'll be amazed at how beneficial this can be!
#2 Listen to relaxing music
YouTube has thousands of free music tracks. They play anywhere from 1 hour to 8 hours (or more!) and can help you unwind, sleep, and meditate. Some may even help motivate and focus you – it really depends on what you need.
You can find my favorite playlist of relaxing YouTube music here: Peaceful Relaxing Hz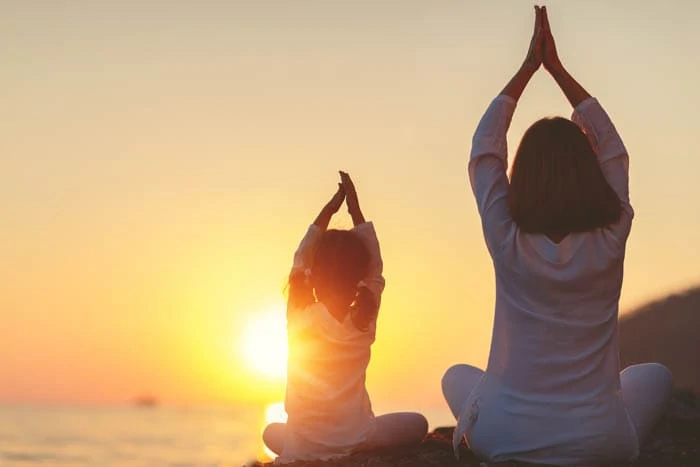 #3 Spend 10 Minutes Relaxing in the Sun
Small amounts of sun exposure can do wonders for your mood and overall health. If you're fair skinned and afraid of getting too much sun, wear your favorite sun hat and only sit out for a few minutes.
This is one of my favorites and never fails to lift my spirits!
#4 Try a gentle form of exercise, like yoga or Pilates
Gentle exercises, such as pilates or yoga, can be strengthening and relaxing. Slow, deliberate movements can be easy to follow and work as a wonderful way to stay in shape and recharge your mind and body without getting out of breath!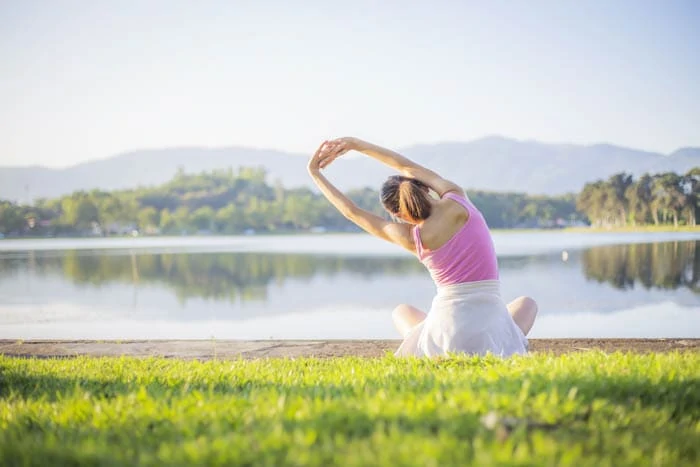 #5 Take a short (or longer) walk
Try a short walk around your neighborhood or for even more fun and stress-relieving power, ask a friend to join you or even get the family to come along. (Okay, so maybe the kids coming won't reduce stress…)
Consider a hike on a nearby walking trail. If you do this already and find it boring, research a new place and try it out! Sometimes mixing it up a bit is all you need to add some spark back in!
#6 Make a green tea latte
Try a homemade healthy green tea latte. It's a delicious way to naturally boost your energy without the guilt of a normal sugar-filled latte. If you prefer a cold drink, try this Healthier-than-Starbucks Iced Matcha Latte.
#7Take slow deep breathes
If you've wondered how to quickly calm your nerves, this next stress relief tip for busy moms is ideal. It may sound so simple, it's ridiculous, but have you tried it lately? It really is one of the best, simplest ways to relax the mind and body!
Pausing to take a few slow, deep breathes is perfect for any busy mom because you can do it anytime, anywhere and notice a difference.
Tip: Breath in deeply as you silently count to 7, hold it for a few seconds. Then breathe out for a count of 7, imagining all the stress and overwhelm melting away as you breathe it out. Do this a total of seven times and notice how you feel.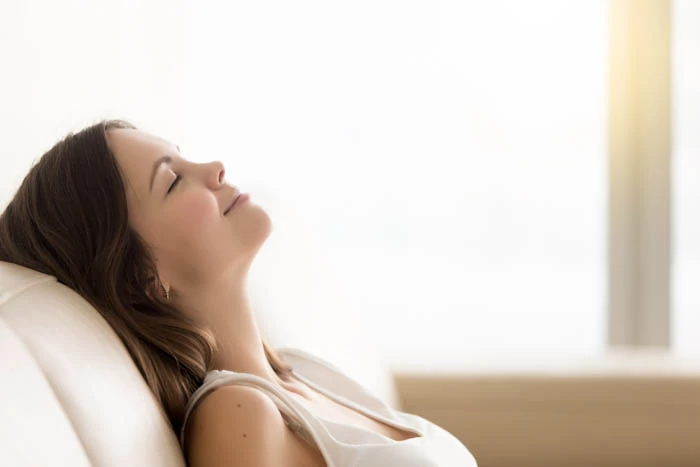 #8 Find some alone time.
When you have little ones constantly clinging to you, it's normal to feel smothered. Even if your kids are past that stage, it can still be helpful to designate alone time just for you.
But how? Because this stress management tip can sound easier said than done! But it doesn't have to unreasonable.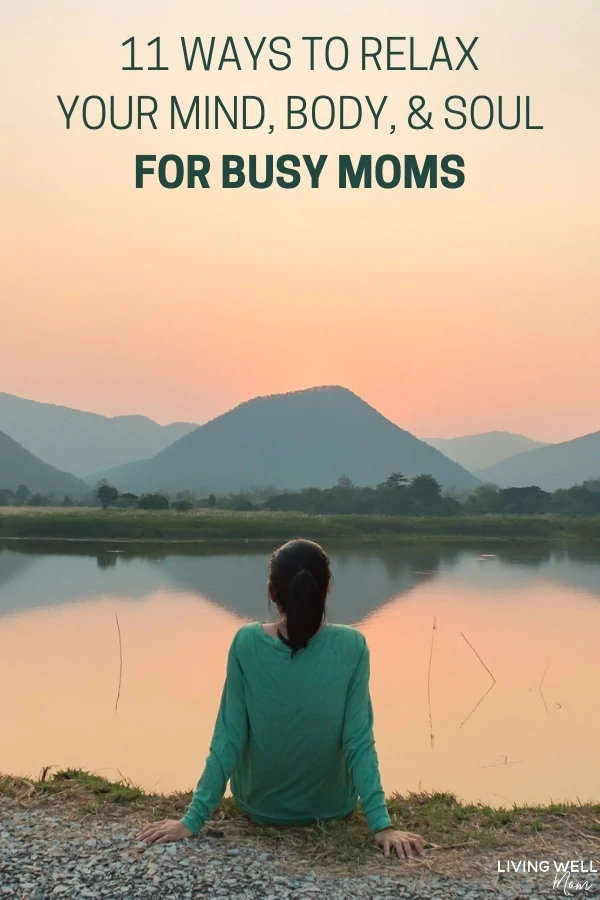 Tip: Take 5 minutes in your bathroom with the door locked (of course, make sure your children are safe first) and practice the deep breathing tip from above.
It's okay to use the TV as a babysitter if needed.
If you're feeling guilty, remember: if you aren't okay, your kids won't be okay either. They need you to be okay.
If your children are a little older or you have some help, take this even further and get out of the house. Go get a manicure, stop at the coffee shop to slowly sip your latte and enjoy listening to your favorite Audible book uninterrupted. Think about what you would love to do.
Audible is my favorite ways to "read" more books because I am so busy, I often don't have time to sit and read, but I have time to listen while I'm picking up kids from afterschool activities or cooking dinner!
You can get 2 free books if you sign up for a free trial of Audible today here:
#9 Dance it out!
Put some favorite tunes on and dance with your kids. You'll be amazed at how much better you feel, plus your kids will love it too!
#10 Clean or Organize
If messes don't bug you or your house is already sparkling clean and organized, then go ahead and skip this one.
But sometimes, it can be hard to relax if the room around you is messy, but it's also overwhelming to tackle cleaning and organizing the whole house. Instead: set the timer and work for 10-15 minutes so you can improve your space. Then, you can enjoy some me-time.
Check out this simple DVD organizing hack here!
#11 Watch your favorite funny movie or sitcom.
This doesn't mean the sad drama you normally love. This means FUNNY!
They say laughter is good medicine, so choose something that will get you rolling when it's movie night! It might be your favorite stand up comedian or a romantic comedy; just get your laugh on!
Remember: a happy mom means your children are more likely to be happy.
It's not selfish to take care of you; it's essential.
I hope you have found these simple stress relief tips for busy moms helpful and this will inspire you to add to the list with your own simple solutions!
What is your favorite way to relax and destress?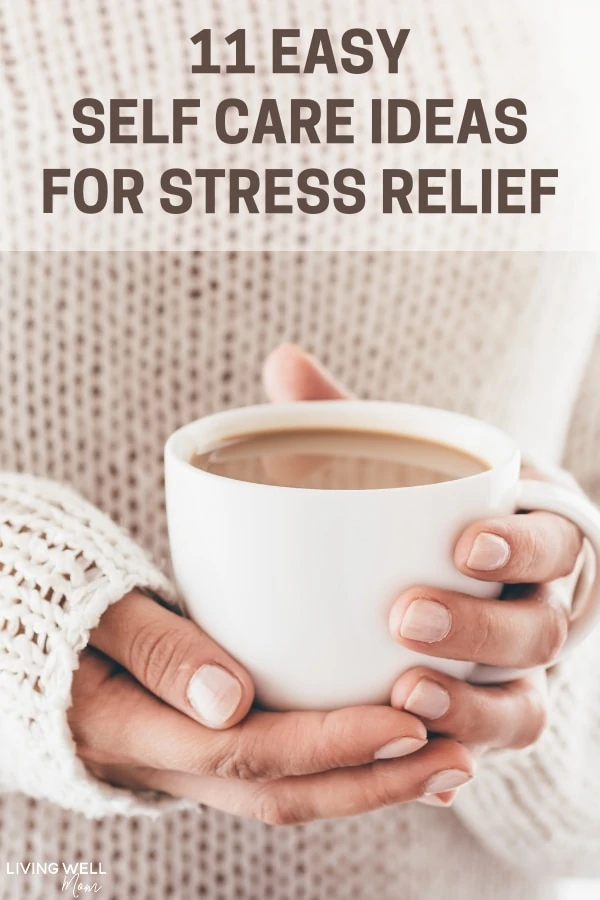 Copyright © Living Well Mom. All content and images are copyright protected. Please do not use my images without prior permission. If you would like to republish this recipe, please re-write the recipe in your own words. Alternatively, you may link back to this post for the recipe.