Incredible, soft, glowing skin is only a natural skin care routine away when you use these natural recipes for face wash, toners, scrubs, and more. Save the cost of going to a spa and pamper yourself with an at-home facial following my tried-and-true routine!
When harsh winter dryness, hot, humid air, or everyday stress takes a toll on your face, it's time to practice a little self-care and give it some TLC. A bit of tender loving care will go a long way toward rejuvenating your skin and helping you to look and feel your best.
Your skin may be your largest organ, but your face is the part that most people notice first. When you want to pamper yourself, start by making a natural skin care routine part of your day. It will reap benefits in many different ways!
What is a natural skin care routine?
For many, many years, I tried and used every brand of store-bought skincare products for my face. I thought I was buying products with good ingredients, so I couldn't figure out why my face was dried out even though I used moisturizer every day.
It was a constant frustration that I didn't understand until I learned more about preservatives (such as parabens) and harsh chemicals. That's when I began making my own natural skin care products. And that has been a life-changing journey for me because now my skin feels (and looks) better than ever.
Thanks to my natural skin care routine, my face:
Looks clear
No longer feels dry or irritated
Appears smoother with less discoloration
Tips for treating skin gently
First, the most important thing you can do to improve the appearance of your skin is to drink plenty of water and eat food rich in amino acids and vitamin C, which will increase the levels of collagen and hyaluronic acid.
Next, simply changing what you use on your face from harsh products to natural homemade products will improve the condition of your skin. However, since everyday washing and shaving take a toll, I always recommend treating your skin gently.
Try following these tips:
Avoid hard cleansers – these strip the natural protective oil (called sebum) from your skin, leaving it dry.
Reduce the water temperature – hot water also removes the natural oils from your skin, so use warm water instead.
Pat, don't rub – gently remove water from your skin by blotting it with a dry towel instead of rubbing your skin dry.
Use moisturizer – this will help lock in moisture so your skin feels soft.
At-home natural skin care routine
Here, I'm sharing the exact routine that I use on my own skin, including the natural, homemade products that you can make at home.
1. Wash your face with natural cleansers
Cleansing your pores is necessary for removing dirt, but it's important not to strip all of the natural oils away. So how do you find that balance? Use a natural cleanser like this Lavender Honey Face Wash.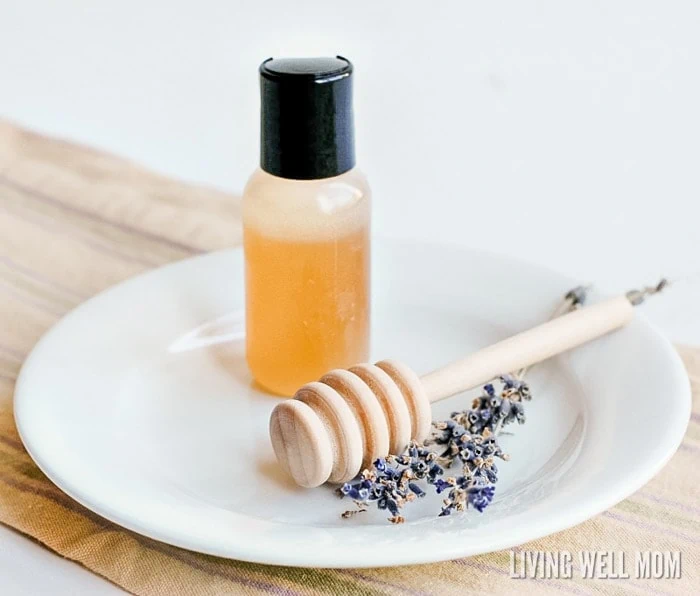 Want another option? If you have oily, acne-prone skin, I highly recommend this Homemade Foaming Face Wash. It is simple to make, lathers well, and smells wonderful.
2. Apply a mask
I use a face mask to exfoliate dead skin cells, deep-clean my pores, and make my face feel incredible. Unlike cleansing, a mask can be irritating if you do it too often. I recommend doing a face mask like this Honey Lemon Face Mask 1-2 times weekly.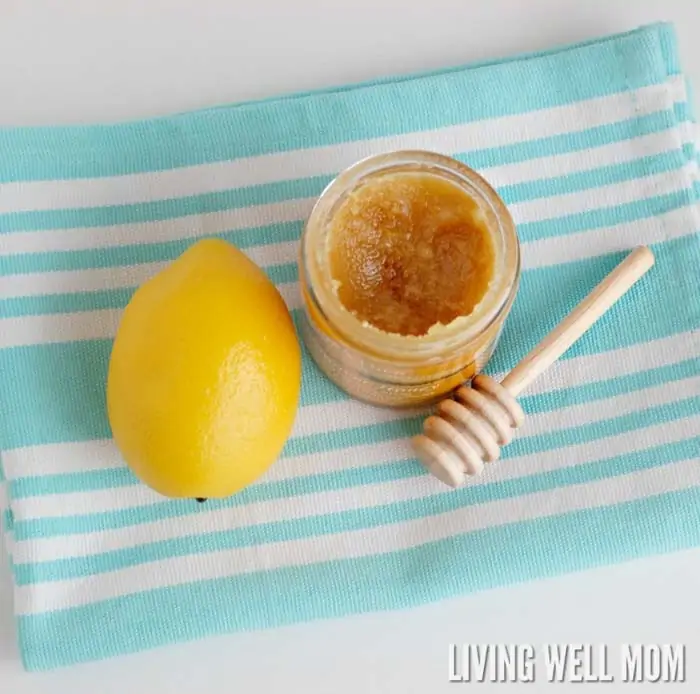 Charcoal face mask
Products containing activated charcoal are all the rage right now. You've probably seen items from shampoo to toothpaste and everything in between lining store shelves. This DIY Charcoal Facial Mask smells great and does a terrific job of removing toxins and impurities from the skin.
Tip: A natural skincare routine that uses clay products will work similarly to charcoal.
Optional natural skin care routine step: Exfoliate with a scrub
Some people don't like using masks. If that's you (or you just want to exfoliate), you can use a face scrub to exfoliate dead skin away and give your face a glow.
This Lavender Sugar Face Scrub is my go-to when I want a good exfoliation.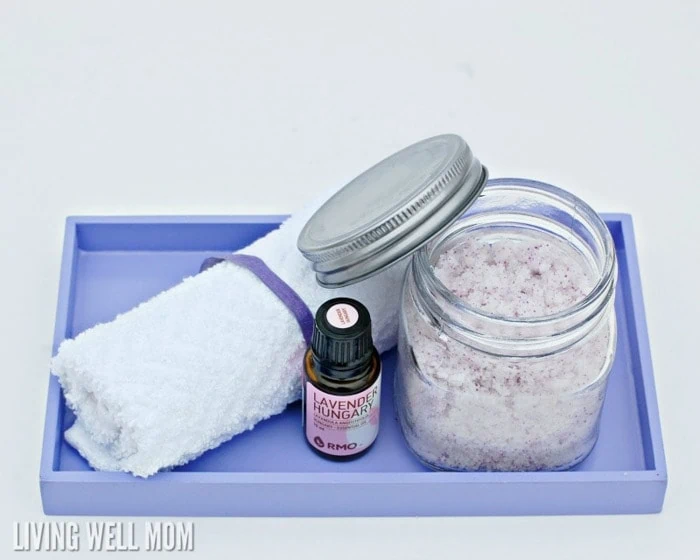 Coffee scrub
Did you know that you can use coffee grounds in your skin products? Coffee is rich in antioxidants and acts in a similar way to hyaluronic acid to make the skin look and feel firmer so that wrinkles are less noticeable. Try this Easy Coffee Facial Scrub!
Note: Exfoliating frequently can make the skin feel raw and irritated, especially for people with sensitive skin. I recommend only exfoliating once per week.
3. Use a facial toner
Toners remove any excess dirt, oil, or leftover makeup after washing your face and prepare the skin for moisture. I love using these Cucumber Facial Toner Wipes because the natural toner makes them smell amazing and leaves my face feeling refreshed.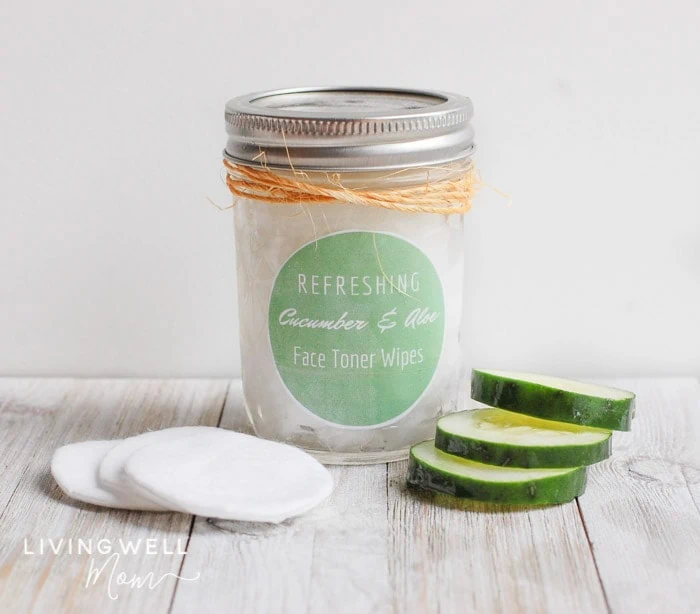 DIY toner pads with essential oils
Making toner pads with essential oils allows you to adapt the recipe to use the correct essential oils for your skin to address any skin issues or areas of concern you have! Check out my easy recipe for DIY Essential Oil Toner Pads.
4. Apply a moisturizer
Ok, now that your face is clean and primed for moisturizing, it's time to add some hydration. I personally love this Whipped Face Cream because it feels so luxurious and won't clog pores.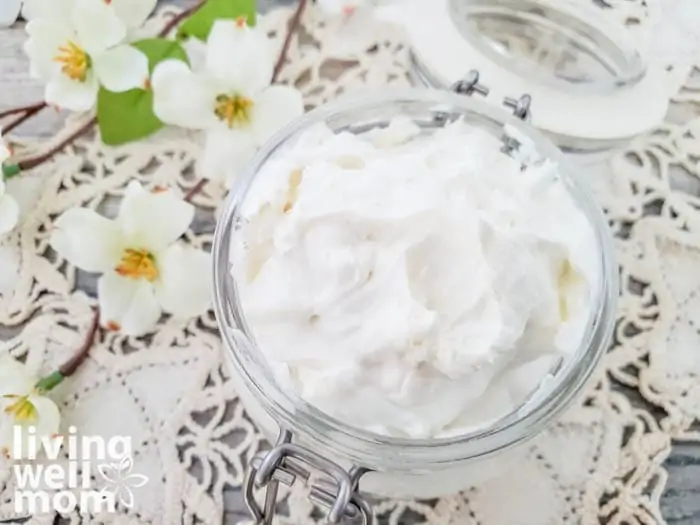 Essential oils for your natural skin care routine
No matter what homemade product I'm using on my skin, I always turn to essential oils to make it even more amazing. These powerful plant derivatives work with all different skin types and can help address skin problems you have when you know which ones to use.
To help you out with that, check out Best Essential Oils for Acne & Oily Skin or Best Essential Oils for Dry Skin. These posts will guide you toward the right essential oils for your skin type.
Using essential oils as part of these natural skin product recipes will help improve skin texture and reduce the appearance of fine lines and dark spots.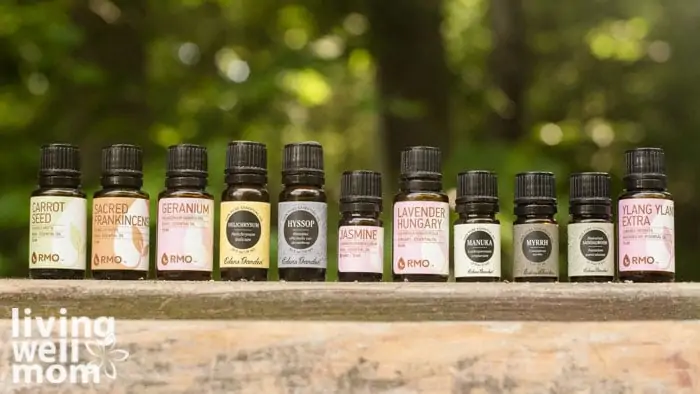 If you're been struggling with irritated or oily skin, give this natural skincare routine a try. Moving from chemical-filled products (like petroleum) to using natural ingredients (such as shea butter, aloe vera, and natural exfoliants) can help your face look and feel the best that it has in a long time!
As you'll soon see, you'll absolutely LOVE the results you get when you use natural products on your face. Your skin will thank you.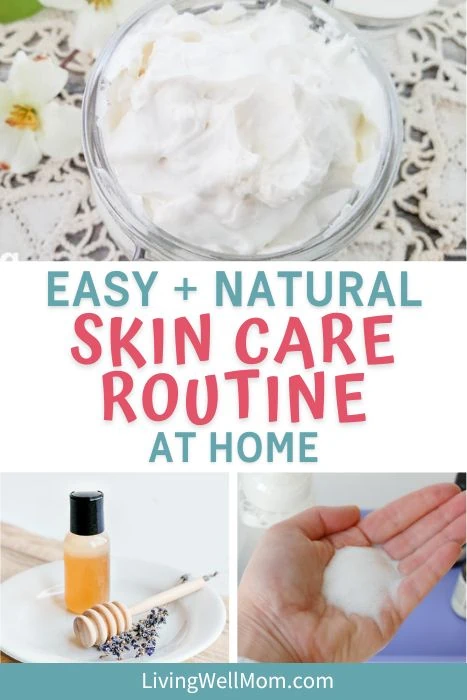 More Natural Beauty Ideas