Did you know that it's really easy to make your own toner with aloe vera? In fact, it only takes 4 ingredients! This natural homemade face toner can help soothe and calm your skin while also reducing irritation and redness, and moisturizing dry skin.
This DIY face toner is budget-friendly since you can make numerous batches for less than you'd pay for any face toner at the store. Plus there are no extra preservatives or chemicals in this homemade version.
This DIY recipe uses cucumber, aloe vera, witch hazel, and essential oils like tea tree oil to help improve your skin. It's effective and refreshing!
What does toner do for your face?
To remove any traces of dirt after you wash your face, toner is a must-have. Toner also refines rough patches and smooths skin while improving the overall tone of your facial complexion. This particular toner with aloe also helps nourish your skin while also being very gentle.

What is the best natural toner for the face?
If you are looking for a natural face toner, be sure to look for all-natural ingredients.
For this DIY face toner, I chose 4 completely natural ingredients that can be helpful for any skin type. Here are the benefits:
Did I mention this toner is great for all skin types? From dry, normal, combination, and oily skin, this homemade face toner can help. You can simply adjust the essential oils depending on your skin type—see more on this below. If you have dry skin, add one of these essential oils for dry skin.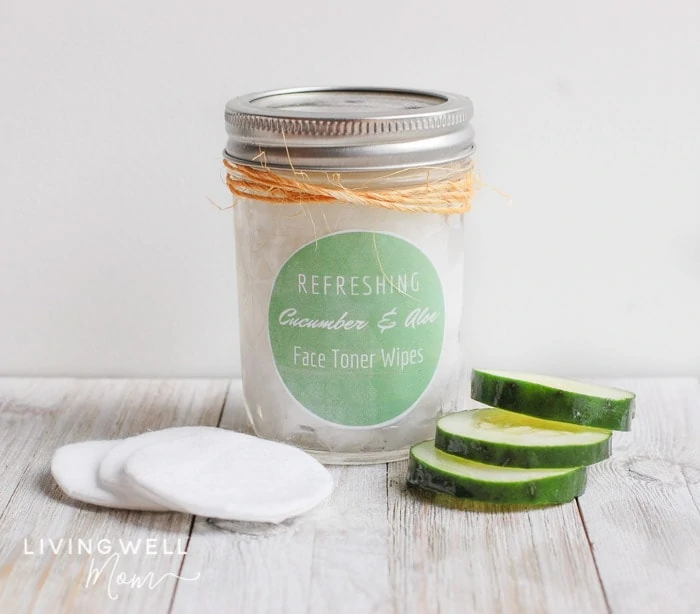 Supplies for Toner with Aloe Vera
We're going to make a variation of the usual toner spray and instead make face toner pads. They're easy to make and even easier to use – you simply store them in a mason jar and wipe gently over your face when needed.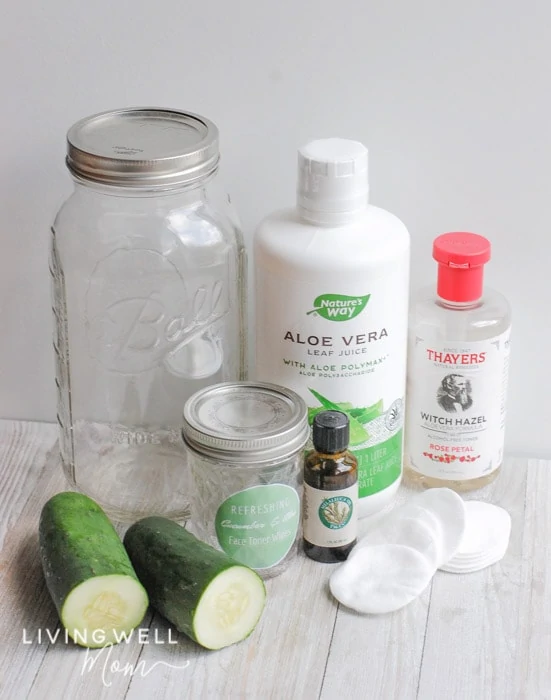 Essential Oils for Toning
For this recipe, I use tea tree essential oil as it's a great all-around helpful essential oil regardless of your skin type. However, you may want to substitute or mix and match some of these other essential oils. Try a total of 20-30 drops.
For any skin types:
For dry skin:
For oily skin:
Which Essential Oil Brand is Best?
For the best results, you will want to choose a high-quality essential oil brand that is 100% pure and offers third-party testing for quality control. Read this post for more info on how to choose essential oils that work for you and your family (beyond the brand.)
My favorite essential oil company is Rocky Mountain Oils, followed by Eden's Garden, and Ancient Apothecary by Dr. Axe
.
How To Make Your Own Face Toner with Aloe Vera
Step #1
First, you need to make cucumber-infused water. This is super easy since all you do is slice on cucumber and put it into a container of water and let it sit overnight.
I used my 32 oz. mason jar and filled that with water and added the sliced cucumber. You only need 3/4 cup of cucumber-infused water for the face toner, so I for sure made more than enough. I did that on purpose though so I could drink the leftovers – because who wouldn't want to drink cucumber-infused cold water on a hot summer day!?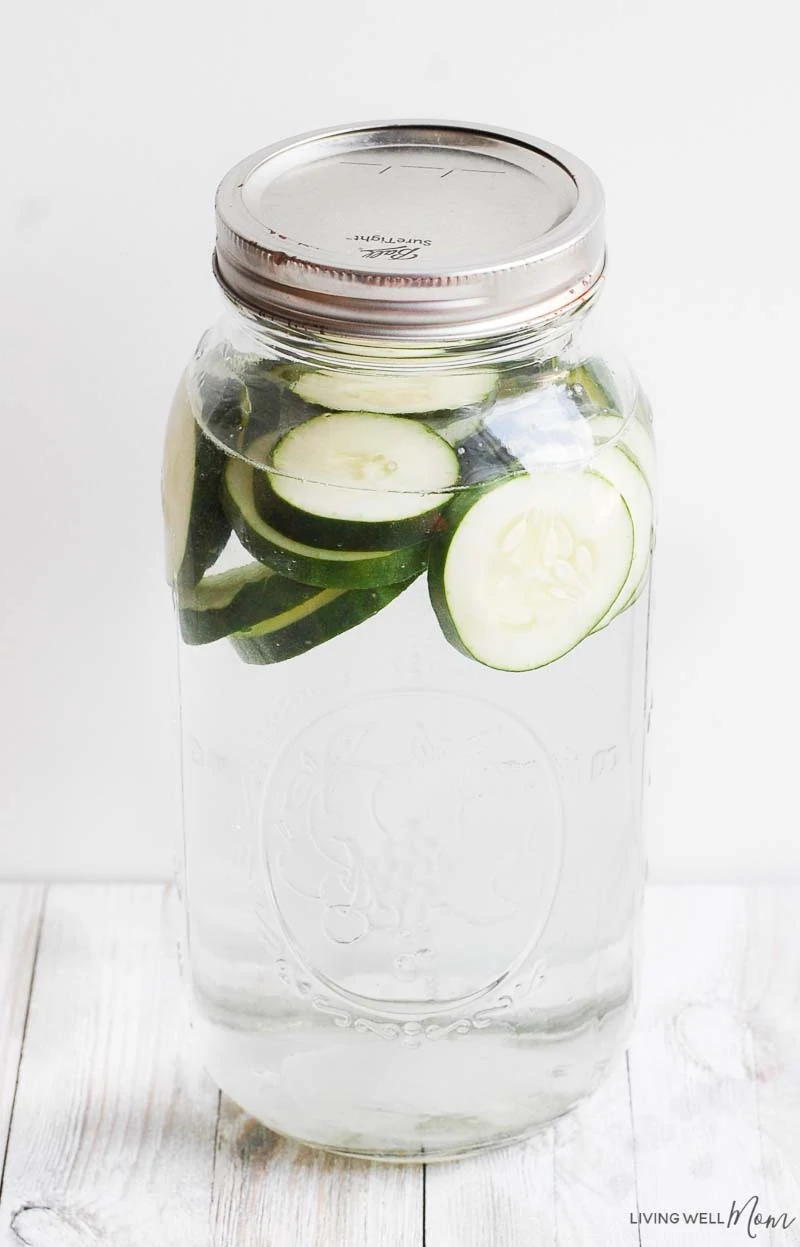 Step #2
The next day after your water has been infused with cucumber, take 3/4 cup of it and pour it into your glass measuring cup.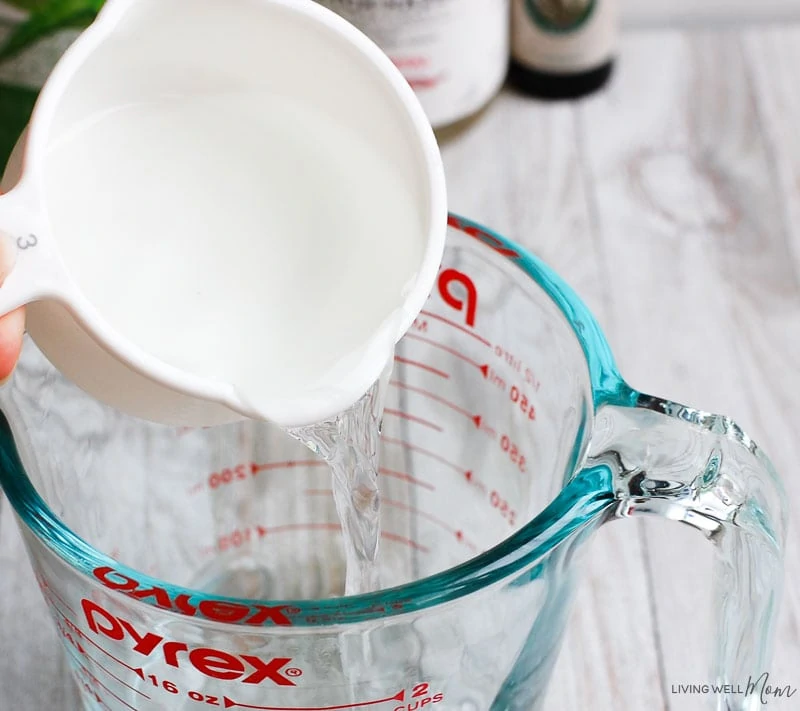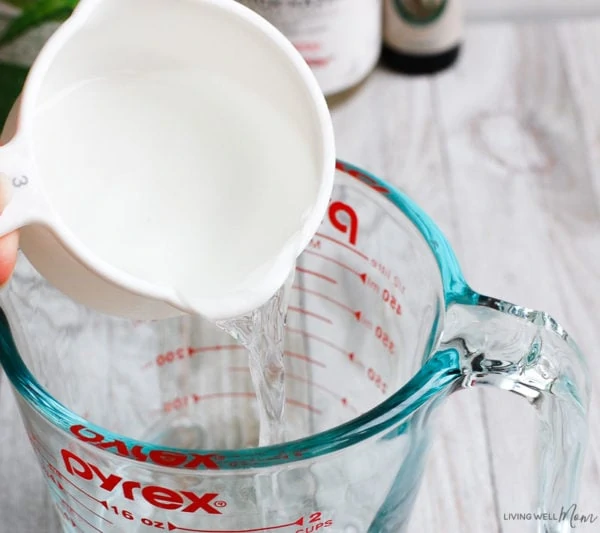 Then add 1/3 cup of Witch Hazel.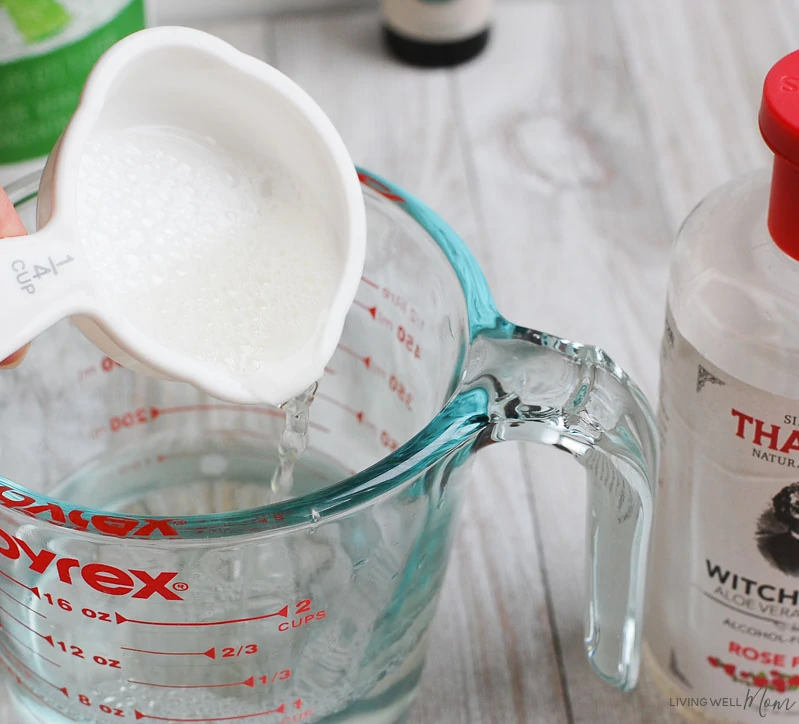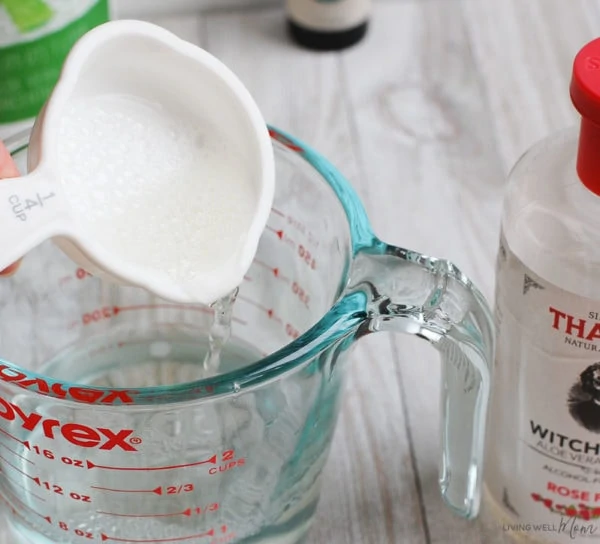 And 1 tablespoon of aloe juice.
Step #3
Lastly, add 20-30 drops of essential oils. Use tea tree essential oil or your favorite from the list above in your homemade face toner recipe. Mix and match if you'd like too. I
f you have very dry skin, I'd recommend 5 drops each of lavender, frankincense, geranium, and carrot seed essential oils.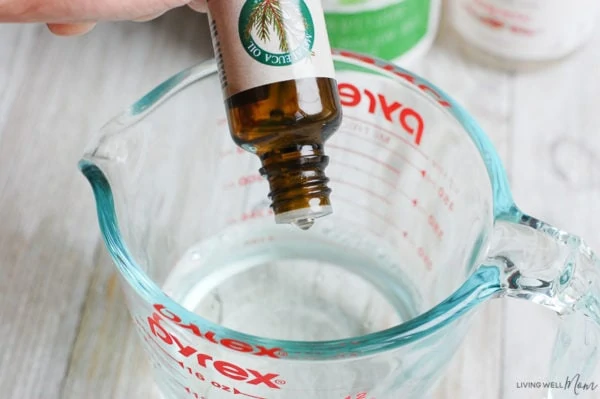 Step #4
Stir the aloe mixture well.
Step #5
Fill the 8 oz. mason jar with as many dry cotton wipes as you can.

Pour your aloe vera homemade toner mix over the dry cotton wipes. You will have to do this slowly as it will take time for the cotton wipes to soak up the fluid. Fill the jar until no more will fit (you should use most of the cup of face toner liquid you made).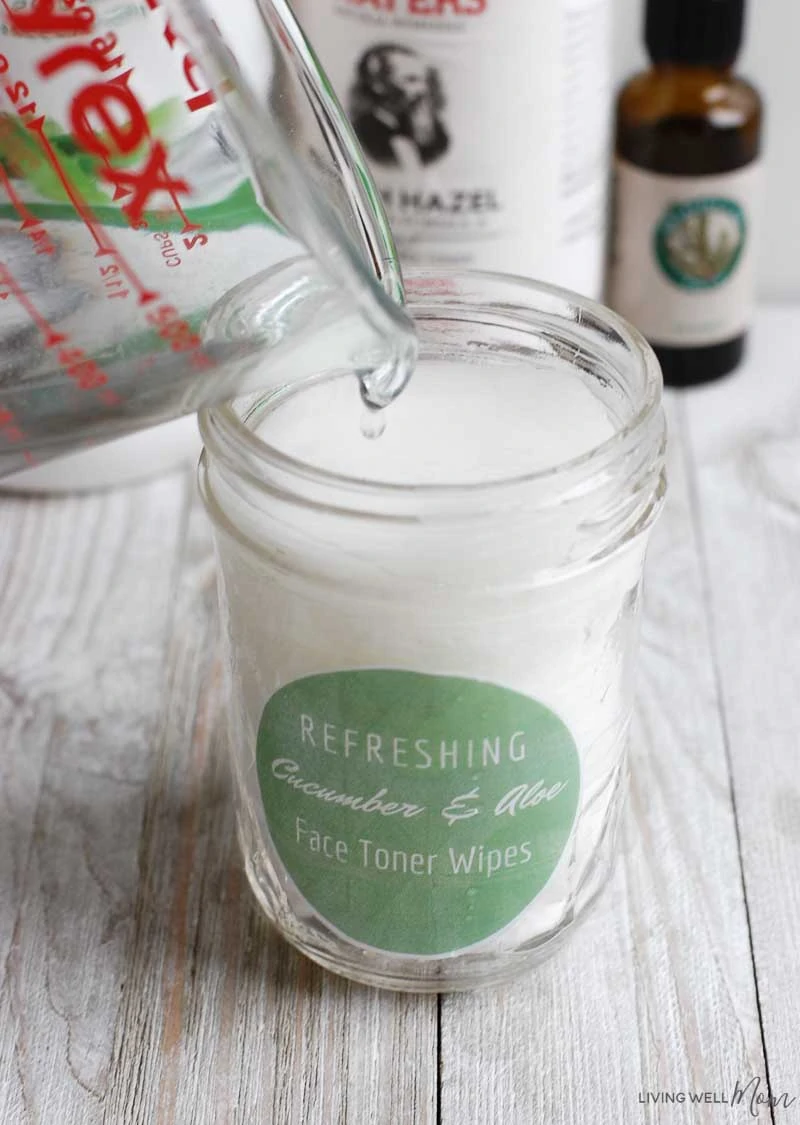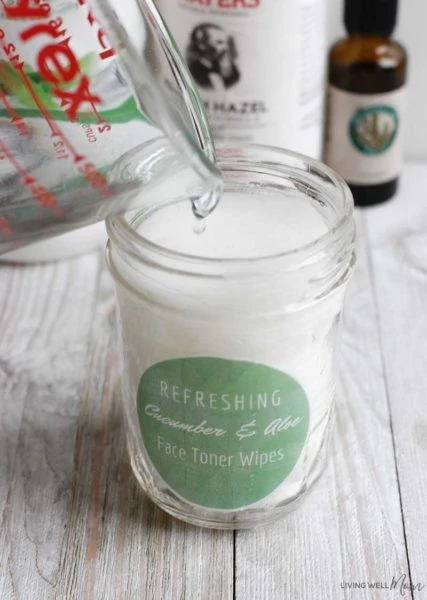 That's it! You've just made your own homemade face toner wipes!
How to Store Homemade Face Toner with Aloe Vera
There are no preservatives in this recipe, so you'll need to take extra precaution when storing this toner. Store your DIY face toner wipes in your refrigerator with the lid screwed tightly on the mason jar. It should last about 2 weeks.
Yes, when you swipe it over your face it'll be cold, but that's part of the magic! It's quite refreshing.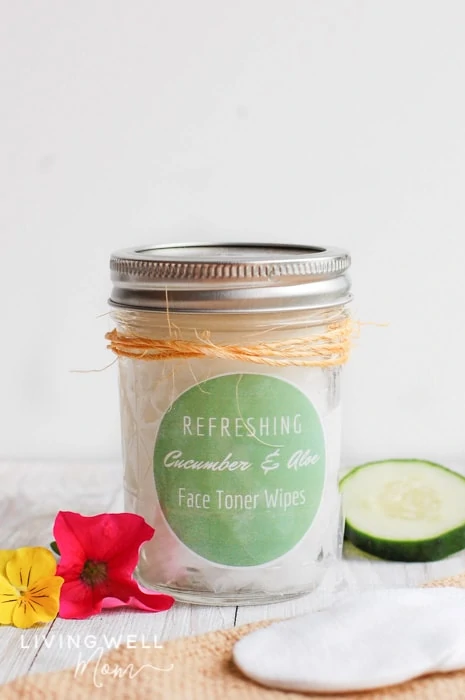 Free Printable Label
Grab this pretty green printable label for free when you join my email list here:
https://living-well-mom.ck.page/6b39c7834e/index.js

How do you use face toner?
You can wipe your face down with a homemade face toner pad at the end of the day. It can help remove makeup (do NOT use it on your eyes!) as well as refresh after a long day.
You can also use these wipes after an activity that leaves you feeling sweaty or sticky – whether it's after a workout, a hike with your family, or cleaning the house.
I love this recipe because the liquid mixture is soaked up in the cotton wipes and is so easy to apply to your face. On a hot or warm summer day, and your face feels sticky or sweaty from the day's activities, you will absolutely love how your face feels when applying one of these cold face toner wipes. It also has a cooling effect on your skin for a few minutes after you apply it. It truly is a treat to your face on a hot day!!
If you are wondering when to use toner on your face, I would also recommend using this at night time after you have cleansed your face. You could use it daily or only a few times a week. It is also great to use after a workout as a quick way to cleanse your skin from extra grease and sweat.
It has been a hot summer in the Northeast this year, and I've been so thankful to have a jar of these face toner wipes on hand to apply to my face!
More Ways to Use Essential Oils at Home:
Print
4 Ingredient DIY Face Toner with Aloe
This easy homemade face toner is perfect for sensitive or acne-prone skin. It's cheap and easy to make and has just 4 natural ingredients, including essential oils and aloe vera.
Instructions
Slice your cucumber and place it in in a glass jar or pitcher of water. Allow it to rest in the refrigerator overnight.
The next day, take 3/4 cup of your cucumber infused water and pour it into a glass measuring cup. Add 1/3 cup witch hazel, 1 Tbsp aloe vera, and 20-30 drops of essential oils. Stir to combine.
Fill the 8oz mason jar with dry cotton wipes. Pour the aloe/essential oil mixture slowly over the dry cotton wipes. It will take time for the cotton to soak up the liquid. Fill the jar (you should use most if not all of your liquid.)
Your homemade face toner wipes are ready to use.
Notes
This will last up to two weeks when stored in your refrigerator.
Pin the image below to save the toner pad recipe for later!