Fuel your body with whole foods that have the nutrients and fats it needs to function at its best. These energy bites will satiate your sweet tooth and keep you feeling full so you can turn down unhealthy cravings. The best part is these lemon coconut energy balls are a healthy and paleo-friendly snack. They are high in protein and will keep you feeling full!
Lemon Coconut Energy Bites
It's been six weeks since I said "good-bye" to my old enemy, processed sugar, and started on a path to a new healthier lifestyle.
I am happy to announce that I've finally stopped craving sugar.
It's not a big deal to say "no" to something sweet now, and even though I'm still retraining myself to think healthy (no, you're not going to the frozen yogurt store downtown), I am feeling great! I have more energy, I'm more focused, I think more clearly, and I'm far more productive.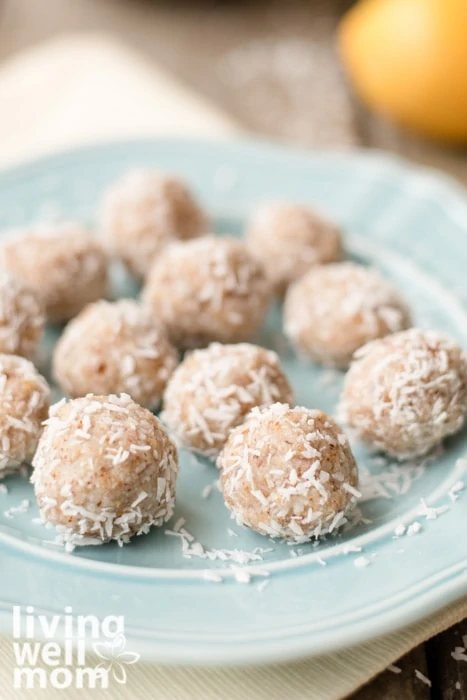 A wise herbalist told me something very helpful before I started this journey. She said that you have to replace sugar with healthier options. Because our bodies are used to eating junk for years, it's almost impossible to give it up with no substitution for most people.
She pointed me in the direction of a couple of healthy no-sugar recipes and it was like a light bulb went off for me.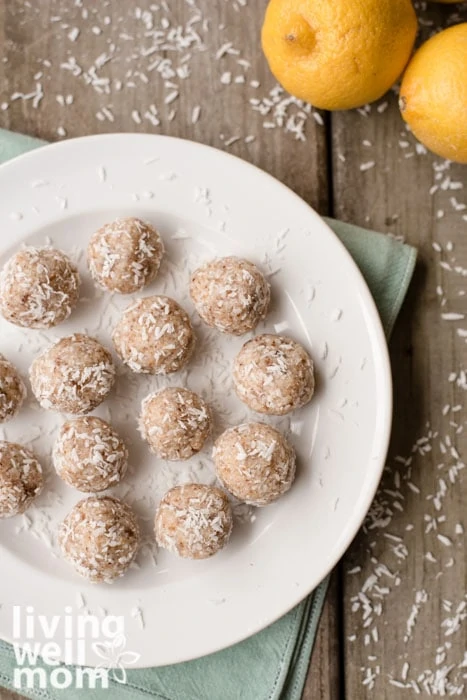 A Healthier Snack Without Processed Sugar
Because baking and making delicious treats for family and friends has always been one of my favorite things, part of my hesitation in giving up sugar was saying good-bye to one of my favorite activities. But, I realized I don't have to give it up. I can still make tasty treats, just healthier.
Oh friends, I can't even tell you how excited this made me!
Today, I'm sharing one of my favorite new healthy recipes – lemon coconut energy balls.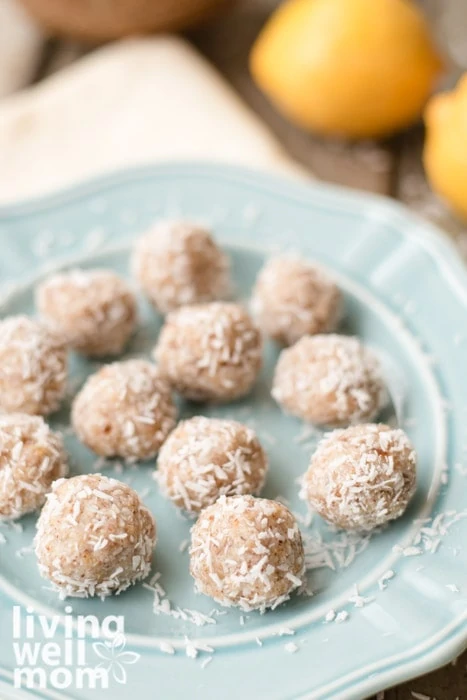 Health Benefits of Coconut
You might be thinking- is coconut actually healthy and good for you?
Well, coconut is definitely a superfood! It's packed with healthy fats that will keep you feeling full. It's also really high in manganese, which is super important for healthy bones and it helps your body metabolize carbs better too.
The coconut oil in these energy balls also has lots of copper and iron in it – which help your body produce more red blood cells. It's high in antioxidants that protect your cells from disease.
So, not only are they delicious, but they are so good for you too!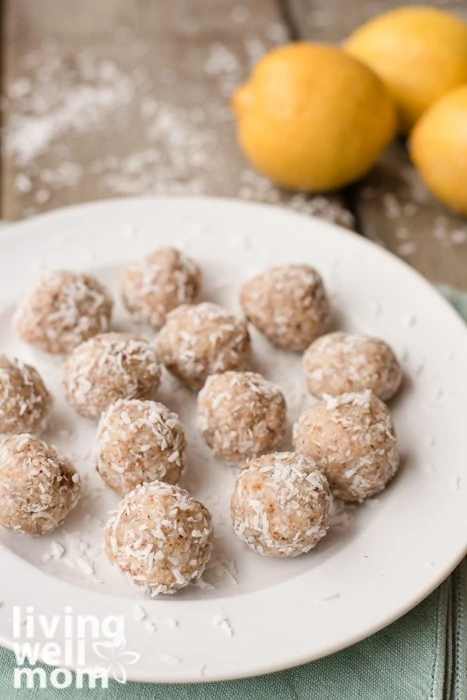 How To Make Lemon Coconut Energy Balls
These tasty little balls are packed with coconut, so if you're a coconut lover, you're in for a real treat. There's also a light lemon flavor that delightfully complements the coconut.
And since they're naturally sweetened with honey and pitted dates, these lemon coconut energy balls are a satisfying guilt-free snack you can enjoy anytime.
Bonus: They take just a couple of quick minutes to whip up, so you can enjoy them almost right away!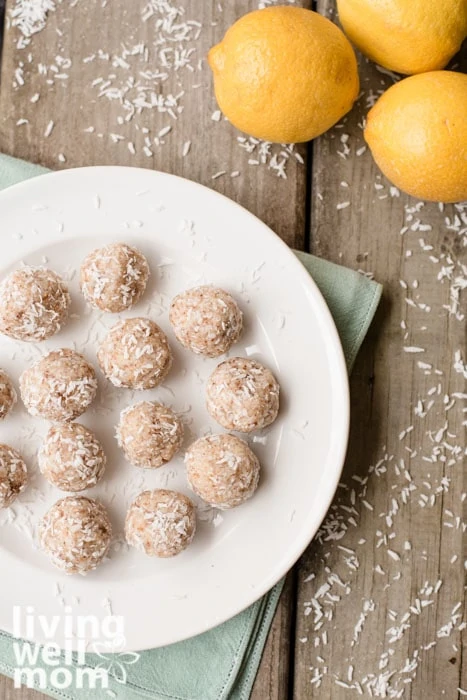 Ingredients
Here is a bit more information about the ingredients I used:
Shredded Coconut – Use unsweetened shredded flakes.
Almond Meal – You can use almond flour as a replacement. Almond meal will have bits of the skins from the nuts in it, almond flour is made without the skins (and so it has a smoother texture).
Honey – The healthiest option is to use locally-sourced honey since local honey is known to help with seasonal allergies.
Coconut Oil – The healthiest coconut oils are either unrefined, virgin, extra-virgin, or cold-pressed.
Pitted Dates – Don't use the sweetened dates that are kept by the raisins in the store. Use whole dates like Medjool dates. If you can't find any dates, you can just leave them out and use another tablespoon of honey instead.
Lemon – Use a fresh lemon because you will want the lemon zest and juice from it.
Sea Salt – Believe me, sea salt has a lot more flavor to it than table salt.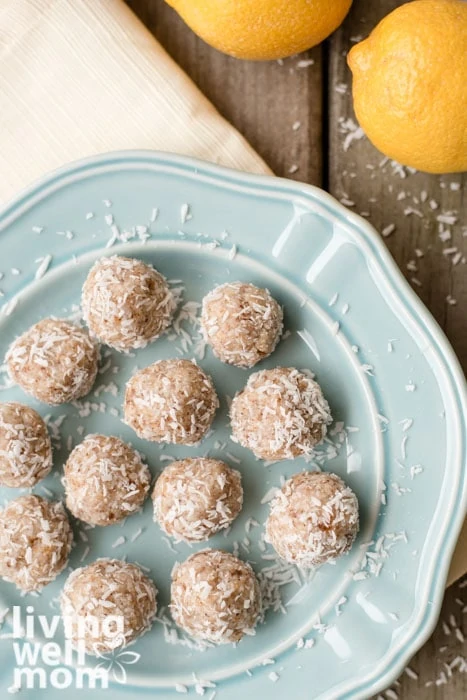 How To Make Lemon Coconut Bites For A Quick And Healthy Snack
Like I mentioned before, these bites can be made in a jiffy and don't take much to do so.
First, add all of the ingredients to a food processor or mixer and mix everything together. Make sure to scrape down the sides of the bowl so that everything mixes well together.
After that is done, using your hands or a spoon, form evenly small bite-sized balls and set them to the side. If the mixture is still too dry, add everything back to the food processor and add a bit more honey.

Finally, after you have formed all of the bites, add the shredded coconut to a plate or bowl and roll each of the bites in the coconut until they are all evenly coated.
How To Store The Lemon Bites
Store these energy balls in a sealed container in the fridge for up to three or four days. If you decide to make a big batch of these or want to enjoy these later, you can store them in the freezer for up to three months!
I've always loved lemon-flavored treats, so this snack ball is truly one of my all-time favorite flavor combinations. I call them my little bites of heaven. And, I'm perfectly satisfied with just one or two lemon coconut energy balls too.
Print
Lemon Coconut Energy Balls
Packed with coconut and a light lemon flavor and sweetened naturally, Raw Lemon Coconut Macaroons are a satisfying guilt-free snack you can enjoy anytime.
Prep Time:

5

Total Time:

5 minutes

Yield:

1

0

1

x
1 cup

shredded, unsweetened coconut + a little extra

1/3 cup

almond meal

2 Tablespoons

honey

1 Tablespoon

coconut oil

3

pitted dates*

1/2 teaspoon

vanilla extract

1 teaspoon

lemon zest

1/2 teaspoon

fresh lemon juice

1/8 teaspoon

sea salt
Instructions
Mix all ingredients together in a food processor until fully combined. Form into balls. (If it's not moist enough to hold it's form, you can add 1/2-1 more tablespoon of honey). Roll the balls into the extra shredded coconut (optional).
Store in the refrigerator.
Notes
*Note: Don't buy the sweetened dates usually found by the raisins in the grocery store. Look for whole dates, like medjool dates. If you can't find dates, you can substitute extra honey (1 tablespoon) instead.
© Musings From a Stay At Home Mom. All images & content are copyright protected. Please do not use my images without prior permission. If you want to republish this recipe, please re-write the recipe in your own words and link back to this post for the recipe.
More Energy Bite Recipes
Here are some more of my favorite energy bite recipes if you want to keep the healthy snacking going.
Just pin it below to find the lemon coconut energy balls recipe later!