These chocolate peppermint fat bombs are the perfect snack to make when you are craving that classic combination of chocolate and mint!
These keto mint fat bombs are about the easiest things you can make. You just need to mix all of the ingredients together and put them in a silicone mold. Refrigerate then enjoy this healthy treat.
What are Keto Fat Bombs?
Keto fat bombs are healthy snacks that are low-carb, high-fat. They are great for reducing cravings whether you're on the ketogenic diet or simply trying to cut back on snacking.
Fat bomb recipes will have at least one high-fat ingredient, such as nut butter or oil. In this case, we have both nut butter (2 kinds) and coconut oil. There are usually no added sugars or sweeteners, though you may choose to add a little stevia, especially if you're new to fat bombs.
When I first discovered fat bombs, I didn't even realize that's what they were called. I was experimenting with some healthy, no-sweetener ingredients while on a sugar-free fast and came up with a cocoa-almond butter-coconut oil combo that worked great at curbing my cravings.
When I googled to see if anyone else had a similar recipe, I discovered they are called fat bombs and are very popular these days, thanks to the keto diet craze.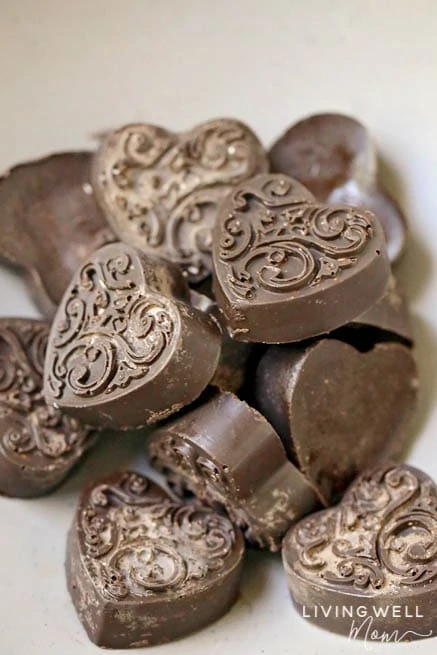 Why These Chocolate Peppermint Fat Bombs are a Must-Make
You don't have to be on the keto diet to enjoy these chocolate peppermint fat bombs. I personally don't do keto and still love these high-fat snacks as a healthy satisfying way to curb cravings.
For me, fat bombs have helped take the edge off my hunger. This easy, no-bake recipe is satisfying in a delicious, not-on-a-diet kind of way.
Plus most keto fat bombs, especially my recipes here, are super quick and easy to make!
Not a peppermint fan? No problem. Try my 3-ingredient chocolate fat bombs recipe instead.
On the other hand, if you're like me and just can't get enough of the chocolate-mint combo, you'll love these chocolate mint balls!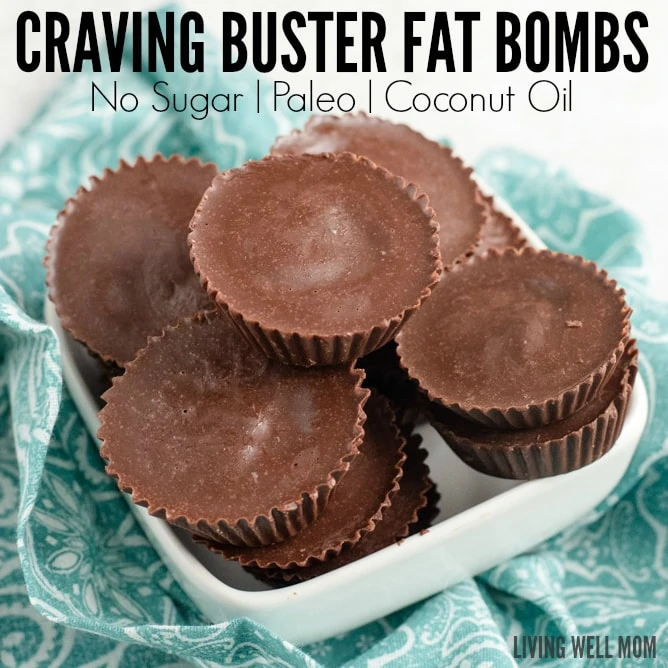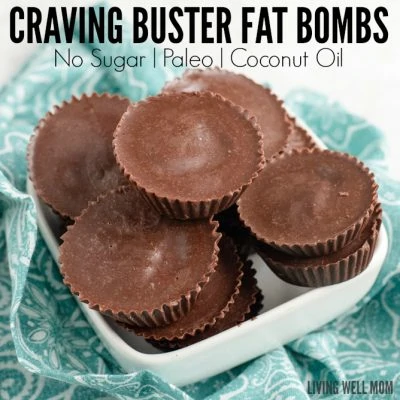 Chocolate Peppermint Fat Bombs Recipe
Today's recipe is Chocolate Peppermint Fat Bombs. It's a simple twist on my original Fat Bombs recipe and I personally prefer them because there's something so indulgent and fresh about peppermint.
With four simple ingredients – coconut oil, cacao (or cocoa) powder, a nut butter (with no added sugar), and peppermint extract or essential oil, these this easy keto fat bombs recipe takes just 4-5 minutes to make. They are just so good!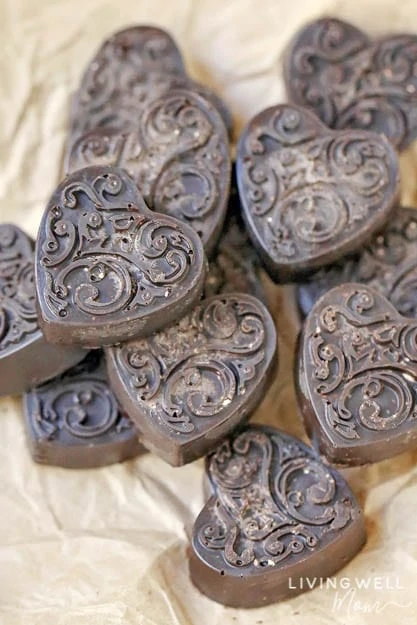 As long as you use no-sugar-added nut butter, preferably something like almond butter (this is my favorite brand), this recipe is sweetener-free too. You might have 1 gram of sugar total from the almond butter (possibly more if you use peanut butter) but that's it.
One note to be aware of: If you're used to a high-sugar diet and are expecting a sweet peanut butter cup, you will probably be disappointed because this isn't sweet.
If you want to make yours a bit sweeter, you can simply add a few drops of stevia for added sweetness.
Stop Your Cravings
I think the real magic of this recipe is that they work really well in stopping my cravings for sweets and empty carbohydrates.
There are many reasons for craving food – it could be emotional eating (in which case, the only way to really get past this is to address the core issue for why you're eating emotionally), *that* time of the month, or maybe you simply didn't eat enough food earlier in the day and your body is letting you know.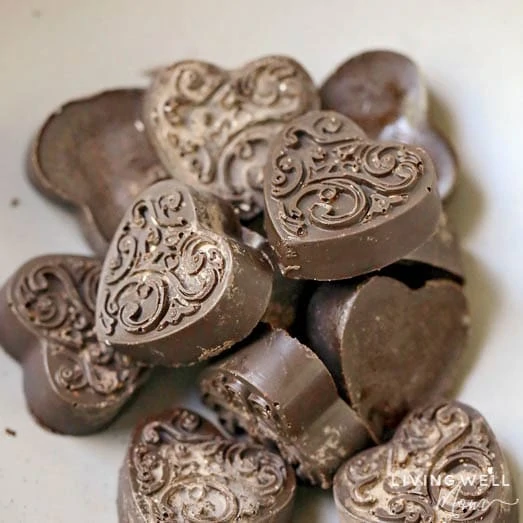 Either way, I've found that these chocolate peppermint fat bombs have helped me stop reaching for junk. The healthy fats are far more satisfying than a random chocolate bar.
Just remember that with the nut butter and coconut oil, the calories do add up quickly so try to eat only one or two fat bombs at a time.

How to Make Chocolate Peppermint Fat Bombs
You can make this Peppermint Craving Buster Fat Bombs recipe one of two ways.
Option #1: Fat Bomb-in-a-Bowl (Fastest Method)
You mix up this keto snack in just 1-2 minutes and eat it right away with a spoon.
This is the one to make if you want to eat something NOW and don't want to wait a few hours for the chocolate to harden.
You'll combine melted coconut oil with cocoa powder, almond butter (or your favorite nut butter) and peppermint extract or peppermint essential oil. Stir everything together and enjoy your fat bomb-in-a-bowl!
If you use peppermint essential oil, a little goes a long way. Dip a toothpick in the oil and then into your single serving fat bomb mixture. Even 1 drop of peppermint essential oil can be pretty strong.
Add a drop or two of stevia if you need more sweetness. This is my favorite liquid stevia.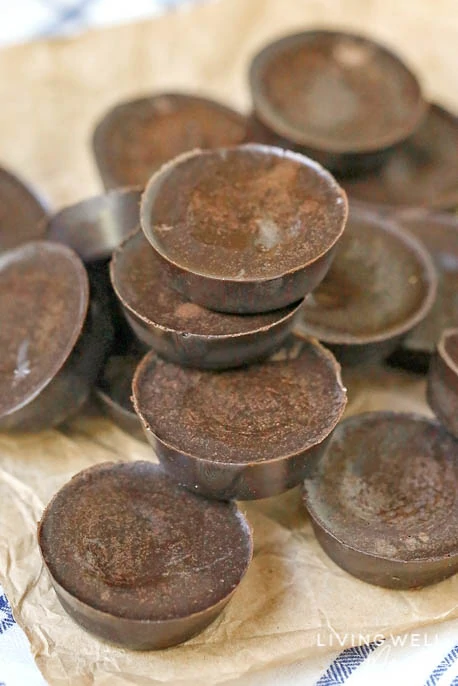 Option #2: Larger-Batch Fat Bombs
If you're feeling more patient and not quite as hungry, you can make these fat bombs using mini muffin cups or candy molds and freeze for a few hours. I prefer this method and typically will make a batch or two to keep in the freezer at the ready.
You'll need:
coconut oil
, cocoa powder, your favorite nut butter, and peppermint extract or peppermint essential oil. Optional: liquid stevia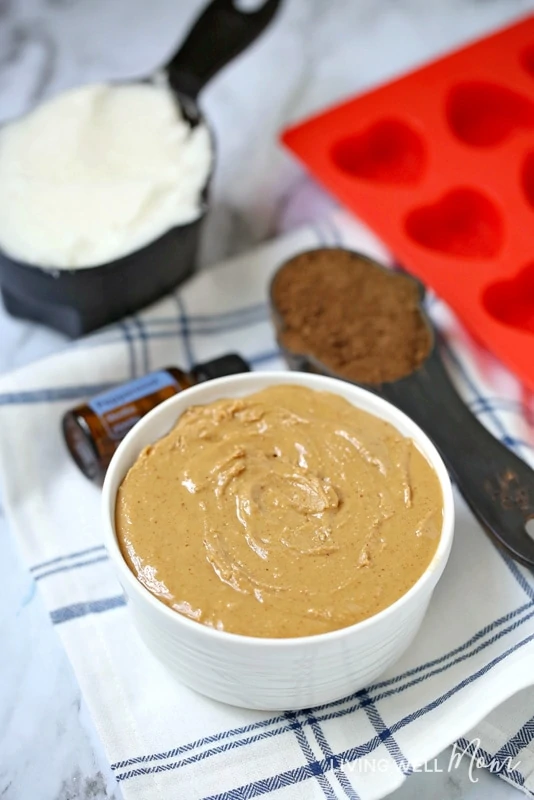 Stir together the coconut oil, cocoa powder, and nut butter. Then add the peppermint extract or essential oil.
I recommend taste-testing your fat bombs mixture at this point to check on the sweetness. If you have a sweet tooth, this keto dessert without sweetener may taste bitter to you, so you may want to add a few drops of stevia to sweeten.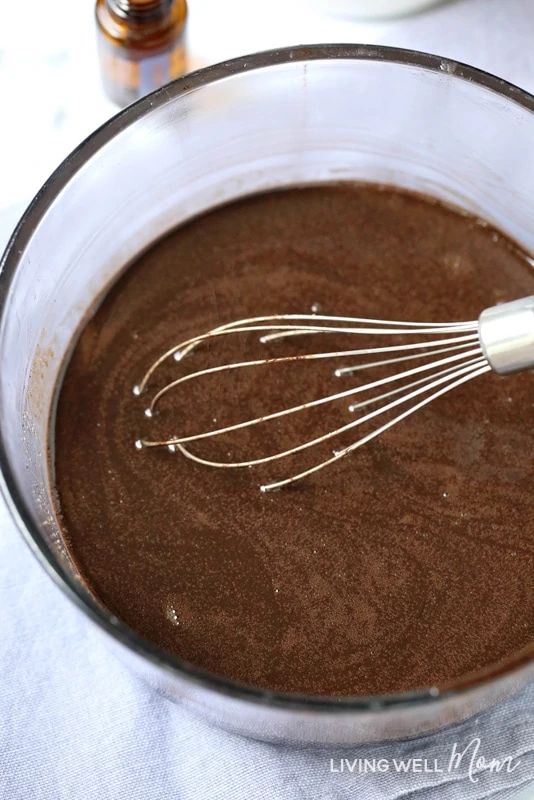 Spoon the melted chocolate mixture evenly into mini muffin cups or candy molds.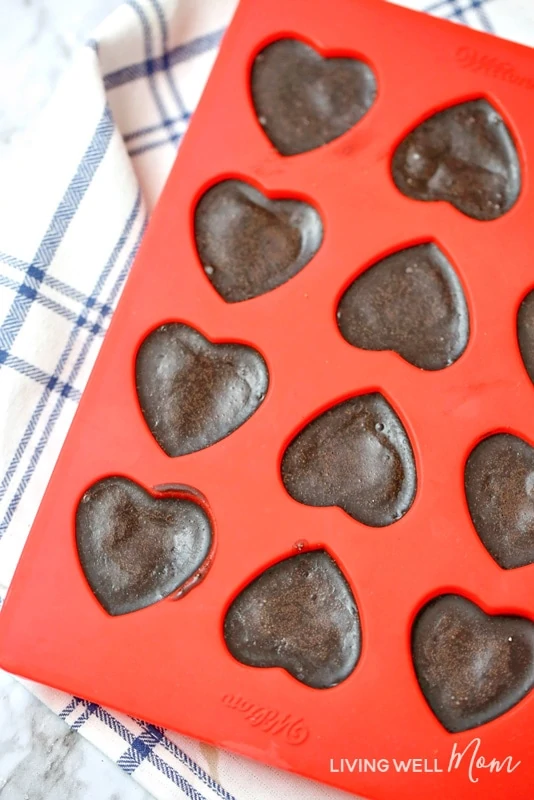 Place in the refrigerator or freezer (if you want them to set faster) until your chocolate peppermint fat bombs are solid.
I like to make a batch in the evening and let them chill overnight. They're ready for the next day.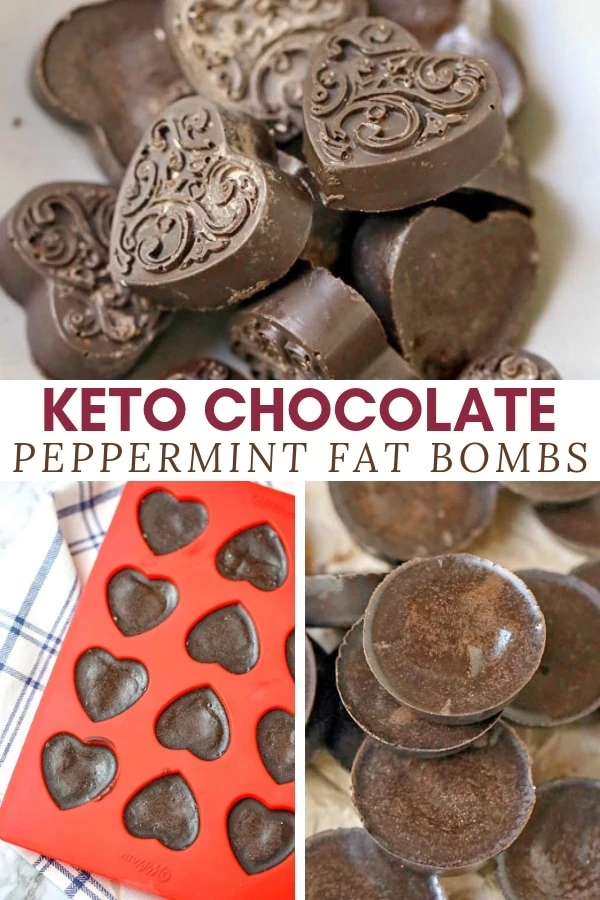 How to Store Fat Bombs
Because the coconut oil will melt in warm or even room temperatures, store your peppermint keto fat bombs in the refrigerator or freezer in a sealed container or Ziploc bag. This will save you from a mess of chocolate later!
Enjoy your craving buster chocolate peppermint fat bombs!
More Recipes to Try
Print
Chocolate Peppermint Fat Bombs
These simple chocolate peppermint keto fab bombs are quick & easy to make, high fat, low carb, and no bake. A great way to curb sugar cravings while eating healthy!
Author:
Prep Time:

3 mins

Cook Time:

1 min

Total Time:

4 mins

Yield:

3

2

1

x
Single Serving:
Makes 32:
Instructions
Single Serving Fast Method:
Melt the coconut oil, stir in the cacao, nut butter, and peppermint extract or oil, and eat right away with a spoon.
32 Servings:
Melt the coconut oil and whisk in the cacao and nut butter until smooth. Stir in the peppermint extract or essential oil (you can add a little more if you prefer a stronger peppermint flavor)
Spoon ½ tablespoon of the mixture each into 32 paper-lined mini muffin cups or mini candy molds.
Refrigerate or freeze until hard.
Notes
Store your fat bombs in the refrigerator or freezer so they don't melt!
Pin the image below to save the peppermint chocolate fat bomb recipe for later!