If there's one thing I look forward to making every year it's buckeye candy. This buckeye recipe is a family favorite—I grew up making it and now make it with my own children.
This classic dessert features peanut butter balls that are covered in homemade fudgy chocolate—so if you love that classic PB and chocolate combination, you are sure to be a fan of buckeyes too!
What is a Buckeye?
When someone talks about a buckeye, they are referring to one of several things:
You may have to use context clues to figure out which one people are talking about, but that's normally pretty simple. In this case, of course, we are talking about the third—the delicious peanut butter and fudge candy.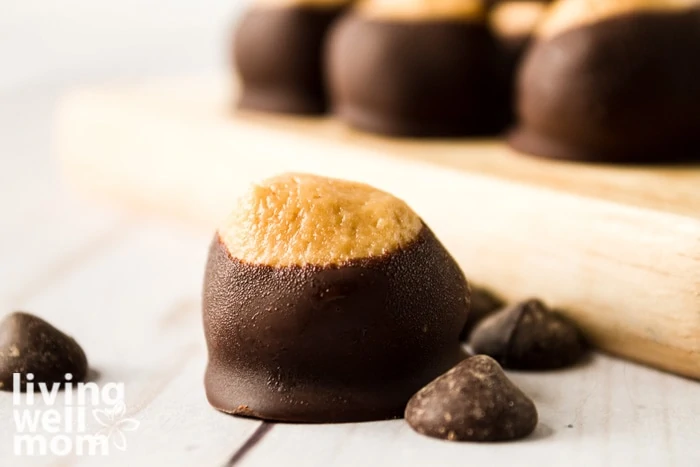 A Family Tradition
I have been making buckeyes every year at Christmas time since I was 9 years old. My aunt Sandy first gave my mother the recipe and we learned how to make them together. Of course, when I was younger, I needed more help, but needless to say these cookies are a tradition for my family.
Plus, I'm originally from from Ohio. If you didn't know it, Ohio is called the "buckeye state". So, yet another nod to my family roots.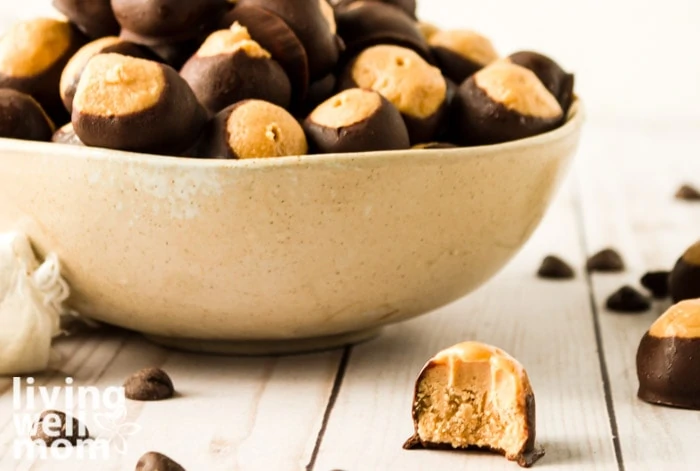 I've made literally hundreds of buckeyes over the years and now I make them with my own children every year.
While we tend to make these around the holidays, there's no reason you couldn't enjoy this buckeye recipe any time of the year. Trust me, this classic dessert never feels wrong!
This recipe is a slight adaptation from my aunt's original. It seems like there are many buckeyes floating around the internet now and many are identical or quite similar. But regardless, this is the one we use and it works very well.
Naturally Gluten Free
If you are looking for a dessert that pretty much anyone can enjoy, this buckeye recipe is a winner!
One of the nice things about Buckeyes is that it's made without flour so it's naturally gluten-free. There are no special adaptations needed.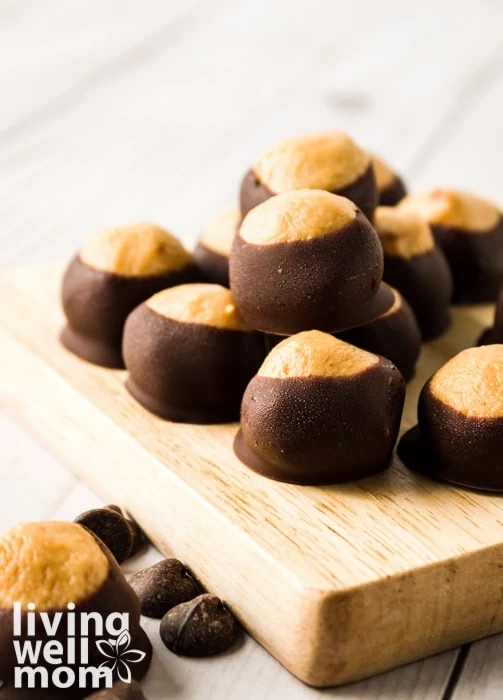 Dairy-Free Option
If you need a dairy-free version, you can swap the butter for Earth Balance Soy-Free Buttery Sticks.
You will also want to replace the traditional semi-sweet chocolate chips with this dairy-free version.
Paleo Buckeyes Recipe
If you are looking for a tasty treat that aligns with specific health goals, give my paleo buckeyes a try! This version replaces the peanut butter with almond butter and swaps out the sugar for paleo-friendly substitutes.
You'll be pleasantly surprised at just how good they are!
Buckeye Recipe
This recipe has just 6 simple ingredients and it's always a favorite on any Christmas cookie platter. I've never met someone yet who doesn't love these chocolate and peanut butter ball treats. If you make these, be prepared to dole out the recipe all night—people always ask me for it!
Ingredients: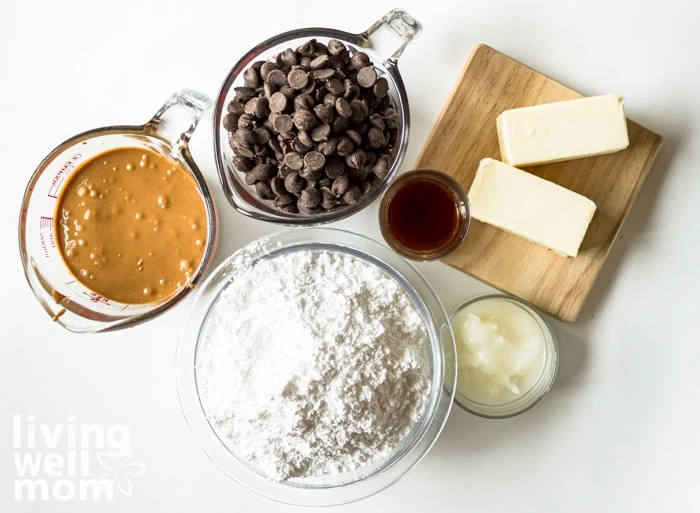 Supplies you will need:
How to Make Buckeye Balls
Beat together the peanut butter and butter.
Add in the vanilla and sugar.
Roll the dough into balls.
Stick each with a toothpick and freeze for 30 minutes on a cookie sheet.
Meanwhile, melt the chocolate and shortening together.
Then, dip the peanut butter balls into the melted chocolate. Leave some of the peanut butter exposed at the top near the toothpick. This is what makes it a buckeye!
Place the balls back on the cookie sheet and refrigerate.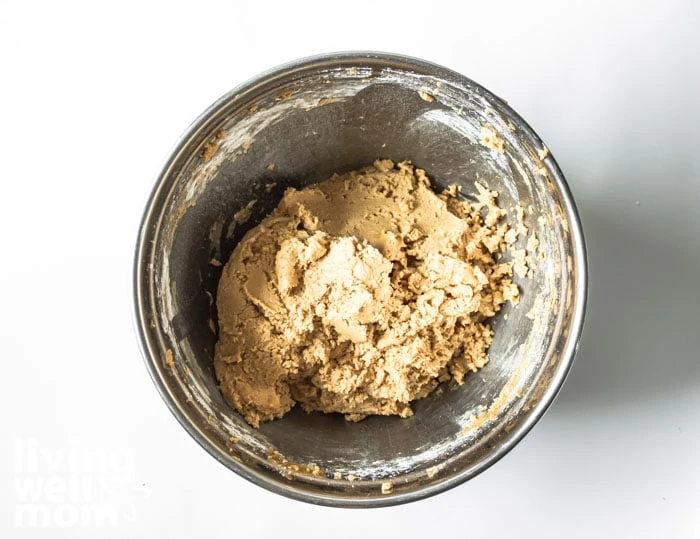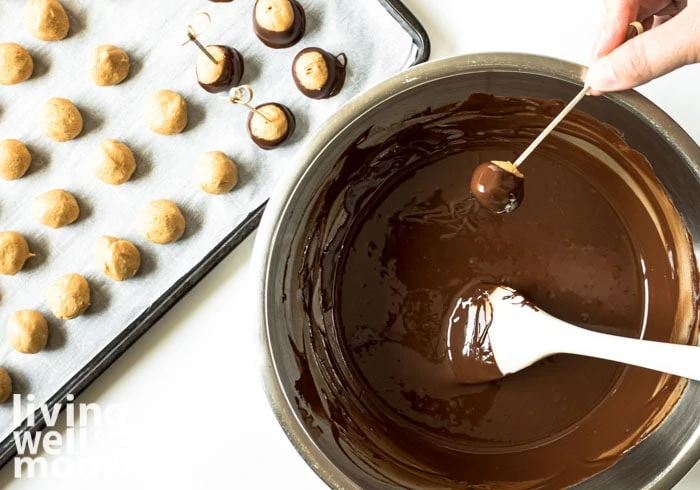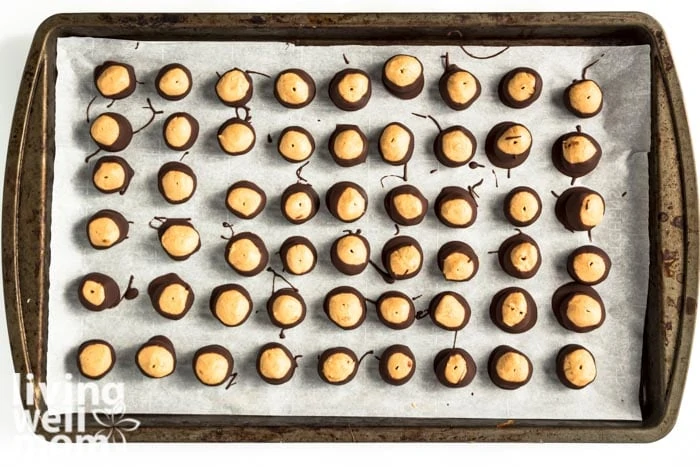 How to Store Buckeyes
Store in an airtight container in the refrigerator. Be sure you allow them to set completely before you stack them in a container or ziploc bag so they don't stick together. Or you can freeze in a tightly sealed ziploc bag for up to 3 months.
Note: – don't forget and leave them out in the freezer for a couple of days without putting them in a container or ziploc bag! I did this once and they had an odd taste (probably from absorbing odors.) Needless to say, we threw that batch out, which was very sad!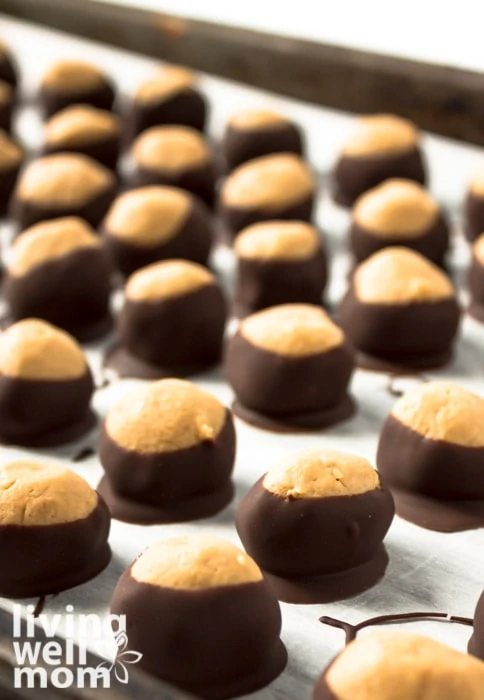 How Long are Buckeyes Good for?
If you store them properly (in an airtight container in the fridge), buckeyes are best enjoyed within 5-6 days. Of course, they'll be long gone before then! 😉
More Gluten-Free Candy to Try:
Plus, try some of my favorite Christmas cookies and treats recipe here!

Just pin it below to find the instructions later!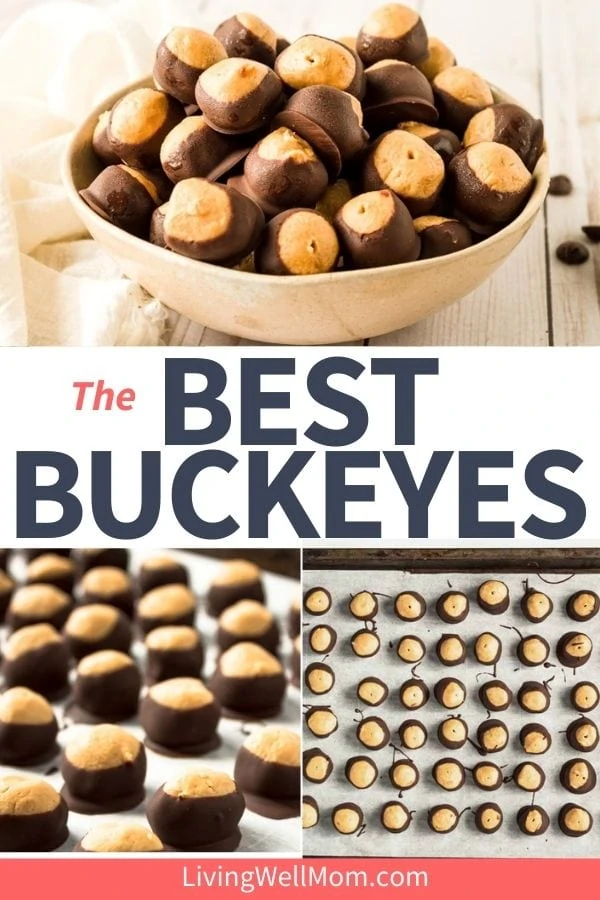 Print
The BEST Buckeye Recipe
This buckeye recipe is one you'll reach for again and again! Perfectly fudgy chocolate covers peanut butter balls for a naturally gluten-free treat the entire family will love.
Instructions
Beat together the peanut butter and softened butter. Add the vanilla, mix again, then scrape the bowl. Add the confectioners' sugar 1 cup at a time, mixing well and scraping down the bowl after each cup. You want the dough to be firm enough to be able to roll into balls without being sticky but not too dry.

Roll the dough into quarter size balls (if they are bigger or smaller it's okay too) and place on a cookie sheet lined with waxed paper. (You can use parchment paper too, but waxed works best.) These buckeyes will not spread because they will not be baked, so you can put them closer together on the cookie sheet than you would for baked cookies. Stick a toothpick into each buckeye and chill in your freezer for about 30 minutes.

Melt the chocolate chips and 2 tbsp shortening in a double boiler on low heat and stir often until melted and smooth. OR you can microwave by placing in a medium microwave-safe glass bowl and heating for 30 seconds. Stir, then microwave for 15-20 seconds more. Continue heating and stirring each time until the chocolate chips are fully melted. Do not overcook. Add 1-2 more tbsps of shortening to thin out the chocolate mixture if desired. I usually use 3-4 tbsp total as I prefer thinner melted chocolate as it's easier to use.

Dip the chilled peanut butter balls using the toothpick. Dip about ¾ of the way in, leaving a small part of peanut butter visible at the top. This is what gives them a 'buckeye' look. Place back on the cookie sheet and refrigerated.

These cookies are best kept refrigerated even though they won't spoil if you leave out. They are best

enjoyed within 5-6 days.
Notes
Tip: If your butter was more melted than softened, you will need closer to 5 cups or even more of sugar. I usually use nicely softened butter and need just 4 cups of confectioners' sugar. Tip: if you end up with too dry of cookie dough, add more peanut butter (start with 2 Tbsp) to soften it up. Add a little more sugar if it's too sticky.