If you are looking for delectable and indulgent, look no further than these chocolate cherry candies. Your teeth will sink into a creamy chocolate shell then bite into a juicy sweet cherry—it's the best combination ever!
DIY Buttercream Candy
If you haven't tried buttercream candy before, I'm going to try and paint you a picture of what you'll get to enjoy once you make these! Chocolate buttercream candies are one of those over-the-top sweets that are so delicious, you can hardly believe what you're tasting. This recipe is a perfect combination of dark and white chocolate and sweet maraschino cherry.
The creamy layers of sweetness blend together to form a melt-in-your mouth candy. And the burst of a maraschino cherry in the middle? Oh, it will have you drooling for more. Because it's not easy to turn down "just one more" of these homemade candy treats!
And no, I'm not the genius who thought this recipe up. I found this in an old Hershey cookbook years ago. Here's the original recipe: Chocolate Buttercream Cherry Candies Recipe. But I am the one who is going to spread the word to E-V-E-R-Y-O-N-E about how great it is!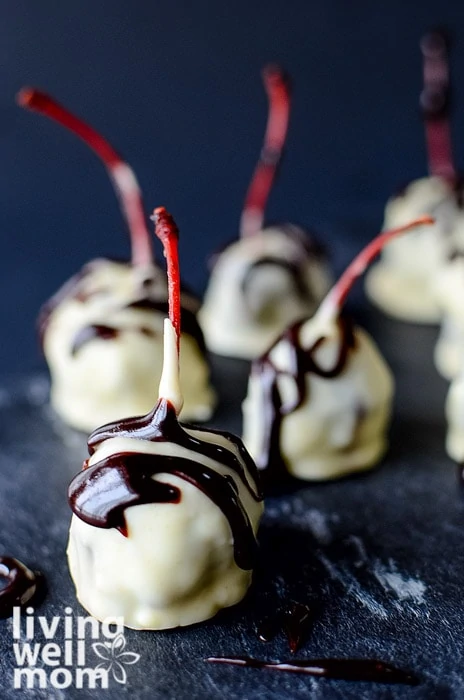 We've always just called these candies "chocolate cherry candy" because chocolate buttercream cherry candies is a bit of a mouthful. You know?
Nate and I pretty much ban the kids from touching these chocolates because they are so good, we selfishly want to keep them all to ourselves. But really, when the kids wolf down food so fast, they can hardly taste it, do we really want to waste one? Um, no. And this chocolate cherry candy recipe is meant to be savored slo-w-l-y….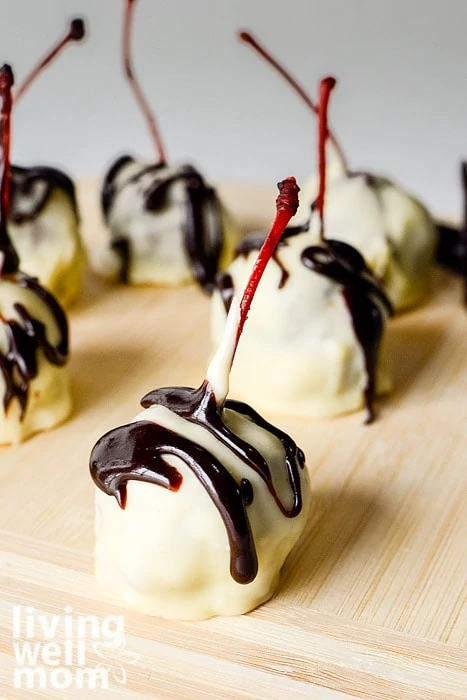 Homemade Candy Recipe
Eventually, I'll relent and let the kids try 1 of these (after I've had my fill). I want them to experience how fantastic homemade candy is! It's SO much better than anything you can grab in the grocery store check-out line. I even prefer these to the fancy boxed ones you get on Valentine's Day.
If you have never tried making homemade candy before, you are in for a treat (pun intended!). Don't worry – I'll walk you through the entire thing step by step!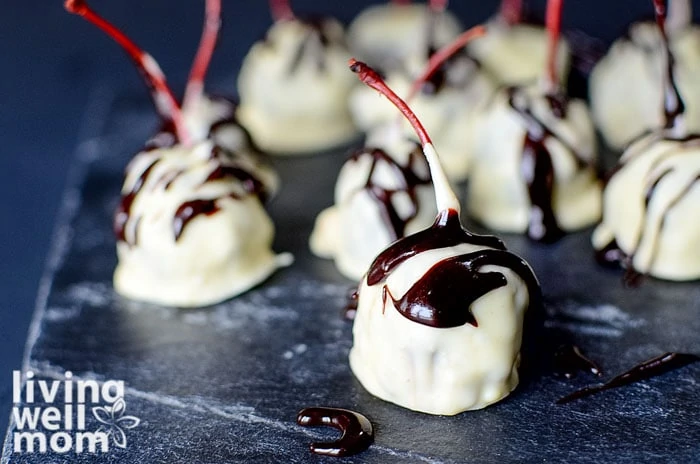 How to Make Chocolate Cherry Candy
Alright now that you know just how fantastic these candies will taste, let me show you how to make them!
Ingredients:
Maraschino cherries – make sure to get the kind WITH the stems. As you can see in the images, the stems are quite important.
Butter – you'll want it softened, so make sure to leave it out on the counter for an hour or two prior to making these.
Milk
Semi-sweet or dark chocolate chips – choose whichever you prefer.
How to Make Buttercream Candy, Step by Step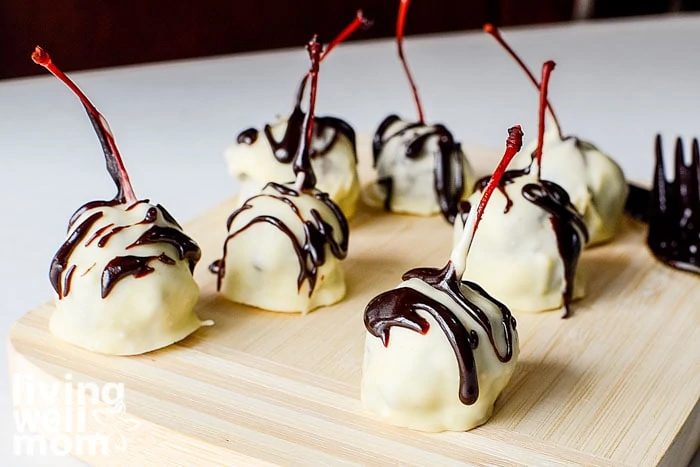 First, prep a cookie sheet by lining it with waxed paper.
Dry the Cherries
Next, drain the liquid from your cherries. Then, take each cherry and pat it dry with a paper towel. This is an essential step to creating the perfect buttercream candy. Don't skip it or you'll end up with a soggy, sad mess! Set them aside.
Create the Chocolate Layer
Use a mixer to beat the butter until it's nice and fluffy. Remember, you want your butter to be softened before you do this! Then stir in the sugar, cocoa, and milk.
Add in the vanilla and almond extracts. Some people ask me if both are necessary and to that I say YES. Trust me, the flavor will have so much more depth if you use both.
If the mixture is wet, you can add a bit more sugar. If it's too dry, add a bit more milk. Make sure to add tiny amounts at a time—you don't want to stray from the original ratios too much. You want the mixture to be able to hold a shape, but not crumble.
Cover Each Cherry
Use a spoon to scoop out some of the chocolate mix and form it around each cherry. You'll want to cover the entire thing, minus the stem. Then place each cherry on the baking sheet you prepped earlier. Cover and chill for about 2-3 hours until the chocolate is hardened.

Add the Chocolate Drizzle
After your chocolate buttercreams are properly chilled, start melting the white chocolate chips together with vegetable oil. Dip the cherries into the mix, then place them back on the baking sheet and chill once more.
If you are pressed for time, you can skip placing them back in the fridge and just move right on to the next step, but if you have the time, I recommend chilling!
Next, melt together the semi-sweet chocolate with shortening. Then, take a fork and drizzle the chocolate over the buttercreams.
Lastly, return the homemade candies to the fridge until they are firm.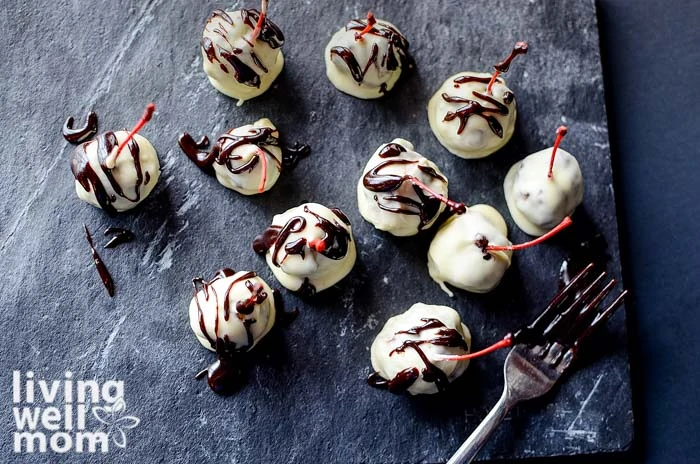 How to Store Chocolate Cherry Candies
These candies will need to be kept in the fridge when you aren't eating them. They'll keep for about 3 days, but I highly doubt they will last that long! Enjoy!
More Homemade Candy Recipes
*Pin the image below to save the recipe for later.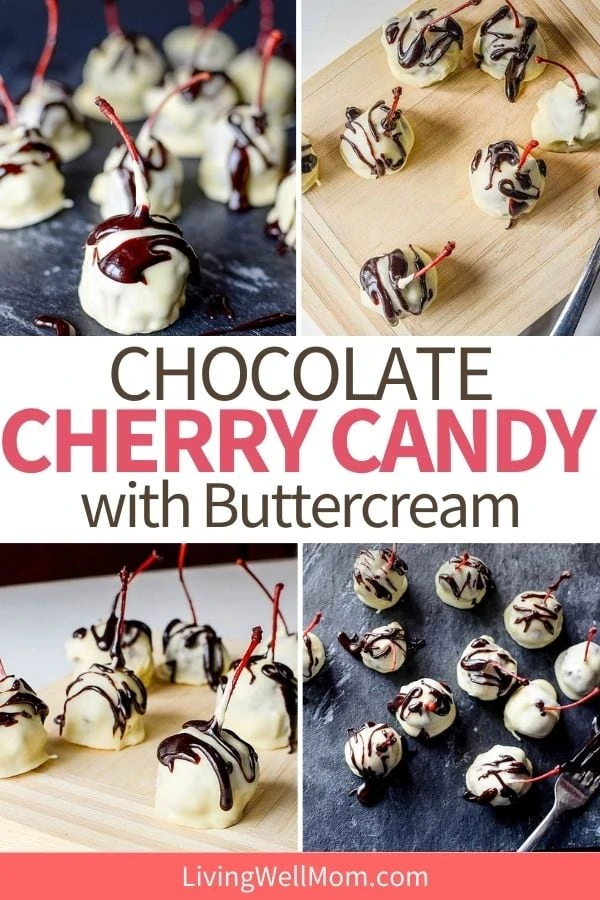 Print
Chocolate Buttercream Cherry Candies
This recipe is out-of-this world delicious! It will melt in your mouth and the burst of maraschino cherry in the middle makes it even better.
Author:
Prep Time:

60 mins

Total Time:

1 hour

Yield:

3

6

1

x
Instructions
Line a cookie sheet with waxed paper.
Pat the maraschino cherries with wax paper to dry completely. (If they're wet the candy will be soggy later – definitely a no-no!)
In a small bowl, beat the butter until fluffy. Add the sugar, cocoa, and milk and stir until mixed. Add the vanilla and almond extract. If the mixture is too wet, you can add a little bit more sugar. If it's too dry, add a tiny bit more milk.
Mold a small teaspoonful of the chocolate mixture around each cherry, covering it up to the stem. Place on the cookie sheet. Cover and chill for 2-3 hours.
Once it's chilled, melt the white chocolate chips with the vegetable oil. Dip the cherries into the white chocolate, return to the cookie sheet, and refrigerate once again.*
Lastly, melt the semi-sweet chocolate chips with shortening and drizzle with a fork over the candies.
Store in the refrigerator
Notes
*If you're in a rush, you can drizzle the semi-sweet chocolate over the white chocolate without refrigerating in between.