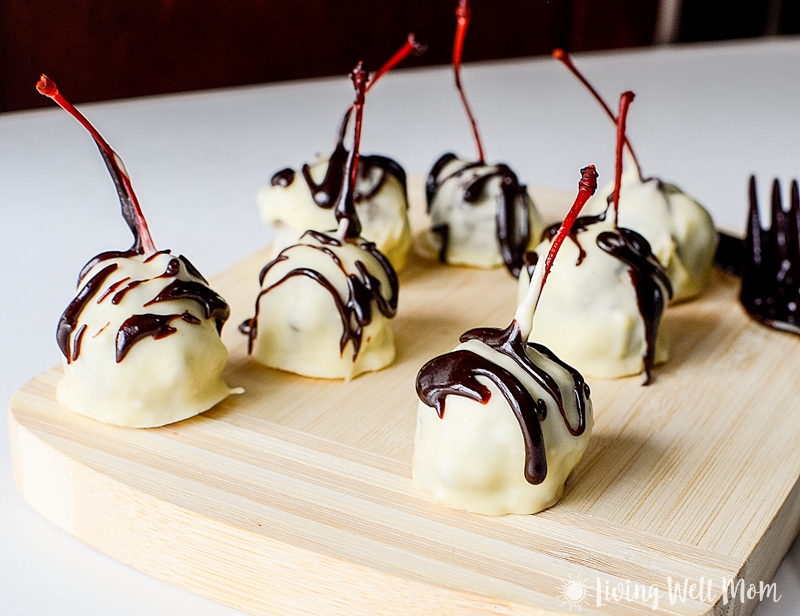 Chocolate Buttercream Cherry Candies are one of those over-the-top sweets that are so delicious, you can hardly believe what you're tasting. This recipe is a perfect combination of dark and white chocolate and sweet maraschino cherry.
The creamy layers of sweetness blend together to form a melt-in-your mouth candy. And the burst of maraschino cherry in the middle? Oh it will have you drooling for more. Because it's not easy to turn down "just one more" Chocolate Buttercream Cherry Candy.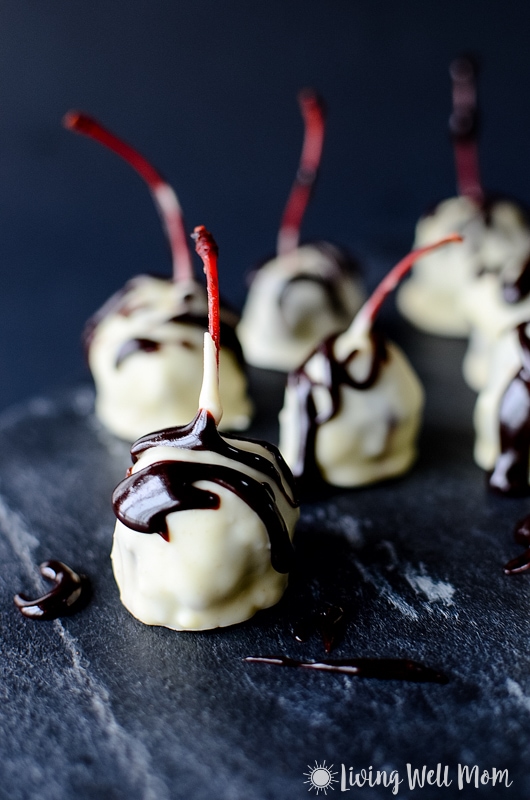 We've always just called these candies "Cherry Candies" because Chocolate Buttercream Cherry Candies is a bit of a mouthful. You know?
Nate and I pretty much ban the kids from touching these chocolates because they are so good, we selfishly want to keep them all to ourselves. But really, when the kids wolf down food so fast, they can hardly taste it, do we really want to waste one? Um, no. And this Chocolate Buttercream Cherry Candies recipe is meant to be savored slo-w-l-y….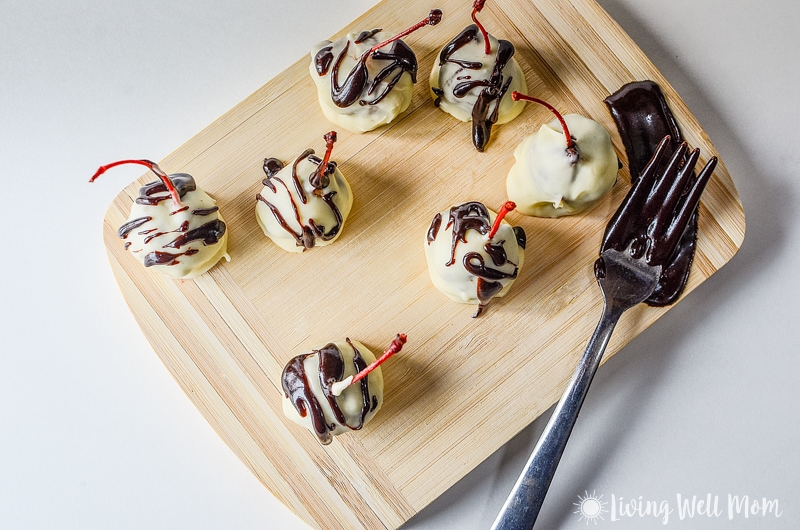 Okay, so confession time: If you know me, you probably know that I'm on the Paleo diet. And these cherry candies are definitely NOT Paleo. (They are gluten-free though!) And no, I'm not cheating even a little bit this season. Though if I were to cheat, these candies would be the one to break me.
But they won't.
So…I had my friend, Joanne, make this recipe and photograph it for you all because I don't have enough willpower to make these candies and not taste just a bit. Which would turn into a whole cherry candy and then another…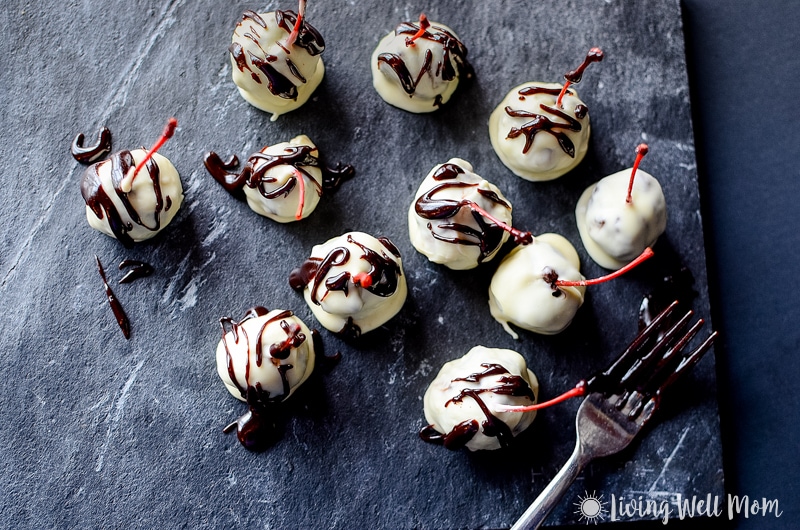 I thought about just skipping this recipe, but I just had to share with you. Yes, you're welcome.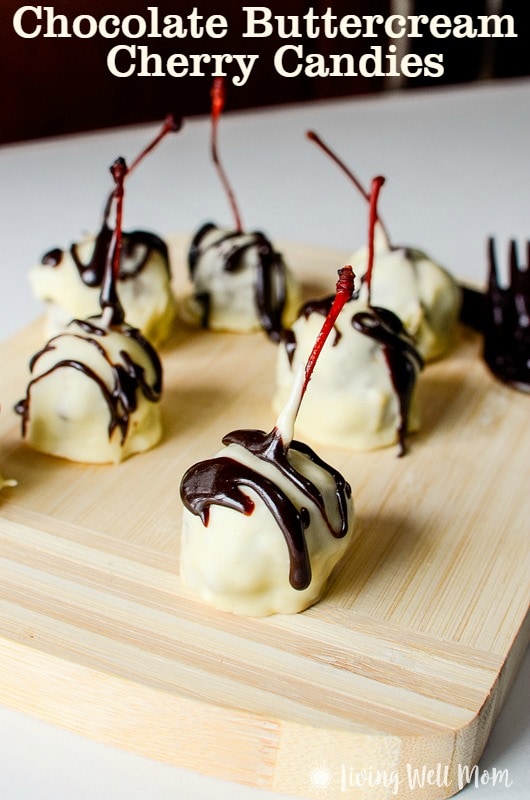 And no, I'm not the genius who thought this recipe up. I found this in an old Hershey cookbook years ago. Here's the original recipe: Chocolate Buttercream Cherry Candies Recipe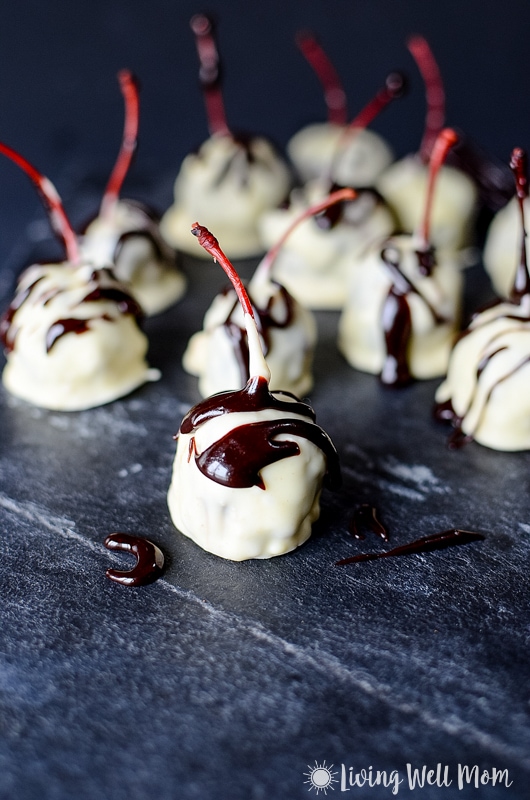 Print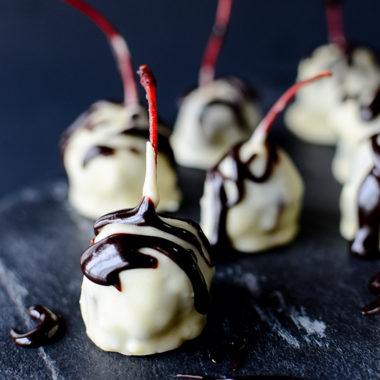 Chocolate Buttercream Cherry Candies
Author:

Prep Time:

60 mins

Total Time:

1 hour

Yield:

36

1

x
---
Description
This recipe is out-of-this world delicious! It will melt in your mouth and the burst of maraschino cherry in the middle makes it even better.
---
---
Instructions
Line a cookie sheet with waxed paper.
Pat the maraschino cherries with wax paper to dry completely. (If they're wet the candy will be soggy later – definitely a no-no!)
In a small bowl, beat the butter until fluffy. Add the sugar, cocoa, and milk and stir until mixed. Add the vanilla and almond extract. If the mixture is too wet, you can add a little bit more sugar. If it's too dry, add a tiny bit more milk.
Mold a small teaspoonful of the chocolate mixture around each cherry, covering it up to the stem. Place on the cookie sheet. Cover and chill for 2-3 hours.
Once it's chilled, melt the white chocolate chips with the vegetable oil. Dip the cherries into the white chocolate, return to the cookie sheet, and refrigerate once again.*
Lastly, melt the semi-sweet chocolate chips with shortening and drizzle with a fork over the candies.
Store in the refrigerator
---
Notes
*If you're in a rush, you can drizzle the semi-sweet chocolate over the white chocolate without refrigerating in between.