As the days get shorter and the temperatures drop, it's time to celebrate by making the house smell incredible with essential oils and these easy fall diffuser blends.
Pumpkin spice is in the air! Well, maybe not literally. But as soon as the temperature starts dropping, I start craving those fall scents.
That makes it the perfect time to pull out your diffuser and essential oils. I have several fall diffuser recipe blends to share with you. Whether you want to fill your home with the cozy smell of cinnamon and cloves or bring a touch of nature indoors, this post has a fall blend (or two) for you!
These simple diffuser blends can help promote relaxation, help you fall asleep at night, or help you wake up and be more alert during the day. And they all smell amazing and are perfectly spiced for autumn.
Another easy way to add the aroma of fall to your home is to use this DIY Air Freshener Spray with Fall Essential Oils.
Erika Bragdon is a Certified Essential Oil Coach from the Essential Oil Institute.
Best essential oils for fall diffuser recipes
The different essential oils that I like to use for fall blends tend to fall within four main categories: citrusy, woodsy and earthy, floral, or spicy.
Here are the essential oils I love and recommend for using in the fall.
Citrusy fall essential oils
Woodsy and earthy fall essential oils
Floral fall essential oils
Spicy fall essential oils
Which essential oil brand is best?
For the best results, you will want to choose a high-quality essential oil brand that is 100% pure and offers third-party testing for quality control. Read more info on how to choose essential oils that work for you and your family (beyond the brand).
My favorite essential oil companies are Rocky Mountain Oils and Eden's Garden, followed by Ancient Apothecary by Dr. Axe
.
Best diffusers to use
In order to fill your home with these amazing autumn aromas, you need a diffuser!
I have several inexpensive essential oil diffusers that I use and recommend, depending on the size and style that you want. If you need a diffuser, check out these options:
Note: I suggest having more than one diffuser in your home because you may want to utilize different blends in various areas (ex: a different blend in your kitchen from the one you use in your bedroom when you are trying to sleep).
How many drops of oil should I put in my diffuser?
Here's a general guide of how much essential oil I recommend using in diffusers of different sizes:
Small – up to 5 drops of essential oils
Medium – up to 7-8 drops
Large – up to 10 drops
Note: These recipes are written for small diffusers, but you can increase the number of drops if you prefer a stronger scent.
Best fall diffuser blends
1. Pumpkin Spice Latte
You'll need 1 drop of EACH of these essential oils: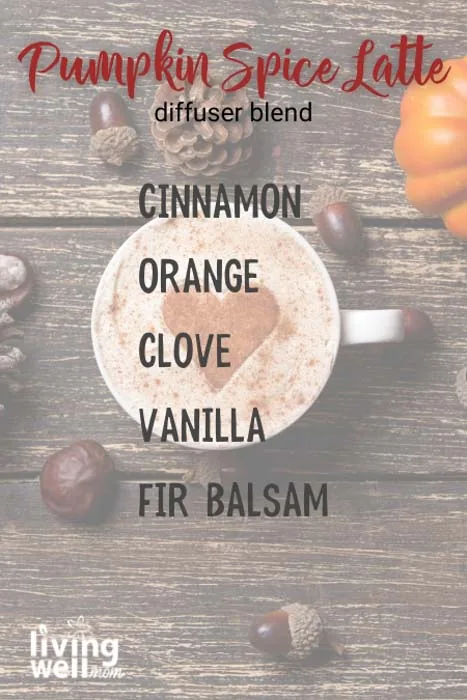 2. Autumn Breeze
You'll need:
Note: Patchouli can work as a mild sedative and has the potential to help relieve anxiety. Combine that with orange and clove bud, and you have the remnant of a relaxing fall breeze for you to inhale and enjoy!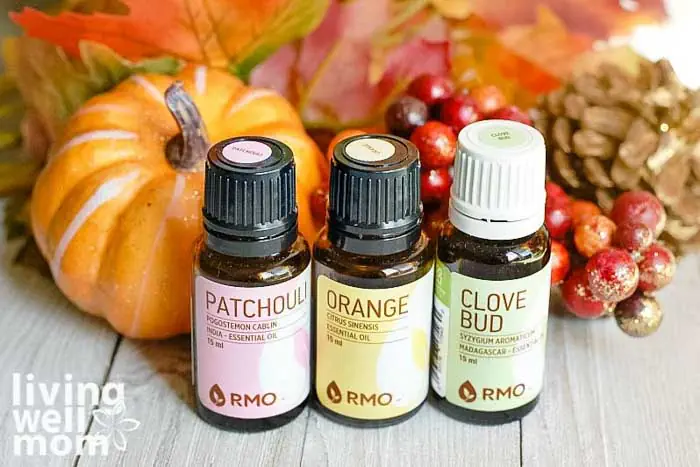 3. Fall Dreams
You'll need:
This blend has oils that are the best at promoting sleep. Lavender and vetiver are well known for helping relax and potentially promote sleep. Cedarwood will add a nice woodsy scent to the mix, reminding you of a fall evening.

4. Spiced Cider
You'll need:
The combination of citrus, cinnamon, and ginger makes it smell like you have spiced cider in your crock pot, ready to serve. (And maybe we should make some of that too!)
But if you just want your home to have a citrusy, fall-spiced aroma, then go ahead and try this blend in your diffuser.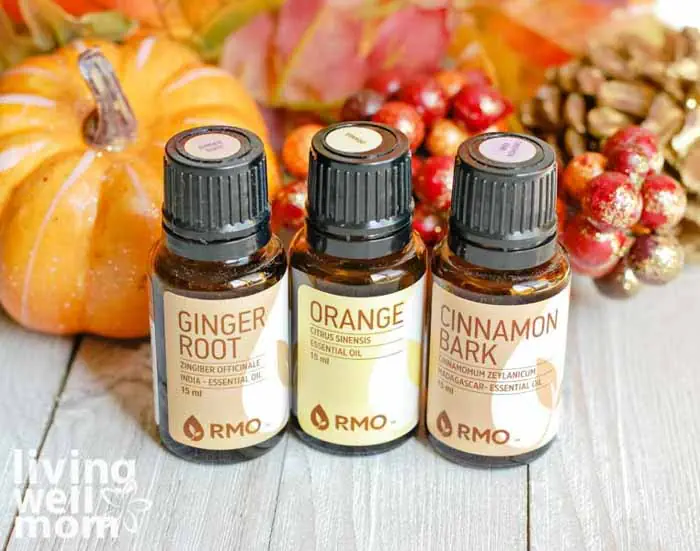 5. Falling Leaves
You'll need:
6. Awaken Autumn
You'll need one drop of EACH of these essential oils: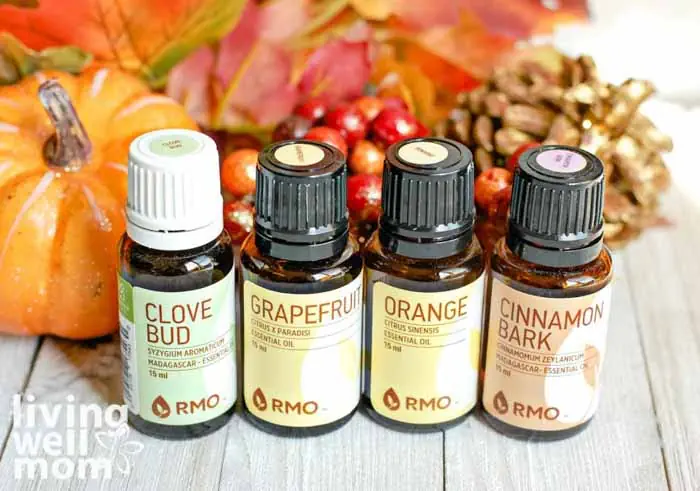 Citrus oils are known for their properties to help awaken.
If you have a busy day ahead of you, go ahead and put this blend in your diffuser first thing in the morning to help energize you and get you moving on your busy fall day.
Note: We use citrus oils in our favorite "Morning Wake-Up" essential oil blend too!
7. Fresh Autumn Air
You'll need:
8. Immunity Support
As soon as the kids are back in school and the weather starts to cool down, germs start spreading! Use this blend to boost your family's immune system and help prevent catching anything.
You'll need: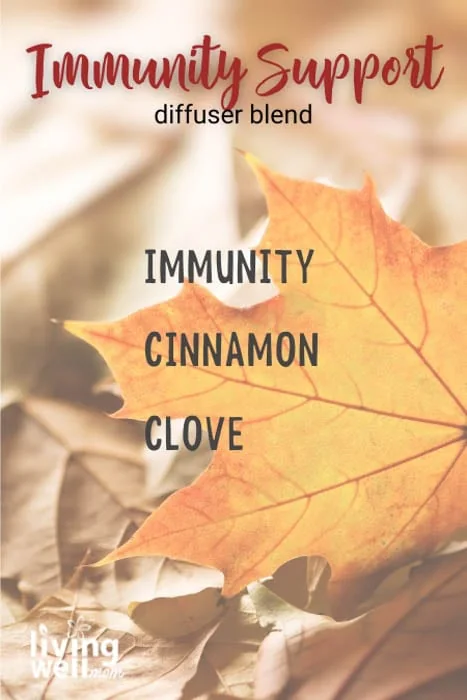 9. Cinnamon Spice
You'll need:
10. Fall Into Relaxation
This blend helps support relaxation and release stress. You'll need:
11. Apple Pie
You'll need:
12. Around The Campfire
You'll need:
Remember: These blends are just suggested amounts that I have found that work well. Feel free to use them as a great starting place, and don't let them hold you back from experimenting with your own fun fall diffuser blends!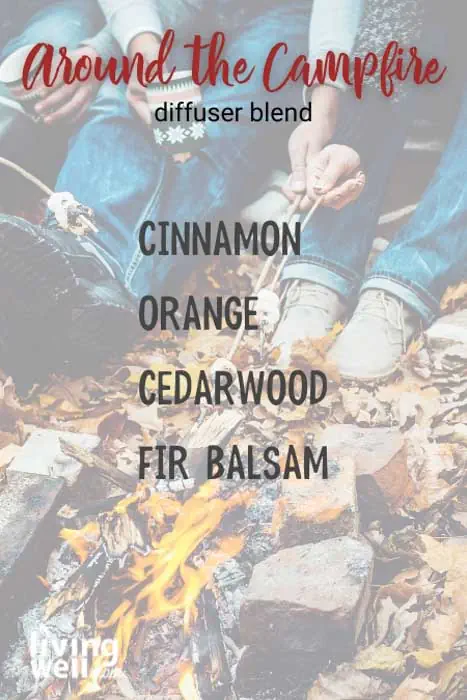 Already-made fall diffuser blends from Eden's Garden
If you don't have many of the oils listed above and don't want to create your own blends (or want more variety), I recommend trying some pre-made blends from Eden's Garden.
Check out these 6 awesome options: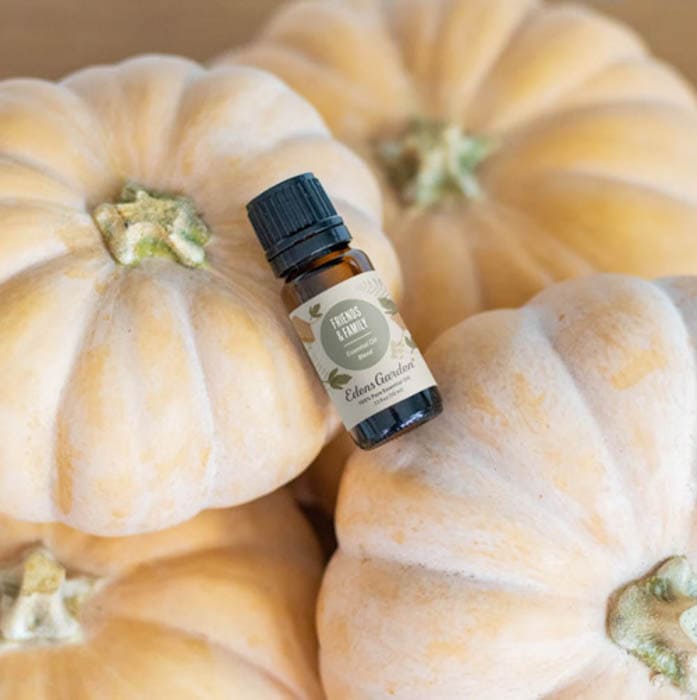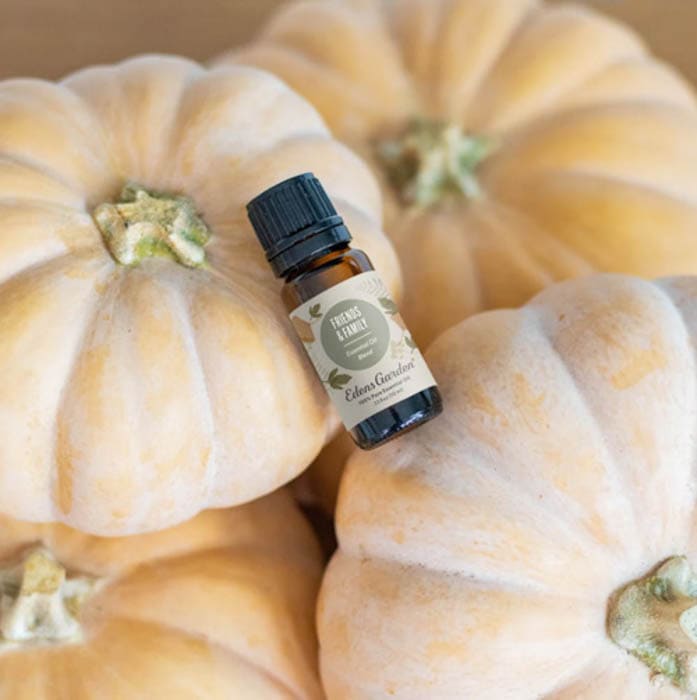 More fun with fall essential oils
Do you want even more ways to use essential oils this fall? Check out these ideas: