Pumpkin spice is everywhere this season, so why not add it to a DIY foaming hand soap?
This hand soap will make the entire family want to wash their hands again and again to enjoy that spicy fall scent. Major mom win, right? 😉
My Favorite Fall Hand Soap
What is your favorite fall scent? For me, fall is all about the warm scents of baking in the kitchen! I love all things cinnamon and sweet.
As the weather cools down, I look forward to warming up the oven and baking cookies and cupcakes.
One of my favorite things to do at the start of every season is to create my own soap. For the fall season, I decided to capture the essence of baking.
This DIY foaming hand soap has a combination of essential oils that smells like pumpkin spice!
How To Make DIY Foaming Handsoap
Today, I'm going to show you how to make your own DIY Foaming Hand Soap- pumpkin spice edition. It literally takes about 5 minutes to make!
This is the easiest DIY home project you will ever do. It's made with essential oils and pure castille soap, so it is mild enough for sensitive skin.
Use Essential Oils Safely
Please read my Essential Oil Common Sense Safety page before using this essential oil recipe.
I am not a medical professional and the information presented here is merely for educational purposes and not intended to replace medical advice. It is your responsibility to do your own research, consult with your doctor, and make safe decisions for yourself and your family.
DIY Foaming Hand Soap Materials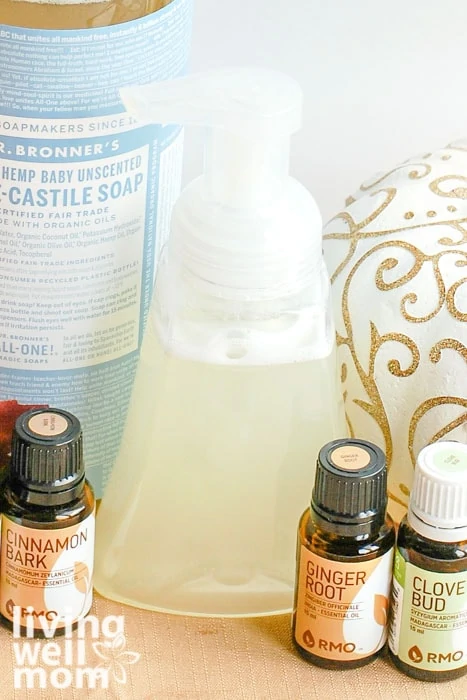 This is what you'll need to make your own pumpkin spice foaming hand soap.
DIY Hand Soap Directions
Follow these 3 simple steps to make your own foaming hand soap. You'll be amazed at how simple this really is!
1. Add Castile Soap To The Bottle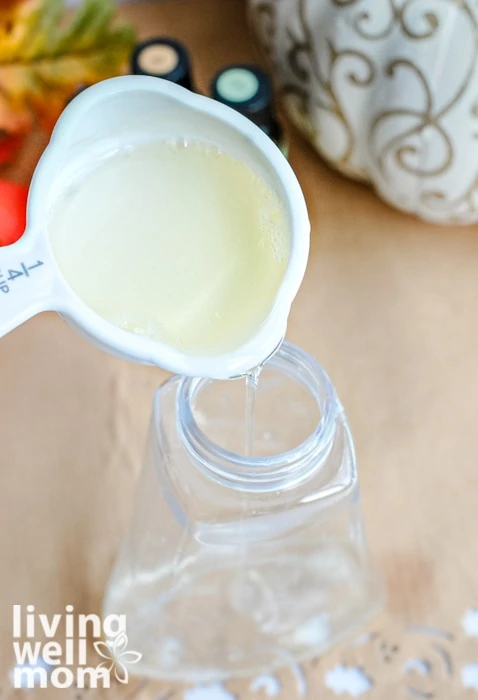 Start by getting your new empty foaming hand soap bottle, or rinse out and dry one you had from another foaming hand soap you purchased at the store. Then, fill it with 1/4 cup of castile soap.
2. Add Your Fall Essential Oil Blends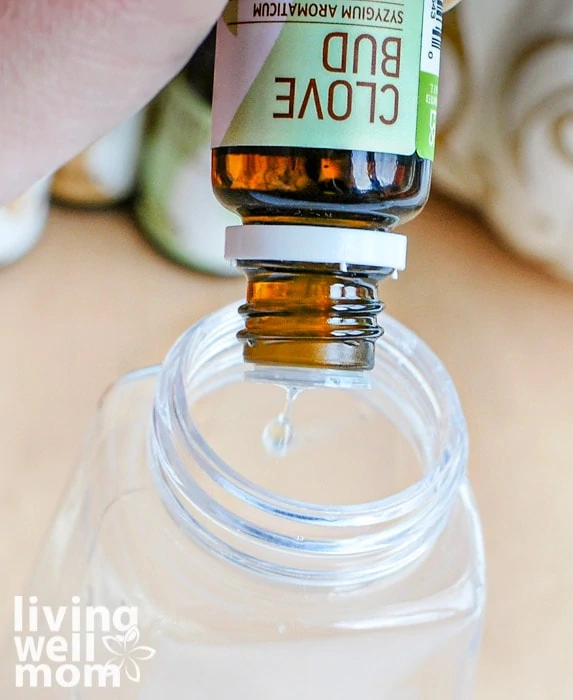 Then, you will want to add 5 drops each of clove bud, ginger, cinnamon bark, and nutmeg essential oils.
3. Top With The Lid And Combine
Screw the lid back on and give it a quick shake to combine it all together.
That's it! Now you have what I like to call pumpkin spice soap! Wash your hands. Smell it. You are going to fall in love!
The Best Fall Essential Oil Blends
My pumpkin spice essential oil blend is one of my favorite fall combinations!
Another option that's perfect for all is to use 20 drops of my Pumpkin Spice Latte Blend in the soap.
The clove and cinnamon oils are also ingredients of this immune system boosting blend. Both of these oils are highly anti-bacterial.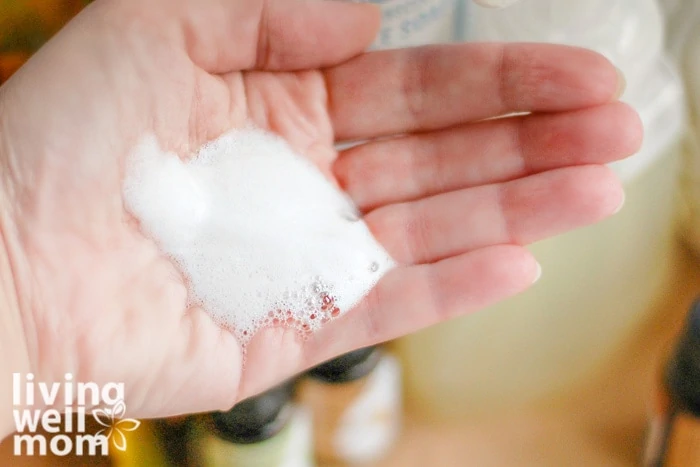 I love using essential oils in my DIY cleaning products and hygiene products. Essential oils come from plants and support your body's functions.

Essential Oils and Plastic
I used a plastic foaming soap dispenser for my hand soap, but you might be wondering, "Aren't you supposed to use glass for essential oils?".
Generally speaking, you should store undiluted essential oils in dark glass containers. This is true. Some types of plastic can interact with the pure oils and degrade the plastic and even affect the oils and create toxic compounds.
Diluted oils are safe in plastic containers like a foaming hand soap dispenser. My recipe dilutes the oils with enough soap that it won't affect the potency or safety of the oils.
If you want to store your soap in a glass container, this set of mason jar foaming soap containers is cute and glass!
Castile Soap Replacement
If you don't have Dr. Bronner's Castile Soap, get some.
There are so many different uses for it beyond this hand soap. Check out this list of homemade recipes using castile soap.
Another option is to just buy some pure glycerin soap. This will be a little thicker than the castile soap but just as mild for sensitive skin.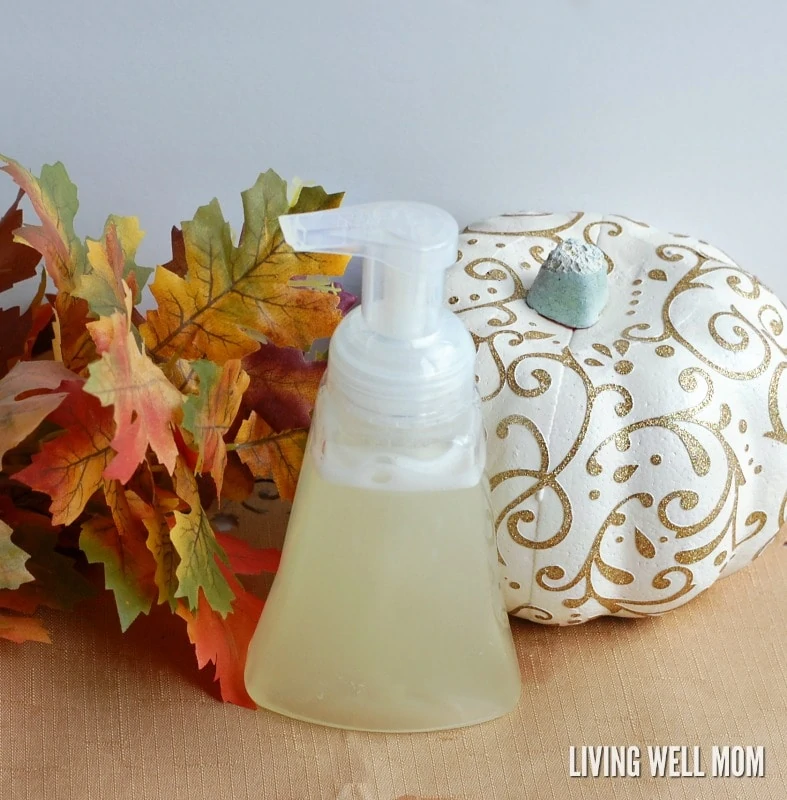 How To Make DIY Foaming Hand Soap Thicker
You can also add 1 tsp of glycerin for a thicker, smoother texture to your soap. If you have some on hand, go ahead and add it to your bottle.
I did not add any to this batch though, and you can see that it still foams up pretty good all by itself.
Fill the rest of your soap bottle with water, shake to combine, and it is ready to use!
I now have this bottle at my kitchen sink and love having the pumpkin spice aroma each time I wash my hands! Plus with the fall colds spreading at schools, it's nice to know this DIY pumpkin spice foaming hand soap has natural germ-fighting properties as well.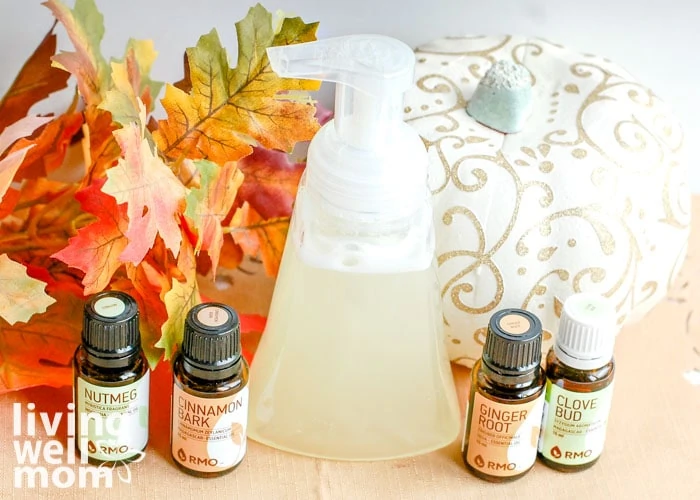 More DIY Home Cleaning Tips
Looking for more ways to keep you or your household clean by making your own cleaning products? Check out these posts:
Pin the image below to save the recipe for later.