n late April, my two year old was diagnosed with Celiac Disease and just weeks later, I learned I have significant allergies to corn, gluten, and several other foods.
Since then, I've learned a lot about eating healthy, including avoiding foods with hormones and added ingredients that aren't necessary or good for me or my family. I've learned how to make healthy homemade versions of foods we used to enjoy. And I've also learned how to save money when buying healthy food. Healthy food can be very expensive and it can be intimidating when you're on a limited budget, but I'm here to tell you that eating healthy on a budget can be done!
With my 5 Money Saving Tips for Buying Healthy Food, you can eat healthier without it costing a fortune.

5 Money Saving Tips for Buying Healthy Food
Watch for Sales & Coupons and Plan Meals Accordingly
This is my number one money saving tip for buying healthy food. Healthy food is more expensive, period. However, there are often sales and coupons available that make it more affordable.
Watch the sales at your local stores and stock up on items you regularly use when you find them on sale. Look through the store ads and plan your weekly or monthly meal plans according to the foods that are on sale and add regularly priced items to round out the meals as needed.
Kroger has a fantastic deal going on now through October 27th where you get a dozen Simple Truth eggs for free with the purchase of 3 participating Silk, Kashi, or Noosa products (most of which are on sale). (Note: you must use their loyalty card to get the savings.)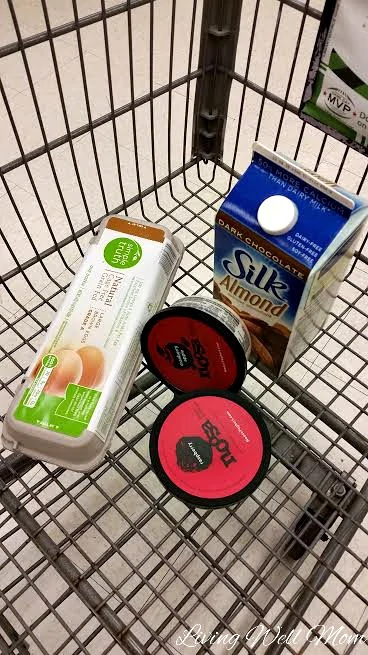 These are great items for us to have on hand for delicious breakfasts I can feel good about feeding my family. We love to combine Noosa yogurt with Silk Almond Milk and fresh or frozen fruit like bananas or berries for breakfast smoothies. Our whole family loves this quick and easy breakfast.
For the big kids and my husband who can have gluten, we add Kashi dry cereal to Noosa yogurt along with fresh fruit for yogurt parfaits in the morning. And Silk Dark Chocolate Almond Milk is a favorite breakfast drink for all of us.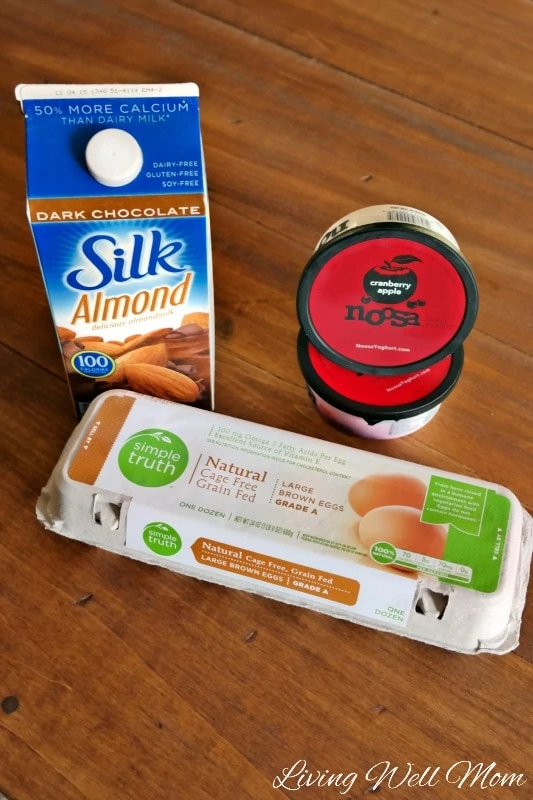 I am so impressed with the natural food section at Kroger. It's so much bigger than many grocery stores. They have a huge selection and the prices were reasonable, with many items on sale in addition to the free egg special. I found our favorite gluten free flour on sale for $7 less a bag than we normally pay. This was a perfect item to stock up on since we use it for so many things.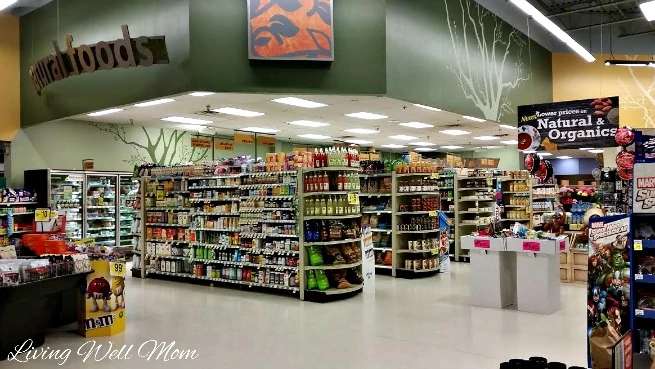 Kroger has a great selection of milks, yogurts, cereals, and other dry goods as well as a large freezer section.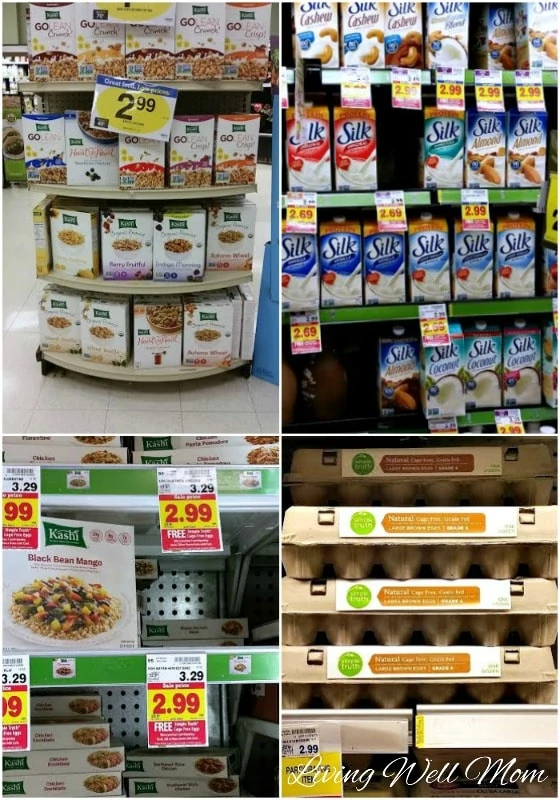 2. Purchase Fresh Produce When in Season
We add fresh produce to most of our meals and it's an important part of our healthy meal plan. But it's easy to spend a lot on produce, especially if you don't pay attention to what's on sale or in season. I recommend buying extra produce that's on sale and freezing it whenever possible.
Most things freeze well and can easily be thawed and added to recipes later. Frozen blueberries and bananas are great for smoothies, especially with our favorite delicious Silk almond milk.
3. Try New Recipes
It's easy to stick to what your family likes rather than trying new things but branching out to new recipes often means you can find new and less expensive food, making it easier to continue buying healthy food.

For example, we used to eat a lot of pasta. Now, it can be quite expensive to find gluten free, corn free pasta that actually tastes good, but I've learned that rice is a more affordable option. I've found some great new recipes with rice to replace some of our old favorites. Beans are another affordable healthy ingredient that pairs well with rice in many recipes. Add these to frozen produce and meat you've found on sale and you have a healthy low cost meal.
4. Stay Organized
Keep a running inventory of what's in your pantry, refrigerator, and freezer. Knowing what you have on hand will keep you from spending extra on items you don't need and will keep you rotating and using what you have before it goes bad. Staying organized is one of the best tips for buying healthy foods on a budget.
Have you ever had a package of veggies sneak to the back of your refrigerator only to find them after they've gone bad? I have and it's so frustrating. It can happen with dry goods and frozen items too. Print an inventory sheet and keep it up to date when you use things. When you shop, rotate the older items to the front and add the new items to the back. When you've used the last of a staple item or are running low, add it to your shopping list so you can start watching for sales on what is on your list. It's always best to buy those things before you are out and have to pay full price.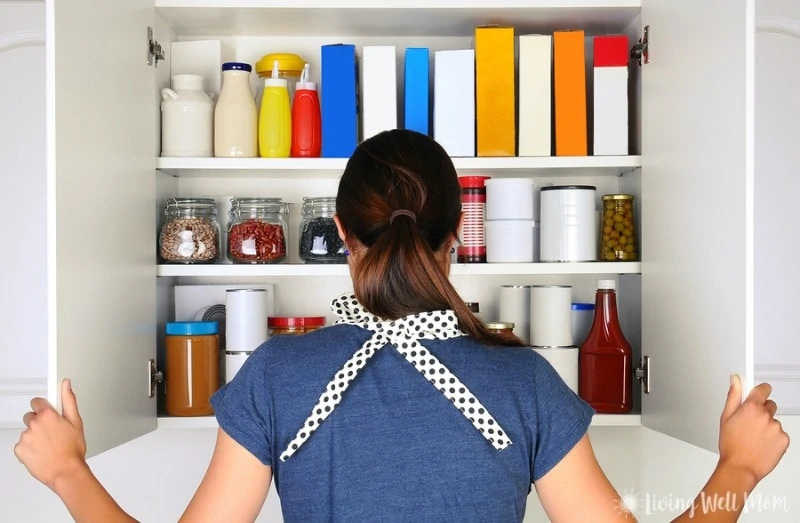 5. Use Leftovers
It can get boring eating the same foods day after day, whether it's Thanksgiving leftovers or cooking the same recipes because they are affordable and easy. I usually make large quantities for our meals, knowing we'll use leftovers for lunch and dinner in the coming days. Or to freeze it for later.
No one seems to like eating the same thing meal after meal though so we get creative with our leftovers. Making fajita style chicken with veggies, rice, and beans served with tortilla shells for dinner Monday night turns into chicken fajita soup the next night by adding just a few ingredients. Chili becomes goulash or topping for burritos or hot dogs. Getting creative with your leftovers means your throwing less away and keeping your meal plan interesting which is important especially with kids.
Bonus Tips
Enroll in your store's rewards or cardholder program. With Kroger, the free eggs special is for cardholders only, but it's free to join and the savings add up quickly! There's also apps that save you money by earning rebates on items you're buying, including many healthy foods.
Watch for produce, meats, and other items to be on special when they are close to their expiration.
Shop farmers markets towards the end of the day when folks may be lowering prices to sell their remaining stock.
Most important, plan ahead with your meals and shopping. Simple menu planning can make a huge difference when it comes to using what's already in your cupboards compared to another shopping trip.
So you see, it is possible to eat well and stay within your budget using these simple money saving tips for buying healthy foods.
What's your best tip for buying healthy food on a budget?
This is a sponsored conversation written by me on behalf of WhiteWave Foods. The opinions and text are all mine.